Experience artists' private worlds!
Blackhorse Lane Studios is a complex of art studios in Walthamstow in East London run by the Barbican Arts Group Trust. As part of the E17 Art Trail the artists are opening their studio doors and are hosting many other events alongside. There is loads going on at Blackhorse Lane Studios 16-18 June!
Blackhorse Lane Open Studios
16-18 June 2017
Friday 6-9pm preview evening
Saturday & Sunday 12-6pm
Open Studios
25 artists open their studios to share their practice with visitors – painting, sculpture, printmaking, video and more. Participating artists: Franki Austin, Anja Borowicz, Julie Caves, Nickie Counsell, Francesco de Manincor, Elizabeth de Monchaux, Tania Denton, Pauline Evans, Charlotte Gerrard, Jonet Harley-Peters, Adam Hennessey, Neil Irons, Tam Joseph, Matthew Krishanu, Valerie Large, Katrin Maeurich, Jean-Pierre Mas, Helen Maurer, Lucile Montague, Benjamin Parker, Michelle Reader, Daniela Rizzi, William Stok, Sandie M Sutton, and Barry Sykes.
Silent Auction
Get a bargain on contemporary art direct from the studio, a percentage goes to Barbican Arts Group Trust, bids start at £150.
'Folding and Unfolding Time'
An art exhibition of Blackhorse Lane artists' work in the Artworks Project Space curated by Neil Irons.
Kid's Quiz
The annual tradition that has youngsters asking questions and looking around eagerly! This year has STEAM-themed questions and as always great prizes provided by Jackson's Art Supplies (us!).
Tours
Tours of the studios by Blackhorse Lane artist Julie Caves, times tbc.
Plastic Sculpture Workshops
Greenpeace Waltham Forest have teamed up with Blackhorse Lane artist Sandie M Sutton to promote plastic reduction. Transform waste plastic into art at a free family drop-in workshop 2-4pm on 17 & 18 June.
1,000 Swifts
Many of the artists in the studios are participating in the '1,000 Swifts Over Walthamstow' project to raise awareness of these amazing birds. See if you can spot the swifts!
The Facebook event page.
---
Part of the Astounding E17 Art Trail
The E17 Art Trail (3 – 18 June 2017) is Walthamstow's every-two-years community led arts festival, in open houses, studios, galleries, streets and local businesses, sharing the creative endeavours of 6,000 artists and contributors to 250 events and exhibitions. On just one day of the festival there are talks from artists and scientists, a film festival, performance, singing, dance, drumming, workshops, walks, cycling tours, puppets and 130 exhibitions! The theme for 2017 is STEAM, the acronym that recognises the place of Art alongside the fields of Science, Technology, Engineering and Mathematics. Venues all over the East London area of E17.
You also can visit other great art locations near the Barbican Arts Group Trust studios including Gnome House and Blackhorse Workshops.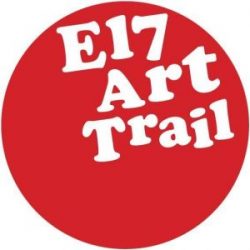 ---
Location of the Studios
Blackhorse Lane Studios (Barbican Arts Group Trust)
114 Blackhorse Lane
Walthamstow London
E17 9PD
A 5min walk from Blackhorse Road station (Victoria line and overground)
---
Image at the Top is:
Blackhorse Lane artist Tania Denton in her studio at last year's open studios 2016.
Photo: Neil Irons.