Behind Closed Doors exhibition
A selection of works from the artists at Blackhorse Lane Studios,
brought into the open.
Curated by Neil Irons.
11 – 13 October 2013 12-6pm
Private view: 6-9pm, Friday 11 October 2013
Venue: Artworks Project Space 114 Blackhorse Lane Walthamstow London E17 6AA.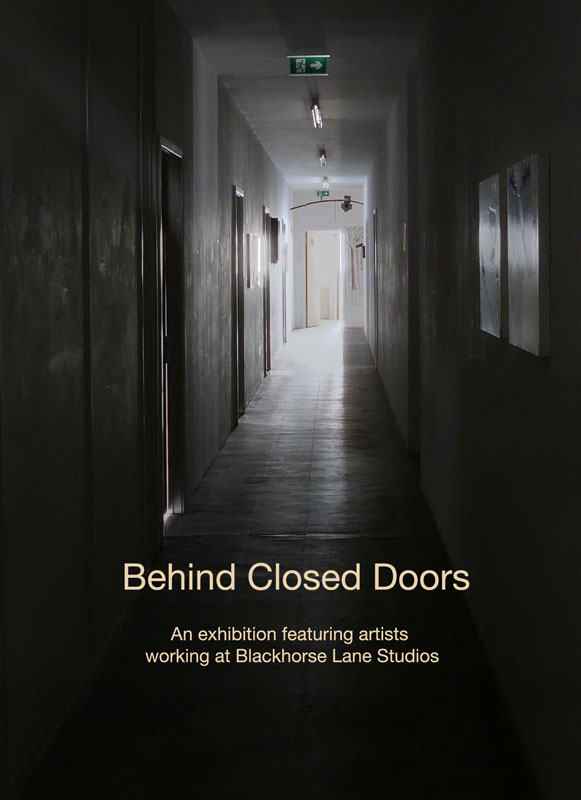 Behind closed doors is a group exhibition that brings together some of London's most talented visual artists. All artists are based at the Blackhorse Lane Studios in Walthamstow, E17. This is a rare opportunity to see an exhibition that brings together all the studio artists in one show.
Neil Irons, who developed the title for the exhibition, curates the show by selecting some of the best and most interesting work that each artist has created over the last 18 months. Neil explains that the idea behind the exhibition is to explore our own sense of privacy by revealing what the studio artist get up to behind closed doors, in this case the studio doors. Although the artist might share a common space they tend to work independently from each other only sharing their thoughts and ideas when the work is complete. Irons states that, 'It wasn't my intention to fit artworks into a theme more a desire to see what if any similarities of intention were to be found in the artists working at Blackhorse Lane studios and where our differing approaches might lead. As I went around visiting the artists in their studios looking for works to select for this show I was carrying notions of privacy, intimacy and exclusion.
The artworks are quite separate, different works each reflecting their originators concerns and practise'.
What goes on behind closed doors fascinates and intrigues and although we are all known best only to ourselves, today we share more than ever what was once private or hidden. Through mainstream and social media we have all become more open and then at the same time worry about our lack of privacy. Have we abdicated ourselves from the private? Is transparency and sharing the new moral imperative? Artists having been bearing their souls for a long time now- placing their innermost feelings and beliefs into their art and displaying it before an audience they can only hope are sympathetic. Does this mean everyone who tweets or posts their photos on facebook now are artists? If the intension is to make art then it must be so?
About the work and artists in the exhibition
Privacy in art takes on many forms challenging viewers' interpretations, accusing feelings of voyeurism or intrusion. Private moments such as in William Stok's piece – Sleeping Beauty invite the viewer to consider themselves within the artwork -an intruder in a familiar yet private moment. Both Jonathan O'Dea's Transfiguration and Franki Austin's Tree house invoke private spaces, utilising radically different methods they have produced imagery that suggests private realms demanding of quiet contemplation. In Valerie Large's piece 3G the viewer is faced with cut up and rearranged calligraphy suggesting private and intriguing ideas. Not all that an artist produces is for public viewing, often artists make work for themselves, as a means of exploring ideas or to work something through. Katrin Mäurich's work Small black II – was one of a series of works she had never intended to exhibit– a truly private artwork. Ross Hansen's very finely worked drawing looks at the way society is now displaying its private moments in a playful way.
Intimacy in art can be quite different from the private, it suggests a degree of mystery, an invite to a conversation with the work or a shared private moment. Perhaps in the main it is used in terms of scale or outlook. Often the intimate and private meet in an artwork such as Julie Caves' Tender Hearted or Jonet Harley Peters' Budding Grove Vipers Bugloss, both abstract pieces that pull the viewer into an intimate space steeped in a private moment, the former a painterly exploration and the latter a geometric design digitally printed onto ceramic tiles.
Further intimate spaces can be found in the works of Elizabeth de Monchaux, Helen Maurer and Barry Sykes. Using an intimacy of scale these three artists have produced art that speaks about how it was made revealing hidden views and utilising three very different methodologies. The structures in the wall mounted sculptures of de Monchaux Untitled and Sykes 3 Old Student Works Of Mine From The Late 90's, On A Shelf With A Satsuma are intricate in execution whilst being polar opposites in approach to materials. Maurer's Upstream Reeds video is accompanied by its subject matter an intimate still life.
The works by Charlotte Gerard Party Time, Denise Hickey Eyes for Glttering Objects, Charlotte Hodes Bathers; Floral White and Daniella Rizzi Everyday 1 – Crocs were selected to illustrate the intimacy of their practise and a certain playfulness and mystery to be found within their art.
Portraiture is one of the most intimate and yet at the same time public forms of art, the depiction of a face or human figure being easily being the most accessible way into looking at art. However Duncan Evans' Seated Figure and Pauline Evans Girly and Matthew Krishanu's Two Priests all examine figuration from an intimate viewpoint, whilst Tam Joseph's Laughing Legend with a Stratocaster use of art historical and popular culture merges two iconic images subverting the intimacy of portraits. Lucile Montague brings together all three strands examined by the show, In the Doll's House appears private and intimate and at the same time hints at the frustration of exclusion in the seated figure reading a newspaper.
The final grouping of artists look into those conversations that remain behind closed doors with artists and activists voices bringing them into the open. Francesco de Manincor The Great Tomorrow, Neil Irons Spaces Available and Jean Pierre Mas Built on Sand all explore notions of environmental catastrophe in their works.
At the same time Michelle Reader's Bombus Lucorum and Sandie Sutton's Under Milk Would work with recycled materials in their sculptures inviting the viewer to question their involvement in the ecology and degradation of our world.