The long-awaited, much-anticipated Gamblin Oil Colours and Oil Painting Mediums
Gamblin's company aim is to take oil painting and printmaking into the future. The company was founded by Robert Gamblin who studied the process of oil paint making for over twenty-five years by practicing in his garage. It took Robert Gamblin an entire year before he was satisfied with his white!
The paint makers at the Gamblin colourhouse strive to craft materials not just as they have been, but as they ought to be. Gamblin's luscious colours and contemporary mediums are true to historic working properties, yet are safer and more permanent.
Gamsol, Gamblin's odourless mineral spirit, has freed a generation of artists from exposure to strong solvents. Gamvar, created by Gamblin in collaboration with the National Gallery in the USA, is the perfect picture varnish. Gamblin's FastMatte colours allow artists to take their paintings further, faster than ever before.
"I have always wanted to give artists colour at its maximum with a luscious texture. A texture that readily responds to an artist's intention and handles beautifully. A colour reaches its maximum when the pigment has been developed to the highest emotional resonance for that colour. There is so much more to our work than fine raw materials and high pigment loads. At Gamblin, we are forging together the right balance of pigment, oil, history, science and emotion. All twenty of us are dedicated to getting that balance right. Every colour. Every batch. Every time.
We also believe in giving artists more and asking for less. Artists deserve to be able to use colour freely, without hesitation or reservation. And to get in the flow of their painting, unencumbered by expectations or doubt. This is the other half of our work, helping artists select and master the materials best suited to their artistic intentions. We are the first colourhouse to build and organize our palette entirely around the needs of today's painters."
– Robert Gamblin
Gamblin are guided by their community of artists, their studio work and the insights they glean from working with museums around the world. The Gamblin Conservation Colours have been used to restore works by Van Eyck, Da Vinci and Van Gogh. But foremost, Gamblin are here to serve today's painters.
Artists as diverse as Wolf Kahn, Jim Dine, and David Hockney have praised Gamblin for their Artists Colours.
---
Oil Colours
Gamblin make two types of oil colour- Gamblin Artists Oil Colours and Gamblin Fastmatte Alkyd Oil Colours.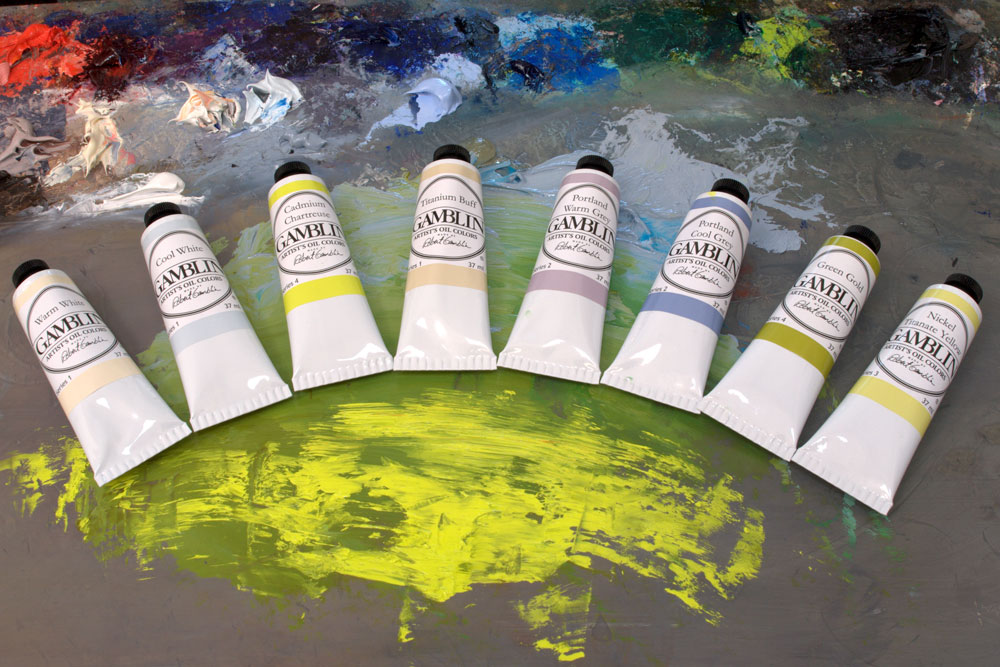 Gamblin Artist's Oil Colours
97 colours in 37ml tubes including a range of whites and four metallics. The Gamblin Artists' Oil Colour range is organised into four different groups of pigments: the 'mineral inorganic colour' section, the 'modern organic colour' section, the 'radiants' section and the 'whites, greys and blacks' section.
Mineral Colours
The Mineral side of the colour chart includes those colours made from inorganic pigments, that is, metal ores dug from the earth. For many of these pigments, their color is developed in ovens at very high heat. At the bottom of the Mineral side of the Gamblin colour chart is the group of earth colours that made up the heart of painters' palettes during the Classical Era. This group of pigments, which has its origins in cave painting and antiquity, was central to the oil painter's palette from the Renaissance through the Classical Era. From this limited range of earth colours, painters depicted form by drawing large contrasts between the darkest darks and the lightest lights, creating the chiaroscuro (literally, "light/dark") effect so characteristic of classical paintings.
During the Industrial Revolution, a whole new array of inorganic pigments was developed from compounds of minerals, such as cobalt, cadmium and manganese. Their intense mass tones complemented earth colours on painters' palettes and replaced paints made from expensive semi-precious stones, fugitive colours, or highly toxic compounds. This full spectrum of pigments, packaged for the first time as oil colours in tubes, expressed the Impressionists' interest in pure colour.
Mineral Colours grey down when mixed with white, which is perfect for capturing the colours of the natural world. Mineral-based pigments have larger pigment sizes and lower tinting strengths than modern colours. They are leaner and naturally more matte. Mineral colours are mostly opaque. Ultramarine Blue and Viridian, which are transparent, are exceptions. Mineral colours have a Lightfastness rating of Excellent (I).
Modern Colours
Modern organic pigments are carbon-based. Most modern colours, including Quinacridone, Phthalo, and Perylene, are transparent. Hansa and Napthol are semi-transparent. Because of their small particle sizes and higher oil absorption (fatter), modern pigments make colours of very high tinting strengths that are naturally more glossy.
When mixed with white, modern colours make incredibly intense tints. They stay high key in mixtures unless a complement is added. Rather than shifting from light to dark, a family of modern colours shifts from warm (Phthalo Emerald) to cool (Phthalo Green). Modern colours have a Lightfastness rating of Excellent (I), with the exception of Hansa Yellow Light and Napthol pigments, which are rated as Very Good (II). Each tube of artist's grade oil colour is marked with a Lightfastness rating.
Mineral and Modern colours are completely compatible with each other. Painters can use the characteristics of each colour group described above to create their own personalized colour palette.
Radiants
Gamblin Radiant Colors offer painters eight intense tints – mixtures of pure color and white – at Value 7 on the Munsell® System. Using these Radiant tints, painters can build high key underpaintings and then glaze to achieve optical effects of light and shade.
White, Grey & Black
The most important color choice we make is the white we bring to our work. There are nine different Gamblin Whites to give artists a range of working properties, temperatures, drying rates and opacity. Please refer to our Studio Notes Newsletter, Getting the White Right, on Gamblin's website for more information on selecting the right white for your work.
Gamblin Portland Greys (Light, Medium, and Deep) can mute the high key tints of the modern colors to make more natural- looking mixtures. Named for the city where they are made and its characteristic grey skies, the Portland Greys are formulated for painters who work with value. Our range of the neutral Portland Greys is expanded with Portland Warm Grey and Portland Cool Grey. A triad of muted primary colors is created when Titanium Buff is added to these. This gives painters the ability to complete a range of "colored greys."
Gamblin Chromatic Black gives painters a neutral, tinting black with energy that doesn't muddy and flatten the colors the way traditional blacks do.
---
When creating their Artist's Oil Colours, Gamblin were mindful, not only of how an artist works, but also of an artist's working environment. Gamblin Artists' Oils have the best qualities of traditionally made oils paints, combined with the latest technical innovations, to give the ultimate working properties. The Artists' Oil range spans from historically accurate paints to modern, synthetically derived hues.
Gamblin Artist's Oil paints are made with the finest grades of pigments available and are completely non-toxic. Most of the oils in the range are made with alkali-refined linseed oil binder and the others with a safflower oil binder. Compared with cold press linseed oil (a traditional oil paint binder), alkali-refined linseed oil yellows significantly less whilst also creating a strong, flexible paint film. Not only are both the vegetable oils used in Gamblin Artists' Oils completely non-toxic, but they are commonly used in health and beauty products, so their safety for use in paints is of no concern.
No solvents are needed to paint with Gamblin Artists' Oil Colours; they can be thinned with small amounts of Gamblin Refined Linseed Oil. Brushes dirty with the oils can be cleaned by simply wiping away excess paint, working with a little Gamblin Refined Linseed Oil, and then rinsing with a brush cleaner or water and soap.
Gamblin FastMatte Alkyd Oil Colours
Gamblin FastMatte Alkyd Oil Colours are artists' oil quality paints with a rapid drying time. The drying time of Gamblin FastMatte oil is dependent on the thickness of the paint layers used, but thin layers will be touch-dry and ready to be painted over in 24-hours. The consistent drying rate of FastMatte colours means that a painter can return to an artwork with a dry surface the following day. This quality, achieved by the paint's alkyd resin-based binder, along with the matte finish and the ground-like tooth of the paint, makes FastMatte an ideal choice for under painting.
FastMatte colours are compatible with Gamblin painting mediums and traditional oil colours. When thinning FastMatte colours use equal parts of Galkyd and Gamsol. This mixture, if used in moderation, will thin colours without slowing dry-times or significantly increasing gloss. Gamvar Picture Varnish may be applied to saturate colours and impart a uniform satin or gloss surface to the finished work.
Available in a range of 24 colours in 37ml tubes.
---
Oil Painting Mediums
Painting mediums offer a great deal more than simply extending oil colours. Mediums modify the working properties of oil colour from the tube – from a fluid consistency for expressive mark making to a stiff paste for creating thick, crisp marks. Painting mediums also broaden the visual qualities of oil colours – from increasing the transparency of paint layers, to creating a range of
surface qualities, from high gloss to matte.
Gamblin Oil Painting Mediums include: Canvas Ground and Size, Cold Wax Oil Painting Medium, Galkyd Oil Painting Mediums, Gamsol Odourless Mineral Spirit, Gamvar Picture Varnish, Gel Oil Painting Mediums, Traditional Oil Mediums: Refined Linseed Oil, Cold Pressed Linseed Oil, Refined Linseed Stand Oil and Poppy Oil, and a set of Oil Painting Mediums in small sizes to try out.
---
Click on the underlined link to go to Gamblin paints and mediums on the Jackson's Art website.
Postage on orders shipped standard to mainland UK addresses is free for orders of £39.