Winsor & Newton Liquin is a fast-drying alkyd medium for oil painting that comes in five thicknesses for different effects. You mix a small amount with your oil colour to thin your paint or thicken it and it also speeds the drying time. It halves the drying time of conventional oil colour (touch dry in 1-6 days depending on colour & film thickness). It dries transparent but some people have found it yellows over time so you may want to avoid using it with whites or keep the proportion of Liquin that you mix with your paint small, although Winsor says it does resist yellowing. Mixing alkyd in with your oil paint helps it be more crack-resistant, flexible and tough.
The Liquin Fine Detail is the most fluid. This quick drying, gloss medium is ideal for fine details, glazing & blending or to produce a smooth surface picture.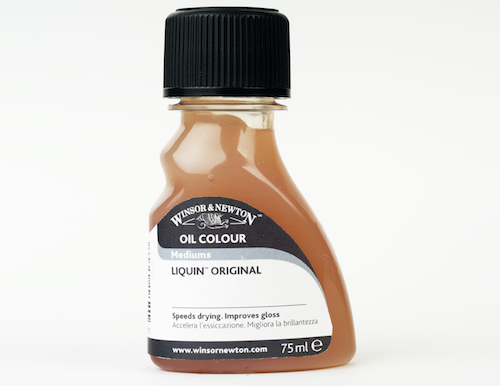 Liquin Original (formerly known as "Liquin" and "Wingel") is the next thickest in the range. This reliable favourite is a general purpose semi-gloss medium which speeds drying, improves flow and reduces brush stroke retention. Good for glazing.
Liquin Light Gel is thick in the bottle but as you stir it will become more fluid and then it thickens up again when it sits (this characteristic is called thixotropic.) This quick drying gloss medium offers a slight gel that brushes out smoothly and is ideal for artists looking for a non-drip effect when mixed with colour. Good for glazing.
Winsor & Newton has two different products to safely thicken oil paint for heavy brushwork or for painting with a palette knife:
Liquin Impasto
and
Liquin Oleopasto.
A few years ago Liquin Oleopasto was discontinued and Winsor & Newton brought out the Liquin Impasto to replace it. But many artists told them the replacement was too different and so the Oleopasto was brought back. They now work side-by-side to achieve different results.
What they have in common:
They are both quick-drying, translucent, gel oil mediums made with an alkyd base, used as mediums in alkyd painting as well as in oil painting impasto techniques. Used as an extender for oil and alkyd paint they give a translucent effect. This means they also make nice glazes. They also provide bulk for the paint. They dry to a crack-resistant, flexible, tough and virtually non-yellowing film that can be varnished in the normal way.
The differences:
Liquin Impasto is stiff, it retains crisp textures and brush strokes without any visible levelling. It also allows more blending time as it doesn't dry quite as fast as the Oleopasto. It dries to a uniform semi-gloss/satin sheen.
Liquin Oleopasto has a soft gel consistency so there is some levelling of brush and knife marks, it retains the marks, just not crisply. It dries more quickly than the Impasto so the paint feels thicker quickly. (Those artists who complained about it being replaced said things like the Oleopasto had more "brush drag", and that was important to them.) The quicker drying allows rapid overpainting. It dries to a uniform semi-matt finish.
Click here for a video explaining all the Liquin products.
Click on the underlined links above or the images to go to the Liquin products on the Jackson's Art website.
The Oil Painting Department on the Jackson's Art website.