If you paint in oils, you will need solvents to thin your paints and mediums. You will also need oil painting solvents to clean your brushes and palette. However if you've browsed through the Solvents department at Jacksonsart.com you will have realised there are a lot to choose from! So which should you use? In this post I will explain what you need to know about White Spirit, Turpentine and Citrus-based solvents.
---
What is the Difference Between Oil Painting Solvents: White Spirit and Turpentine?
Turpentine is made of the natural resin extracted from trees, and white spirit is made of petroleum distillate. White Spirit tends to be less flammable and less toxic than turpentine.  But what does this mean for you and your oil painting?
---
A Guide to White Spirit
White Spirit is known by a number of names. In the US/Canada it is most commonly known as Mineral Spirits. In Australia and New Zealand it is known as Mineral Turpentine. Turpentine Substitute, Petroleum Spirits and Paint Thinner are some other names for White Spirit. If you come across a solvent that has the word 'mineral' in its name, it is most likely to be a form of white spirit.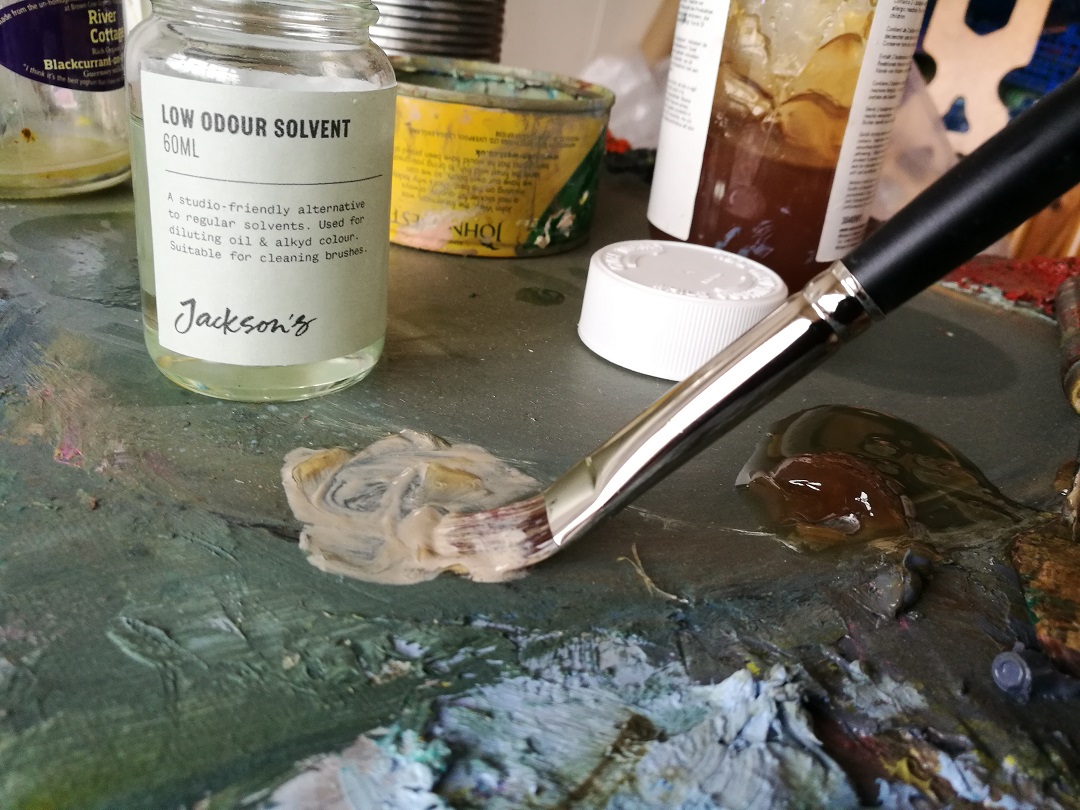 If you're sensitive to fumes, use Low Odour Solvent. Perfect for thinning paints mixed with Alkyd paint mediums such as Liquin.
---
The Down-sides of Using White Spirit
White Spirit can have a strong smell and cause dizziness or nausea. Always use white spirit in a well ventilated room. If you use it for a long time or regularly it can cause contact dermatitis. Nitrile gloves or barrier cream can help with avoiding skin irritation, otherwise simply avoid direct contact where possible.
---
Can I Use White Spirit From the DIY Store for My Oil Painting Needs?
In a word, no. Household white spirit (from a DIY store) has more impurities than Artist's White Spirit, and should be kept away from your oil paintings. It will contain more impurities such as residual sulfur, and this makes it much less artist-friendly. Use Artist's White Spirit – it is free from residual sulfur, and won't contribute to any deterioration in your work over time.
What is Low Odour Solvent?
Low Odour solvent (a.k.a. Odourless Mineral Spirits) white spirit that has been refined further to remove toxic aromatic compounds. You should use low odour solvent over regular white spirit if you regularly come into close contact with your solvent. While Artist's White Spirit can be used to clean oil painting brushes, we would advise using low odour White Spirits such as Gamsol, Low Odour Solvent, Shellsol T and Sansodor in painting mediums.
Petroleum distillates will not dissolve natural resins such as dammar, copal or mastic, but it will dissolve alkyd resins. Therefore use low odour solvent to thin Oil, Alkyd paints and alkyd mediums, but not varnishes or any mediums (such as glaze mediums) that contain natural resins.
If you've browsed the solvents on Jacksonsart.com and want to know what MSA Solvent is for. Golden MSA Solvent is a specialist White Spirit formulated to thin Golden's MSA Varnish; I've not tried it to thin oil paint but if you have we'd love to hear how it performed.
---
Summary
Avoid using household White Spirit in your studio
Artist's White Spirit is great for cleaning palette and brushes after an oil painting session
Use the most refined/lowest odour White Spirits, i.e. Gamsol (often identified as the best), Shellsol, Low Odour Solvent and Sansodor to thin oil paint, linseed oil and oil paint mediums that already contain petroleum distillates (e.g. Alkyd mediums such as Liquin and Galkyd). Drying time aprroximately 6-8 hours
Petroleum Distillates will not dilute natural resins such as Copal, Dammar or Mastic
---
---
---
A Guide to Turpentine as an Oil Painting Solvent
You might hear turpentine being called Spirit of Turpentine or Oil of Turpentine, but it's all the same stuff. It is slightly more viscous than white spirit. Good quality turpentine will smell of the pine trees used to make it. To make turpentine, turpentiners remove the bark of the tree which causes it to secrete oleoresin on to the surface of its wound.  The raw oleoresin is then purified using a distillation process, carried out in a copper still.
Turpentine is flammable and emits vapours that can irritate the skin and eyes and damage the lungs. Don't use Household turps for art – it is likely to leave a gum residue that may prevent your painting from fully drying or cause yellowing to occur over time. Use Artist's Turpentine instead. It has far fewer impurities and as a result will perform better, dry faster and will not yellow.
Use Rectified Spirit of Turpentine for an Effective Turpentine With a Pleasant Scent
The highest quality turpentine (e.g. Rectified Spirit of Turpentine) is made solely from the resin of Pine trees which gives it a clean, pleasant scent.  Conversely, the forest waste used to make lower quality turpentine gives it a bad smell! Although it is possible to purify low grade turpentine enough to make it suitable for oil painting, it will always have a less than pleasant smell.
Larch Venice Turpentine – an Oil Painting Medium, Not a Brush Cleaner
Larch Venice Turpentine is a professional grade painting medium which is not suited to thinning paints and cleaning brushes. Collected from the heart of the larch tree, it is a highly viscous balsam. It is free from abietic acid crystals which can cause discolouration. Larch Venice Turpentine will not cause yellowing and dries with an enamel-like gloss.  It is slow drying, thixotropic, and is a wonderful ingredient for glaze mediums and varnishes. Place Larch Venice Turpentine in a Bain Marie or dilute it with high quality distilled turpentine to make it more fluid.
---
There are now a number of Citrus-scented turpentines available. These include Chelsea Classical Studio: Citrus Essence Brush Cleaner and Roberson: Studio Safe Orange Solvent. Citrus turpentines are non flammable and non aromatic. They are more closer to turpentine than Petroleum Distillate as they will dilute natural resins such as Copal, Mastic and Dammar. They will not leave any residue and are a great solvent to use both in cleaning up and thinning oil paints and mediums.
Summary
Turpentine is flammable and is stronger than most Petroleum Distillates
Do not use Household Turpentine in your art studio as it is likely to leave a residue in painting mediums and cause yellowing over time.
The highest grade turpentine has a pleasant pine fragrance (see Rectified Spirit of Turpentine)
Triple Distilled turpentine will dry more quickly, evenly, and will not leave a residue. Pure Turpentine is usually only singularly distilled and so is best left for cleaning brushes and palettes only.
Use turpentine with and in Glaze Mediums and Varnish, as it will  dilute natural resins such as Copal, Dammar and Mastic
Do not use turpentine to thin Alkyd paints and mediums such as Liquin or Galkyd
Turpentine will thicken when exposed to air – do not use thickened turps and always keep in an air-tight container
Citrus based Solvents such as Roberson: Studio Safe Orange Solvent and Chelsea Classical Studio: Citrus Essence Brush Cleaner are non flammable and non aromatic. As a result they emit hardly any heady fumes and tend to be kinder to skin too. They are also suitable for use in painting mediums.
---
Further Reading
Sally Hirst Compares Cold Wax Mediums
How to Care for a Wooden Oil Painting Palette
How to Varnish a Painting in Oil, Water-mixable Oil or Acrylic
Shop Solvents on jacksonsart.com