Ever wondered where to begin with soft pastels? Artist, tutor and art historian, Sophie Ploeg, explains the hardnesses of different types of soft pastels, their general applications and suggests brands of each type to experiment with.
---
Which Type of Soft Pastel is Right for You?
by Sophie Ploeg
Wander into any art shop, brick and mortar or virtual, and head for the pastel department and you'll see walls of picturesque little drawers, and piles of boxes. They are keeping their content hidden to you for now. But open the drawers and an explosion of colour hits your eyes. Obviously, this is the best aisle in the art shop (well, I think so at least) with endless drawers and boxes full of magic. Row after row of blues, yellows, reds; all slightly different shades, the variations go on and on.
If you would like to paint with soft pastel you'd be forgiven for wondering where to start. Should you go for an affordable box of student pastels, one of those you can also find at the newsagent's, or should you choose the best quality possible and splash out on a fancy brand? And if we should do the latter, which brand is best? Ah, will the shop assistant say, but do you prefer to work with soft or hard soft-pastels? Pencils or applicators?
Too many choices, too many questions!
So let's head into the Art Materials Shop and figure this out.
---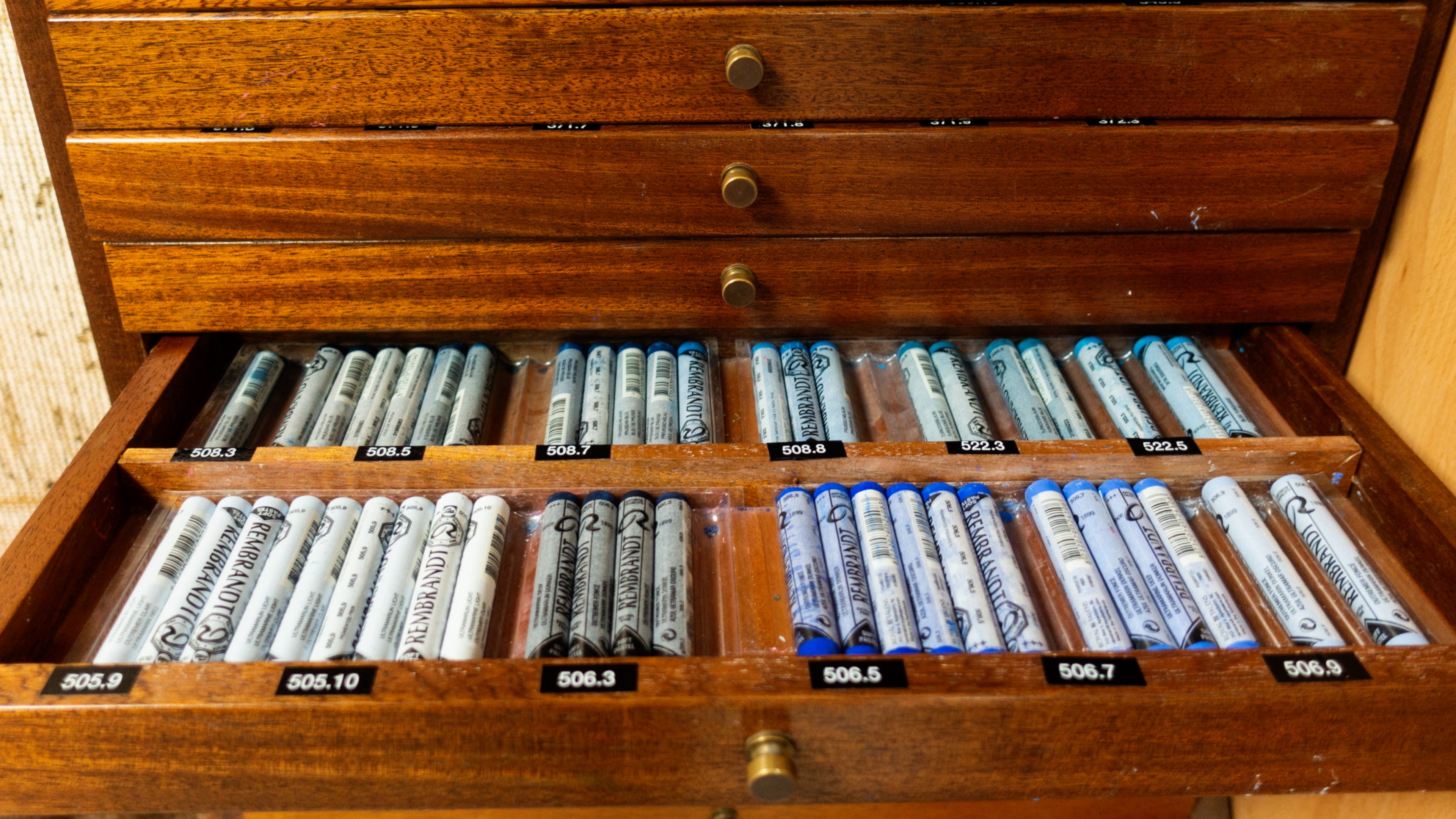 Different Types of Pastel
Soft pastel is made from pigment and a binder that keeps it from falling apart into dust. Most pastels are rolled into a stick form, usually round, sometimes square. The softest brands of soft pastel only contain pigment and a tiny bit of binder; the harder soft-pastels and cheaper brands often contain more binder. The binder can be starch, clay or gum arabic etc. Most soft pastels do not contain any chalk.
Soft pastel is sometimes called dry pastel. Soft pastel usually refers to a wide variety of hard and soft pastels, pencils and pan pastels.
Usually, soft pastels are divided into four different types:
---
Pan Pastel is a brand name as well as a type, and as far as I know Pan Pastel is the only brand that offers pastel pressed into small flat containers (a bit like face make up), which you apply with spongy applicators. It is great for shading and layering and creating expressive but subtle effects.
Pastel pencils are soft or hard pastels contained in a pencil. The hardness of the pastel varies a little, but in general pastel pencils are fairly hard. Because you can sharpen these pencils, pastel pencils are extremely suitable for fine detail. They layer and mix very well and come in a large range of colours. The downside of pastel pencils is that they get used up comparatively quickly and are expensive to replace. Well known and loved brands are Stabilo and Derwent.
The main type of pastels are hard and soft pastels. Hard pastels are often (and confusingly) considered soft pastels as well. After all, hard pastels are simply a harder version of soft pastels and there are plenty of pastels we could consider medium hard! Hard pastels are often (not always) square in shape and slightly less expensive than soft pastels.
Within the soft pastel range, there is a huge variety in hardness. Some pastels are buttery soft, some are very hard, but many are somewhere in between. Almost all brands have their own unique characteristics and almost no brands are alike. Experimenting and asking more experienced painters is the only way to find out which might suit your style best.
Hard pastels can be sharpened (use sandpaper) into a point and are very suitable for fine detail. Instead of sharpening you can also use the sharp edge created by breaking them. The hard sticks make fine lines, or when used on its side, broad sweeps of colour. They are great for layering and mixing. Popular brands are Nupastel, Polychromos, Caran D'Ache and Cretacolor.
Soft pastels can range from medium-hard to very buttery soft. It is much harder to create fine detail with very soft pastels, as they make much fatter and bigger strokes, putting down more pigment with each application. Often the softest pastels are extremely high in pigment load and create luscious and rich marks. Many artists prefer them for this reason. For very fine detail, harder pastels are more suitable, however. The softest pastels are often higher priced, due to their high qualitative pigment load. Popular brands are Sennelier, Unison and Terry Ludwig.
Medium soft pastels are the best of both worlds. They are hard enough to be able to create fine detail, yet soft enough to provide good colour and expressive mark-making. They are a very popular choice for these reasons. Good brands are Jackson's, Talens Rembrandt and Art Spectrum.
---
Which type of pastel to use when
Many people wonder why and when to use different pastel types. The reason why this question is often not clearly answered is because it is a very personal choice. Many artists have their own way of working and there are few rules to stick to. You can mix and match different pastel types in a painting, you can use one type first and then layer another over it. You can use soft pastels for detail or use pastel pencils instead, or both. So, through trial and error, preference and style, every painter finds his or her own way of doing things.
However, to help a beginner along the way, we can deduct some generic guidelines.

Soft pastel fills up the tooth (texture) of the paper quickly and so is, therefore, less suitable for layering pastel strokes.
Applying hard pastels on top of soft pastels does not always work well: the hard pastel might scrape off the soft pastel instead of leaving a mark.
Soft pastel applies very well over hard pastel and is often used as finishing touches or final layers.
Many artists use hard pastels or pencils for the first marks and finish off with soft pastels.
Artists that like to paint extremely fine detail often stick to pastel pencils, medium or hard pastels.
More impressionist styles are often done in softer pastels.
You can create your whole painting with just pastel pencils, or just hard pastels, or just soft pastels. Or you can mix it up; it is totally up to you.
All brands of pastel can be mixed in a painting.
Soft and hard pastels blend equally well. Sanded papers don't allow for much blending though.
The softest pastel brands especially are all very different in colour, texture and feel. Nothing is more fun than to try them out!
Although there are many different brands and types of pastel, which might seem confusing at first, soon you will realise that there is a world of pastel to explore and experiment with. All types and brands can be mixed together and there are very few rules to stick to in pastel painting.
So which drawer in the the art shop are you going to go for first? The hard pastels or the soft ones? the pencils or the pans? Once we are outside again we can head over to the pastel studios, or perhaps you'd like some inspiration in the Pastel Museum first. I don't have time to show you everything here at The Pastel Place, but I am glad I could at least show you the art store. If you are intrigued then why not head over and have a look at our brochure and perhaps sign up for the whole tour?
If you would like to know more about pastel painting, its materials and techniques, then The Pastel Place might be perfect for you. You will find a structured course, daily access to your tutor, a private supportive community and so much more. You will learn enough technique and skills to confidently move on your own creative journey. See you in The Pastel Place!
---
About Sophie Ploeg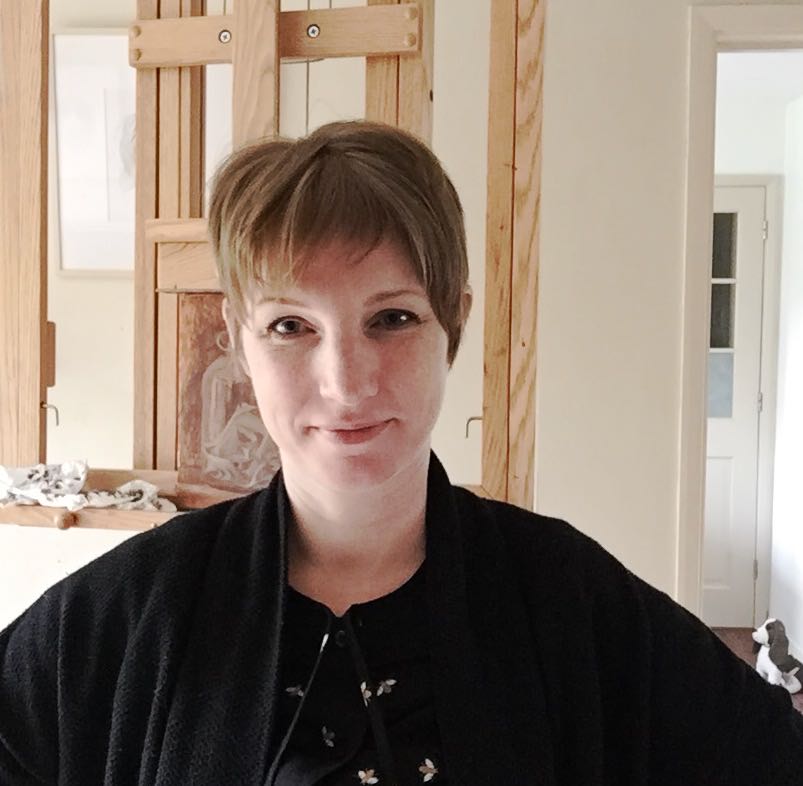 Sophie Ploeg is an artist, tutor, art historian and art blogger. She has been working with pastel for 30 years and added oils to her arsenal in the last 15 years. Her art career has had many highlights such as exhibiting at the BP Portrait Award (winning the BP Travel Award), the Pastel Society and the Royal Society of Portrait Painters. She has published in the Pastel Journal and A&I Magazine and many other publications. She has been teaching workshops for 4 years and has opened her online art school last year. Visit her website to see her work and find out more about her teaching.