October is often a month in an artists calendar dedicated to ink drawings, by participating in Inktober. We asked illustrators Philip Harris and Richard Stephenson to try out Jackson's Indian Ink. Made in the UK and formulated with a base of high-quality shellac medium and purified water, the ink has a clean, smooth and steady flow. Find out how Philip and Richard experiment and use the ink below.
---
Richard Stephenson
Ink and printmaking of any kind, for me, are some of the most important inventions, discoveries and acts in the establishment of modern civilisation. It has allowed the communication of knowledge and ideas to permeate generation after generation: aiding us to understand what words cannot communicate, record history… and imagine the future. I also wouldn't know what to do with myself if ink wasn't a thing.
Having drawn predominantly with ink for 25 years I was delighted to be asked by Jackson's Art to review their Jackson's Indian Ink. Rather than just sticking to line work, which the body of my work is usual based around, I decided to apply several ink washes to this piece to put the ink through its paces. Without question the ink quality holds up as one of the best I've used.
I started by decanting some pure ink, then made ink water mixes with 20% water, 50% water and 80% water. I put them in density order to avoid general confusion.
For the piece I used the Speedball Mapping Dip Pen Set, specifically the 513EF – Globe nib in the Speedball Holder and the 100 Artist nib in the 104 holder (for finer line work). For the washes and thicker ink work I used a brush akin to the Shinku: Red Synthetic Bristle Hair Brush (Size No 8) and the Akashita: Thick Natural Hair Calligraphy Brush (also size No 8).
Doing some quick testing with the dip pens I found the ink to dry impressively quick with a deep, solid black gloss finish and zero feathering (bleed). Feathering is an issue with low quality inks, but Jackson's Indian ink has a beautiful flow and applies very smoothly so you can achieve a very fine line. I received a 300 ml bottle of ink and I would advise using a long pipette to avoid disappointing your desk or work surface.
I pencilled out my idea first and then used the dip pens to mark out the outlines of the drawing. The versatility of the nibs was excellent and producing varying accents with the lines was very achievable with the ink. Because I wanted to put this ink to the test, I gave the lines very little time to dry before I applied the first wash.
I applied the 80% water ink mix first for a light wash leaving the lighthouse untouched. I then applied a second darker was using both the 80% and 50% mixes to give the sense that lighthouse is the only source of light. That feels kind of obvious now that I've written it. I stopped there to review the initial ink lines I'd put down to see how they'd faired against the washes that were applied only a minute later. Not one line had smudged, or bleed and you can see by the warped paper that I went to town with the wash. The ink dries very quickly and is completely water resistant.
I then set about applying pure ink to darken the sea water and provide a contrast with the foamy sections of waves using the Bristle Hair Brush and Calligraphy Brush. The brushes took up the ink nicely and there was a lot of control during application. I never felt like the ink was running away or doing something I didn't want it to do. I used the bristle brush to apply some subtle detail to the lighthouse and rocks below and left a visible bloom around the light source.
To finish off I took up my dip pens again and applied light strokes through the waves to insinuate further motion in the sea and put in some additional detailing around the lighthouse door and railings at the top using the 100 Artist nib. For my aging experience with inks, the quality and versatility of this ink is of the highest standard. Be it that you are just starting out or already at a professional level of hatching, stippling or calligraphy, this ink is an essential companion for exploring your imagination and craft.
About Richard Stephenson
R.E. Stephenson is an illustrator living and working in North Yorkshire, England. Drawing inspiration from nature, mental health, sci-fi, fantasy and anything bizarre, his work is bursting with new adventures and narrative suspense.
With a BA Hons in Graphic Art and Design, Richard produces work in several mediums for a wide range of clients such as UNICEF and the Guyanese Forestry Commission, but his heart inhabits the world of pen and ink illustration.
Capturing pinnacle moments in the alternative worlds he creates, delving into the heightened drama of an otherwise unknown story – Richard's work offers a sense of what has happened before the moment and what may arise in the imminent future.
Traveling the boundaries of unusual moments that morph into the familiar, he hopes his work finds kinship with the viewer, maybe reflecting on the stories in their lives… or that they just enjoy the image for what it is.
Instagram: @re_stephenson
Website: restephensonart.com
Etsy: etsy.com/uk/shop/REStephensonArt
---
Philip Harris
While using Jackson's Indian ink I found that it is quite a fast-flowing ink that works well if you make quick marks while drawing or if you're using brushes. It seems to dry quickly on paper which is very handy to avoid smudging any marks with your hand.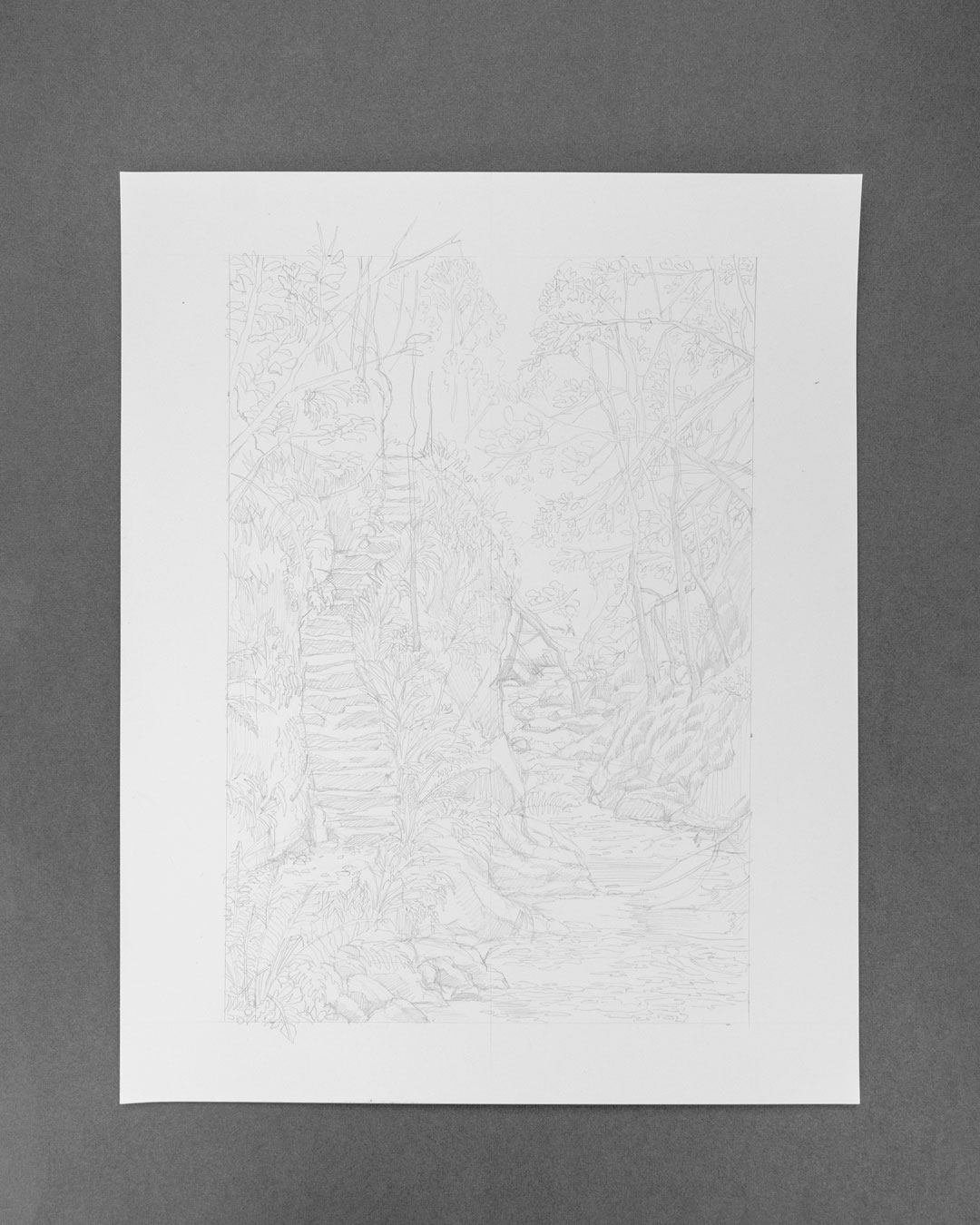 I discovered that it worked best for me with finer drawing nibs like a mapping nib which gave me more control over the linework. I don't recommend using it with a G nib or Spoon nibs as the ink seemed to flood the nib easily and result in you losing the fine details while drawing.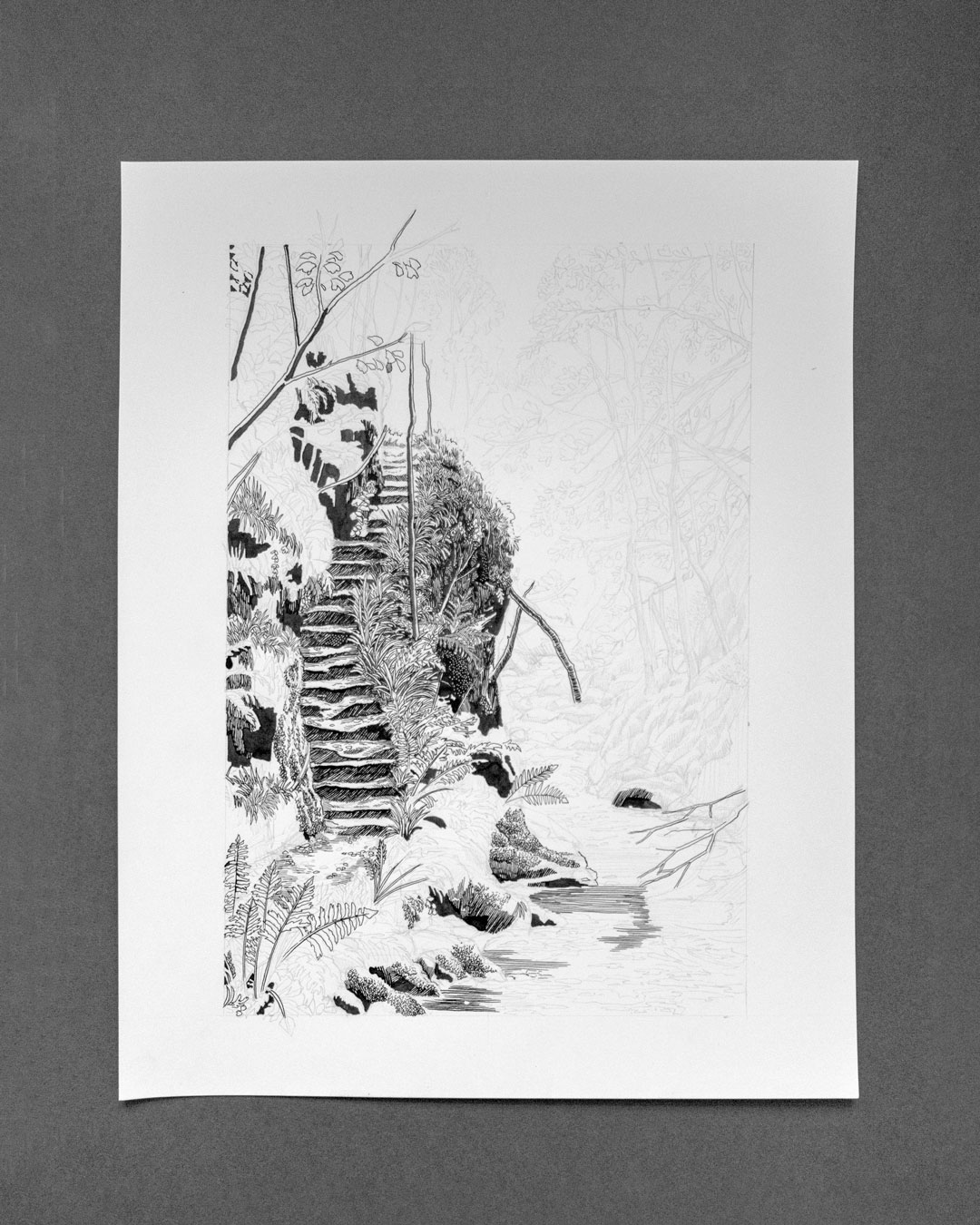 It's semi-opaque and has a warm black tone rather than the crisp flat black of other drawing inks which would be good to capture the atmosphere in your drawings or if you wanted to layer it up to create depth.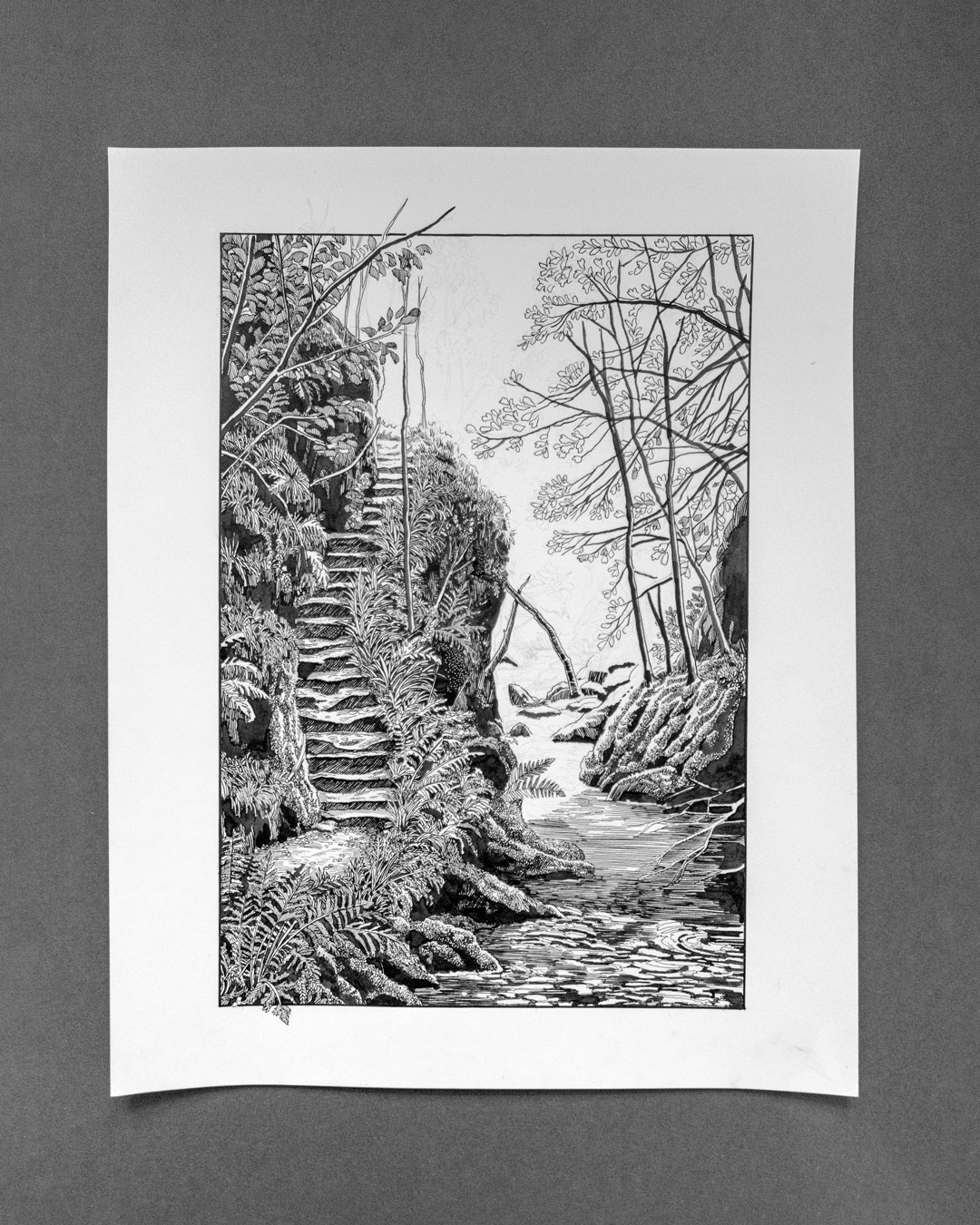 The warm tone of the ink does lend itself nicely to pairing with a paper that is slightly off white, especially if it has a warm yellow hue.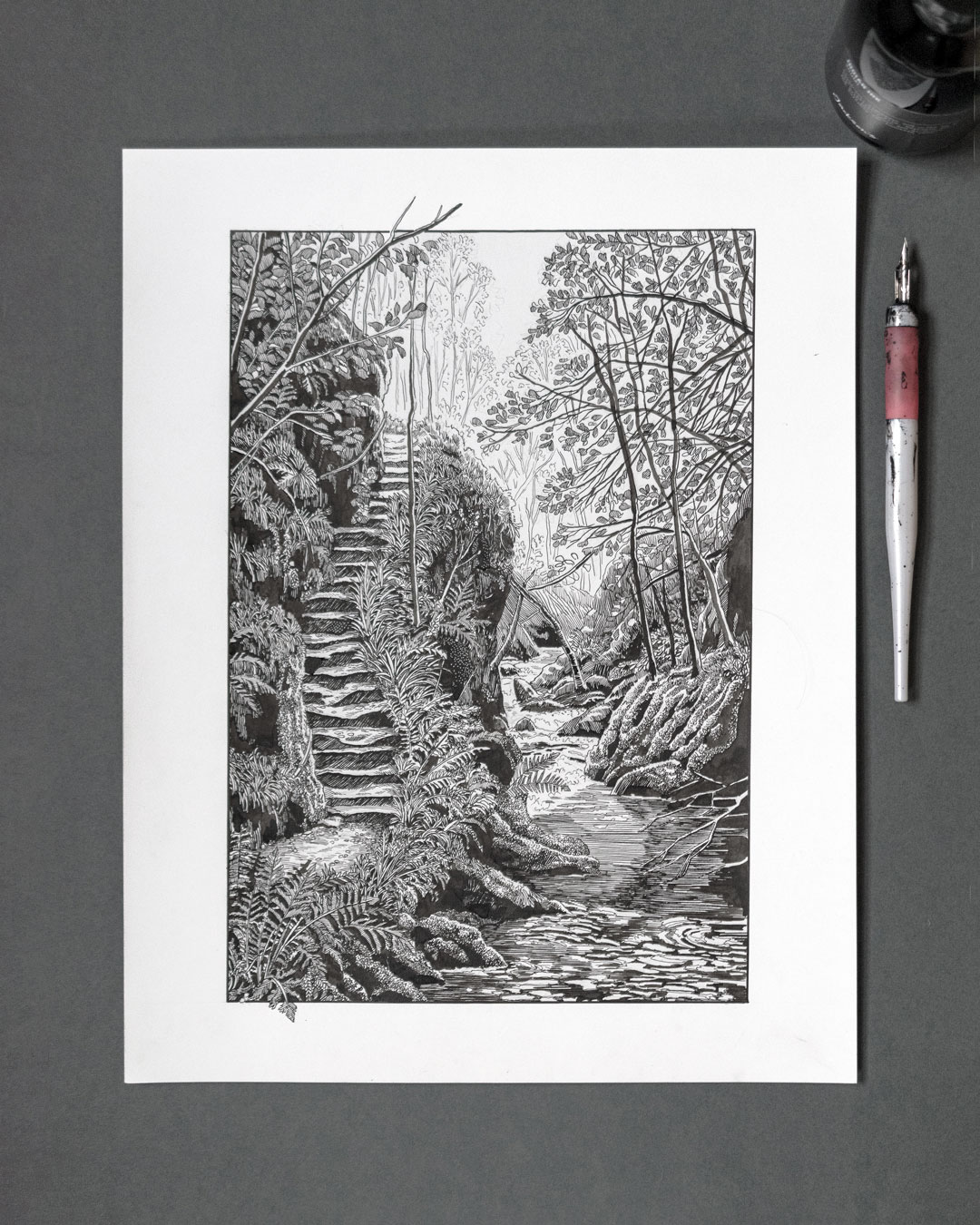 I'd recommend it if you're looking to build up areas of washes with a brush within your work, or if you're a dip pen artist wanting to fill in large areas with a more subtle tones that have varied levels of darkness.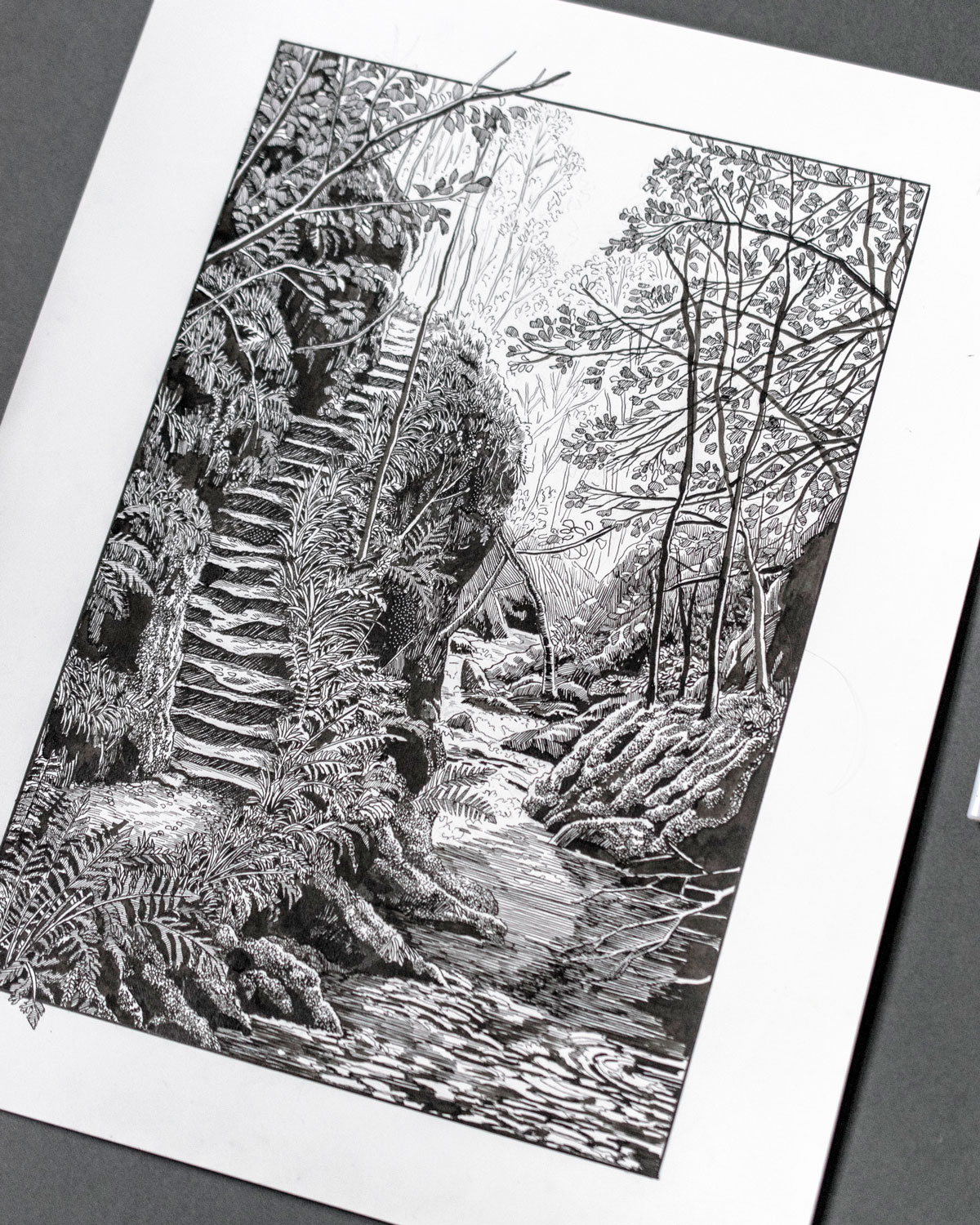 About Philip Harris
Philip Harris is a freelance Illustrator, chihuahua owner and vintage blues fan currently living and working in Devon, UK. Philip became inspired by illustration as a child studying his grandfather's old sketchbooks around the family home. During university he inherited his granddad's collection of dip pens and began experimenting with pen and ink, Becoming fascinated by crosshatching, pointillism and line-work. He still uses the same pen nibs today as well as diversifying to use other mediums such as Rotring pens, alcohol markers and printmaking to create his images.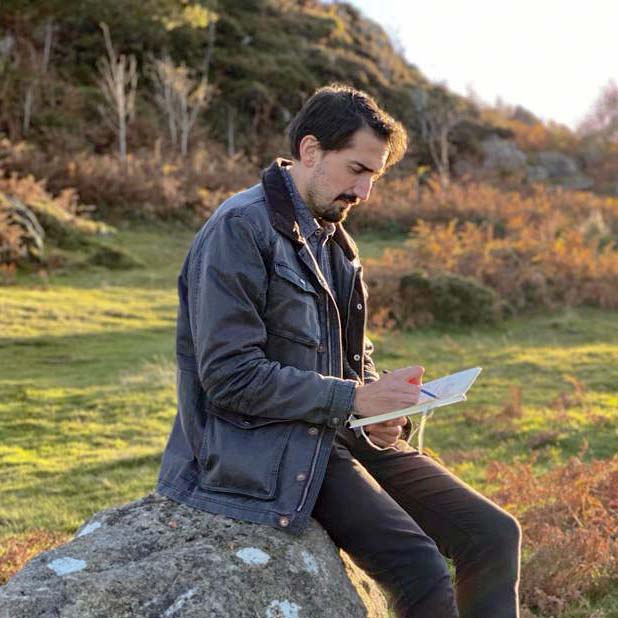 Shop: philipharrisillustration.com
Portfolio: philipharrisillustration.co.uk
Instagram: @philipharrisillustration
Twitter: @philipharrisart
Use or search the Instagram tag #jacksonsmaterials to see more.