Parul Arora is a London-based artist, illustrator and ceramics maker, whose sketchbooks are as much a place to draw as they are a celebration of colour. Whether she is experimenting with different palettes, testing new materials, making rough sketches or finished works, every page of her sketchbook is brought to life with an abundant approach to colour. Here, she shares how her process has evolved, and why she devotes a different sketchbook to each aspect of her practice.
---
Parul Arora Takes Us Through Her Sketchbook Practice
My sketchbooks are like visual diaries that capture all my thoughts, ideas, and memories of little moments. When I first started using them regularly a few years ago, I was still working as a freelance designer along with my art practice. I carried them wherever I went, drawing in my lunch break, sitting in a park or a cafe, observing life around me. For the longest time, I kept only one sketchbook at a time, making sure I finished it before starting another, but over the last year or so, I have started to have 3-4 on the go at the same time, each with a different purpose. This has helped me structure my work so I can see my progress in my art more easily. Drawing in my sketchbooks has also helped me understand what I like and don't like, and develop my style over time. Having different sketchbooks is also handy for quickly referring back when searching for something specific.
The four main ways I use my different sketchbooks are:
General messy and rough sketching: I usually have one for messy sketches, people watching, location, and observational drawing, for both my personal work and client projects.
Exploring colour and materials: I spend considerable time studying colour, where I explore and play with colour palettes and art materials. If I'm having a creative block or not feeling great mentally, I play with colour. This is my idea of therapy. I also use them to create colour options and studies for client projects.
Life and portrait drawing: This is something I took up during lockdown. I hadn't done life drawing since art college, and taking online life drawing classes during this period not only gave me the much needed connection with other amazing community of artists but also helped me develop my drawing skills. And now, this is something I continue to do.
More finished works: These sketchbooks are more like art books, with more finished and considered work. They are almost like a mini-portfolio of my art that is all in one place.
I love hard back sketchbooks with smooth paper. And my two, favourite sketchbooks are: Daler Rowney's Ebony and Royal Talens' Art creations. Daler Rowney Ebony has a thick 160 gsm smooth paper that holds gouache and mixed media so well. I end up using them back to back, and can easily fill up all the sides, so it's a real good value for money. A lot of my finished works are done in this sketchbook.
What I like about Royal Talens Art creations is that it lays flat and have a lovely cream coloured smooth paper that is easy to fill for quick sketches and colour palette studies. Its again super affordable so I don't feel too precious about them.
I prefer to draw small and am most comfortable using an A5 size sketchbook as they are easy to carry around wherever I go but also use A4 ones for life drawings and painting patterns.
I really enjoy experimenting with new art materials, but my main medium of choice is gouache paint. I use it mostly in an opaque manner and love layering it with coloured pencils, brush pens, and oil pastels to create textures and add details. When I'm traveling or drawing on location, I carry the pan versions of gouache with me. Recently, I've been trying out some hybrid gouache and watercolour materials like Shinhan Pass and Japanese Gansai paints, and I can feel a shift in my work. Trying new art materials sometimes has that effect, and I'm looking forward to seeing where this exploration will take me.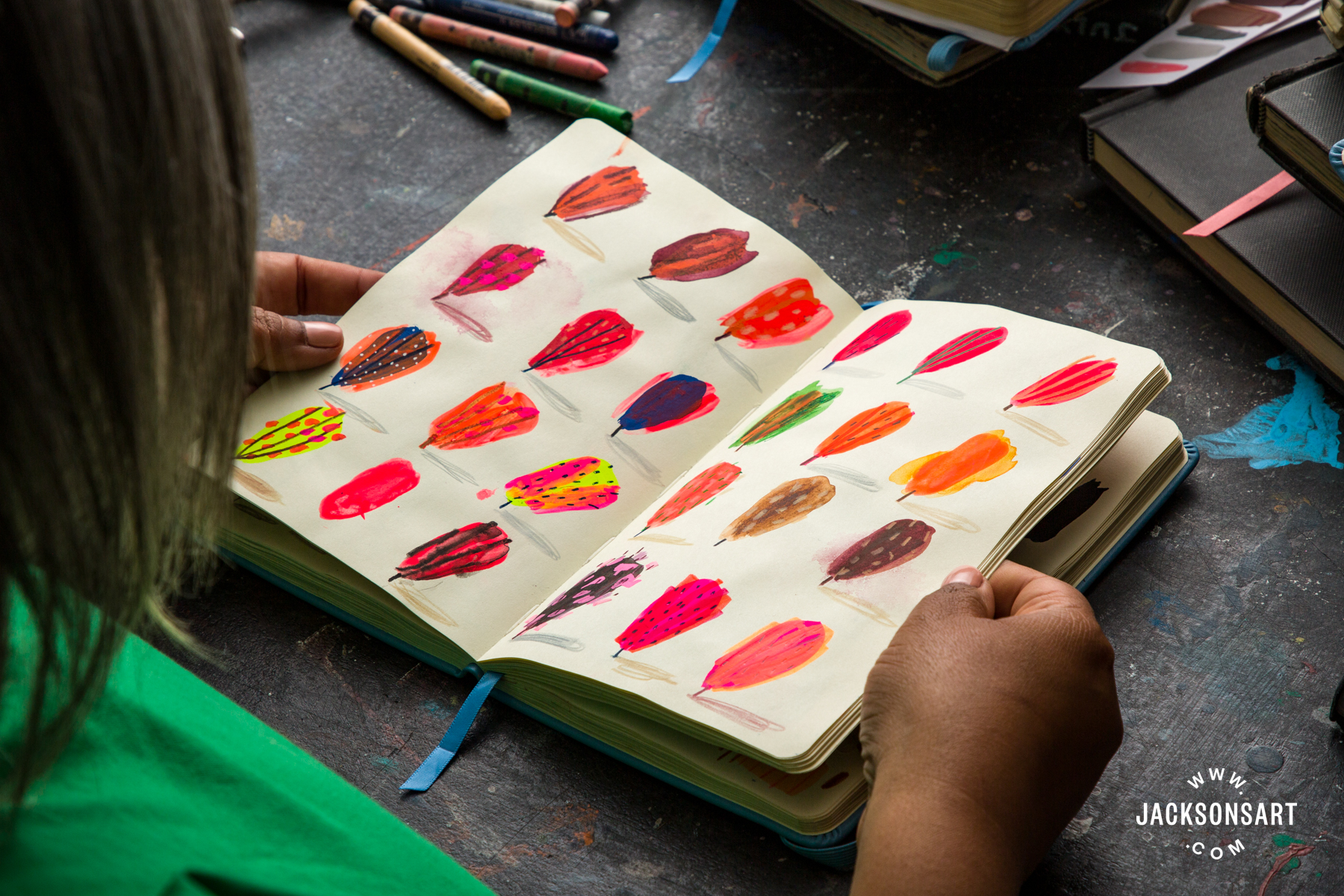 My work revolves around capturing everyday life and objects, but through my eyes and imagination. The scenes I draw are often fictionalised, more theatrical and exaggerated than real life. It's as if I want to give these little moments the spotlight by amplifying them. Colour also plays a significant role in my work, and gouache, with its matte finish and rich, saturated pigment, perfectly suits my painting style and subjects I like to paint.
I draw in my sketchbooks almost every day, and it is an essential part of my work.
I often refer to my coloured sketchbooks to explore colour palettes further in the painting I am working on, or to see how I used a specific art material before. Sometimes, a client will reference a specific painting I created in my sketchbook that they saw on social media as a starting point for the project we are working on.
Often, the sketches in my sketchbook are purely for honing my skills and pushing the boundaries of my work, as I continue to challenge myself. This includes observational and life drawing sketches.
However, I also create patterns and paintings that combine observation with imagination. These more polished works often become art prints or are used for surface pattern design projects.
Occasionally, I'll combine observational drawings and sketches to create a completely new work altogether.
I believe that sketchbooks should be a safe space for people to explore their creativity without expectations or judgement. There is no one single way to use them, and each person should explore their sketchbooks in their own way to best express their personal style. If, like me, you prefer a more defined and precise style of painting, go for it. If you enjoy making a mess or just scribbling, that's great too.
Using inexpensive sketchbooks, especially if you are just starting out, can help you overcome the fear of "messing up" or "analysis paralysis". It's best not to be too precious about them and just create and work in them often. Lastly, try not to tear up or destroy any "bad art" (even if it's tempting). Over time, as you look back through your sketchbooks, you will see progress and growth. You will also see connections in your work, how one thing leds to another, and seeing that in your work is absolute magic.
Materials Used
Sketchbooks
Daler Rowney Ebony
Royal Talens Art Creations
Gouache
Turner Acrylic Gouache
Holbein Acrylic Gouache
Winsor & Newton Gouache
Shinhan Pass Watercolour and Gouache Hybrid Paint
Kuretake Gansai Tambi Japanese Watercolour
Acrylic
Daler Rowney FW Acrylic Ink
Daler Rowney System 3 Acrylic Ink
Liquitex Softbody Acrylic
Colour Pencils
Caran d'Ache Luminance
Holbein
Derwent Procolour Pencils
Pastels
Caran d'Ache Neocolours
Caran d'Ache Artist Neopastels
Sennelier Oil Pastels
Markers & Pens
Posca Acrylic Markers
Liquitex Acrylic Markers
Tombow Brush Pens
Sakura Koi Brush Pens
About Parul Arora
Parul Arora aka JustNoey is a London based artist, illustrator and ceramics maker. Originally from India, Parul studied Fine Arts at the Delhi Collage of Art before embarking on a 20 year freelance design career. She decided to come back to her art roots and started working on her own art practice a few years ago, where she now focuses on storytelling through colour, pattern and capturing everyday life and scenes.
---
Further Reading
Using Watercolours for Illustration
Brush Pens: the Definitive Guide
How to Create the Best Digital Photographs of Your Artwork
Shop Sketchbooks on jacksonsart.com