At Jackson's we have a wide range of black ink brush pens which vary wildly – from their width, to how they hold, to the quality of line and colour. A proportion of these originate from Far East Asia, where a strong tradition of both calligraphy and manga art demands pens that offer intensely black ink and expressive strokes. This article explains how Eastern and Western pens vary, and which are best suited to your way of working, whether your passion is sketching, calligraphy, watercolour line and wash or technical drawing.
The Difference Between Eastern and Western Pens
Kuretake, Pentel, Shin Han, Akashiya, Sakura and Tombow are all well known Eastern brush pen manufacturers, while Winsor and Newton and Faber Castell are examples of Western brush manufacturers. All Western pens tend to have a felt nib, while a portion of Eastern pens have a nib made of fine synthetic hairs. Such brush pens therefore perform more like a brush than a conventional pen. This means that when applying very quick vigorous strokes, you can see the individual hairs in the marks as you lift the pen. Additionally, when these pens are used on cold pressed or rough watercolour paper, the strokes tend to break up and show the dimples of the paper, whereas felt pens tend to offer a much more even coverage.
Some of the names you may come across when browsing Kuretake pens indicate the kind of pen it is, for example fude means brush in Japanese, fudegokochi means a brush that is comfortable to hold, and bimoji means beautiful characters, suggesting the pen is ideal for Japanese calligraphy. The literal translation of fudenosuke is 'brush assistant' – literally assisting you with your beautiful drawings and writing!
Felt and Synthetic Brush Hair Nibs
Within the two varieties of felt nib and synthetic hair nibs, you will also come across nibs of varying lengths and widths. In the table we list the dimensions of each nib. The length of a nib and its flexibility will influence the range of width achievable with a pen (i.e. a very flexible long nib will be capable of a wide variety of different width lines, a short rigid nib will only have a narrow range of line widths), while the width at the base of the nib will go some way to indicate ink flow. This is of particular interest if the ink in the pen is translucent. If it is and the width of the nib is wide, it suggests that if you apply greater pressure, the mark you make will appear more saturated with ink, as more ink can flow from the pen.
The Barrel of a Pen
The vast majority of brush pens have a plastic barrel. A standard 10mm wide barrel will feel comfortable to hold in the normal, letter writing position. A regular pen is usually around 13-14cm long. Some of the eastern pens are narrower in the barrel, and longer. These replicate the proportions of a traditional Japanese calligraphy brush and are comfortable to hold as you would a letter-writing pen, but also ideal for holding like a paintbrush, with your hand further towards the end of the pen, which is also as a traditional Japanese calligraphy brush would be held. Wider marker pen style barrels of around 15mm might become more uncomfortable in the hand if being used over a long period of time, and especially so if you are making controlled marks. They are designed for bold mark marking, and less so for precision.
The Difference Between Different Shades of Black
Black ink has a tendency to have a degree of warmth or coolness about it. In a nutshell, this means the shade of black will tend towards brown if warm, and blue or violet if cool. If you drag a wet brush over a watersoluble ink, it can be fascinating to see how the dilute version of the ink draws out the undertones of the colour, often creating surprising umbers or violets. Additionally it is worth noting how transparent or opaque the ink is, and considering whether you'd like layers of marks to remain visible, or if you need your coverage to be more opaque.
The Water Solubility of Ink
If you wish for your watersoluble ink mark to disappear completely, it will do if you saturate it with water and blot it gently with a clean sponge. As can be seen in the images below, diluting a pen mark with water can really show some wildly differing results, all dependent on the pigments or dyes used to make the paint. Dye based inks may dilute out into a variety of different shades (for example the Molotow Aqua Color pen has shades of violet, blue and grey), while pigments tend to dilute into even shades of colour. Waterproof pen marks need to be completely dry to be waterproof. If they are applied to damp paper they will dissolve and bleed on the page.
The Difference Between Pigment and Dye Pens
Dyes are water soluble whereas pigments are not. Pigment particles suspend within the binder of the ink, such as gum arabic, while dyes are dissolved in a binder; you could liken pigments as being like sand in water, while dyes are more like sugar in water. Unless a pigment in a pen is regarded as being particularly fugitive, it will usually have a much better lightfastness rating than a dye based pen. For this reason we advise that dye based pens are only used for sketchbook work or work that is intended for reproduction, and to only use pigment pens for works that are likely to be exposed to light for prolonged periods of time (such as artwork that will hang on a wall).
Alcohol Based Pens
Alcohol based pens tend to carry an odour with them, which can become heady if working over a long time. They also tend to bleed through paper. They dilute in alcohol but are waterproof and are ideal for bold marks.
Refillable Pens
Pentel, Copic, Kuretake, Molotow and ShinHan all offer refillable pens, some of which also have replaceable nibs. However it is possible to refill some disposable pens with ink. It is worth checking the pen, and whether it has a removable end or nib. If you see that the plastic is not seamlessly joined throughout the pen, then it can be worth attempting to prize the pen open with pliers once it is out of ink and seeing if you can pipette some more ink into it! If you do this we strongly recommend you use the same kind of ink to refill (i.e. pigment ink for pigment pens, dye ink for dye pens) as a different kind of ink may impair the flow of the pen. Refilling disposable pens can be fiddly and messy, but will reduce plastic waste!
How to Dispose of Your Pen after Use
Many of the disposable pens available are unfortunately hard to recycle. Luckily in 21 countries around the world, Terracycle have collaborated with BIC pens to offer a pen recycling service. Visit the Terracycle site (this link is for the UK site, other Terracycle websites are online for other countries) and watch the video which explains how pens are broken down and used to make new products, including garden furniture and flooring tiles.
Use this writing instruments recycling drop off map on Google Maps (UK) to find your nearest drop off location for your pens.
Brush Pen Comparison Table
Our table compares the nibs, colour, water solubility and permanence of a variety of brush pens. Click the image below to enlarge, or download our PDF version here to print.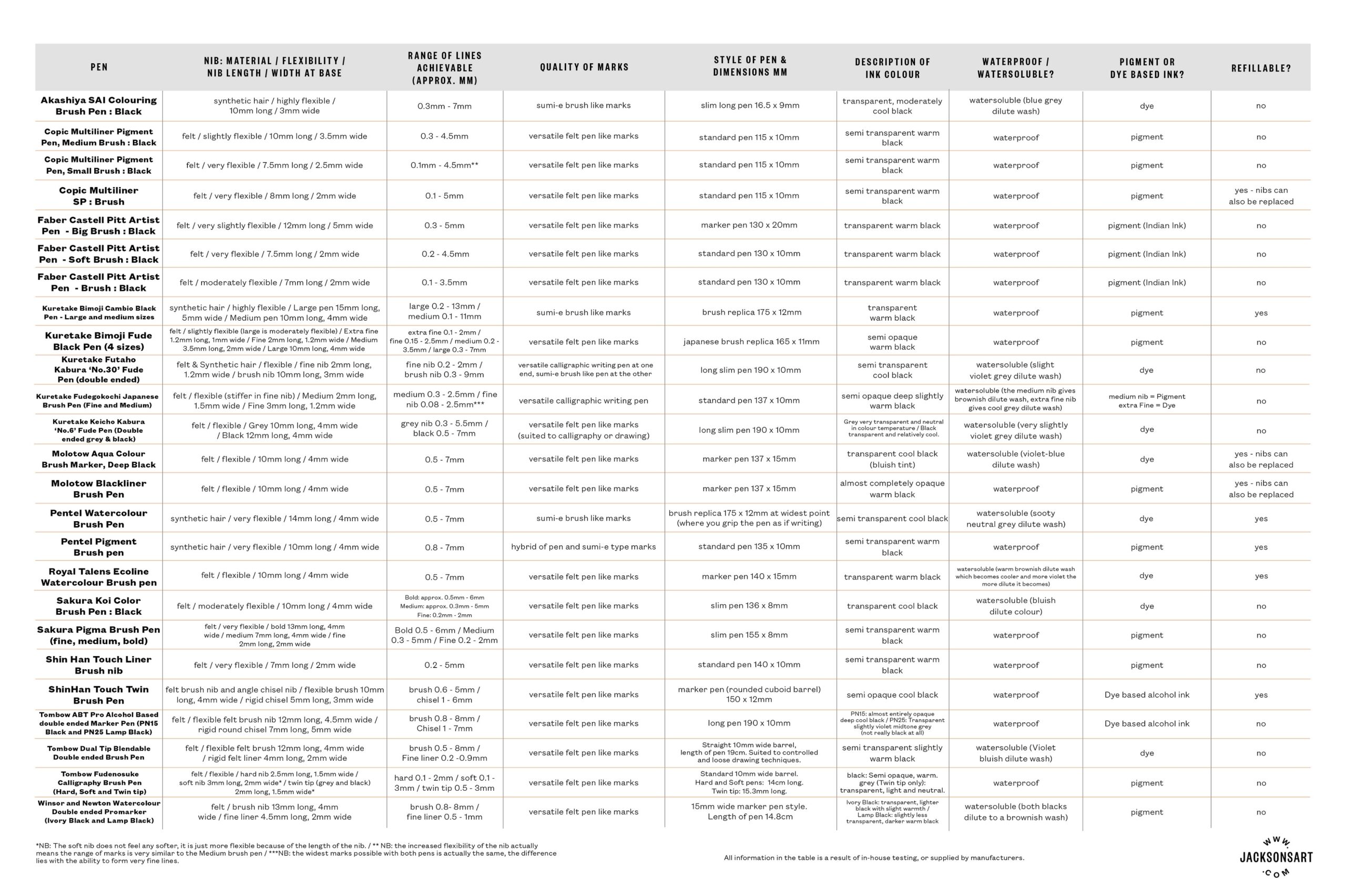 ---
Visual Guide to Marks, Pen by Pen
Below is a list of brush pens in alphabetical order, accompanied with images of the marks they make on Bristol board paper, and how the watersoluble pen marks appear on cold pressed watercolour paper, after a wet watercolour brush has diluted the colour. Waterproof pens on cold pressed paper are shown if a particularly interesting texture is found in the marks. Please note drawn marks are not to scale (an indication of line widths is in the table above).
---
other nibs available in the range
---
other nibs available in the range
---
---
White big brush also available
---
---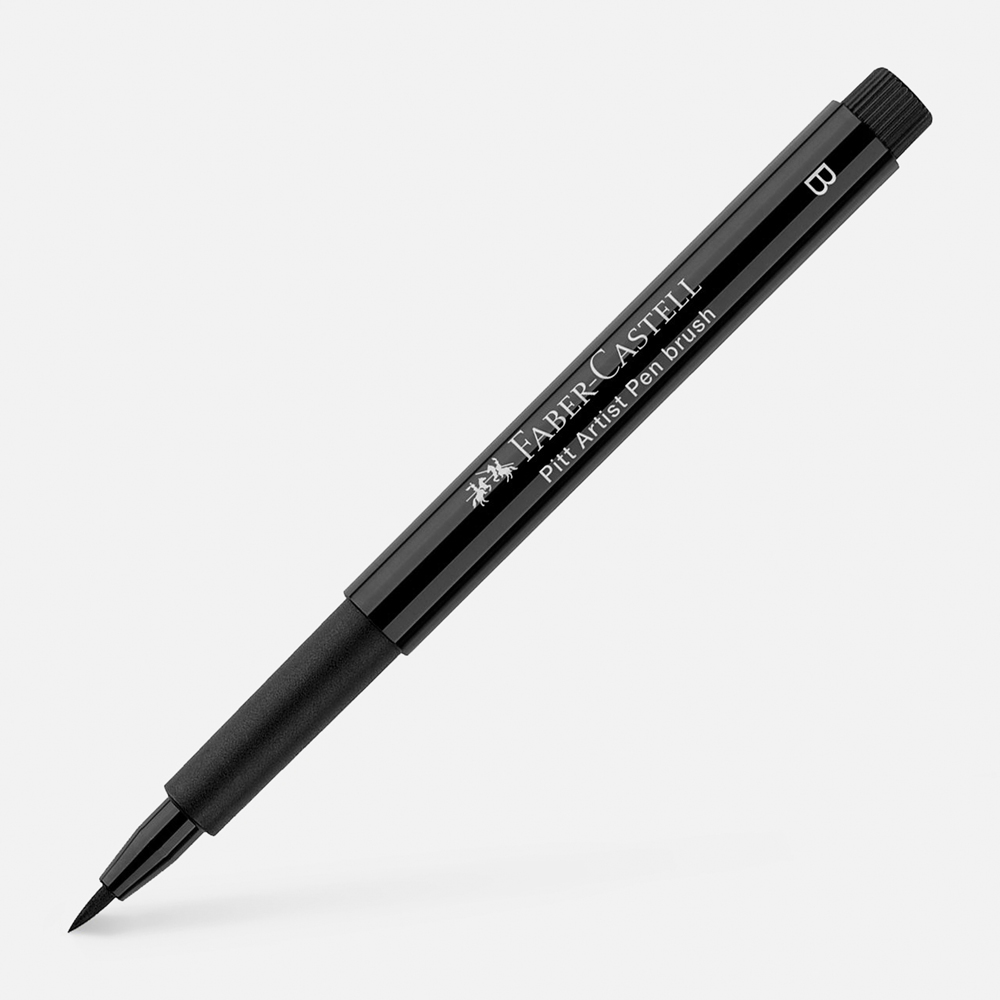 ---
---
---
---
---
---
---
---
---
---
---
---
Olive green and refills available here
---
---
---
---
---
---
---
---
---
---
---
---
---
---