The Montana Empty Marker Pens are useful if you want to paint fine lines, small shapes, wide even lines – basically to have more control than you would with a brush. You can fill them with ink or acrylic paint and incorporate the marks into your acrylic painting. It is also a great way to have a marker in the colour and transparency of your choice.
My initial concern when I first used the fillable markers a few years ago was that the acrylic would harden in the nib. But I found that if the felt tip stays wet with paint and the cap is tight it, then is like it is in a bottle. See the bottom of the article for more about this.
H Locke chose to test a fill-able marker with Jackson's India ink in the earlier Marker Comparison Testing article.
---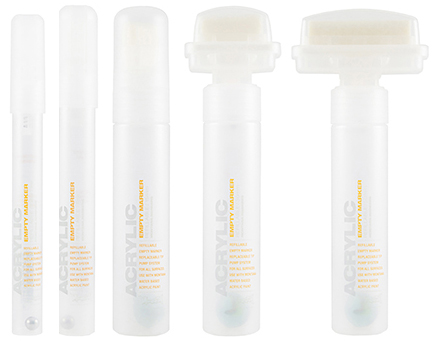 Montana Empty Marker Pens in 5 sizes
---
Ways you might use the pens filled with acrylic colour
I wanted to layer Phthalo Blue and Quinacridone Gold as I like the resulting greens.
So I filled a .7mm marker with Golden High Flow Quinacricone Gold and a 2mm marker with Golden High Flow Phthalo Blue and a bit of water so it would be paler. Then using the 2 marker pens as well as the same two paints with a brush I made some quick tests to give an idea of what can be accomplished in this way.
---
Tips for filling the empty pens
Steps to filling and using:
1. Take empty marker apart.
The nib screws off in the opposite direction to most things in life. This is to prevent it unscrewing if you try to unscrew the lid as the ink would go everywhere.
Do not lose the ball from inside, it is needed for agitation.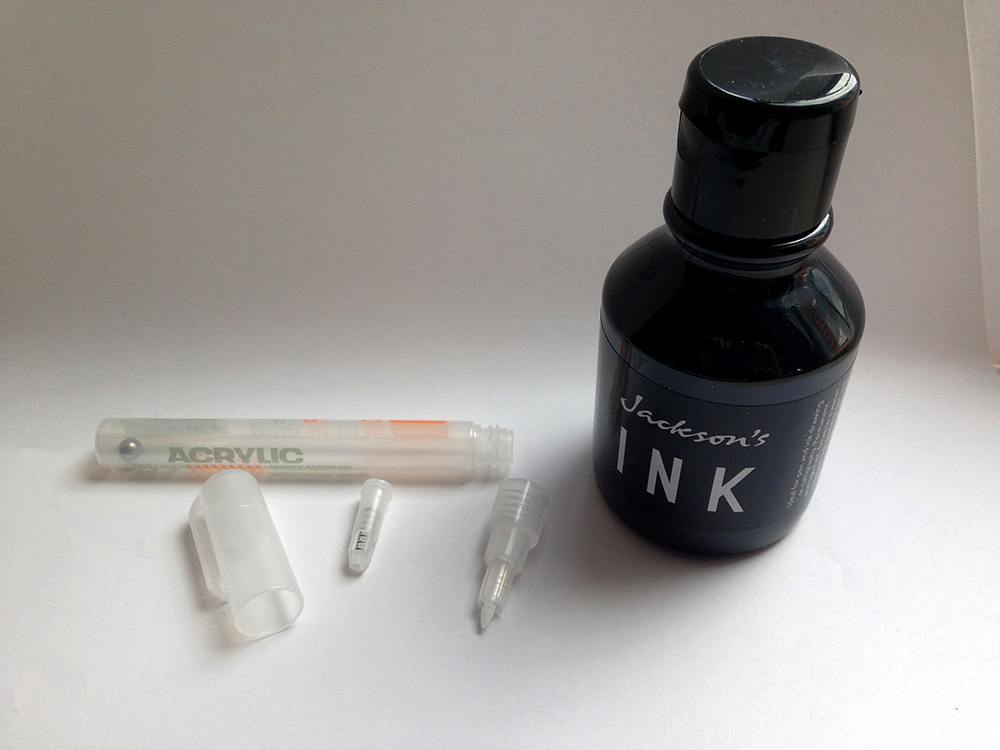 2. Fill with liquid colour of your choice.
This can be ink, acrylic ink, watered-down acrylic paint or another experiment.
Golden High-Flow Colours are particularly well suited to the empty markers – they are the right consistency and come in some beautiful very strong colours. Golden High Flow colours are just as strong as the Golden Heavy Body colours, they are not heavy body thinned with water to be weaker.
Filling can be a bit messy, though not always. To make it easier Montana have empty squeeze bottles to fill with the ink or watered paint and then fill the empty pens.
Take care to fill over scrap paper or absorbent paper in case you dribble.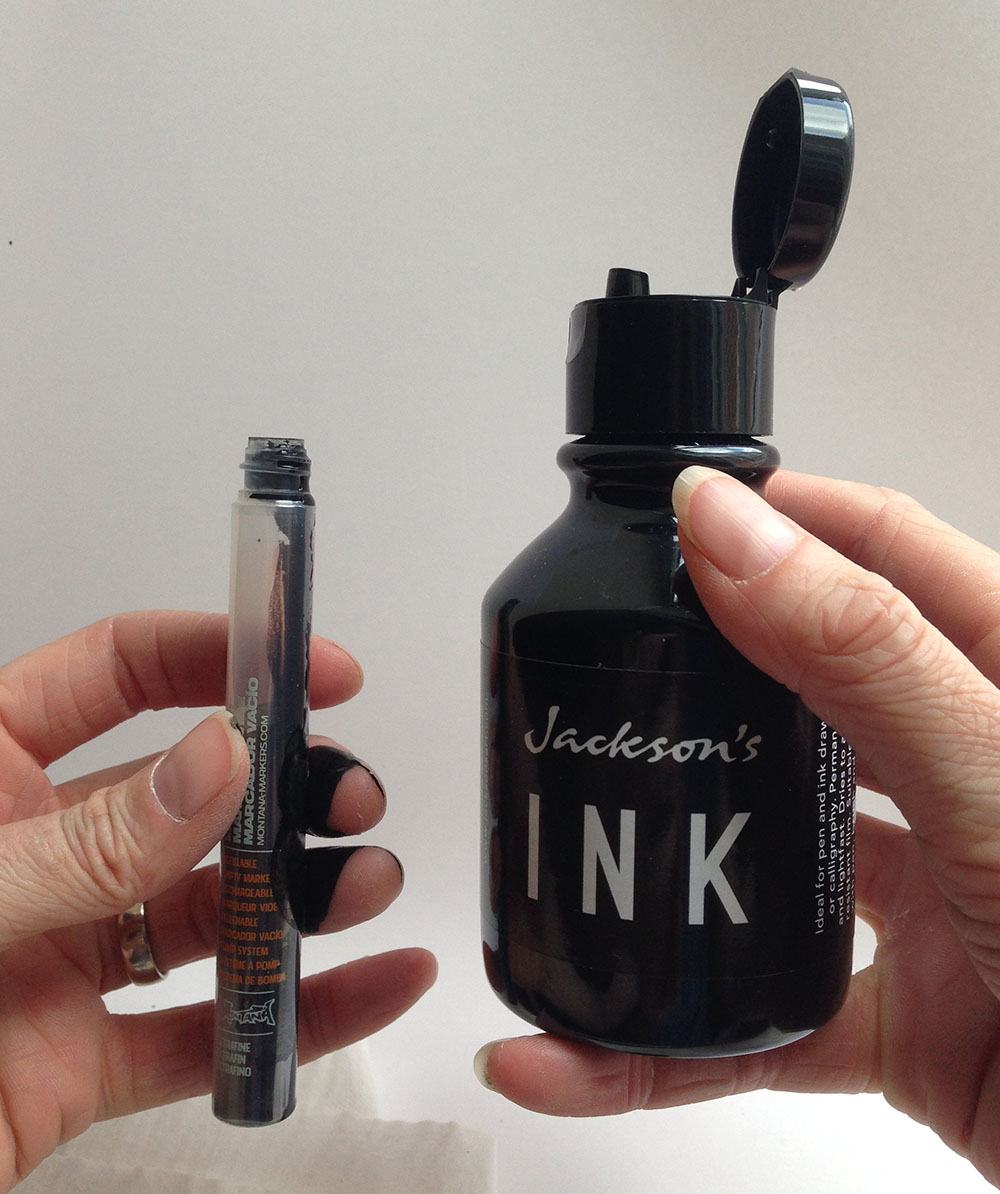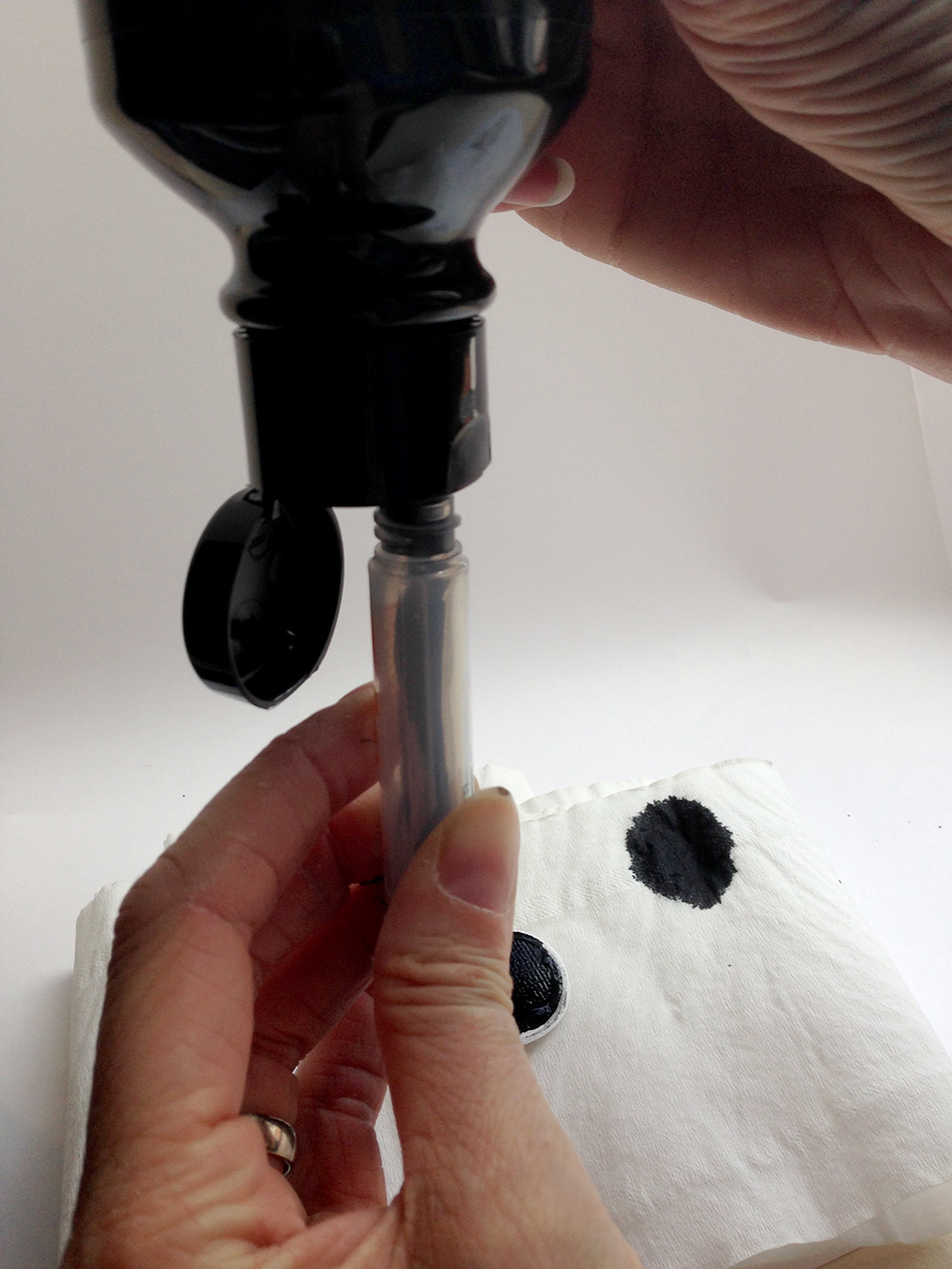 3. Screw the nib on in the correct direction.
Then pump the nib on a piece of spare paper until the colour saturates the nib.
4. After painting replace the cap tightly.
The nib remains soft enough to absorb the colour from the pen body for many weeks. I have had some dry out after a few months of sitting and they are too hard to absorb the fluid – when pumping it just leaks around the edges a bit but doesn't draw properly. I have also had some that are perfectly soft after 8 months. I am not sure what the difference has been, possibly a wetter mix of colour in the pen body or a better fitting cap.
If the nib is no longer usable you can replace it. Nibs are sized to different body sizes so you cannot change to another size nib, except for the three sizes of spare nibs that are extra.
Spare tips for Montana Acrylic Markers are available in the regular 0.7mm, 2mm, 15mm, 30mm & 50mm sizes. We also have 0.5mm and 1mm tips (to fit the 0.7mm marker body), and chisel shaped 6mm tips (to fit the 2mm marker body).