In watercolour painting the white areas are usually the plain paper. So the way the colour is applied has to be planned out to save back some areas of paper that are not painted on or you don't have any lovely sparkling whites or highlights in the painting.
Saving very small areas of white can be difficult or finicky and for this some artists find masking fluid very useful. Masking fluid is specially formulated liquid latex. Using a brush, pen or by splattering you can cover the white areas such as highlights, edges, snow spots, white bits in beach sand, and white lines and then paint around them without fear of losing your white shapes. This is particularly useful if your white area is situated in a large wash area like the sky as you can then paint the wash in one go and it will be even and not streaky. If you were to paint the sky around a little white seagull, for example, you could end up with brush marks in the sky that you didn't want.
The general procedure is that you apply the liquid to watercolour paper, let dry, paint over, then remove the rubbery masking to reveal the white of the protected paper areas. You must be careful not to apply it to wet paper as it will be sucked into the fibers and when you remove it the paper will tear. Paper tearing is the biggest difficulty for most artists. Removing the masking as soon as the paint is dry is another way to minimise tearing. If you leave the masking removal for more than a day or two it adds to the chances of tearing. Soft paper is more likely to tear so hot pressed paper is the least likely to tear.
When removing the masking fluid the biggest difficulty for most artists is the paper tearing.
---
---
Testing to compare masking fluids
There are many makes of masking fluid. We worked with a watercolour artist who regularly uses masking fluid to test the different brands to see the characteristics of each. The phrases in quotes were things said by the artist during the process.
We used Winsor & Newton Artists Watercolour Paper in Not texture for the tests.
For application we tested using the applicator on the bottle if there was one, a ruling pen, a size 4 sable brush, and a silicone applicator tool. The brush was coated in washing up liquid before each use and washed out after and was not damaged. A small dot (quarter of a pea) of washing up liquid was placed in the palm and the hairs were massaged in it, no water.
The process we used for the tests:
1. First a pink watercolour was washed on in a small area and let dry.
2. Then masking fluid was applied in various ways while noting how it responded to different application methods. (Including over the pink spot, to test lifting of colour.)
3. Masking fluid dried for 20 minutes to an hour. (Your drying time can depend on thickness of application.)
4. Then a blue watercolour was applied to two sections and an orange acrylic wash to a section.
5. When the paint was dry the masking fluid was removed noting how it responded. The test cards shown are the result of the whole process so they show the paper after the masking fluid has been removed.
Along the way we discovered a few things that might be helpful:
• The doubled ended blender (silicone applicator) was useful for gentle removal of dried masking fluid, it is firm but gentle and lessened any tearing. It was not as useful for application as for removal.
• It is best to remove the masking slowly with gentle rubbing, which worked better than pulling it up like a string.
• Big blobs and thickly applied areas are more likely to tear the paper. We decided the best approach to applying the masking fluid is to have a balance: apply it as thinly as possible because the thinner it is the less likely it is to tear the paper but thick enough to prevent the paint bleeding through.
Test results summary:
• Best: Schmincke White, Masquepen
• Good: Schmincke Blue, Jackson's Art White, Jackson's Art Blue
• Acceptable: Daler-Rowney, Winsor & Newton Colourless, Winsor & Newton Coloured, Pebeo Drawing Gum
• Not Acceptable: Daniel Smith
These results were from these specific tests and other artists may get different results. For example- although this artist found that Daniel Smith didn't work for her, we know of others who like it.
---
The Masking Fluids:
Schmincke White Liquid Frisket in bottle – First Place rating
Format: Comes in a glass bottle in two sizes and a plastic bottle in 250ml.
Application:
Mild lemon smell.
White colour – It dries clear and is hard to see where you have applied it (the only drawback).
Different to the Schmincke blue in the applicator tube, it is thinner, smoother and less gummy.
For dots it is great – it makes a ball at the end of your brush that you can dot onto paper.
Splatters: moderately well.
Removal: "No tearing!!" Didn't tear paper even on the test that overlaid the pink painted section. The only one that didn't tear the paper at all. Cleanest edges and even the thin patches did not have bleed through of colour.
---
---
Masquepen – Second Place rating, excellent
Format: Comes in a squeeze bottle with a needle applicator tip and a super-fine needle is available separately. Additional bottles are also available without needle tip – called refill bottles.
Application:
Smells moderately of ammonia and rubber.
Light blue colour.
Moderately runny.
Good for dots.
Good for splatters.
Using the regular nozzle tip it flows fast, great dots.
Using the Supernib was exciting – "Love it, fun!" – you can do amazing things with it, it is very precise. Straight lines are not its strong point as tip is too long to control and it is hard to squeeze while drawing out and so line is uneven but great for tiny dots and shapes. Note: to keep your Supernib from clogging up be sure to clean immediately – use the empty bottle provided, fill with water, attach nib you've just used and squirt water through to clean.
Note: – we also tested an old bottle that had thickened up, we diluted it with a few drops of water, it was still slightly thicker than the new one – our tester thought it was even better than the new one – she liked it slightly thicker.
Removal: Sharpest edges, no bleed through, only tore paper on the part where it was applied over painted paper.
---
---
Schmincke Blue in applicator tube – Third Place rating
Format: Comes in a long tube bottle with a not very fine nozzle tip.
Application:
No smell.
Dark blue colour.
Thicker, rubberier, gelatinous.
The applicator tip on the bottle is ok but not precise, the line is thick, so not really very useful.
Best used with a brush.
Ruling pen: Good for long lines.
Silicone applicator: gives more control – thin lines and dots.
You run out quicker because it is thicker.
"Feels nice."
Splatters: doesn't splatter well, as is too thick.
Washed out of the brush only because the brush was soaped first.
Note: also – we compared a new tube with a tube that was 1.5 years old and they had the same flow, no change because of the age.
Removal:
Tore on the acrylic test, very slightly tore on watercolour
---
---
Jackson's Art White – Fourth Place rating (same as blue)
Format: Glass jar.
Application:
White colour is slightly pink, just enough so you can see it.
"It goes a long way."
The consistency allows long lines with the ruling pen.
It works well with the silicone applicator – it doesn't become crumbly.
It dots well.
It splatters well, second only to Winsor in splattering.
Didn't drag colour off the underpainting.
Removal:
Paint colour went through in thin areas. Moderate tearing and tearing on paint wash area.
---
---
Jackson's Art Blue
Similar to white (see above), but ruling pen lines didn't go as far, it may be a bit thicker.
---
---
Daler-Rowney – Fifth Place group, all these are about equal, acceptable
Format: Glass bottle with child-proof lid, available in two sizes.
Application:
Light yellow colour.
Strongest smell.
Very runny.
Gives a long line with ruling pen.
Thin consistency makes good dots.
Splatters: tiny specks
Narrow opening to jar allows less air contact for drying out contents.
Removal:
Tore a bit, small amount of bleed through.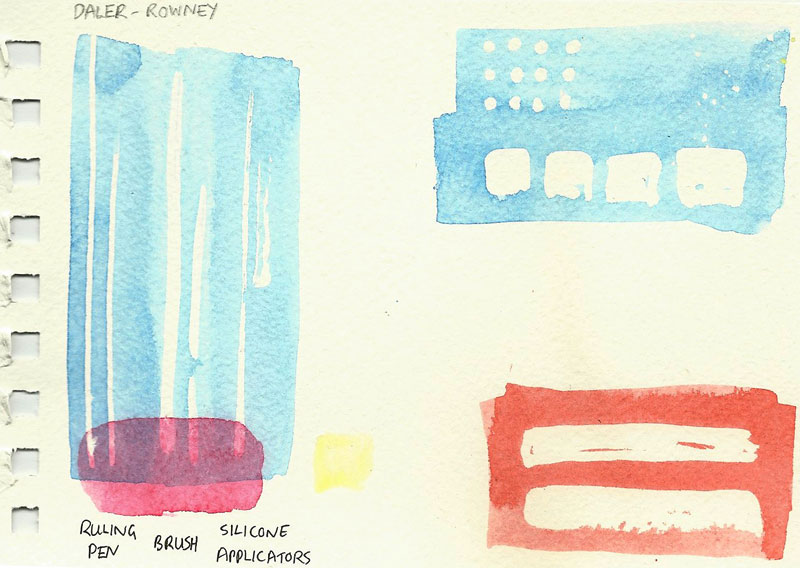 ---
---
Winsor & Newton Colourless – Fifth Place group, all these are about equal, acceptable
Format: Plastic bottle with child-proof lid, available in two sizes.
Application:
White, dries clear.
Strong ammonia smell.
Has bubbles without shaking, not good.
Very runny.
Good at dots.
Very good splatter – best variety of speck sizes.
Problem – when applying with ruling pen and silicone tool over a wash painted area it removed the paint.
Removal:
Tore a bit, small amount of bleed through.
---
---
Winsor & Newton Art Masking Fluid (Coloured)
Same as Colourless (see above) but yellow.
---
---
Pebeo Drawing Gum – Fifth Place group, all these are about equal, acceptable
Format: Plastic bottle.
Application:
Ammonia – strong smell.
Dark grey colour.
"Jar says: dilutes and cleans with water."
Very runny, watery, thin application seems uneven, too runny to do dots, won't form a little sphere. The runniest.
Ruling Pen: smooth, but lines didn't go very far
Silicone applicator: can do a thinly spread application but with repeated strokes it started crumbling.
Splatters well because is thin.
Removal:
Good sharp edges, tore a bit, small amount of bleed through.
---
---
Daniel Smith – Last Place, unacceptable
Format: Comes in a small squeeze bottle with plastic nozzle tips that can be cut to have different width tips.
Application:
Moderately smelly.
Full of bubbles even though not shaken. (see image below for bubbles issue)
Nozzles kept falling off. "What am I doing wrong?"
It was okay when used with ruling pen and applicator but was annoying to use the bottle applicator.
The only one that was slow drying, took a long time to dry.
Note: We also compared a 1-year old bottle that had been opened. The lid was difficult to remove but when screwed off the contents was the same as the new.
Removal:
"Hard to apply and hard to remove."
Peeled off with rough edges, incomplete coverage, difficult to get off, tore paper, removed paint in underwash area. "If you can get it off it makes a mess."
---
---