There are many elements to consider when choosing one's oil painting palette and it can be a very personal choice. We can tell so much about an artist's style and methodology by looking at their palette. Here are some tips for setting up your oil painting palette.
---
Weight and Size of Your Oil Painting Palette
Do you generally hold your palette or have it sitting on a table? If you have it on a table then the weight is of less importance. Traditionally artists held their palettes as they would then be able to tilt them away from the direct light to avoid glare. Many artists however prefer to have a large surface and have their palette on a flat surface. The size of the palette is important, the larger the palette the more space you have to create your colours, but if you tend to work small or if you travel a lot, then a smaller palette can also be beneficial.
Wood, Glass, Paper and Plastic Oil Painting Palettes
The material of the palette is also important. Traditionally artists worked on wood and now there are many surfaces of light wood like maple which clean easily and are lightweight for holding. Glass is also fantastic, not for holding but as a smooth clean surface and is very easy for cleaning. If we are using clear glass we can also choose the colour of the paper or card we lay under the glass. Some artists like a sturdy plastic surface which is easy for cleaning and durable. There is also the tear off paper palette which are so practical as no cleaning is required, and at the end of the painting session you can tear it off and bin it straight away.
So we are considering the weight, the material, the size, the feel of the surface and the colour of the palette; this translates in practical terms as the ease for cleaning, the area of mixing and comfort for holding . Much like brushes, the palette is an extension of your painting practice. I love holding my palette as it is a continuation of my arm and I feel much more connected with the colour choices I am making, likewise I like to hold my brushes.
With most palettes the angle of the thumb piece should indicate how to hold the palette. We are not really holding the palette but resting it on our forearm, it should be well balanced and lightweight: many companies also make palettes to the be held on the right arm as so many artists are left handed.
The feel of the surface of the palette is not as important as the feel and surface of the canvas or board we are painting on, but it is still worth considering all the various elements and finding the right personal choice for you; having the right surface can really help with our flow of paint.
Palette Value / The Value (Light to Dark) and the Colour of the Palette
I think the value and colour of the palette effects the painting process more than any other element of your palette. We are judging the values and colours we are mixing in relation to the palette surface. When working on a white palette we can think we are mixing strong colours but against white, all our colours will look darker and more chromatic, when in actual fact they might well be too light and not strong enough. Likewise if our palette is too dark, like a dark stained wooden palette we can key everything too dark as relative to the dark palette we imagine that the palette is light. For me a light mid-tone palette is the best choice. You can even buy tear off grey and brown palettes.
Palette Colour
Next is to choose the colour, whether to work on a grey or brown surface. Many artists like working on a grey surface as then we are really focusing on values (lights and darks) and we can easily gauge the correct value and see the colours clearly. I prefer working on a wooden palette, I like the soft neutral colour, I also tend to start my painting on a warm surface so this fits perfectly for me. If your palette is close in value and temperature to the initial surface of your canvas then the relationship of the colours is going to translate more readily.
I like to hold my palette and I love seeing artists palette and all the character and workings on them. I have a wonderful book of artists palettes and I love guessing which artists owned which palette, it is so revealing.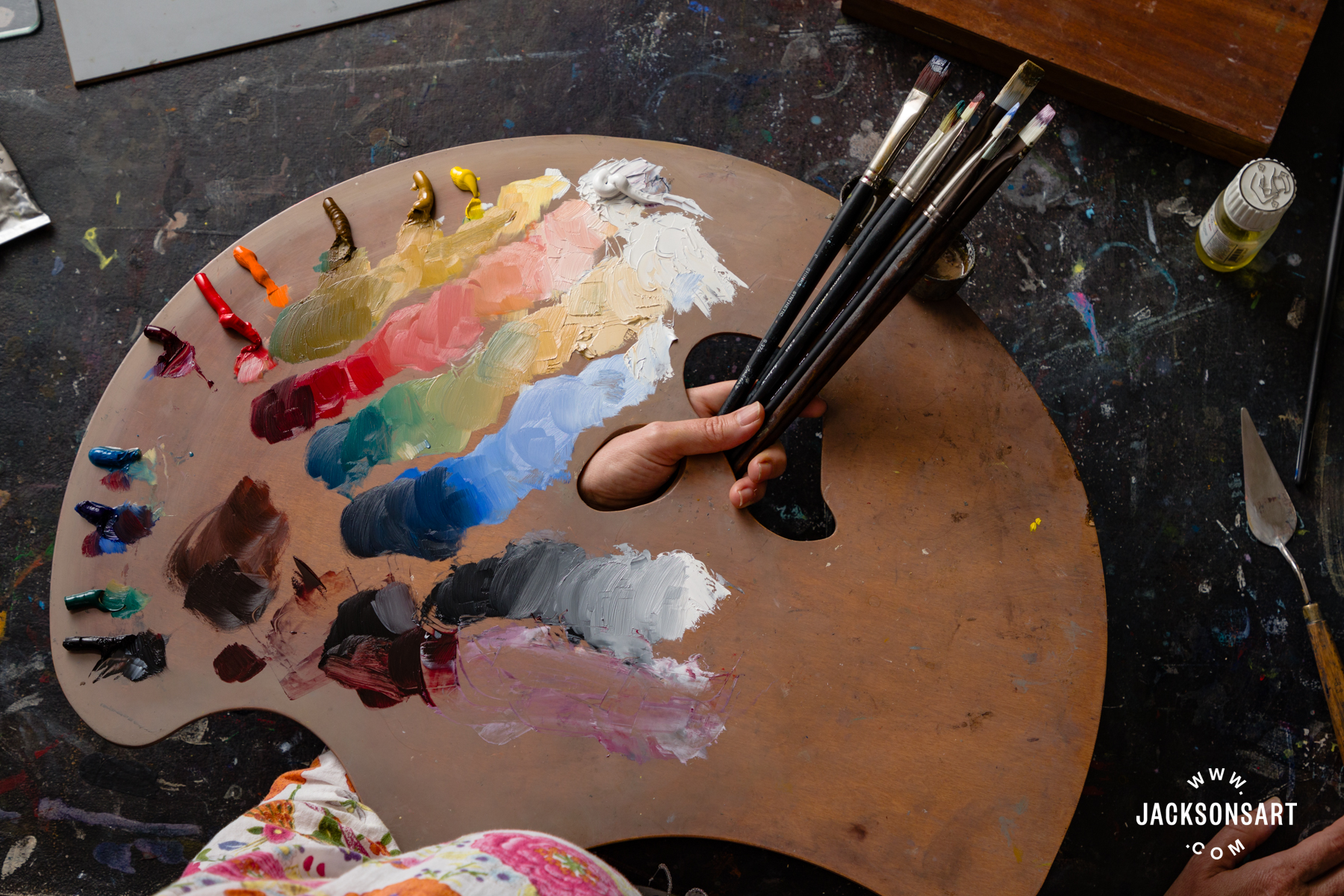 The palette you choose to work on is so personal to you. When I first started studying I had a tiny palette and my male artist teachers would always say get a bigger palette; I presumed this was down to their artist egos, but they never told me it was actually for ease of painting, the bigger the surface the more freedom you have to make choices and let your paint flow.
Laying Out the Oil Paints on Your Chosen Palette
There is also a logic to the way in which we lay out our colours on our palette. This is also very personal but if we understand the logic it can really help us make a decision about which way works for us. I would encourage you to always lay out your colours in the same order as then you can always return to the same mixing methodology, you don't want to have to relearn your system every time.
The most common way to lay out ones palette is from light to dark; whites, yellows, reds, browns, blues, blacks. Squeeze your paint at the edge of the palette so you have access to the largest area. Similarly spread your colours out around the palette. The limited palette is made from white, yellow, red and black. Don't place these together but as far apart as possible, so that as we extend our palette we can fill the spaces between the colours with the correct colour values. Lay your colours along one or two neighbouring sides of the palette if it is rectangular, or along the upper curve is it is an oval palette.
I prefer to place the white further away from me and the dark nearer my sleeve. This is because my pile of black is generally smaller and I use my lights more and tint with my darks. Furthermore if I get black on my clothes it is easier to wash out than the whites. Some artists' love leaving their old paint on the palette and building up huge piles of colour. I am a naturally untidy person so I prefer to clean mine at the end of every session, as otherwise I tend to dig away at old dried bits of paint. This too is very personal. Some artists clean their palettes midway through a painting session, and others never clean their palette and like working on the accumulation of paint and colours.
When we have squeezed nice mounds of paint out at the start of the session, some artists like to premix mounds of colour, lights, mid-tones and darks. Others like the process of mixing as we move along. Many artists premix all their colours so that they can be more immediate with their painting approach, others like the time and thought process between each step and each brush mark. The way we approach a painting and apply paint is part of our artistic voice.
The final painting is a product of so many processes and choices that we as artists have made, both during the painting process, but before we even put paint to canvas. There is the set-up, the lighting, the composition working from life or from our imagination but our materials are also so integral to our creative process. It is important that we feel comfortable with them, and enjoy them. I love experimenting with paint materials and surfaces, but equally I have a range of palettes and paints that I like to paint with. And I flipflop between my favourite palettes, each one has a different purpose and helps me along my creative journey. I have seen students use old chopping boards, tiles, pieces of glass. Most importantly find the surface you like to mix your paint on and which helps you with your creative process.
Cleaning Your Palette
It is good practice to clean our palettes, though some artists love building up mounds of paint and colour. Use a palette knife to take all the paint off; this is much more efficient and immediate than using tissue. You can place the left-over paint in the bin, or I often like to reuse it. Put it on a tile, or in a Tupperware pot which you can keep in the fridge or freezer. With the old paint you can mix it all together to make a nice neutral grey. Rembrandt often used his old piles of paint the following day.
After you have wiped the paint away, use a tissue dipped into your solvent to clean the palette.
---
Further Reading
Making Your Own Oil Paint With Jackson's Pigments
How to Take Care of Fine Art Paper
How to Care for a Wooden Oil Painting Palette
The Relationship Between the Artist and Their Materials
Shop Palettes on jacksonsart.com