Watercolour pencils are coloured pencils that are water soluble. These convenient and portable little painting tools that can be used alone or with other media, are clean, and are easy to use. Their versatility means you can use a single pencil with many different techniques. You can:

Use watercolour pencils dry
Use watercolour pencils with a brush
Use watercolour pencils on wet paper
Dip a watercolour pencil in water
Use watercolour pencils as a substitute for watercolour paints
Use watercolour pencils to add details to a watercolour painting
Any combination of all of the above!
---
Using Watercolour Pencils Dry
Watercolour pencils and watersoluble coloured pencils can be used on their own or with other drawing and painting media. They can be used just like regular coloured pencils, drawn straight on to paper without the use of any water, and generally you would not know the difference between a watercolour pencil and a regular coloured pencil. The only difference is that the binder used in a watersoluble pencil can be dissolved in water and is not wax-based. When dry they can be easily blended with non-watersoluble pencils.

Using Watercolour Pencils with a Brush
Watercolour pencils are fantastically versatile and can be used in a number of different ways, and it is always worth experimenting! They can be drawn on dry and then worked over with a brush that has been dipped in clean water – you will see the colours applied to the paper become alive – the pigment appear a lot more luminous and vibrant as the grain of the pencil marks is replaced by the fluid colour that fills even the smallest of hollows of the paper being worked on. You can also drag your brush away from the marks that were initially made by the pencil to achieve more translucent and watery marks, and you can blend blocks of colour together, blurring the solid lines between shapes by literally dissolving them in water.
Applying colour dry to paper and then working over the top will require more foresight – you will need to think about what effects the water will have on the work you have made with the pencil. This way of working with watercolour pencils may be well suited to someone who has experience in drawing but wishes to move into watercolour painting techniques.

If you would like to have the kind of effects that replicate pen and ink, i.e. bold intense colour, our recommendation would be the Derwent Inktense Pencil range, which can also be used with the Inktense Blocks, which enable you to make even broader, bolder drawing marks in colour. If you are interested in using watercolour pencils in this way but would like more gentle, watercolour-like effects, then we would suggest trying the beautiful Faber Castell Albrecht Duerer pencils, which have an extensive colour range. Try experimenting with the amount of colour you apply to the paper by varying the amount of pressure you use when drawing. You will be amazed by the variety of colours, tones and marks you will be able to achieve.

Which brush should I use with watercolour pencils?
If you are not a regular painter in watercolours the main characteristics you will be seeking in a brush are value for money, durability and a brush-head which keeps its shape. Jackson's Studio Synthetic Watercolour Brushes score very highly on all of these counts. If you are seeking to blend colour using lots of water, or to apply a wash over a large area, then the Jackson's Raven Synthetic Mop would be a better bet.

Dipping the Watercolour Pencil in water
For the boldest possible marks with watercolour pencils, try dipping the pencil straight into water before drawing. The water breaks down the pigment and then crumbles on to the paper you are working on, allowing you to deposit the greatest possible amount of pigment and achieving bold, expressive marks.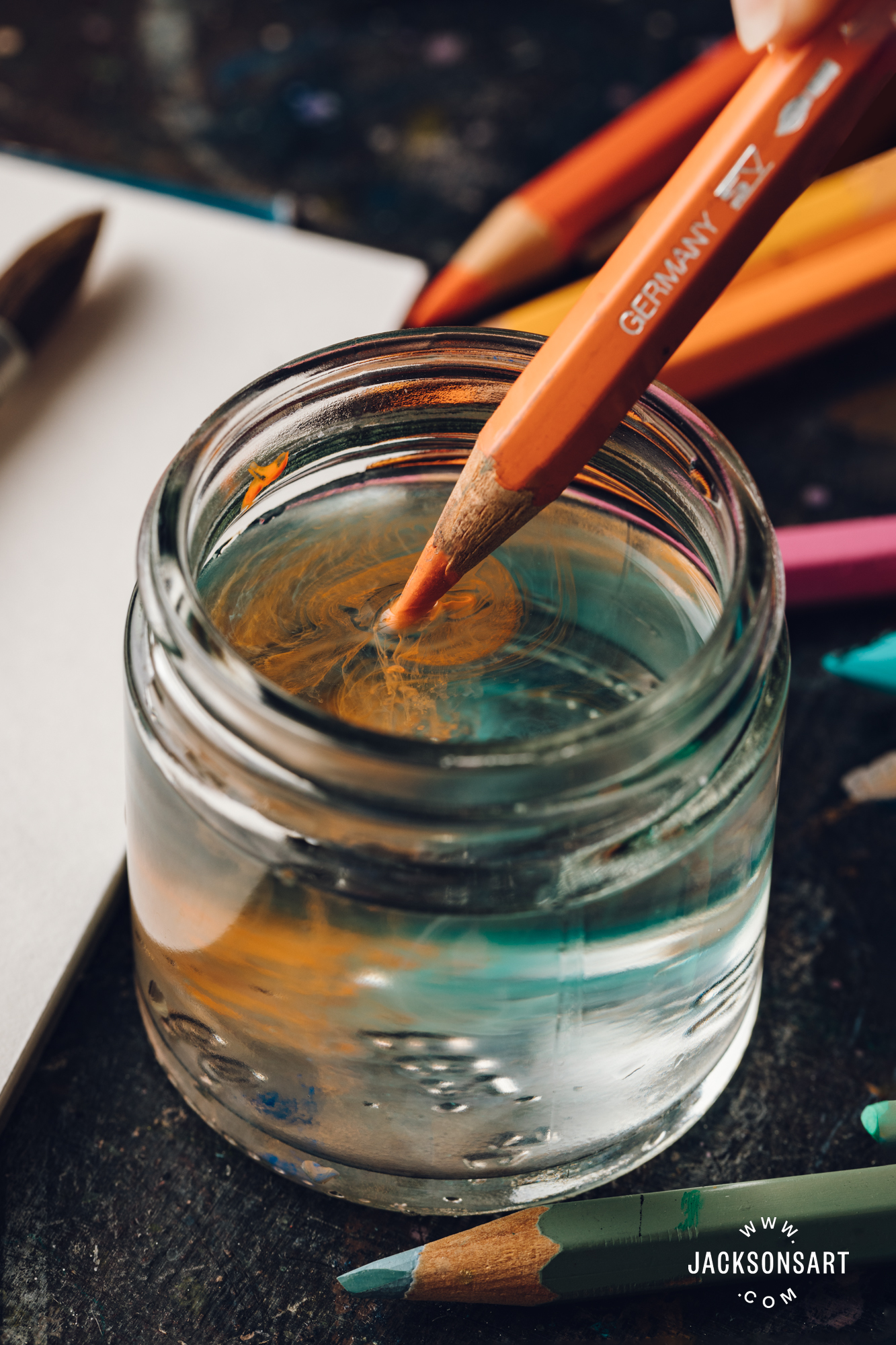 These can then be diluted or stained across the paper surface by dragging a brush over the top of them, however remember that watercolour pencil colour is surprisingly permanent and will not dilute in water once it has dried to the paper – this is because the watersoluble binder will have already been broken down by the water, and there will be nothing left to break down further. The Cretacolor Aquamonolith pencils are particularly good for making striking marks with, if you use these on their side rather than on the point of the pencil you will achieve some lovely sweeping broad marks.

Some watercolour painters like to make use of watercolour pencils when adding very fine details and accents to a painting made in conventional watercolour paint – for these applications we recommend the Cretacolor Marino Pencils, Faber Castell Albrecht Durer or the Supracolor pencils by Caran D'Ache, as they appear to be the most pigmented and smoothest in consistency.

Using Watercolour Pencils as a substitute to Watercolour Paints
The finest watercolour pencils can be used just like watercolour pans, and I promise no one would know the difference (I speak from experience!) Lift colour from the lead of your watercolour pencil by dragging your brush dipped in water over the lead of the pencil until sufficient colour is loaded on to the brush, and then paint as normal.

It is a really practical way of painting in watercolours when travelling as you do not have to pack a number of tubes, and especially so if you enjoy working in both watercolour paint and pencils anyway. Our favourite ranges to work with in this way are the Faber Castell Albrecht Durer and the Supracolor pencils by Caran D'Ache. The woodless pencils, such as the Cretacolor Aquamonolith pencils are wonderfully economical as you can also use the shavings as you would a pan – break the shavings down with a wet brush and then apply the colour to paper – because there is pure colour and binder and no wood in the shavings nothing need go to waste!

Watercolour Pencils for Beginners
Watercolour pencils are often a way into the world of making visual art, and are often used in schools and colleges. Although the majority of our watercolour pencils are professional grade and have excellent lightfastness ratings, we do have ranges by Reeves that would suit someone who would like to try watercolour pencils out for the first time.

Watercolour Pencils with other media
Derwent Inktense Pencils can be used on silk to make silk paintings, and they also have a non watersoluble outliner pencil within their range which would be used as an alternative to a silk Gutta outliner, as well as being used for a similar purpose on paper. Oil painters and acrylic painters have been known to use watersoluble pencils to draw out a composition on to a canvas prior before starting to paint – this is a good idea as the pencil marks break down when they come into contact with solvents and water, and the interaction between pencil marks and paint when left to exist side by side can also be visually interesting.

Different types of Watercolour Pencils – Which should I use?
---
Read More on the Jackson's Art Blog
Blending Pencils with Zest-it Pencil Blend
A Guide to Manual and Electric Pencil Sharpeners
Art Terms Explained: Watercolour Painting