Organic, rare and sustainably produced watercolours: this is a new vision in the world of fine art paints. Made using the finest pigments from natural raw materials, the Lutea Extra Fine Plant-Based Watercolour range is as unique as it is desirable. Available in 12 colours in 9 ml tubes, visionary Belgian brand Lutea offers an amazing opportunity to rediscover rare and beautiful organic colours made from noble plant materials from around the world.
---
"Colour has been part of our heritage and our economy for many centuries" says Anne-Sylvie Godeau, founder of Lutea, who is pioneering what could one day become an organic paint revolution. With eyes firmly set on creating alternatives to traditional, non-natural paints, Lutea's hallmark is the revival and celebration of precious materials and colours, which have little by little disappeared since the establishment of the industrial era. Since the artificial synthesis of Alizarin (a red pigment present in the madder root) in 1869 by German chemists, plant cultures for pigments became largely extinguished by the turn of the last century.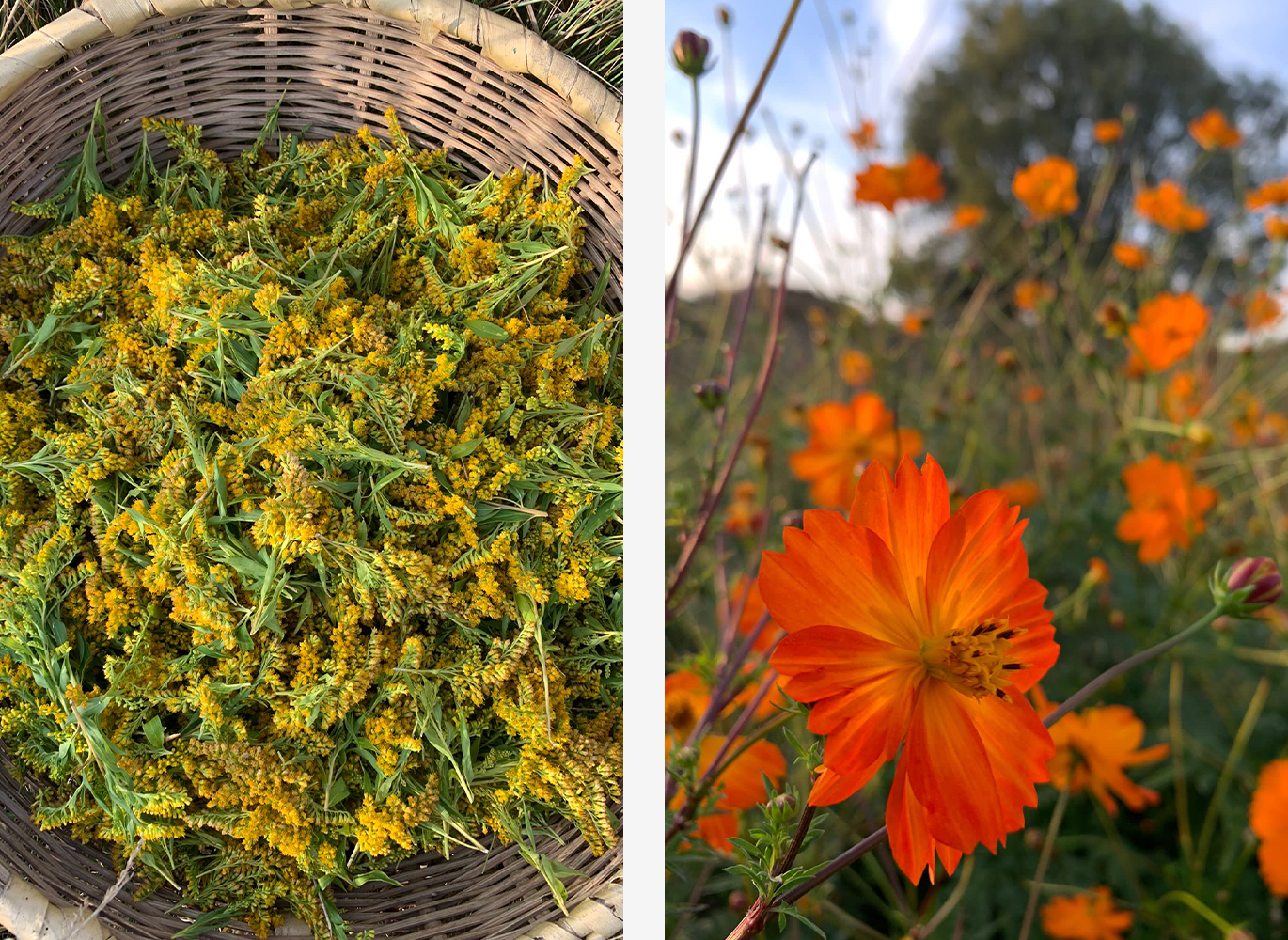 The Lutea range offers vibrant watercolours, which achieve superb lightfastness (rated Good to Very Good (5-6) as certified by French laboratory Green'ing). From Madder to Indigo, these watercolours offer a unique opportunity to rediscover natural colours which have spanned the history of art.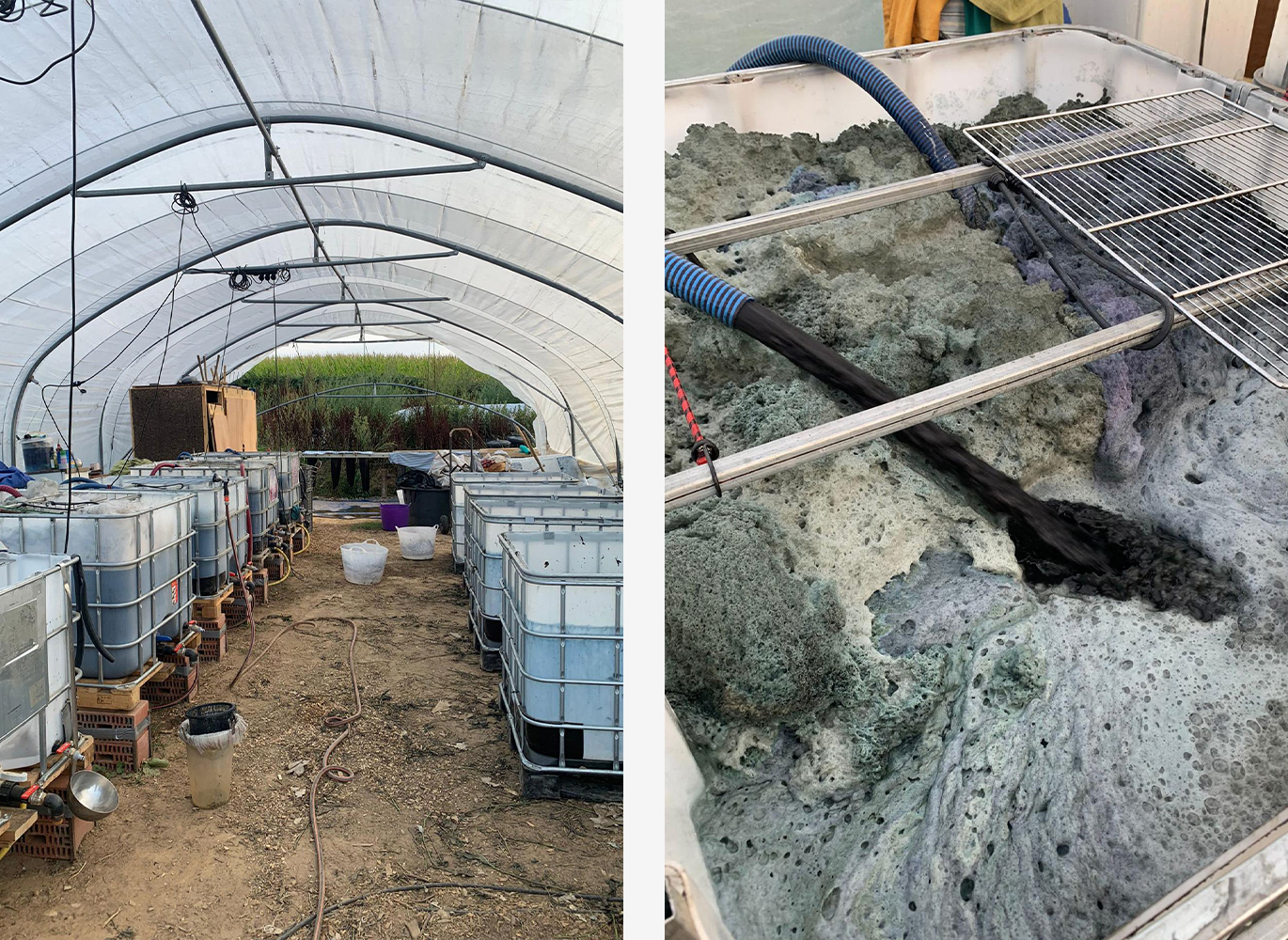 Before being filled into a 9 ml tube by hand, the Lutea paints go through a lengthy adventure. The pigments in the Lutea range have been chosen for their high quality dyes and lightfastness, and are the result of extensive research and development into organic colours. After the pigments have been extracted from the plants under the care and expertise of artisan Anne-Sylvie Godeau, the grounded pigments are then meticulously incorporated with the highest quality binding agents (gum arabic, glycerine and honey), guided by Isabelle Roelof's research. The full range of 12 colours includes natural raw materials sourced from cultivated plants, gleaned plants, recycled plants, international plants, and one insect, grown in parts of the world such as Iran, Canada and Lutea's native Belgium.
Artisanal, sustainable production is a touchstone of Lutea. It's also about innovation: using extraction techniques in order to celebrate new plants whose pigment family can achieve great quality paints. While more expensive than most watercolours, Lutea's price tag reflects the organic origin of the materials used to create these sophisticated and totally unique watercolours, as well as the rigorous, hands-on process required to obtain the pigments.
The 12 unique colours offer the possibility to create mixtures which cannot be achieved with synthetic colours. For those looking to achieve a significant pigment spread, we recommend adding ox gall to your water when painting. These watercolour paints are compatible with synthetic and mineral watercolours.
We recommend storing Lutea Extra Fine Plant-Based Watercolours at a temperature below 25° Celsius, as these organic and living watercolours are delicate and must be kept away from heat sources with tubes properly closed after usage.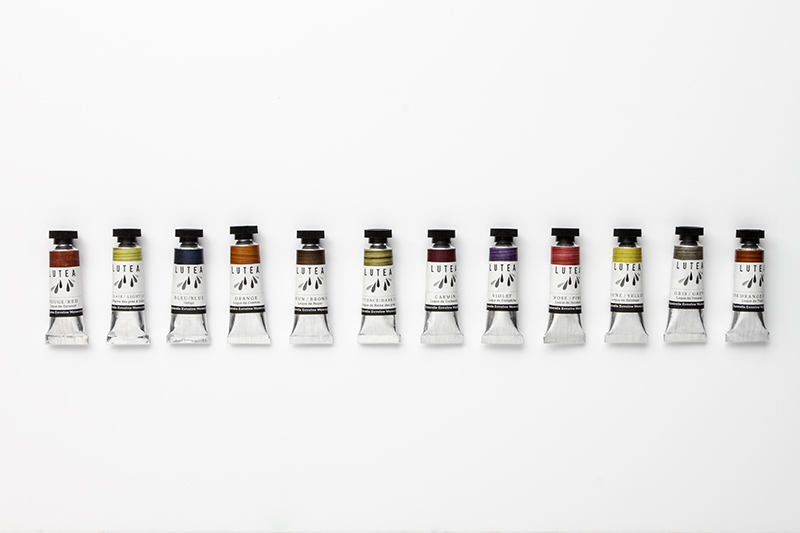 ---
Christine Holland Tests Lutea Extra Fine Plant-Based Watercolours
British watercolour painter Christine Holland experimented with some Lutea Watercolours and shared her experience:
I decided on using a limited palette to challenge the depth and tonal qualities of the colours, using Dark Green, Yellow, Red and Orange. As one of the main unique points to the colours is that they are from organic and natural sources, I thought it might be interesting to paint whatever it is that the pigments are made from. The orange pigment is made from Cosmos Sulphureus, a plant native to Mexico and Central America and so I thought this would be a good starting point to test the colours out.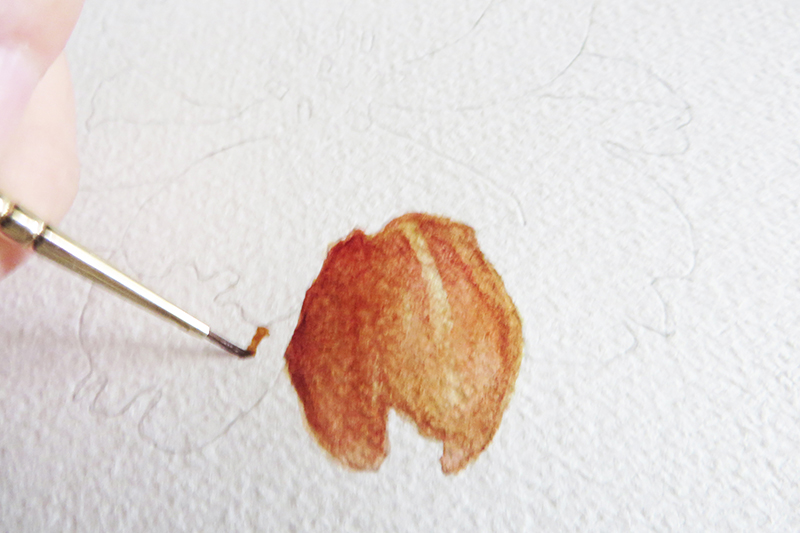 On first squeezing the colours out into the palette, I noticed how dense the pigment was. The pigment washes really well, a little goes a long way. I am used to working with thick, opaque watercolours and also using them quite dry, so this was a bit of a change as the pigments are quite transparent. They blended really easily with each other, they did dry fairly quickly and when rewetted they granulated slightly and were not as easy to mix together. I found the colour dries to quite a matt finish and loses a little bit of its vibrancy – this however is fairly normal with some watercolours. I mixed the Lutea Watercolours with a Winsor & Newton Opaque White, they blended together really well and I was able to stretch the tonal qualities of the pigments further.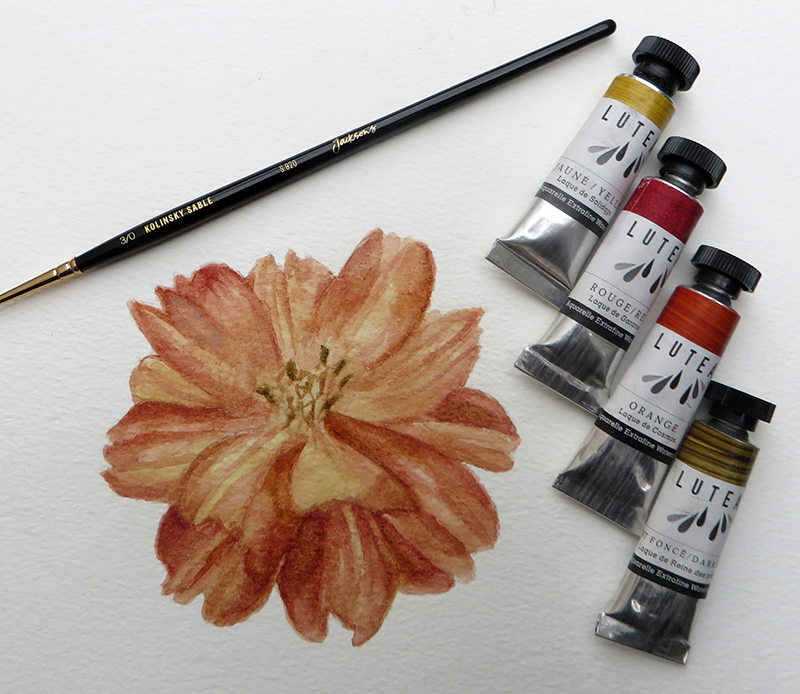 I found that the pigments lift really well with minimal scrubbing, perfect for maintaining the integrity of the paper. Overall, I think they are a great range for those that are looking for a natural alternative for their pigments – they are intense, the pigments go a long way and so will last for a long time!
Testing Some of the Characteristics of Lutea
The Lutea : Extra Fine Plant-Based Watercolours range is available in 12 colours in 9 ml tubes.
Testing was done on Arches Aquarelle Paper and Bockingford paper in the rough texture.
---
Further Reading
Introducing Da Vinci Colineo: Vegan Brushes for Watercolour
A Guide to Watercolour Painting
Is Watercolour Better in Pans or Tubes?
How Eco-friendly is Fine Art Paper?
Shop Lutea Extra Fine Plant-Based Watercolours on jacksonsart.com