Chinese Brush Painting is the art of using simple and effortless brush strokes to depict the essence of a figure or scene, an ancient art that continues to fascinate contemporary artists. A distinguishing feature of Chinese Brush Painting is that each brushstroke is a defining move that is not changed or corrected.
The vivid and varied calligraphic style of Chinese brushwork comes from the combination of three things: a soft absorbent brush, soaked in strong Chinese or Indian ink, and the permeability of Chinese (rice) paper. The Chinese do not differentiate between brushes that are used for calligraphy and those used for painting. Besides brush handling, another important skill that comes with practice is knowing how much to dilute the ink and how wet your brush should be. A variation of Chinese Brush Painting can be painted on watercolour paper. You will use a lot more water because the surface isn't soaked the same way as rice paper.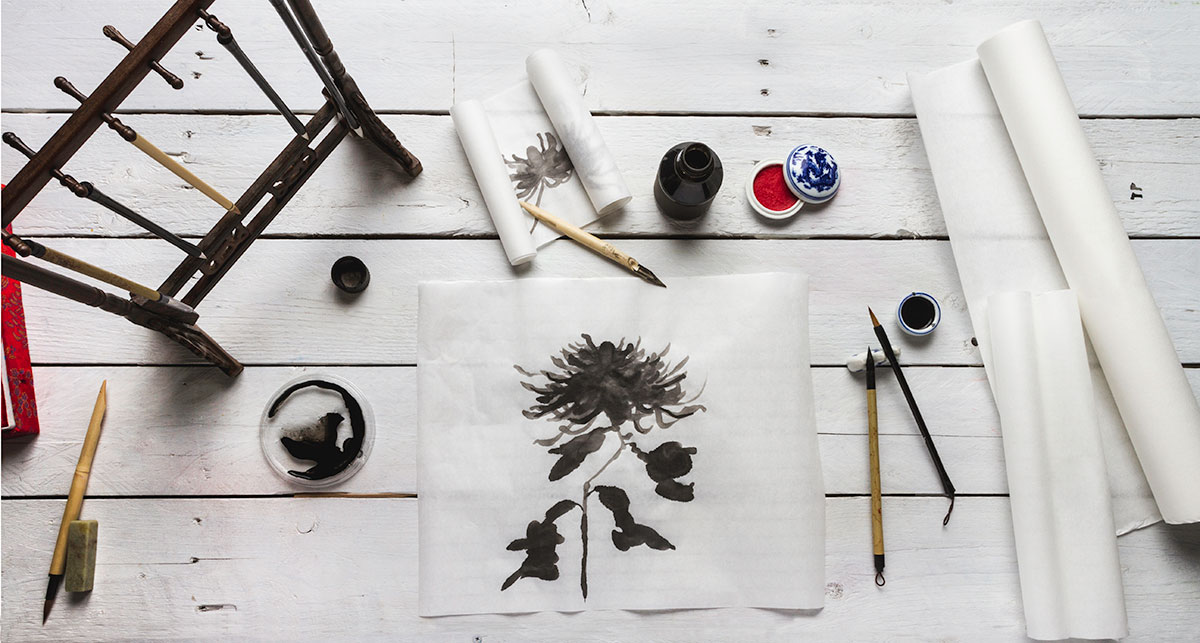 ---
Chinese brush painting set of brushes
Jackson's stock a set of five brushes for Chinese brush painting that contain a variety of hairs so I thought it would be a good set to look at to show the different hairs.
This set of five brushes for Chinese brush painting is made with a variety of hairs so you have a range of 'soft', 'medium' and 'stiff' brushes. It is a range of softness, really, they are all rather soft. The brushes come in a 32x12cm coated wooden presentation box with a nice clasp, inside a fabric-covered outer gift box.
The brushes are from 25 to 27 cm long overall and have a cord attached at the ends for hanging from a brush rack. All the brushes come with a protective cover for the bristles that can be used again. These brushes are very absorbent, they hold a lot of ink.
Chinese brushes are heavily starched to protect the hairs until they are purchased, so when they arrive the brush head is very rigid. Before use, the starch should be removed by soaking the brush head for a few minutes in room-temperature water and then washing the brush until the entire length of the brush hairs are fully loosened.
The set contains five brushes of different hairs:
(Be aware that the sizes I have measured are approximate and may vary slightly as brushes are handmade.)
Goat hair
(10mm hair diameter at the ferrule, 43mm hair length.)
The white hair brush is the widest one in this set with the fullest belly; it is a soft pure goat hair brush. Goat brushes are popular in China. Goat hair is long, at least 2 inches in length. It is very absorbent and can be shaped into a fine point when wet. Goat hair has a natural inclination to stay together when wet and will, therefore, make it possible to maintain excellent control (after some practice). Few types of hair will hold up well or make good control possible when the direction of a brushstroke is changed 180 degrees without stopping, or without lifting the tip of the brush off the working surface. Goat hair is very elastic and is one of the few hairs that will survive this type of treatment. They can be difficult for beginners to control but soft brushes used skillfully will deliver very interesting and unpredictable lines.
---
Black Rabbit hair
(8mm hair diameter at the ferrule. 45mm hair length.)
The longest brush is made of black rabbit hair. Called a 'hard' brush it is still absorbent and relatively soft but the hairs are stiffer. More absorbent than weasel hair.
---
Weasel hair
(7mm hair diameter at the ferrule, 37mm hair length.)
Then there are two medium-sized brushes. The brown one is made of weasel hair. Weasel hair is at the opposite end of the hardness spectrum in the Chinese brush scale from a goat hair brush. Called a 'hard' brush it is still absorbent and relatively soft but the hairs are stiffer and yet very flexible. Even if fully loaded with ink the brush's tip will move fast and with accuracy.
---
A mixture of Black Rabbit and Goat hair
The other medium-sized brush (7mm hair diameter at the ferrule. 37mm hair length) and the small brush (6mm hair diameter at the ferrule. 20mm hair length) are made of a mixture of hairs: black rabbit hair in the centre and tip and goat hair on the outside. This makes them medium soft. The small brush is particularly useful for small calligraphic script because it is short.
---
Chinese Painting Department at Jackson's.
Click on the underlined link to go to the current offers in the Chinese Painting Department on the Jackson's Art Supplies website.
Postage on orders shipped standard to mainland UK addresses is free for orders of £45.