Made in Belgium since 1865, Blockx paints have the experience of five generations from father to son, and from father to daughter who have devoted their life to paint.
---
Ground with poppyseed oil
---
Blockx Artists Oil Colours
Still hand ground in the Blockx tradition with slowly rotating stone mills, these extra-fine artists' colours are made from the finest selection of pigments and oil. Only pure pigment is used for maximum lightfastness, buttery consistency and easy mixing on the canvas itself. All colours are lightfast.
Iron oxides, earths and blacks are ground with linseed oil. All other pigments are ground with poppyseed oil which is well-known for its lack of yellowing and the non-forming of wrinkles at the time of drying. With poppyseed oil the blues will stay blue, the whites will stay white, and the freshness of the tints will be evident for a very long time.
---
Why not use the same oil for all pigments?
Such a thought would be assuming that the characteristics of all pigments are the same and that using the same oil with each pigment would produce the same results. It is important that the properties of the oil are adapted to the characteristics of each pigment.
If grinding an earth colour with linseed oil is an excellent formula, why is it not an excellent formula to grind a white or even a blue pigment with that same oil?
Linseed oil has some great qualities, but if it is used to excess, the oil dries like the skin of an orange or even in wrinkles, and moreover, linseed oil yellows over time if kept in the dark. (And standard conservation rules encourage keeping a painting out of direct sunlight.) With brown pigments, the yellowing is imperceptible, but for white or blue pigments, the colour harmony of the painting can completely change over time.
Sometimes it is not just the yellowing of the pigments that one must consider. The creaminess of the paint is essential for the artist's work, but some pigments ground with linseed oil are very stiff. The paints mix much more easily and are workable for longer if they are ground with poppyseed oil. The workability of the paste is altogether different, enabling it to be mixed directly on the canvas with the greatest facility.
---
Some authorities maintain that Monet achieved successful results painting water lilies thanks to the use of poppyseed oil.
---
The use of walnut oil with pigments has also given good results. Other oils such as safflower or sunflower oil are now used by certain manufacturers, but in the category of non-yellowing oils, poppyseed oil still gives the best results. Moreover, poppyseed oil is often added to improve other oils, but in small quantities due to its high price.
Blockx say: "We believe that even if different oils could mix together without problems, it is preferable to grind pigments in a single oil only. In this way, the best results are obtained. Our colours are therefore ground with oil that produces the best results – be that only with linseed oil or only with poppy seed oil. On canvas, the colours can be mixed without any problems and will keep their specific qualities wherever they are applied unmixed. We have more than 135 years experience on this subject."
---
Artists who love Blockx Artists Oil Colours
To quote Salvador Dali, writing about Jacques Blockx the founder in "50 Secrets of Craftmanship": "This man who never painted, will contribute more to the painters of tomorrow than what we will have accomplished, all the modern painters together". More than 100 years later, analyses made by official laboratories worldwide on paintings confirm it.
Edward Hopper painted with Blockx products, especially between 1939-1944. From 1944 it was impossible to get the products because of World War II. This unavailability was because Blockx stopped making paint during WWII in order to not cooperate with the Germans.
---
From: The Oil Painting Book
The Oil Painting Book: Materials and Techniques for Today's Artist by Bill Creevy (now out of print).
"The Blockx color range reflects quality rather than quantity. The firm offers only 60 colors. Approximately one-third of the Blockx palette consists of earth colors, whose particular beauty has made them legendary and reflects the importance of choice pigments. Blockx's range of earth colors offers several surprises. For example, there is no raw umber, but in its stead is a beautiful transparent brown. Neither is there raw sienna, but two burnt siennas take its place, one dark, the other light. Another unique Blockx earth color is capucine yellow, in both light and dark varieties. Undiluted, these colors are a rich, transparent "wood" red. When mixed with White, they produce earthy flesh tones.
Because of the heavy pigmentation, the more chromatic hues of the Blockx line really sing out. Where necessary, Blockx's brighter and lighter colors, such as cerulean blue, are mixed with poppyseed oil rather than linseed oil to avoid any possible discoloration or yellowing. In fact, Blockx is the only paint maker to use poppyseed oil to such a great extent. Blockx offers the full range of cadmiums and cobalts, plus a genuine transparent aureolin. Interestingly, Blockx does not have an alizarin crimson, but instead offers a series of rose madders made from the newer, more lightfast pigment anthraquinone."
The book was printed in 1999 and Blockx have since added to their colour range. They now offer 87 colours in 35 ml and 3 whites in 200 ml. The colour range now includes a permanent crimson – Crimson Lake.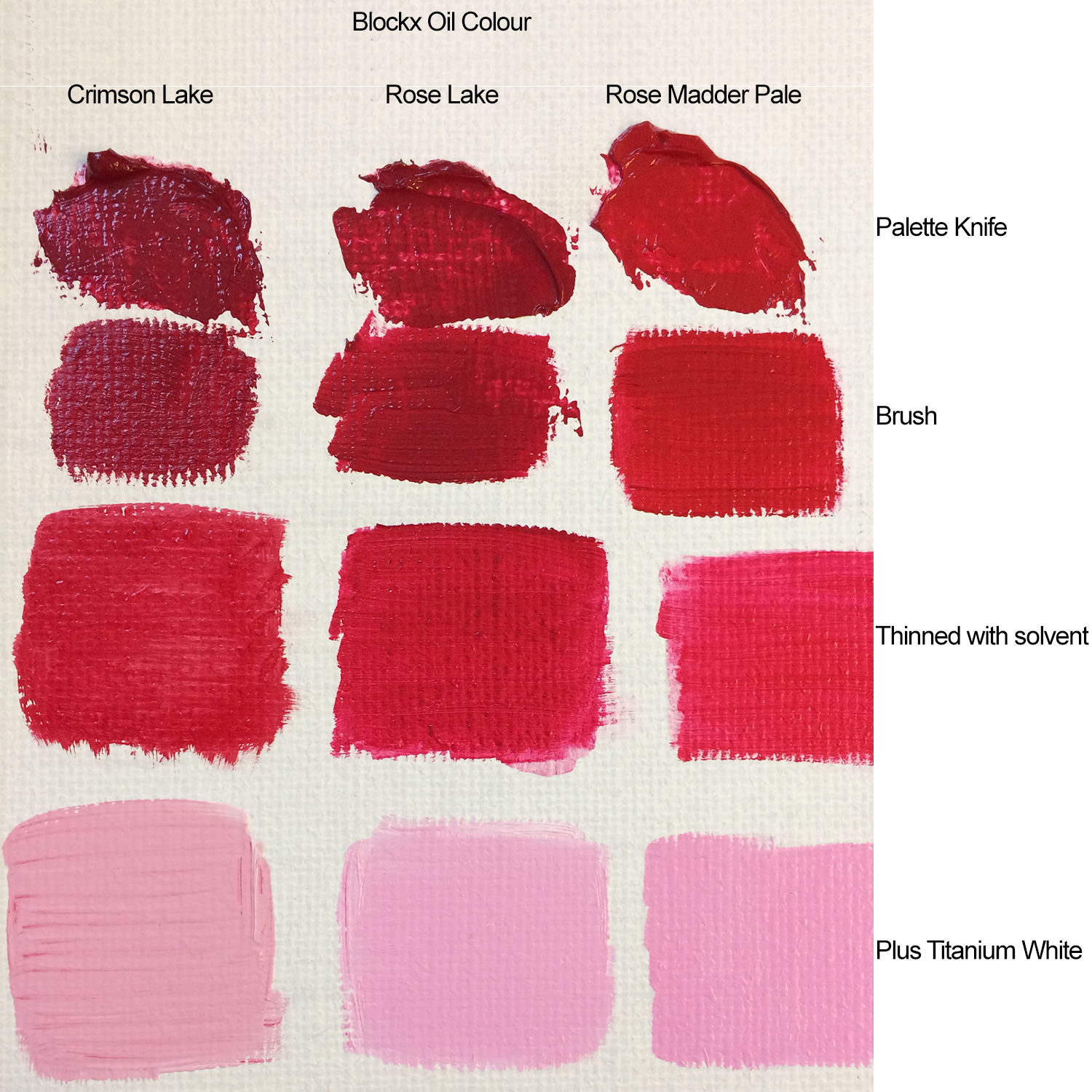 ---
Click on the underlined link to go to the current offer on Blockx Oil Paint on the Jackson's Art Supplies website.
Postage on orders shipped standard to mainland UK addresses is free for orders of £39 or more.