What are those little triangular pieces of wood for?
After hearing a few experienced artists say they just threw their wedges away and later hearing them wonder about the best way to tighten up a slightly sagging canvas, I decided maybe the humble canvas wedge needed some clarification.
---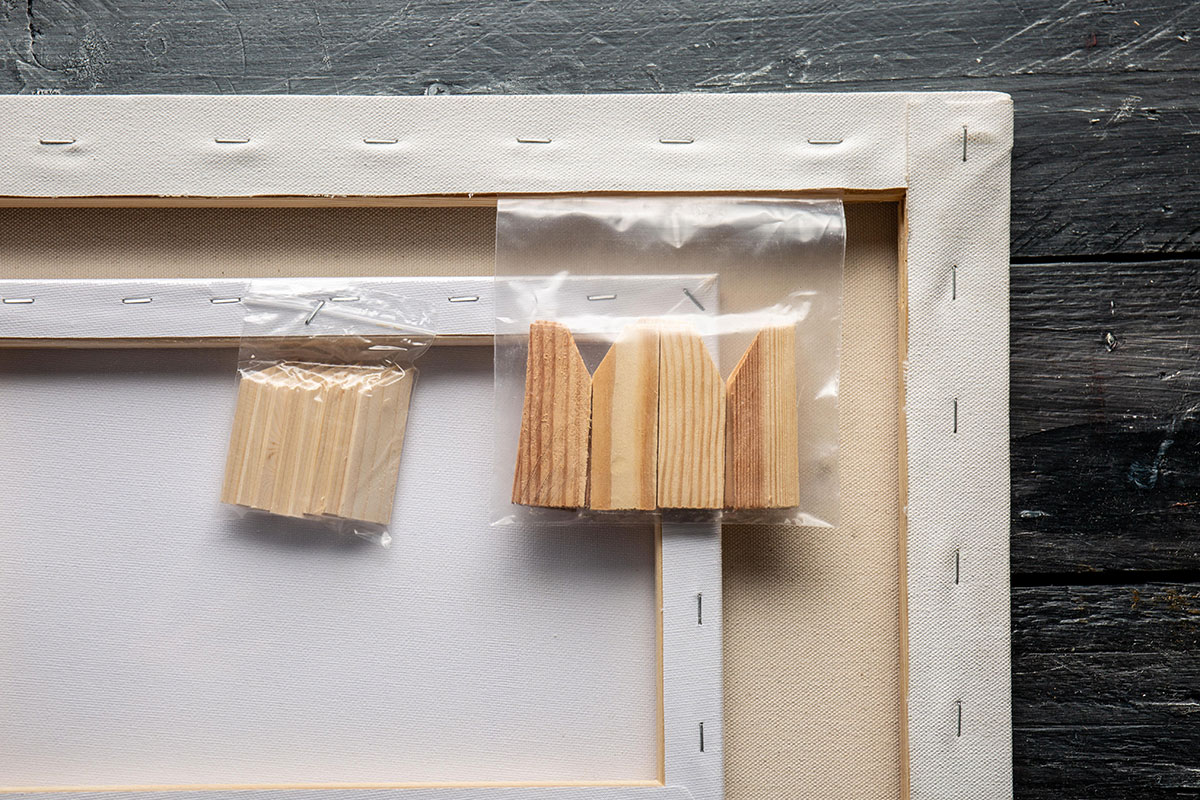 When you purchase a ready-made canvas it will usually come with a little plastic bag of eight canvas wedges, often stapled inside the wrapping. Occasionally the wedges are already inserted in the canvas frame. When you purchase stretcher bars to make your own canvas, you will receive eight wedges per four bars (to make one canvas). The size of the wedges varies – bigger bars will have bigger wedges. The shape can vary a bit as well, each manufacturer makes the ones that best fit the slots that have been made in the corner of their stretcher bars.
Many artists throw these small bits of wood away or start filling a drawer with them. But painter's corner keys or retainers (two other names for them) can be very useful – if you don't already use them you might want to give them a try. New canvases often need to be tightened and old paintings on canvas can become loose over time, usually because of humidity changes and temperature fluctuations, and your canvas that was as tight as a drum can loosen on its stretcher bars. They can easily be made tauter with corner tightening wedges, which expand the mitred corner of the bars slightly, enlarging the frame by a millimetre or so.
---
Wedges can be inserted into the canvas bars before painting or after.
They can be used to:
finish the stretching of a hand-stretched canvas – to give it that last bit of tightening. If you are priming your canvas, wait until you have primed it as priming will cause the canvas to shrink.
tighten up a ready-made canvas that has loosened up in storage or shipping (the tightness of a canvas will relax naturally over time). If your canvas arrived and is just a bit looser than you'd like, inserting the wedges will usually solve the problem. Often a couple of millimetres is all it takes to make a loose canvas taut again, or pull a sag out of a corner. If it arrives with the wedges already inserted in the canvas frame they may need a little tap to fully set them in.
tighten a canvas that was fine when you started painting but the weight of paint and pressing on it has caused it to loosen a bit. So when you are finished painting and varnishing, assess if it needs a bit of tightening now. This is a reason to keep the wedges for future use, because the fabric tightness may change. Take care to do it gently as over-stretching suddenly can crack an oil painting.
re-stretch a finished painting if it sags after many years. When a painting goes slack over time because the temperature and humidity in a building changes throughout the day and year, inserting wedges should allow you to tighten the canvas back up without having to re-stretch it. Take care to do it gently as over-stretching suddenly can crack an oil painting.
---
Inserting the canvas wedges
In each inside corner of a ready-stretched canvas or one you've stretched yourself, there are 2 slots in which to fit the wedges. Each slot reduces in size the further back it goes so that as the wedges are tapped into the frame it pushes the bars apart at the corner thus stretching the canvas a few millimetres. If you spread it far enough you can see the gap in the mitred corner expand. By the way, this doesn't make the corner any weaker, there is still a full dovetail join inside the corner.
From the back of the canvas slide a wedge, point first (top of the triangle), into each slot, one at a time. Give them a tap with a small tack or finishing hammer. Be gentle. Bashing it could split the wood of the wedge, or you could bounce off and hit the back of the canvas, or over-stretching of an oil painting could crack the brittle painted surface. Some artists tap downward with the side of the canvas on the table or floor, some tap upwards. I find upwards to be more difficult to aim, but try both and see which works best for you. Do one corner at a time and try to tap with the same force for each corner so the tension is even. There will be two in each corner, eight per canvas. Check the front of the canvas and if you need to, go around and tap them all again. I find that sometimes one corner is sagging more than the others and it might help to give that one corner a few more taps.
The wedges are asymmetrical and they work well in either orientation – if you insert them with the long side or the short side against the side of the stretcher bar. Some stretcher bars seem to accept the wedges a bit better in one way than the other – it must be how the slots are angled inside – Winsor & Newton brand canvases for instance work best with the wedges parallel to the bars. I used to insert my wedges parallel because it looks tidier, but now I prefer it so that the wedges are angled out toward the centre of the canvas, they seem to work a bit better. But I use hand stretched canvases and Jackson's Professional Canvases and it works well with them. But the orientation is up to you, try both and see which works better with your canvas.
It is good practice to try to get your bars to spread apart a bit before you start tapping in your wedges, rather then just using the wedges themselves to push the bars apart. Best practice is that you should do all the movement of the bars by pulling and tapping on the bars to expand them and only inserting the wedges after you have expanded the frame. They are called keys or retainers because they fit in the space you have created to retain the expansion of the bars.
Claire, our former bespoke canvas maker, explains: "If you need to tighten a canvas during painting, take a slip or block of wood, hold to the inside of the stretcher bar and tap this out with a light hammer (the wood stops you getting hammer marks on the stretcher bars) do this on all four insides, then push the wedges home, they are there to act as keys to stop the stretcher from contracting they are not to be hit with a hammer. Do not bang the wedges themselves in."
This is what is meant when someone says you need to 'bang your stretchers apart', they mean to tap the stretcher bars in their centres, one at a time, away from the middle of the canvas. After you have expanded the canvas a bit then push your wedges in to hold them apart, like a doorstop wedge holds open a door, or a keystone hold a masonry arch in place. I find this allows the wedges to be pushed in further before you start tapping on them and gives a tighter canvas. But I usually do need to do some more pushing with the wedge to finish the job.
In case you were wondering – the wedges are meant to be left in permanently. They keep the corner of the stretcher frame pushed apart slightly. If you remove them the canvas will sag again as the bars move together.
---
Centre bar wedges
Centre bars also have a little gap and when you purchase a centre bar to stretch your own canvas you should receive some slim wedges to tighten up the centre bar.
---
Read our other articles about canvas and canvas stretching
---
Stretched Canvases at Jackson's Art
Postage on orders shipped standard to mainland UK addresses is free for orders of £39.