Emma Colbert was shortlisted for the Jackson's Painting Prize this year with her work Reflecting on Portrush. The painting is a testament to Emma's passion for colour and incredible skill and understanding of soft pastel techniques which she shares, in detail, through online tutorials. Here, she talks about her favourite grey pastels, her portable studio practice and learning from artists of the past.

Above image: Dogged Determination, 2018, Emma Colbert, Soft pastel on velour, 69 x 41 cm

Clare: Can you tell us about your artistic background/education?
Emma: I have always enjoyed drawing and painting and gravitated towards these subjects in school along with music and anything else creative. I decided to continue onto university and study illustration in Kent, England. But I realised the illustration world was not for me and always wished I had studied fine art instead. Luckily your degree, or even lack of, doesn't always matter in the art world as you often make your own path in the end.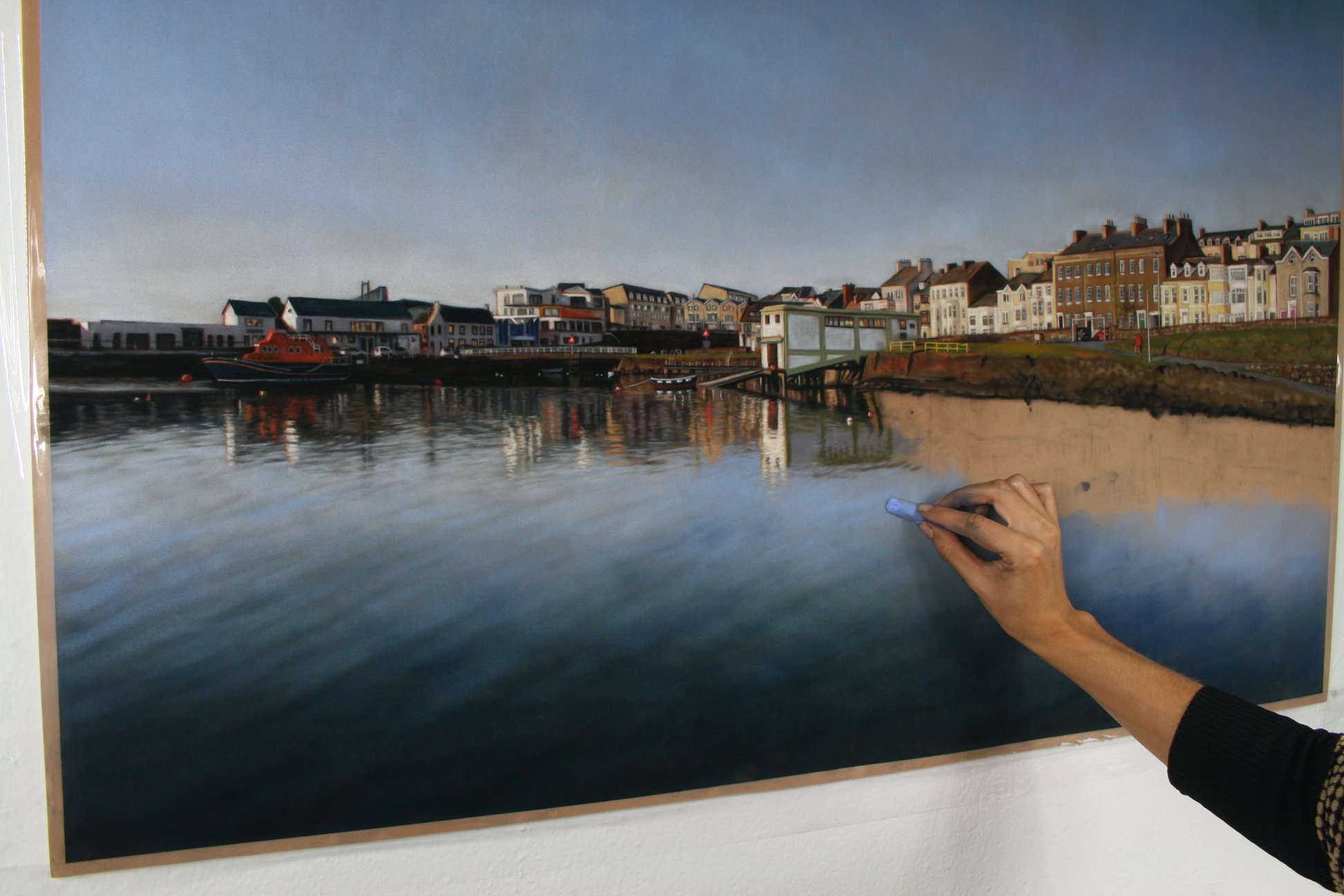 Clare: Where does a painting begin for you? Can you take us through your process?
Emma: Most of the time a painting will start with editing photo reference. Whether it's for my own painting, or a portrait for a client it usually starts by cropping and playing with photo reference. Once I have decided on the composition, I'll sketch myself an outline, either free hand or using a grid. I then transfer my outline onto the pastel paper I've chosen to work on. Once I get to this stage that's where the fun really starts for me. Colour! Now I use the soft pastel sticks to build up thin layers of colour working predominantly from dark to light. I start with larger marks and blocking in, progressing to more detail. I also use some pastel pencils for smaller details.
Clare: What is your favourite part of the process and why?
Emma: While I enjoy drawing and line work, I'm more of a colourist. So my favourite part of the process is always when I am working with my luscious soft pastel sticks. That might be early on in a painting while I'm working on a background, or later, when I've really settled into the rhythm of the main subject. It's always fun to sit down at the easel when I'm well into the colour stages.
Clare: Your pastel tutorials on YouTube are incredible with some really specific themes like How to Paint Cat's Eyes in Soft Pastel. Can you tell us about how you began doing this and how you decide the content for each video?
Emma: I filmed my first video for a time-lapse way back in 2009. But with poor quality footage and ancient technology making editing very slow, I didn't do much with these early videos. But the desire was there to share my process. Until now there hasn't been a lot of information for people wanting to learn to paint in pastel. I used my website blog to share my process and noticed there was real demand for it. Back in 2018 I decided to invest in better equipment and give the tutorials a proper go. Starting a Patreon channel helped me fund all the improvements I've made since and I'm now able to release many free videos to YouTube because of the support of my subscribers on Patreon. A lot of the time I make the tutorials based on the things I would have liked to have been taught in art school, colour theory, composition, how to turn professional as an artist etc. But a lot of the time my content is fed by the commissions I'm working on and the questions I get from subscribers. Often my Patrons vote for which content they'd like to see me make.
Clare: What can you tell us about your studio? Can you describe your working space for us? What are the pros and cons with your somewhat unconventional studio environment?
Emma: I have had many studio spaces over the last 5 years. The wonderful thing about soft pastel is how compact you can work when you have to. In 2016 I left Ireland to tour Europe in a motorhome with my boyfriend and our dog. We spent 3 years constantly on the move and added 2 more dogs to the family. I would use the back of the motorhome area to work in. Despite how small it was, it was a surprisingly manageable workspace with an ever changing view that made you feel a part of the outside world while you worked. For the last couple of years I've been a bit more settled in Spain with an apartment here. Again it's not ideal and I dream of a big studio with lots of storage and workspace. But for now as long as I have my pastel boxes and easel I can work anywhere.
Clare: What colour do you use the most out of all your pastels? Is there any one colour that features in every single painting?
Emma: I absolutely love Unison Grey 8. I think I probably use it in most of my paintings as it just screams "shadow tone" at me! This dusky blue violet grey gets used often when I'm trying to add some cool shadow areas. Another I probably use in every painting is Unison Grey 27. An almost white yellow tint, this is often my brightest value in a painting.
Clare: What are your most important artist's tools? Do you have any favourites?
Emma: My main tools are of course my soft pastel sticks. Unlike many other mediums, you can create with just the medium itself. No brushes, no mixing palettes. Just your paper and these sticks of pure pigment. My favourites are Unison Colour, a hand made pastel brand from the UK. I've worked with them for many years now to create colour selections for painting animals and really love their quality and colour range.
Clare: How has the lockdown of the last few months affected your practice?
Emma: Lockdown this year has certainly changed things for many people, but to be honest my day to day work didn't change a lot apart from logistically with postage disruptions etc. I spend a lot of time on my own in my studio, painting and video editing. If anything I did more of this and it seemed like the demand for the tutorials increased as more people were confined to their homes. Not how I want things to continue for the world, but strangely it didn't have a negative effect for me as I had already moved much of my work online to accommodate my travels. For those who rely on physical galleries and workshops, this year would have been changed drastically.
Clare: What are your art influences? Who are your favourite contemporary or historical artists and why?
Emma: I have a really broad range of tastes in art ranging from realism to abstract. Quite often what I would hang in my own home does not resemble how I myself work. But in terms of the art that has most influenced how I work, I would say I have learned the most from the Impressionists. I'm always talking about how their use of colour made colour theory start to make sense to me. Seeing the work of Seurat or Sorella in person helped me to understand how to use colour. Although I'm clearly not an Impressionist, I have taken inspiration from their use of colour and made use of the looser mark making within my backgrounds. I've also always loved the more classical styles of Velazquez or Vermeer but these days enjoy looking at the wealth of current art produced in pastel too. Looking at the painters from the past and present has definitely taught me more than anything else.
Clare: What makes a good day in the studio for you?
Emma: Simple answer. Painting all day! It happens so seldom these days as my weeks get busier with video editing and the logistical side of business. But a day when I get to sit at my easel and make good progress on a painting is the best day I can have.
Clare: Can you tell us where we can see more of your work online or in the flesh?
Emma: Aside from my commissions I'm continuing to work hard on my tutorials, adding new content to YouTube and my Patreon channel. With the current situation the way it is for galleries and events in person, I'm happy to continue as I have been. My work is available as limited edition prints from my website and I often sell original pieces via my website or social media. If you're interested in learning from me the best place to subscribe is YouTube to get you started. Then if you like my teaching, sign up for more on Patreon. I hope to continue for a long time to create a giant library of information for aspiring pastel artists.
---