We asked painters Catherine MacDiarmid, Tom Loffill and Rosie Phillips to test Jackson's Painting Paper Blocks for watercolour, acrylic and oil. Below they share their thoughts on using the gummed pads, which are glued on four edges with space at one corner or edge so that sheets can be 'sliced' from the block after work. No paper stretching required, blocks allow you to paint freely knowing your paper will not buckle.
Above image: Watercolour on Jackson's Watercolour Paper Block 300 gsm 15 Sheets 12 x 16 in Hot Pressed by Catherine MacDiarmid
---
Tom Loffill Tests Jackson's Acrylic Painting Paper Blocks
I was asked to review Jackson's Acrylic Paper Blocks. Having never previously encountered blocks I asked how they differ from paper pads. Josephine told me: "While a pad is often just glued on one edge, a block is glued on four edges with one corner or edge free to slice the sheet from the block after use. This means paper does not have to be stretched to work, and you can paint freely knowing that the paper will not buckle." This sounded like something I'd like to try, being not too far from the 300 gsm watercolour paper I would usually use, and so I agreed.
Materials
Jackson's Acrylic Paper Block 290 gsm 15 Sheets 12 x 16 in
Jackson's Acrylic Paper Block 290 gsm 15 Sheets 8 x 10 in
Jackson's Acrylic Paper Block 290 gsm 15 Sheets 4 x 6 in
Jackson's Professional Acrylic Paint:
My first impressions of the blocks were that they were nicely designed with a clear, crisp font on the cover. The three blocks I received were 4 x 6 in, 8 x 10 in and 12 x 16 in. All of them are 290 gsm, smooth white with 15 sheets each. The Jackson's website says they are made with "lignin-free wood pulp… Acid-free, FSC Certified, and vegan-friendly." They have been specifically made to be used with acrylics, and there are also oil and watercolour equivalents.
As well as the blocks I received some Jackson's Professional Acrylics, which I used along with my own System 3 paints. My first use was for a portrait from life of my friend Claire. A few weeks back I'd seen this fantastic multi-coloured coat she has and I asked if she would wear it for a portrait. I thought the bright white of the paper seemed like it would offset the colours nicely. I went with the 12 x 16 in (close to A3 size) and worked on my easel, the solidity of the block made that very easy to do. I started with quite watery paint for the first layer, becoming less watery as I went on. I liked the way the paper took the marks, it felt very natural. I enjoyed working on the picture, and was happy with the result.
Next, I used the 4 x 6 in (postcard size) blocks to do four paintings of the lawn outside my window. This is something I'd meant to do for a while, I love the two tones of green caused by the shadow of the house, and the shifting shape of the chimneys' shadows. I mixed the two shades of green and then worked very quickly, without any water. I did two layers on each, leaving some white of the paper showing through the transparency, creating some sense of texture. This was the first time I'd peeled the paper from the block, which was fairly easy to do, there is one small un-gummed section from which you start, and then work around. It's best to use a knife to start it off. Removing the paper gradually from the block has a slightly old-fashioned ritualistic feeling, like manually cutting the pages of a book.
The last pictures I did were on the 8 x 10 in paper, some simple quick line sketches from photos of Renaissance and Ancient Egyptian sculptures. For these I used the Jackson's Professional Acrylic Cyan Blue. I liked how vibrant the colour was against the white of the paper.
Overall I liked the blocks very much. I usually prefer a creamier, more textured paper, but the smooth paper felt very natural to use. It took watery and thicker paint equally well, and the colour kept its vibrancy. I'm not sure yet whether it would replace the textured paper I like to use, but I'll enjoy using the rest of the blocks. I think the prices are very reasonable, and would recommend them if you're looking for a smooth white paper for acrylics.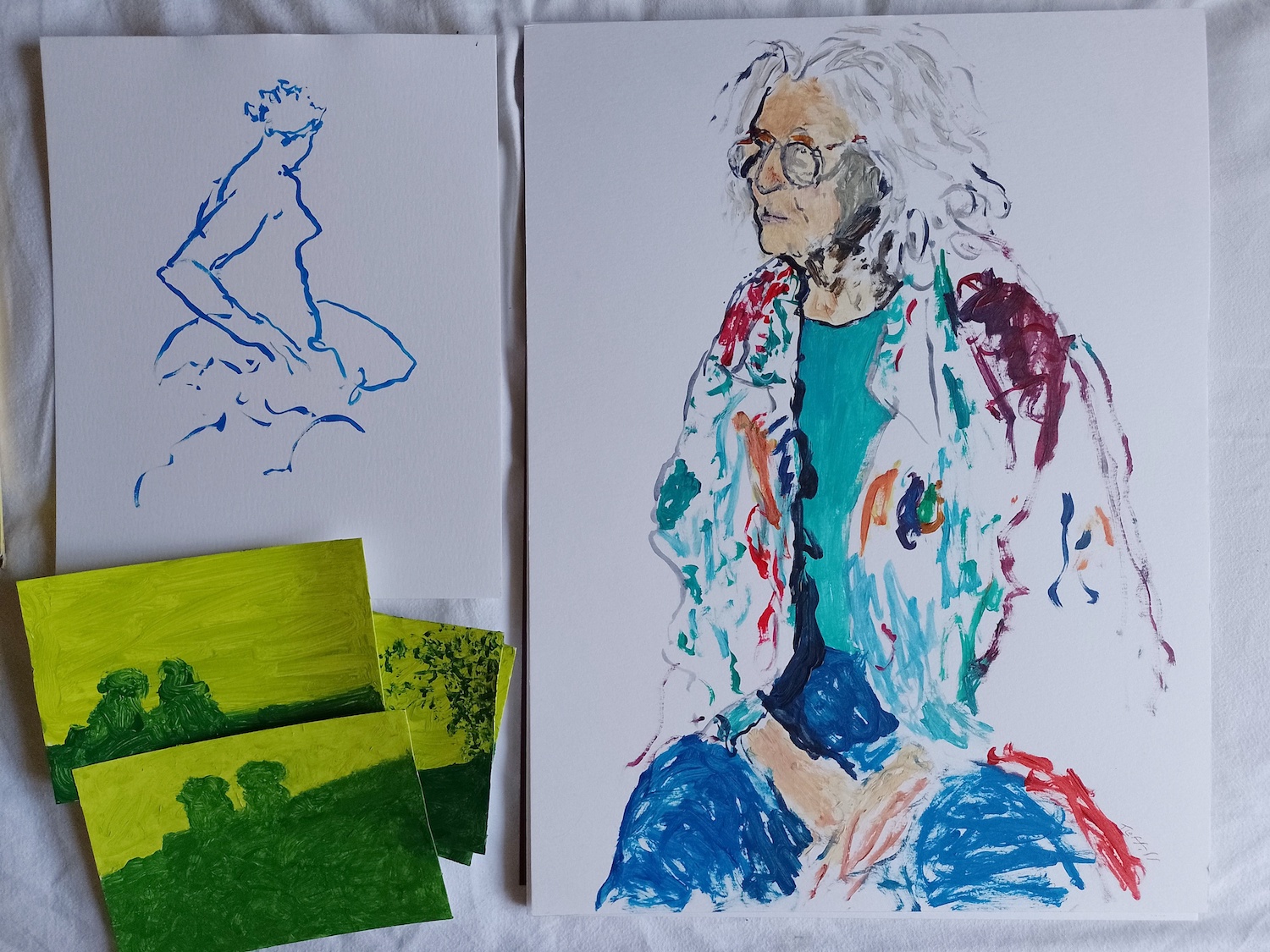 About Tom Loffill
Tom Loffill is a painter, primarily of portraits, based in north London. He has been shortlisted for the Jackson's Painting Prize 2023, was selected for the Royal Society of Portrait Painters Annual Exhibition in 2021 & 2022, and exhibited at the Royal Academy Summer Exhibition in 2018.
---
Catherine MacDiarmid Tests Jackson's Watercolour Painting Paper Blocks
I tested Jackson's Watercolour Paper Block Hot Pressed, Cold Pressed and Rough 300 gsm Natural White Paper. These are very reasonably priced blocks of watercolour paper, that have a simple and modern looking cover and come in a nice size – the largest being 12 x 16 in. Straight away I noticed that the grain of the Rough paper was more like my usual Cold Press paper, so the Cold Pressed was a bit fine for me, but I liked the look and feel of the Rough paper. I liked the whiteness of the paper and was keen to test whether the gummed edges would hold if I 'flooded' the surface.
Materials
Jackson's Watercolour Paper Block 300 gsm 15 Sheets 12 x 16 in Hot Pressed
Jackson's Watercolour Paper Block 300 gsm 15 Sheets 8 x 10 in Cold Pressed (Not)
Jackson's Watercolour Paper Block 300 gsm 15 Sheets 12 x 16 in Rough
Jackson's Red Sable Reservoir Brush Series 91R Size 1
First, I painted experimental swatches, to test different techniques – graduated wash, wet-into-wet, lifting out, blooming, clingfilm (where you lay cling film over the paint while wet and remove once dry), salt (putting rock salt onto a wet wash), wax resist, and scratching with a blade.
In relation to different techniques, I noticed that salting didn't work too well on the Rough or Cold Pressed Papers, however it worked brilliantly on the Hot Pressed. I love a good bloom and all three papers worked for this effect. The clingfilm left an overall mottled effect on the Rough Paper, which I worked with on my painting of bamboo. As an artist I find I quickly adapt to different art materials that I use. Therefore, different effects worked well on each of these papers.
I then painted some features onto the Hot Pressed and Cold Pressed papers, leading to a portrait on the Hot Pressed. I liked painting on the Hot Pressed, which surprised me. The paint dried in clean marks, and it would wash off easily, so I was able to bring back the light. I could create a few layers, but as with most watercolour paper there was a limit to those layers – say about four or five. I really hammered this painting to test the paper, and I overworked it, which that is always something a watercolourist must be mindful of.
My painting on the Rough Paper was of bamboo, different from my usual figure subject matter. I wanted to test masking fluid and how well the gummed sides of the block held after flooding the surface. After masking out the leaves, I painted the background in three washes, using cling film to create textures. The gummed edges broke on one side, but the rest held, and the paper was still flat once dry. The masking fluid came off quite well, although it did leave some residue on the paper. It was hard to tell whether this was due to the heat of the day, my old fluid, or the paper.
Overall, these are good papers, particularly for the price, and I am going to be working with them again. I would recommend them as decently priced, solid quality papers.
About Catherine MacDiarmid
Born in Kendal in 1972, after gaining a degree in Visual Arts from De Montfort University in 1994 Catherine has lived and worked in Kendal. She began exhibiting her art in 1998 and has work in collections in Turkey, France, the United States and the United Kingdom.
Catherine has exhibited in the BP Portrait Award, and her work is included in the first 500 Portraits, a National Portrait Gallery publication. She was short-listed for Sky Portrait Artist of the Year 2014 and 2018 and was a semi-finalist in 2019. Catherine has also won various awards – most recently the Cass Art Prize in the Royal Institute of Painters in Watercolour 2022.
Catherine belongs to several art collectives including the Lake Artists Society and the Contemporary British Portrait Painters (CBPP), and was a founder member of Green Door, a collective of artists based in and around the South Lakes.
---
Rosie Phillips Tests Jackson's Oil Painting Paper Blocks
I am familiar with canvas paper and have enjoyed using it in the past for smaller projects and sketches, so have been excited to try these oil painting paper blocks. It has become a compact, cost-effective competitor to traditional stretched canvas due to its eerily similar texture and archival qualities, so I find it perfect for small, quick oil sketches where I'm trying to experiment and be loose, as well as commissions and more finalised work. I was so keen to try these that I actually tore through the packaging before I got a chance to get a photo.
Materials
Jackson's Oil Paper Block 290 gsm 15 Sheets 12 x 16 in
Jackson's Oil Paper Block 290 gsm 15 Sheets 8 x 10 in
Jackson's Oil Paper Block 290 gsm 15 Sheets 5 x 7 in
Jackson's Professional Oil Paint:
Sennelier Green For Oil Liquid Medium
Gamblin Galkyd Solvent Free Gel
The blocks arrived in a sturdy cardboard box, packed with paper and taped securely. The edges of the blocks retained their point and weren't bashed around. They were protected in a layer of polyethylene, which protected them well. I am of the understanding that this is recyclable, and the product is 100% vegan, which are both big green flags for me when selecting the right supplies. The packaging design is sleek and contemporary – I really like the colours! A pleasure to create with aesthetically, yet simple enough to not trigger my sketchbook perfectionism.
I will be experimenting with a variety of mediums to test the overall look/feel of the oil blocks; linseed oil, gamblin, liquin, impasto medium and sennelier green for oil liquid medium. I often incorporate graphite into my work, so will also be introducing this to see how the paper lends itself to mark making/mixed media. I will be looking at how the surface handles runny, concentrated mediums, (e.g. if there is any bleeding), as well as the look and feel of oil paint on the textured surface of the paper. Will it be difficult to apply smooth layers of paint? How can I work with the surface to achieve interesting effects?
I can see the block being a lightweight, compact alternative to canvas panels in terms of plein air work. The blocks are much harder to damage in transit than stretched canvas as each page is tightly gummed together, though for this reason I did have to 'dig' into the side of the block to be able to pull the sheets off, which put them at risk of ripping, so not an entirely seamless process, though this didn't pose much of an issue.
I really enjoy the feel of the paper – it looks and behaves like tightly woven (think linen), primed canvas, so initial layers of paint are smooth and the colours are bold from the jump. There is minimal absorption, if any, and the paper showed absolutely no signs of bleeding or buckling, despite me using very concentrated applications of medium and strong marks. Thick brushstrokes hold their shape and texture, whilst thinner washes maintain a crisp outline.
I find that thin washes with the oil based mediums produce a watercolour-esque look, whilst liquin and gamblin produced drier initial marks which brought out the surface of the paper. It handles impasto work incredibly well, and I was impressed that the paper retained its shape regardless of the paint thickness applied.
The blocks each have 15 sheets and range in price from £2.50 (3 x 4 in) to £12.90 (12 x 16 in), which I think is fantastic value at a rate of 17 – 86p per sheet. This is a very economical, 'low stakes' alternative to stretched canvas or board if you are on the go, new to oil painting or looking to practice techniques on a similar texture. I can also see paintings produced on the blocks being mounted and presented for exhibition with great ease.
I will absolutely be recommending the blocks and am very keen to experiment further with them! The main selling point for me personally would be their suitability for oil studies; They respond incredibly well to a wide range of materials and processes that I would typically involve in my practice and so provide an economically friendly opportunity for experimentation. I think a range of square sizes would be fantastic, too!
About Rosie Phillips
Rosie Phillips is a 21 year old self taught painter based in Norfolk. She won the Sworders' Art Prize for Emerging Artists, The Sir John Hurt Art Prize (Highly Commended) and the John Dalton: Gently Does It Art Prize. Last November Rosie took part in Sky Arts' Portrait Artist of the Year, where her painting was shortlisted by the judges.
Her figurative work is an examination of body language and inward states. In her paintings, she aims to 'interrupt' fleeting moments, observing the ways in which the figure naturally contorts and establishes itself in response to it's environment.
---
Further Reading
Everything You Need to Know About Acrylic Painting Paper
Everything You Need to Know About Watercolour Paper
Shop Jackson's Paper Blocks on jacksonsart.com