The Aquarius range of watercolours by Roman Szmal is an increasingly popular brand of artist-quality paints. This Polish company specialises in unique colours and single pigment paints, encouraging artists to create their own personalised colour palettes. They have recently announced a further 20 new colours coming to their already impressive range.
---
Each colour in the Aquarius range is made using high-quality gum arabic, glycerin, linden honey, distilled water, and of course a selection of pure pigments. The paints themselves are hand filled full pans, and they arrived carefully packaged in a protective wrap, branded silver foil, and a swatch of watercolour paper decorated with a delicate sweep of the corresponding colour. The paper wrap also carries important information such as the name of the paint, the pigment number, the pigments' lightfast rating (according to the Blue Wool Scale), whether it is staining or non-staining, its granulation properties, and its transparency rating: which is an awful lot of information to pack into quite a small piece of paper.
The colours are made in small batches, which allows for careful quality control. Each batch is tested for various performance qualities: viscosity, vibrancy, colour, value, flowing ability, transparency, granulation, undertone, tinting strength, clarity, and pigment particle size. When taking a closer look at the Aquarius range, it becomes clear that these paints are developed with a very real devotion to the art of paint-making.
Roman Szmal's New Aquarius Colours
I was given the opportunity to test the new paints coming to the Aquarius range, and the first thing that struck me was the broad range of colours; from the vibrant Phthalo Blue (turquoise shade) through to moody Urban Grey, to the delightfully earthy Natural Umber Reddish. Something to note about the earth shades in the Aquarius range is that they are all made from natural earth pigments sourced from all over the world, instead of the more common synthetic iron oxides. Out of the 20 new colours I tested, 16 of them were single pigment paints.
After swatching out each paint, I decided to take a closer look at a handful of my favourite colours so far.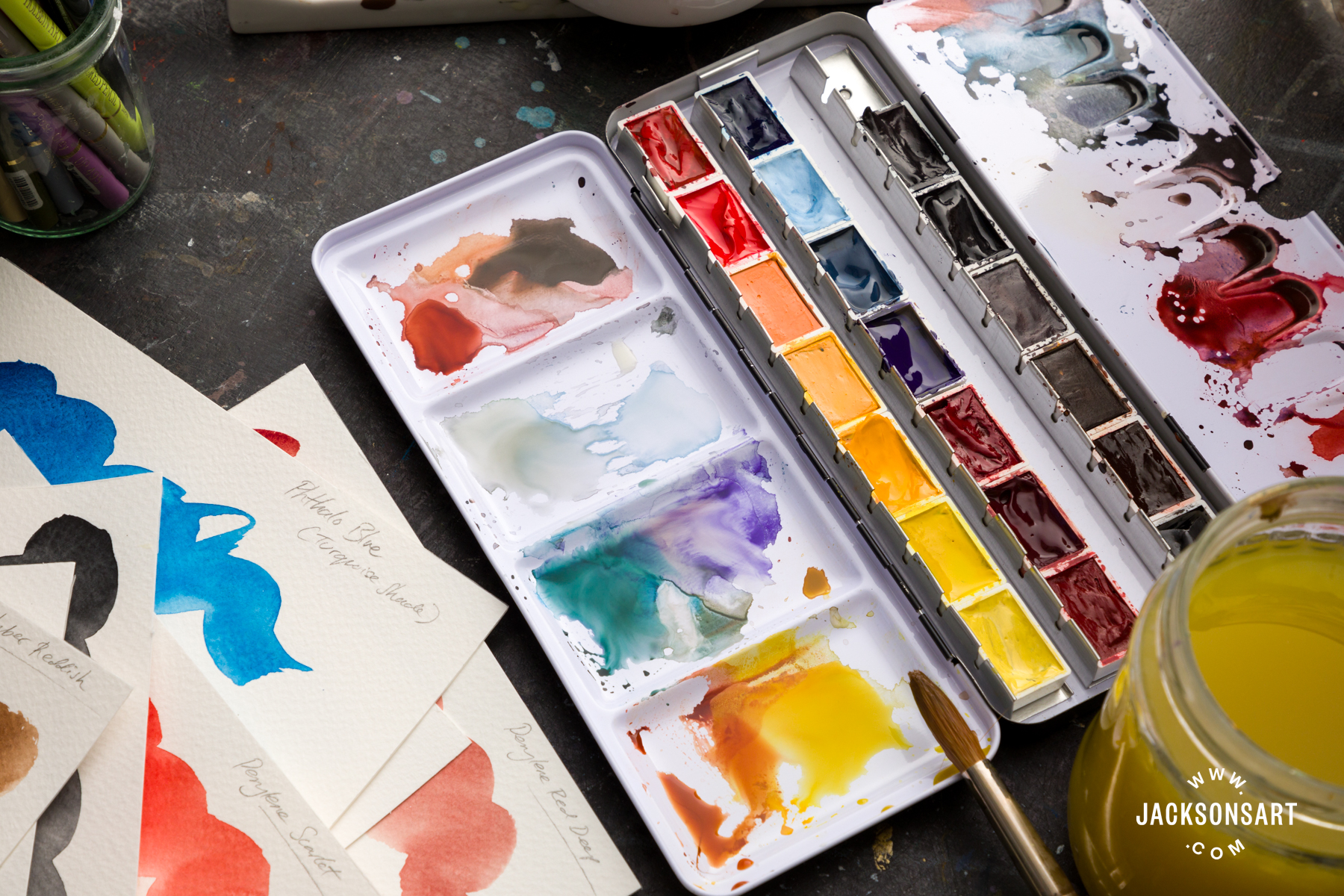 Phthalo Blue (Turquoise Shade): PB15:4, Transparent, Very Lightfast
I was immediately drawn to the fresh, vibrant colour of this particular paint. According to the Blue Wool Scale, Phthalo Blue (turquoise shade) rates an 8, which is classed as Very Lightfast, remaining unchanged for 200+ years. When I removed the protective layer from the watercolour pan, I discovered this paint – and all the Roman Szmal paints that I tested – to be a soft-set watercolour, with a uniquely malleable, tacky texture. As such, I did have a little difficulty peeling away the protective cover, and did end up pulling away some paint as well. However, this was easily scraped back into the pan, or onto my palette for immediate use, with the side of a palette knife.
The paint itself wetted up quickly, offering a wealth of intense blue colour. The phthalo pigments are not known for their subtlety, and this particular blue certainly did not disappoint in that respect. Pleasantly creamy in texture, a little of this paint went a very long way, starting as an intense, turquoise-tinted blue hue, softening down with plenty of water into a clear, pale wash with no granulation. This is also a staining colour, and as such it didn't lift well from my watercolour paper: even when I scrubbed with a sturdy brush, it left a stubbornly blue tint behind.
Urban Grey: PW6:1, PBr29, PB29, & PY150, Semi-Opaque, Very Lightfast
This is one of only four colours in the new range of Aquarius paints to contain more than a single pigment. Urban Grey is an elegant shade, created from the pigments PW6:1, PBr29, PB29, and PY150. At first glance, such a medley of pigments would seem to make little more than mud; however, in the hands of Roman Szmal, these colours combine into a deep grey that I suspect will become beloved by urban landscape painters, splitting out into a miasma of beautiful neutral darks. This is not a transparent watercolour, and as such would not be ideal for glazes or layering; however, its semi-opaque nature combined with its tendency towards granulation can offer some interesting effects, particularly on more heavily textured paper.
Perylene Scarlet: PR149, Semi-Transparent, Lightfast
Perylene Scarlet is a versatile and intense red. Another of Roman Szmal's single pigment paints, it works well both as a mixer, and when used purely on its own. When taken straight from the pan, this paint is a deep and impressive red that leans slightly towards the cooler side. Despite this, it mixes well with both warm and cool colours, offering a wealth of autumnal hues when mixed with Azo Yellow or Gamboge (hue), as well as some interesting violets and neutrals when combined with a variety of blue-toned colours. This paint is graded a 7 in lightfastness on the Blue Wool Scale, and is rated as moderately staining with moderate granulation. When testing this paint, I was able to achieve some lovely soft washes of colour, which layered well.
Perylene Red Deep: PR179, Transparent, Very Lightfast
I was excited to try this colour after testing the Perylene Scarlet, as I was interested in comparing the two. Despite the similarity in their names, these are two very different reds. Perylene Red Deep is a more subtle colour, and has darker, earthier tones that bring to mind shades of rust. This paint layers well as a transparent colour, and as a subtler non-granulating red it might be an interesting addition to a landscape painter's palette, for times when the more traditional reds are a little too much.
Natural Umber Reddish: PBr7, Semi-Transparent, Very Lightfast
I really enjoyed the earthiness of this umber paint. In terms of the single pigment used to create this colour, PBr7 is incredibly versatile, and comes in a variety of different tones. It's often found in paints marked as earths, ochres, umbers, and siennas; and in this particular umber, it takes on a pleasing reddish-brown colour. The Aquarius range of watercolour paint prides itself on using only natural earth pigments for their earth shades, hence this paint's name. It has a moderate level of granulation, which can create some interesting textures when applied with enough water. It is also moderately staining, lifting relatively well from the watercolour paper but still leaving a little pigment behind.
Velvet Black: PR264, PG7, Semi-Transparent, Very Lightfast
Interestingly, Velvet Black is not a 'true' black, in the sense that it isn't created from a single black pigment; instead, this colour is a blend of PR264, a red pigment, and PG7, a green pigment. In this case, the red and green colours work to neutralise each other beautifully, resulting in this rich, dark paint which can be applied cleanly and smoothly, with little to no granulation. This makes it both an ideal mixer and neutraliser, as well as offering some interesting washes in varying tones of grey. I tried blending it with some of the other, brighter colours from the Roman Szmal range, and was delighted to be able to mix some attractive darks and neutrals. As such, I found this to be one of the most interesting and versatile colours in the range.
My expectations were high when I began testing these colours, and after plenty of time spent blending, mixing and swatching, the Aquarius range of watercolour paints did not disappoint. Once I became accustomed to the softer texture of the paint pans, I found them very easy to use. They wet up quickly, mix well with one another, and create some interesting blends of colour and texture. I enjoyed the variety of warm and cool tones, but I did find myself missing some greens. However, I was able to create my own green tones, and I found the single pigment colours to be incredibly good mixers and very smooth to work with. All the paints I tested carried a high pigment load, which is to be expected from artist quality paints, and as a result of this the pans will go further, and last longer. There is no doubt that there are some exciting and versatile paints in this latest addition to the Roman Szmal Aquarius watercolour paints, which will only serve to bolster their already impressive range of colours.
---
Further Reading
What Makes MaimeriBlu Watercolours Unique?
Holbein Artists Gouache Irodori Summer Set Review
Two Painters Test Jackson's Artist Watercolours
Art Terms Explained: Acrylic Painting
Shop Roman Szmal Aquarius Watercolours on jacksonsart.com