As artists, we encounter a vast amount of terminology while researching, reading and talking about our materials. In this instalment of the 'Art Terms Explained' series, we explain the meaning of certain commonly-used words, phrases and terms in the context of acrylic painting.
---
Acrylic Brushes
Brushes for acrylic painting come in different levels of stiffness that allow different levels of control with different thicknesses of paint. Stiff brushes are firm and springy. Similar to a palette knife, they are best suited to textured and impasto techniques using heavy body paint, as opposed to fine detail. They may be made of hog bristle or synthetic fibres. Most oil and acrylic painting brushes could be considered medium-texture brushes, meaning they are stiff enough to leave an imprint in heavy bodied paints, but still soft enough for blending techniques. They give good control and a small size brush works well for details. Soft-haired brushes are well-suited to blending techniques. To achieve control of your marks with a soft brush, you need to use more fluid paints. Soft hair brushes include watercolour brushes, sable brushes (a type of natural-hair brush) and synthetic brushes.
Acrylic Paint
Acrylic paint is made of pigment suspended in a polymer resin. It is thinned and cleaned up with water and when the water has evaporated it dries waterproof. When used thickly it can resemble oil paint, when used in a fluid manner it can resemble watercolour. But it also allows many techniques that are unique to it thanks to its fast-drying properties and because it can adhere to many surfaces. It is often used in what is called Mixed Media Painting because the paint can be used as a collage glue.
It is available in a range of formats from thick to very fluid (see viscosity). There are a vast range of mediums available to go along with the paint, to modify its properties, so acrylic paint is very versatile.
There is also a type of acrylic paint that is called MSA Acrylic. It is not very common, but it is good to be aware of it to avoid confusion. Many pioneers of acrylic painting in the 1950s used a solvent-based acrylic paint.
Acrylic Gouache
Acrylic gouache is opaque, matte acrylic paint. The opacity means it has excellent coverage, the acrylic binder means it is waterproof when dry, so you can overpaint without smearing and the matte finish gives a velvety surface. Like traditional acrylic, it also sticks to many surfaces with great adhesion. It is called gouache because it has a similar look and coverage to traditional gouache, but it is different because it is waterproof after it is dry and traditional gouache is not. The exception would be Lascaux Acrylic Gouache which is somewhat re-wettable. Acrylic gouache provides a flat, matt finish with minimal brush strokes, and is popular for these reasons with illustrators.
Acrylic Ink
Acrylic Inks are made from super-fine pigments suspended in an acrylic emulsion as thin as water. They are the most fluid of the acrylic paints, and can be very intense in colour. Acrylic Inks dry to a smooth, flat surface with a satin sheen.
Acrylic Markers
Fast-drying and vibrant marker pens filled with acrylic paint. They are bright, bold and great for combining drawing and mark-making techniques with painting. They will adhere to most surfaces and show up brightly on coloured backgrounds.
Acrylic Spray Paint
Acrylic Spray Paints are acrylic paint in a sprayable format. They come in metal cans, and some of them contain solvent (for these it is advisable to wear a respirator mask or spray only in well ventilated areas). The low pressure handling system offered by some ranges of acrylic spray paints, allows you to control your applications of colour more carefully; You can both draw fine lines as well as broad strokes of colour by applying varying pressure while holding down the button on the top of the can. There are also water-based spray paints. These take longer to dry than solvent-based paints but can be used indoors safely.
Artist Grade
Artist Grade acrylic paints may use the same pigments as professional paints, but in more affordable proportions. This is normally achieved by increasing the amount of binder in each colour. They are still of high-quality, and are suited to professional artists.
Binder
All paint is made from two main ingredients: pigment and a binder which is something to hold the pigment and form a film when it dries. Acrylic paint is made using an acrylic polymer for the binder that forms a film after the water has evaporated. Another word for binder is vehicle.
Body
The thickness of acrylic is referred to as 'body'. Acrylic paint has formats of different thicknesses. The body of the paint can be modified by adding thick gels to make it thicker or water or thinner mediums to make it more fluid.
Brush Soap
Brush soap is a type of cleanser that is especially formulated with natural oils to moisturise and cleanse brush hairs, so that your brushes keep their shape and hairs for longer. Find out more in our article How to Clean Your Oil and Acrylic Brushes and How to Use Jackson's Marseille Soap
Canvas Pads
Canvas sheets in the format of a sketchpad. The canvas can be torn off from the pad once the painting is complete.
Canvas Panels
A painting surface made from a sheet of primed cotton glued onto a rigid board. Artists can prepare their own canvas panels or purchase them ready-made.
Catalyst Tools
'Catalyst tools' are utensils for painting. They come in two formats: silicone wedges or a silicone paddle on the end of a stick. They are cut with different groove shapes to allow you to drag them through the paint and create patterns of lines.
Curing
Acrylic paint dries in two stages: evaporation which is fast and curing which takes a few days to a few months longer depending on the thickness of the paint layer. Curing is the period where all the other ingredients in the paint film leave. There are up to 14 ingredients in acrylic paint. Besides the pigment, polymer resin and water, they can include defoamers, anti-fungal agents, solvents that help stabilise the paint during any freezing and thaw cycle, and more. The curing period is when the paint becomes firmly adhered to the surface, the gels become clear and not cloudy, the paint becomes as hard as it will get, and the paint will not reabsorb water. Many artists are not aware of this second part of the drying process and so they, for example, might varnish the painting too soon and find that the painting becomes white and cloudy underneath the varnish because the other volatile ingredients can't leave and the paint film is still absorbent and the water from the varnish has been absorbed by the paint..
Filbert
'Filbert' refers to a type of flat brush that is rounded into an oval shape at the tip. It is a versatile staple brush for both oil and acrylic painting. Other brush shapes include round, flat, bright, mottler, fan and more. See more in our article Understanding Brush Shapes Names, Hair and Applications
Flow
The word flow refers to how mobile the paint is, and how easily it transfers from the brush to the paper or surface. Mediums can be added to alter flow.
Fluid Paints
Fluid paints are supplied in a bottle and have a texture like double cream. While they are thinner than some of the other types of acrylic paint, this doesn't necessarily mean they have a lower pigment load, and still offer high colour strength. Fluid paints flow consistently from a brush, reducing visible brush strokes in a painting. They can be poured or dripped onto the surface for vivid puddles of colour, or they can be used for more precise techniques, such as glazing.
Gesso (Acrylic Gesso)
A type of acrylic primer, that replicates the qualities of 'traditional gesso', a mixture of French chalk or whiting and rabbit skin glue. Fine out more in our article Size, Primer, Gesso and Ground Explained
Glazing
The application of a thin layer of translucent paint over a previous layer to modify the colour somewhat, rather than covering over it completely.
Heavy Body Paints
Heavy Body paints are acrylic paints with the thickest consistency. They're the most popular and have a buttery texture, making them the closest to oil paints. Heavy body paints hold their shape as they are squeezed from the tube, however, like all other acrylics, can be made more fluid by mixing with water. The wet paint can be squeezed out of these tubes onto your palette for mixing or even directly onto the painting surface that you are working on for thick, expressive marks (see impasto).
Impasto
A term to describe paint that has been applied thickly, often straight from the tube or with a medium added to thicken it.
Interactive Acrylics
Usually, once dry, ordinary acrylic paints can not be re-wetted. However 'Interactive Acrylics' offer a solution to this. They are just like regular acrylic fast-drying artist quality paints, however, they contain a unique 'unlocking formula'. This is a liquid that re-wets dried interactive acrylic and slows drying if a few drops are added to the paint while still wet. A Fast Medium/Fixer is used to seal the layer of paint once the painting is completely finished. This means the paint will no longer be re-wettable.
Medium
An additive that is mixed with paint in order to extend the colour or alter some of its properties such as consistency, texture, transparency or flow.
Mixed Media Painting
An acrylic painting technique that uses paints, mediums, pattern making tools to add impressions, and collaged elements.
Natural Hair Brushes
Natural hair brushes are made using animal hair, such as sable or squirrel. The alternative would be synthetic brushes.
Open Paints
'Open paints' are designed to dry very slowly, making it easy to paint wet-into-wet and blend colour on the surface of your painting. They are meant to mimic oil paint as much as possible, thought they are usually soft body.
Palette Knife
A palette knife is a blunt tool used for mixing or applying paint, with a flexible steel blade. Plastic palette knives are also available. They can also be called a painting knife and can have a straight handle or an offset 'crank' handle.
Pigment
A pigment is finely ground colour made either in a laboratory or from naturally coloured rocks. When combined with the synthetic resin binder it makes acrylic paint.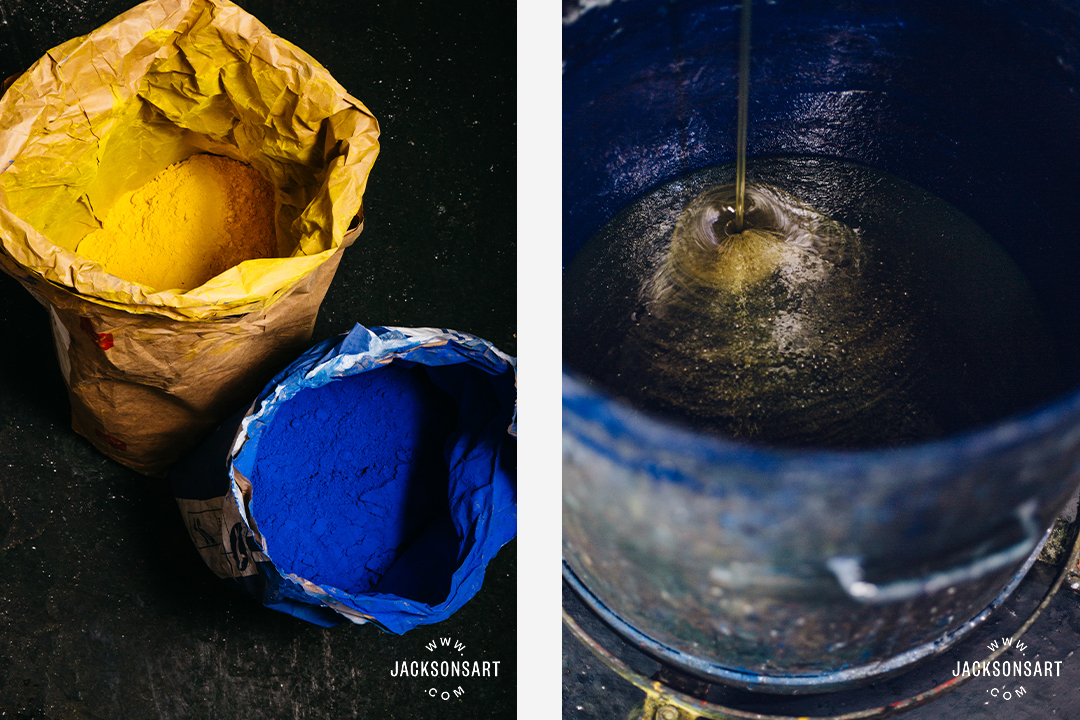 Pour Painting
This refers to a painting technique using fluid acrylic paints or inks, usually with the addition of a pouring medium, and pouring them directly onto the painting. The flowing results are abstract, although there are a number of methods within the technique to harness and control the paint to achieve different patterns and effects. See our article Acrylic Pour Painting With Schmincke Pouring Medium and Inks for inspiration.
Primer
A 'Primer' is a surfacing material used to coat a surface to get it ready for paint application. It is a glue that sticks well to your surface, better than your paint would. It acts as a middleman between the surface and the paint which is applied over the top, so that your paint is well adhered.
Professional Grade
You may see 'Professional Grade' written on the tubes of paints that are of the best quality. They have the highest quality pigments and resins and the tubes will contain the optimum ratio of pigment to binder to ensure the best possible performance.
Ready-made Canvases
Canvas is a popular choice for an acrylic painting ground. Ready-made canvases come primed and stretched onto wooden frames, so that the artist doesn't need to stretch or prime it themselves.
Soft Body Paints
Soft body paints are thinner than heavy body paints. They resemble yoghurt in consistency, and can easily be mixed with mediums or be used on their own with smooth and responsive handling.
Stay Wet Palettes
Acrylic paints dry quickly, meaning they can often dry on your palette before you have finished using them for your painting. A 'Stay Wet' palette offers a solution to this, and consists of a tray which you pour water on and then place a special sheet over the top. The moisture stops the paint from drying and thus allows you to work with your paint for longer.
Student Grade
Acrylic paints labelled as 'student grade' have the lowest pigment to binder ratio. Fillers and mediums are used to extend the pigments and add bulk, which means the student equivalents of professional colours are often more transparent and the colours can appear less strong. They are most suitable for beginners as well as students and professionals on a budget.
Synthetic Brushes
Synthetic brushes are an affordable and hard-wearing alternative to Natural Hair Brushes. They are made using synthetic materials, as opposed to animal hair.
Tear off palettes
A type of palette in the form of individual sheets of waxy papers glued together into a pad. You mix your colours on the top sheet, and can simply tear it away and dispose of it afterwards. Tear off palettes remove the necessity to clean up a messy palette at the end of a painting session.
Transparency
The measure of how much light is able to pass through an applied paint and interact with the surface beneath. Transparent paints appear more luminous on a white support because they allow a larger proportion of light to hit the surface they're laying on. Opaque paints block this reflection from occurring, and can be used to cover layers of colour underneath. Acrylic paints will be more opaque when applied directly from the tube. The transparency of them can be increased with the addition of water.
Varnish
Varnish for acrylic paintings is a clear coating applied on top of a finished painting, designed to protect from scratches, give a hard surface because acrylic is soft and porous, and in some cases protection from the fading effects of UV light. Artist quality varnish is always removable. Varnish can be used to alter the final sheen of a painting by choosing matt, satin or gloss. Varnish for acrylic paintings comes in a few formats – for all of them you need to ensure the painting is fully dry and cured, and that the surface is free of dust. Spray varnish is quick and easy to use but requires good ventilation and you need to take care to get even coverage. It is especially useful for highly textured paintings where varnish applied with a brush might pool in the low spots. Varnish can also come in a bottle or a tin to be applied with a brush. Acrylic varnish can be water-based or solvent-based. MSA (Mineral Spirit Acrylic) varnish provides a tougher layer than water-based acrylic varnish and needs to be cleaned/thinned with solvents, although it is still acrylic based.
Viscosity
The amount of thickness or fluidity a paint has – high viscosity is a thick paint and low viscosity is a fluid paint. Sometimes called consistency. Acrylic paint is made in a range of thicknesses which can be grouped into four: heavy body, soft body, fluid, and ink. Each has the same amount of pigment, just different amounts of thickeners. See our Dairy Scale of Paint Viscosities.
Wet-on-wet
Wet-on-wet is a painting technique in which layers of wet paint are applied to previously applied layers of paint that have not yet dried and are still wet. This can be used for blending techniques and mixing colours directly on the surface.
---
Further Reading
Acrylic Painting for Beginners – What You Need to Get Started
Art Terms Explained: Watercolour Painting
Art Terms Explained: Oil Painting
Everything You Need to Know About Acrylic Painting Paper
Shop Acrylic Painting on jacksonsart.com