You'll notice that in our acrylic painting department, there are thousands of paints, mediums and tools available. This reflects the versatility of the medium, and the many techniques you can try with acrylic paint. By focussing on a particular technique or process, you'll find it easier to work out what materials you'd like to invest in first. You just need a few paints and tools to get started. Once you've had a chance to gain some experience, it'll soon be clear if you want to add to your kit by trying out a certain medium, gel or paste, or a different kind of surface. The process of just getting started is the best way to learn and develop your skills as an acrylic painter.
---
Contents:
Why Are There so Many Kinds of Acrylic Paint?
Essentials for Acrylic Painting with a Brush or Palette Knife
Essentials for All Acrylic Painting
Why Are There So Many Kinds of Acrylic Paint?
Acrylic paints are available in more varieties than any other fine art medium, and can be applied to pretty much any surface, including paper, stone, metal, canvas or plastic, with no prior preparation necessary (although they will adhere best to surfaces with a degree of absorbency or texture). Tubes and pots of paint are available in a range of thicknesses – from very stiff, heavy body paints to watery yet intensely coloured acrylic airbrush inks, designed not to clog up apparatus. In between these two extremes you'll find acrylic paint marker pens, spray paints, and fluid paints with the consistency of single cream. Each is formulated to take on characteristics that will make them suited to certain ways of painting.
Different Kinds of Acrylic Paint
However the adaptability of acrylic paint means that there are no hard and fast rules. With the aid of the many acrylic mediums, gels and pastes available, it is possible to modify the characteristic of the paints you are working with to allow them to adapt to other techniques, and mould to your own particular way of working. For example, if you were working on a painting that had both passages of heavy impasto as well as some transparent, delicate glazes, you could mix in a fluid medium to your heavy body paint to increase its transparency and fluidity. Conversely you could thicken a fluid paint with a paste or gel to use it for impasto techniques, and mix it with a fluid acrylic medium to turn your colour into a glaze. The good news is when starting out, deciding on any acrylic paint is the right decision. You just need to start painting as it's only then that you'll begin to discover what your preferences are in terms of paint consistency, colour saturation and techniques, allowing you to make more informed decisions about how you go about adding to your colours and tools.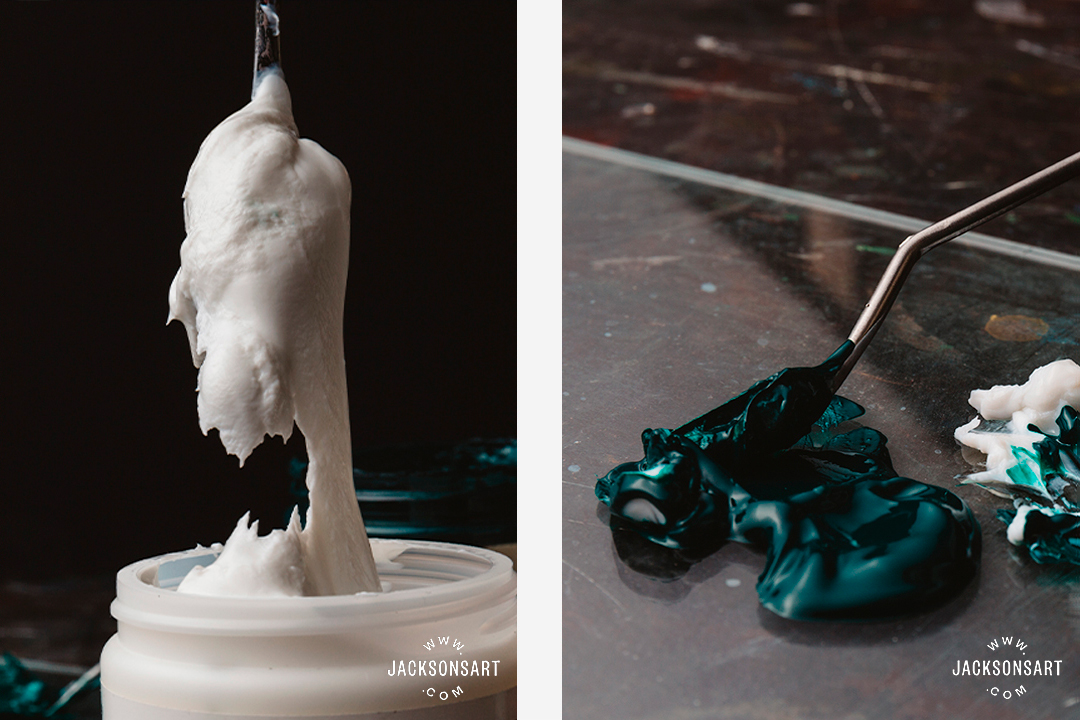 Essentials for Acrylic Painting with a Brush or Palette Knife
The following materials are essential for acrylic painting with a brush or palette knife. Here, I am assuming that you'll be creating works on a panel or canvas intended for hanging on a wall, but you may be intending to paint murals, or on any other kind of surface. The same really applies for all – just remember to invest in heavier duty, stiffer brushes if you are painting on a rough texture, such as masonry. Hog or stiff synthetic hair are ideal.

Paint
Unless you have a clear idea of specific colours you wish to work with, there are many acrylic paint sets available that conveniently offer a good spectrum of colours to use for any subject matter. Ranges of paints are often referred to by their quality. The best are professional grade paints, these have the optimum pigment to binder ratio. This means paints have intense colour saturation and show off the characteristics of the pigments used. The finest, purest pigments and acrylic binders are formulated for these high end paints. Artist grade paints may be very slightly less pigmented than the professional ranges, but still have impressive colour saturation. The characteristics of the pigments are less noticeable in how the paints behave (such as drying times, differences in sheen and texture from colour to colour). Student grade paints will have a uniform sheen when dry and each colour will behave in much the same way. To some this means that they're easier to work with and serve as a great introduction to the medium, to others it's better to dive in with the very best paints to open yourself up to more dynamic results in your work. Neither school of thought is wrong.
Acrylic Heavy Body Paint ranges are offered by Golden, Liquitex and Daler Rowney System 3, with sets available in each of these ranges. These are stiff paints that will retain brush marks. They come in tubes or pots and are not pourable. Open acrylics offer a stiffer paint that takes almost as long as oil paint to dry.
Medium Body paints are also available in tubes and pots, and are not pourable but would run down a vertical surface. The product descriptions on Jacksonsart.com will indicate whether a range would be described as heavy or medium body. Jackson's Artist Acrylic paint sets include two basic palette sets as well as a variety of limited palette colour sets, designed for closer colour harmonies and described in a series of colour mixing posts on the Jackson's Art Blog.
Soft body acrylic paints are pourable and self levelling, with a consistency of double cream. Sets are available in Jackson's Studio Acrylic and Liquitex Soft Body Acrylic.
Fluid acrylic paints are pourable with a consistency of single cream. Recommendations are AV Fluid Artist Acrylic and Golden Fluid Acrylic. They often come in bottles with a nozzle so you can squeeze colour directly onto your canvas or your palette.
Although acrylic gouache might have a similar consistency to other fluid acrylic paints they dry with a chalky-matte finish that mimics traditional gouache. Acrylic gouache dries waterproof and the colours are more opaque than regular acrylic paint. It is used in both illustration and fine art painting. Click here to browse a range of acrylic gouache sets.
Flashe paints are a little like acrylic gouache in that they dry matte, but the binder is vinyl based, which allows them to achieve very even and consistent layers of colour. As with regular acrylic paint, the colours are a mix of both transparent and opaque. The colours will dry in 30 minutes and are waterproof when dry. The paints are weatherproof and hardwearing.
Acrylic inks are as thin as water, yet intensely coloured. The colours often come in bottles with a dropper lid. They're ideal for pour painting, as well as for use with pens or brushes. They are considered as much as drawing medium as a painting medium. They dry waterproof with an acrylic binder. Consequently they differ from other inks made with shellac or dye-based inks.

Brushes for Acrylic Painting
You can use any brush available at Jacksonsart.com for acrylic painting. Different brushes will have different qualities, which will influence the marks they are capable of. Each range of brushes tends to offer different shapes. Flats are square ended brushes that will make a clean, square or rectangular shaped brush mark. Long flats will hold more paint for longer lines. Rounds taper to a point and make a round ended lozenge shaped mark as well as dots and lines, and filberts are shaped like flat brushes with their corners rounded off to make a curved end. Filbert brush marks tend to have a softer appearance than flat brush marks.
Soft Brushes
Soft haired brushes are best suited to smooth applications of colour including blending techniques, and a greater degree of control will be afforded to paints with greater fluidity. Soft hair brushes include watercolour brushes, sable brushes and some synthetic brushes, such as Jackson's Procryl or some varieties of hog brushes including Shiro Professional Hog Bristle Brushes. Long haired soft brushes such as rigger and liner brushes, found in watercolour brush ranges, afford you the ability to paint long flowing lines, as they can carry a lot more paint.
Medium Brushes
Slightly stiffer brushes are more likely to leave an imprint in heavy body paint, but will have enough softness to allow for blending techniques as well. The majority of oil and acrylic painting brushes could be considered 'medium' brushes, but our favourites include Jackson's Shinku, Akoya, Black Hog and Onyx brushes.
Stiff Brushes
Stiff brushes are especially suited to impasto painting, and have very little give in them. Brushes like Da Vinci Impasto will almost feel comparable to painting with a palette knife, except you will leave an imprint of brush hairs in your thickly applied paint marks. Jackson's Crane brushes are stiff but not quite as stiff as Da Vinci Impasto, and may offer a little more versatility in the range of marks and blending techniques possible.

Palette Knives
Palette knives are incredibly useful for heavy body and medium body acrylic painting. They can be used as an alternative to brushes, facilitating thick impasto applications of colour that can either be completely smooth or highly textured. They are also great for scraping wet paint away from your painting or palette, and mixing colours on your palette. In comparison to brushes they are much easier to remove paint from, one wipe on a rag and your knife will be clean for the next colour mix. They are available in a range of shapes and sizes, one or two in your armoury will significantly help keep your colour mixing organised. Recommended to begin with would be a couple of different shapes of palette knife from the Jackson's Extra Crank Offset Painting Knives or RGM Palette Knives ranges, as they are long lasting and offer just the right amount of flexibility in their blades.

Catalyst Tools
Silicon tipped Catalyst Painting Tools offer a range of shapes that are perfect for moving paint around on a canvas or making interesting imprints in heavy body paint. Comb shaped tools allow you to scrape away lines to make interesting textures in your paintings. Worth browsing if you are interested in stretching your mark making ability.

Palette
Tear off palettes remove the necessity to clean up a messy palette at the end of a painting session. You simply mix your colours on the pad of waxy papers, and tear away the top layer and put it in the bin when you have run out of colour mixing space or you have stopped working. However they do contribute to the amount of waste you will accumulate in your studio, and have a tendency to flap about inconveniently during breezy outdoor painting sessions.
Stay wet palettes on the other hand prolong the open time of your acrylic paint, minimising waste and allowing you to keep pre-mixes colours on your palette for your next painting session. They consist of a tray in which you pour water and then place a membrane sheet over the top. The moisture stops the paint from drying and thus allows you to work with your paint for longer. The palette also comes with a lid which restricts the amount of air getting to the paint, which speeds up drying.
A traditional flat palette is recommended for mixing heavy body paints, as the colours will not run into one another as fluid paints would. A traditional palette is usually made of glass, wood or plastic. It is a non absorbent, smooth surface that provides an area for mixing colours. A white palette can help to see how the paint will appear on a light coloured surface, which is why placing a white piece of paper underneath a glass slab can improve the visibility of your true colour mixes. Untreated wooden palettes tend to be very absorbent and will easily stain when used for the first few times. In order to minimise this happening you could varnish your wooden palette, or paint it with acrylic gesso, allowing it to dry fully before you use it.
A palette with wells made from porcelain or plastic will help to keep fluid colour mixes separate and clean. They come in a variety of shapes and sizes, the biggest that is practical would always be our recommendation, with plenty of wells so you can create plenty of colour mixes.

Water Pot or Brush Washer
A water pot or brush washer is essential for rinsing brushes. While most water pots will have a ridge on which to rest your brush after rinsing, a brush washer will have a ledge at the bottom that keeps paint sediment separate from the cleanest water in your pot, helping to keep brushes cleaner for longer and to get more rinsing capacity from your water. Remember to discard dirty paint water at your local recycling centre whenever possible, so that you're not pouring plastics down the sink and contaminating the water system.

Surfaces – Canvases, Panels, Paper
You can paint acrylics onto any surface, although it is advisable not to paint acrylic on to oil primed surfaces that may still be drying as this may lead to fine hairline cracks in the film of your acrylic paint layers, as it is likely to dry and contract at a faster rate than the oil paint beneath it.
Acrylic primed surfaces include panels and canvases. The majority are white, which allows colour to appear their most luminous. A coloured surface can help to unify a composition if you are likely to have spaces between brush marks, and offer an alternative to white primed surfaces.
Panels are either completely smooth or covered in linen or cotton canvas. The texture of canvas will help to hold colour in place, and the weave will be visible through thin layers of paint. Panels allow you to freely move the colour around on the surface and allow you to achieve crisp clean edged brush marks. They are available cradled (the panel is fixed to a frame on the reverse), or uncradled (without a frame). This frame can make the panel easier to carry and help the panel remain flat and not warp over time, as a result of extreme changes in humidity or temperature.
Stretched canvas can be lighter than board (when looking at sizes around 40 cm square and larger) and consist of a canvas made usually from linen or cotton duck that has been stretched tightly and evenly across a wooden frame. Stretched canvas is a responsive surface on which to paint; it is likely to bounce slightly as you apply pressure to it, which can contribute to the dynamism of a painting session. We also offer canvas on the roll and stretcher bars so that you can make your own canvases, but I would recommend working on a ready prepared surface when first starting out, as it'll allow you to learn the qualities you most like to paint on more quickly, and establish your preferences.
Aluminium panels offer a warp-free satin surface that can be painted on as they are or primed prior to work, with acrylic gesso or primer.
For practice works, another idea is to prime off-cuts of mountboard with acrylic primer. The rectangles you are left with after cutting window mounts are lightweight and easily primed, and perfect for quick acrylic sketches.
Which surface you choose to paint on is entirely down to your preference, so ask yourself whether it's important that your surface is lightweight, rigid, has texture or not, and so on. If you're undecided I would recommend trying one each and seeing how each feels – the surface you paint on has a significant impact on the overall painting experience, and how your finished painting will look. What subject matter you choose to paint may dictate the kind of surface you decide to paint on.

Easel
An easel is by no means essential. If you work standing up you could tape paper to a wall or hang your canvas or cradled panel from panel pins or screws. Alternatively you could work on the floor or prop your canvas up on a table. However, the right easel could allow you to move your work easily to better lighting conditions, or help you to work with a healthy posture, avoiding unnecessary aches and pains during a long painting session. When choosing an easel you have to ask yourself a set of questions.
Will you be painting at a table? If you will be, then a table easel is a compact device that will hold your paper upright. Many have a drawer in which you can store your paints and brushes. They are easy to store.
Will you need to have a portable easel? (perhaps for painting out of doors) If you will be then a sketching easel is what you'll need. Sketching easels are usually made from aluminium or wood. An easy to carry sketching easel will be lightweight with telescopic legs allowing it to fold into a compact portable size. However if you are likely to paint in bracing wind conditions it may be at risk from falling over. Some string and tent pegs can be a great way to get around this.
Do you need an easel that will tilt to horizontal? (will you be painting with lots of dilute paint which might run?) Some studio and sketching easels will tilt fully to a horizontal working position, which can be really useful if you need to ensure your dilute paint applications do not run.
Do you need an easel that will hold very large work? The largest studio easels are H-frame and solidly stable for paintings up to 235 cm, but they will take up space and be heavy to move around. Crank handle easels make it easier to adjust the height of your painting.
With a surface, some paints, brushes and a water pot you can embark on your adventure into acrylic painting… but if you're curious about the hundreds of acrylic mediums available but feel the choice is overwhelming, here's a little introduction.

Mediums – formulated for use with all acrylic paints (apart from spray paints)
Acrylic mediums modify the characteristics of your paint. The label of each pot or bottle will advise on the proportions of colour to medium recommended. All regular acrylic paints can be mixed with mediums, as can Flashe paints (although some colours may curdle).
Thickening mediums for acrylic paints come as pastes or gels. Pastes are white in colour and will have an impact on the appearance of colours. Gels are clear and will not. Pastes often have a texture such a pumice or sand, while modelling pastes are formulated to allow you to make three dimensional shapes out of your colour. Gels are available in a range of stiffnesses, from extra heavy body to soft gel, allowing you to control the stiffness of your paint.
Thinner mediums include fluid mediums, thinners, glazing mediums and pouring mediums. These are formulated to increase transparency, flow, and may alter the sheen of your paint when dry.
The variety of mediums designed to add unusual textures and effects to your painting is ever increasing. Currently, there are mediums to imitate the effects of aging, such as crackle paste and craquelure medium. There's iridescent mediums, mica flakes, tar gel to make your paint thick and stringy, and fibre paste to make your paint take on a similar texture to rough watercolour paper. Click here to view the acrylic mediums we offer that are formulated to add unusual textures and effects to your work.
Acrylic paints dry faster than oils. If you are making the oil to acrylic paint transition, you might prefer working with Open Acrylics which have a slower drying rate than regular acrylic paint ranges. Alternatively use of an acrylic retarder medium will slow the drying rate, allowing more time for blending and mixing paints.
Essentials for All Acrylic Painting
Irrespective of the kinds of paints you'd like to try out, the following products are worth investing in.
Apron
The Jackson's Adjustable Artist Apron is ideal for protecting your clothes against spills and splashes of acrylic paint. With a practical eyelet system and comfortable straps, our canvas aprons give ample wrap-around coverage and have 3 large pockets, useful for holding rags, painting tools and pencils, and a chest pocket ideal for small essentials, such as your keys or phone. Available in brown and grey.
Acrylic Painting Books
If you are an absolute beginner to acrylic painting, I do recommend investing in some tuition in the form of an acrylic painting book or DVD. Jackson's offers over 50 titles that range from comprehensive acrylic painting overviews to titles led by subject matter. We recommend The Acrylic Artist's Bible by Marilyn Scott or Acrylic Painting Mediums and Methods by Rheni Tauchid for a good overview of the medium. For books that focus on subject matter, it's worth researching the author to ensure that you find their way of working aspirational – as we all know, art is subjective!

Brush Cleaner/Soap
Most acrylic paint is relatively fast drying, and so it is important to keep brushes clean to avoid paint drying around the hairs of your brush. Using a brush soap will condition the hairs of your brush and help it keep its shape for longer, and also moisturise your hands too. Ensure that you have wiped away the majority of your acrylic paint before washing, as it's important to avoid washing acrylic down the sink which would cause it to enter the water system. Favourite brush soaps include Jackson's Marseilles Soap Pellets, Da Vinci Professional Brush Soap and The Master's Brush Cleaner and Preserver. The article Cleaning Fine Art Painting Brushes suggests some good brush cleaning habits to fall into.
Acrylic Painting Pad – Great for Experiments
A pad of acrylic painting paper can be really useful for quick sketches, or mark making experiments. Acrylic painting papers are usually highly compressed sheets of paper, which are sturdier and more hardwearing than cartridge papers and less absorbent than watercolour papers. They usually have some kind of texture on their surface – either to replicate the cold pressed, naturally dimpled effect you see on NOT surface watercolour paper, or a texture that replicates canvas weave. The benefits of working on acrylic painting paper are that it is extremely portable, space saving and you can write notes on the reverse of your work. You can cut sheets to size, or cut out shapes for collage. Useful for anyone who works with acrylic paint.

Masking tape
Masking tape is arguably useful to have in any art studio. For acrylic painters, not only is it great for taping sketches up on your wall, but it is a great tool for painting hard edges, for more information read this article.

Spray paints
Acrylic spray paints offer a way of applying very thin and even layers of paint. Some acrylic sprays contain solvent  – for these it is advisable to wear a fume mask or spray in well ventilated spaces, or keep your spray work outdoors. Some other sprays are water based and do not emit heady fumes, so are safe to use indoors. The low pressure handling system offered by some of the ranges allows you to control your applications of colour more carefully – it's possible to draw fine lines as well as broad swathes of colour with the right amount of pressure. Exciting to use on their own or alongside other acrylics such as markers and regular paint, and ideal for use when stencilling. There are a number of sets of spray paints available which would be an ideal way of starting a collection of colours.

Stencilling
Stencilling involves applying paint through the holes of a mask to apply a shape of colour. Spray paints will allow you to apply the paint thinly and evenly, but you could stencil using thick impasto paint for added texture, or sponge on dilute acrylic ink for more washy effects. We sell some letters and numbers already pre-cut  and we also sell materials including frisket film, stencilling card and Mylar for cutting your own stencils, which can be done with a craft knife or scalpel, or a hot pen.  These stencilling brushes are round with a flat tip so you can stipple your paint through stencils. If you are stencilling on a fine art surface, we suggest using a flat, untextured panel as the stencil will sit flat against the surface and crisp edges are more easily achieved.
Marker Pens
Although not all marker pens are acrylic based, they are often closely associated with acrylic painting, as they are suitable for use when signing finished paintings and applying a drawing element to acrylic based work.
Pigment based marker pens include Posca pens and Winsor & Newton Pigment markers. The colour is provided by pigment particles suspended rather than diluted in the ink binder. They have excellent light fastness and dry waterproof, and will adhere on many different surfaces, including paper, plastic, stone, glass, metal and canvas. The drying time is not very slow but slow enough to allow for some blending and manipulation of the ink.
Alcohol based marker pens include Montana Black, Shin Hand Touch Twin and Kurecolor marker pens. The colours tend to be transparent, and in the case of these alcohol marker pens, the colour is dye based, rather than pigment based. They can be applied to many surfaces just like pigment based marker pens, but their lightfastness levels may not be as high as pigment markers (although in the case of some such as Montana Black, a UV resistant dye is used). They are quick drying and permanent, but can be diluted and blended with rubbing alcohol.
Pebeo 4Artist Marker is an example of an oil based marker pen. This will dry more slowly than the other marker pens, and can be spread and blended with a brush once applied to a surface. It will adhere to all surfaces, and can be diluted with solvent, and extended with linseed oil.
Acrylic markers such as Liquitex and Molotow are pigment markers that are permanent, waterproof and lightfast. How quickly they dry will depend on how much ink is dispensed from the nib, which is controlled by how long you press the pen down on your surface for. They will apply to any surface and are suitable for both indoor and outdoor use.

Pour Painting
Pour painting is the art of allowing liquid paint to swirl and craze on a flat surface. The best results are achieved using specially formulated pour painting mediums, mixed with fluid acrylics or acrylic ink, onto a ready made canvas or panel. This post offers handy hints and tips to get started.
Keeping surfaces clean
Polythene dust sheets are essential if you want to protect surfaces from paint splashes or spills. Because acrylic paints dry quickly, once they splatter or spill onto a surface it can be easy for them to dry there, and once this happens they can be hard to remove. When polythene dust sheets are too cumbersome, or if you wish to avoid plastic, old newspapers or packaging cardboard from any large Jackson's order offer an alternative!

Varnish
Varnishing your acrylic paintings will coat your work with a clear, non-porous layer, which will protect your paintings from dust and grime and make them easier to clean. Applying an isolation coat to your painting before varnish will provide a barrier between the surface of your painting and the layer of varnish, making it easier to remove and replace varnish in the future, should the varnish become stained or dirty. An isolation coat will also provide moisture to the surface of your painting, protecting any paint that might be underbound, reducing the risk of the paint flaking off in the future. Both the isolation coat and varnish can be applied with a varnishing brush, which is flat and relatively short and soft haired, designed to easily apply even and thin layers. An alternative to applying varnish with a brush is the range of spray varnishes available, which should be applied thinly and in several layers.
---
The versatility and adaptability of acrylic paint gives you full control over the creative process. Acrylics can look just like oils or watercolour, could look flat and uniform in their application or retain painterly brush marks. If you start with a few tubes of paint, a handful of brushes and a canvas, you can familiarise yourself with their unmodified qualities, with the knowledge that if you find them too fast drying, too thin, too thick or too smooth, there will be a medium you can use to achieve the results you're seeking. If you feel daunted by the sheer amount of choice out there, just remember Rome wasn't built in a day! Explore what inspires you in this moment and feel reassured that every painting session will add to your understanding of the possibilities of acrylic paint.
Acrylic Painting Supplies available at Jackson's
Acrylic Painting Books and DVDs
Further Reading on the Jackson's Art Blog
Everything You Need to Know about Acrylic Painting Paper
The Variation of Acrylic Paint Viscosities
Golden Acrylic Mediums Comparison
Sealing Your Masking Tape for Better Hard Edges in Acrylic Painting
Acrylic Pour Painting with Schmincke Pouring Medium and Inks