Rabbit skin glue is also called hide glue and is a general name for glue made by rendering an assortment of animal parts. It is a traditional glue used in the preparation of gesso, as a sealant (size) on canvas (and wood panels) underneath gesso, and as a glue in some book making.
Click here for Rabbit Skin Glue on the Jackson's website.
When preparing a canvas or wood panel for painting with an oil painting ground or genuine gesso the canvas or panel needs to be sealed (sized) first. This is a transparent layer. This can be done with an acrylic polymer (see below) or with rabbit skin glue. If using rabbit skin glue brush the fabric or panel with warm rabbit skin glue thinly and lightly, being sure to cover the whole surface then go back and work the size into the weave. I apply two thin coats making very sure no area is missed. (On canvas you may wish to scrub in the first layer, then apply two thin layers, but more often genuine gesso is used on panels because it is not flexible.) The sizing must be thin because too much rabbit skin glue will crack later, even on panel.
Our rabbit skin glue (rsg) comes in little cubes in a plastic-lined paper bag. Because it is affected by water it needs to be stored somewhere dry where it can be safely kept for many years.
To be used it needs to be made into a liquid solution. The method is to combine with water and soak overnight, warm in a double boiler (bain marie water bath) (do not get it too hot or it will lose it gluing properties), and apply warm or make gesso with it warm.
It doesn't take as much of the dried cubes as you might think because you add a lot of water to make it. You may not need to make as much as you think either as you apply the rsg thinly and you can't store the leftovers for very long.
Rabbit skin glue must not boil. You need to warm it gently to melt it. What I do is boil a kettle of water and pour it in an old empty bucket (from Golden Gel) and then set inside that a second bucket with the water and rsg cubes. It takes a few minutes to warm stirring gently occasionally. You will get a light creamy coloured thin mixture. You can filter the glue through an old pair of tights to eliminate contaminants but I have found that they do not end up on my panels.
Because my studio is cold the bucket of soaked rsg and water is quite cold and the boiled kettle water cools quickly enough to not be too hot. If you are working in warmer temperatures hot tap water might be enough. I have read that the maximum temperature is 70C before rsg breaks down and isn't good as glue. If you wish to use a thermometre that would be very precise. The same is true for gelled rsg stored in the fridge, it comes out quite cold so the boiling water in the bain marie should cool fast enough to not damage the glue. Basically just be aware of heating it gently.
I have used rsg for sizing small wood panels before applying genuine gesso for use with egg tempera painting. My method: I soak 12 parts cold water to one part rsg cubes in a covered bucket overnight. The next day I create a bain marie set-up: one container with hot water and second container inside that with the glue to melt. I boil a kettle of water, pour it into a 4 litre bucket and put the cold cubes and water in another bucket or a plastic measuring jug that I set into the hot water. After a few minutes and a couple of stirs it melts.
I use it directly from this bain marie set-up – brushing it onto wood panels held at an angle with the draining corner over the bucket for the excess to run back in. If your studio is cold or the amount you are making is large you may need to change your water out once or twice to make it hot again to finish melting or to remelt if it has gelled. (If the plastic jug has a hook kind of handle it is helpful to hang over the rim of the bucket of hot water and keep the inner container from floating and tipping as it becomes lighter as you use up the glue.)
When it cools it will be a jelly. You can store it for some time in the refrigerator and re-melt it. I have not stored it for longer than 2 weeks and I have read that most people recommend 1 week.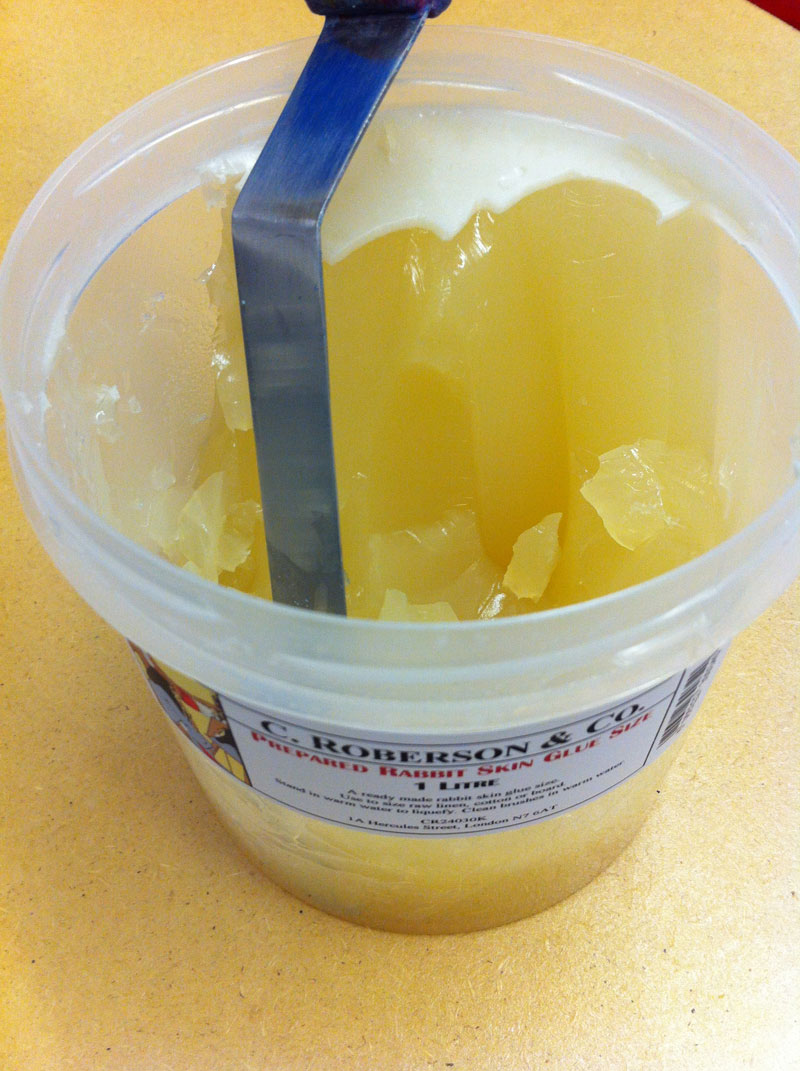 We also sell the ready-prepared rabbit skin glue that is already a jelly and has been strained/filtered and just needs to be melted gently in a bain marie set-up (just like before- do not get it too hot). For some reason this kind doesn't need refrigeration. It is convenient but since you don't add 12 parts water to it like you do with the dried rsg cubes, it is not as economical as the dried rsg.
There is a conservation drawback to using rsg: it is hygroscopic, it absorbs water over time. Although it is traditional and has been around for many years museums have had to work hard conserving some paintings. So some people choose to use acrylic size (gel) instead on canvas and panels to seal underneath their oil ground (primer) for oil painting. But it is still necessary to use rsg in genuine gesso for egg tempera painting and so since I am melting it for that anyway I go ahead and size with it as well. Additionally there are reports that canvas prepared with rsg becomes brittle, but so does oil paint, so if you are worried about cracking of oil paint conservators recommend painting on a non-flexible surface such as a wood panel or canvas attached to a wood panel.
I had heard that people avoid rsg because it smells foul and was prepared for the odour but mine had almost no smell. I have smelled spoiled rsg left in a cupboard in a classroom that smelled terrible, like a decomposing mouse. I think the smelly stuff is remembered from art school where stuff gets left over and reused and not refrigerated – it will spoil. *I have now researched it and indeed, it should only smell when it has spoiled.
I will write about the next step, genuine gesso, in another article – coming soon.
Go to the rabbit skin glue on the Jackson's website.
Acrylic Alternative to Rabbit Skin Glue
About using acrylic polymer for sizing canvas before applying an oil ground for oil painting: you can apply one or two coats of GAC 100 or a similar polymer medium directly to the raw canvas, worked well into the weave. If you wish for a stiffer feel use GAC 400 for the first coat and GAC 100 for the second coat. Golden Acrylic's lastest research seems to point to GAC 200 working like both GAC 400 and GAC 100 so you just two coats of that on it own. Since they are acrylic polymer, they are not hygroscopic.
Lascaux make a great acrylic size.
You may want to read this earlier post about oil grounds.