Gatorfoam Board is a strong, lightweight and waterproof material that makes both a great working surface (it is excellent for stretching watercolour paper) as well as a great artwork support for pastels, painting and other media. Gatorfoam is an extruded polystyrene foam board bonded between two layers of resin impregnated wood-fibre veneer. It is much stronger than standard foamboard, but it is about the same weight and can be cut to size at home.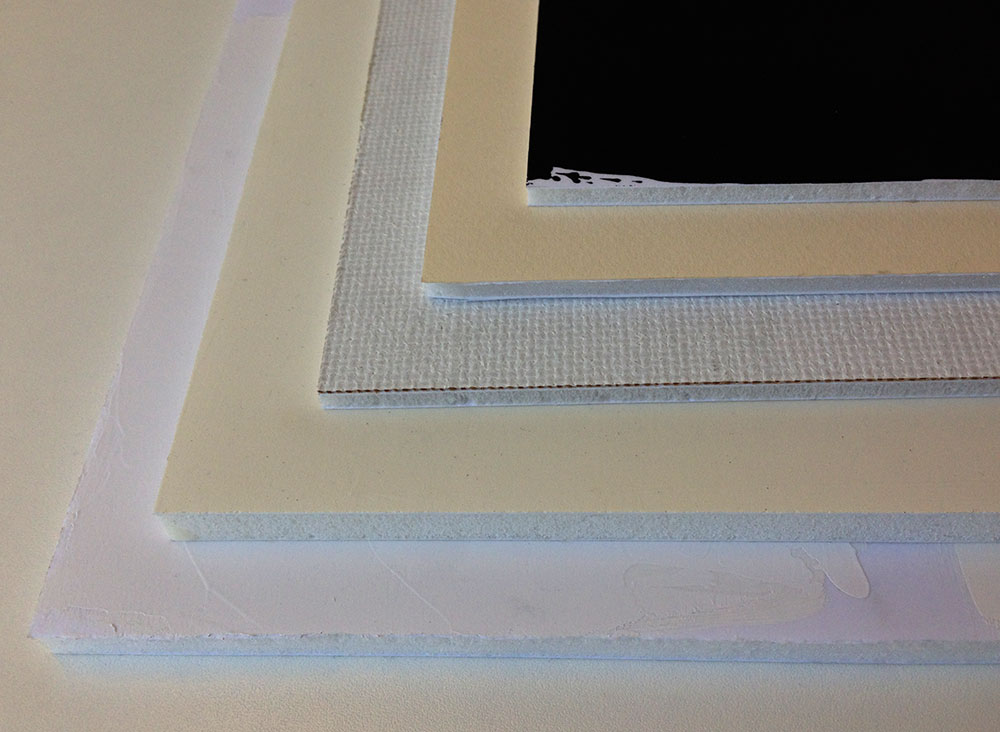 ---
Cutting to Size
At Jackson's GatorFoam Board is available in two thicknesses: 5mm and 10mm. The 5mm is available in sizes up to 60x60cm and the 10mm in sizes up to A2 (42×59.4cm).
Similar to cutting framing supplies to size (acrylic 'glass' glazing or thin mdf for backing boards) Gatorfoam boards can be cut to size with a snap knife. The first step is to lightly cut along your straight edge ruler a few times to score a line before you put any pressure on it. This is important because the surface is so hard and smooth that a knife with pressure on it will slide around and not stay in place unless you have created a groove. The groove must be created with a very light touch. As soon as you have a groove you can put more pressure on the knife and when you have cut most of the way through you can snap the rest.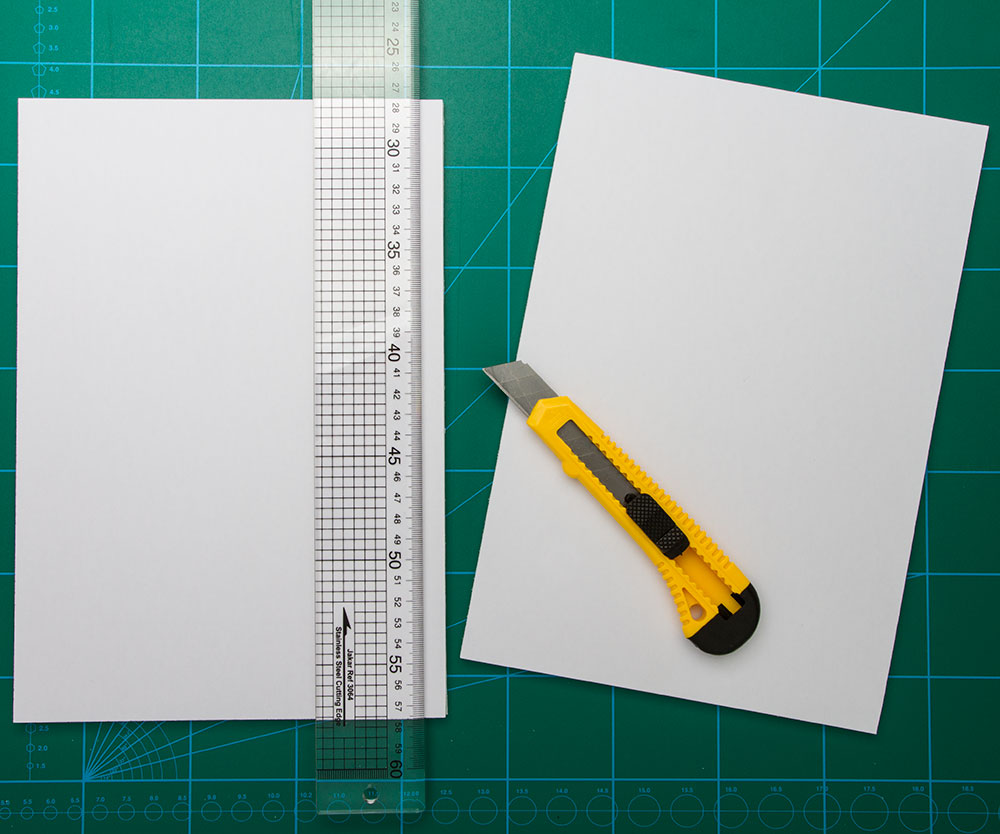 ---
A Lightweight and Sturdy Working Surface
Stretching Watercolour Paper
One of the best strengths of Gatorfoam Board is stretching watercolour paper. It is completely waterproof. I soaked both thicknesses (5mm and 10mm) in water for over an hour without any change – no warping or surface de-laminating. For help with how to stretch watercolour paper read this earlier blog post Stretching Watercolour Paper for a Better Painting Experience.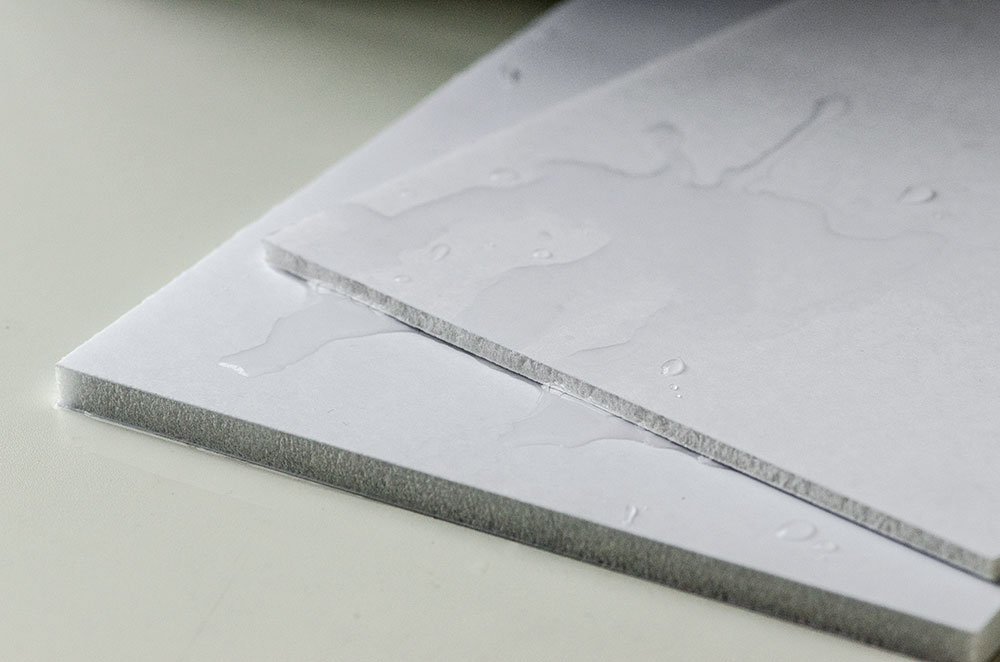 Using gummed paper tape: tape adheres very well, better than on wood panels, it does not fail to completely stick like sometimes happens on wood boards. The finished, dried painting must be removed without cutting the Gatorfoam Board, so a shallow angle of a snap knife in the little air pocket line around the edge of the paper is best. After you have removed the finished painting the tape removes cleanly after soaking with water for a minute. Using tape will prolong the life of the gatorboard compared to stapling.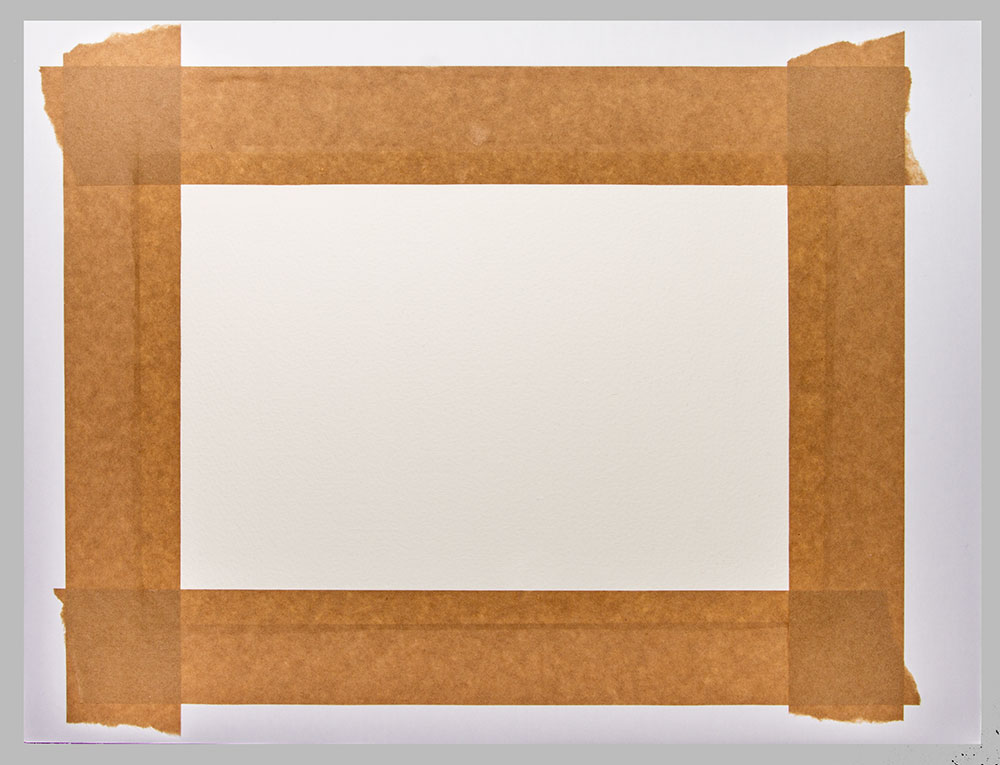 ---
Using staples: staples poke through to the back on the 5mm a wee bit, but are not a problem with the thicker 10mm board. The surface is very easy to get regular office staples into, so saves your wrists compared to wood. They remove easily with a staple remover and the same area can be stapled again and again. There must be a paper on the surface when stapling, staples directly into the surface without a paper to staple will crush that spot (I don't know why you would ever need to do that, though).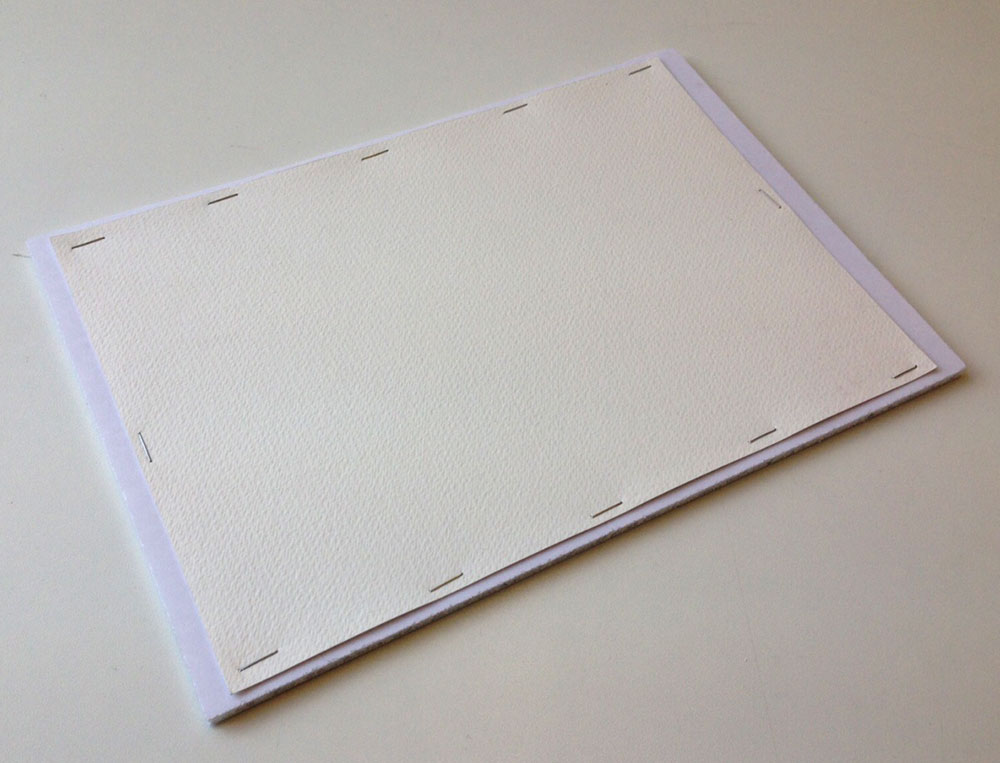 ---
The board wipes clean after painting, though staining colours will leave a slight colouration. You can stretch on both sides at the same time. For very large sheets of paper the 10mm thick board may be a better choice than the 5mm to avoid any warping, but the 5mm is plenty strong up to the quarter sheets that I tested.
---
Use as a Drawing Board
The 10mm Gatorfoam Board's hard smooth surface means it can be used as a drawing board and its light weight means it's great for plein air. The rigid surface is resistant to dents and handles repeated application and removal of tape.
Useful in Framing
Gatorfoam Board makes a great backing board for framing artwork as it is stiff yet lightweight. Artwork created on Gatorfoam or mounted to it it easier to frame because the paper is completely flat without any waves in it.
---
---
A Lightweight and Rigid Artwork Support
The versatility of this uniquely lightweight and sturdy board includes using it as a painting surface for all media.
Gatorfoam Board is nearly acid-free and will not become more acidic over time. It is less acidic than hardboard. Many suppliers consider it to be archival and many have created artists surfaces by mounting pastel paper and canvas to Gatorfoam Board.
---
Coating with Grounds for Pastel, Charcoal and Graphite
Applying a pastel ground directly to Gatorfoam creates a rigid board that is virtually weightless and easy to transport.
Jackson's stock a selection of grounds for you to create your ideal pastel painting surface:
---
Pastel Paper Surface
Adhering your favourite pastel paper to a Gatorfoam Board provides a lovely rigid surface and prevents paper denting. It also makes it easier to frame.
I tried two types of adhesive to attach the paper to the board. I found that with spray adhesive I had to give it a thorough coating or after the glue was dry the paper would peel off. I sprayed on the board rather than the paper and found I also needed to pay particular attention to saturating the corners of the board with the adhesive. I also tested using acrylic matt medium which worked very well. I found that letting the acrylic medium set up for a few minutes on the board before I applied the paper, applying it from the centre outward and smoothing air bubbles and then laying it paper downward with a weight on top worked very well. After both types of adhesive I laid the paper face down and trimmed the paper overlap to the edge of the board with a snap knife. Be sure to only use acrylic mediums as adhesives with pastel papers that can take water, as even just wetting from behind will cause glued grit and colour to dislodge.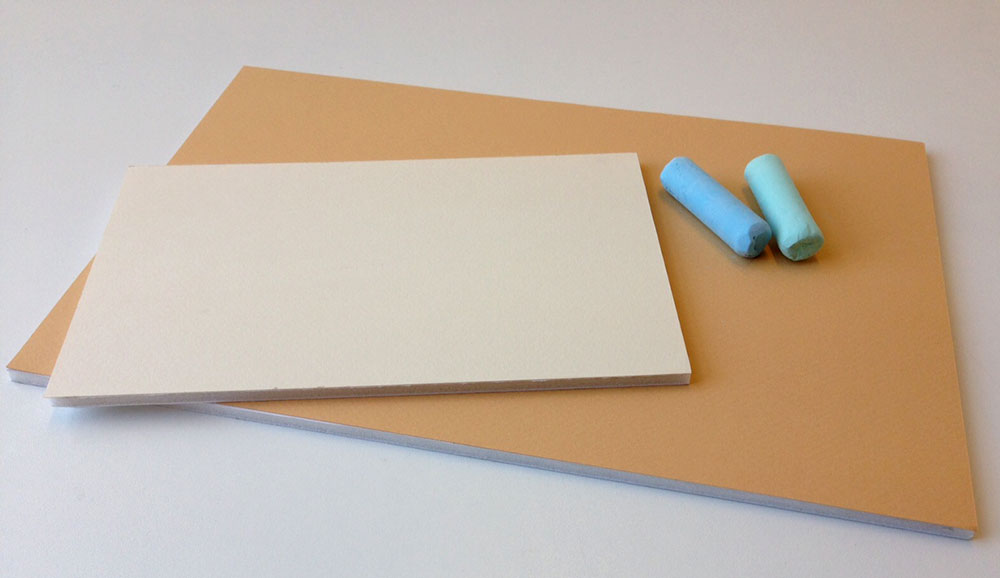 ---
Coating with Grounds for Watercolour Painting
The brush-on watercolour grounds require that you apply a sealant first, Jackson's Fluid Matt Medium works well.
Jackson's stock a selection of possible watercolour grounds for you to choose from:
---
Painting with Oil Colour
You can adhere canvas to Gatorfoam Board just as you would with mdf, using Acrylic Soft Gel or Acid-free PVA.
It can also be painted on directly with oil colour but only if you completely seal the surface as well as the exposed foam sides to prevent any solvent from touching the board. I did this by giving the surface and sides two coats of acrylic matt medium and then three coats of acrylic gesso primer. I used Golden Sandable Hard Gesso which is lovely but can only be used on rigid surfaces like this, not on stretched canvas. I tried it with just two coats of acrylic medium and no gesso and the solvent penetrated. On the larger sheets you may need to prime both sides if you find that the board bows.
---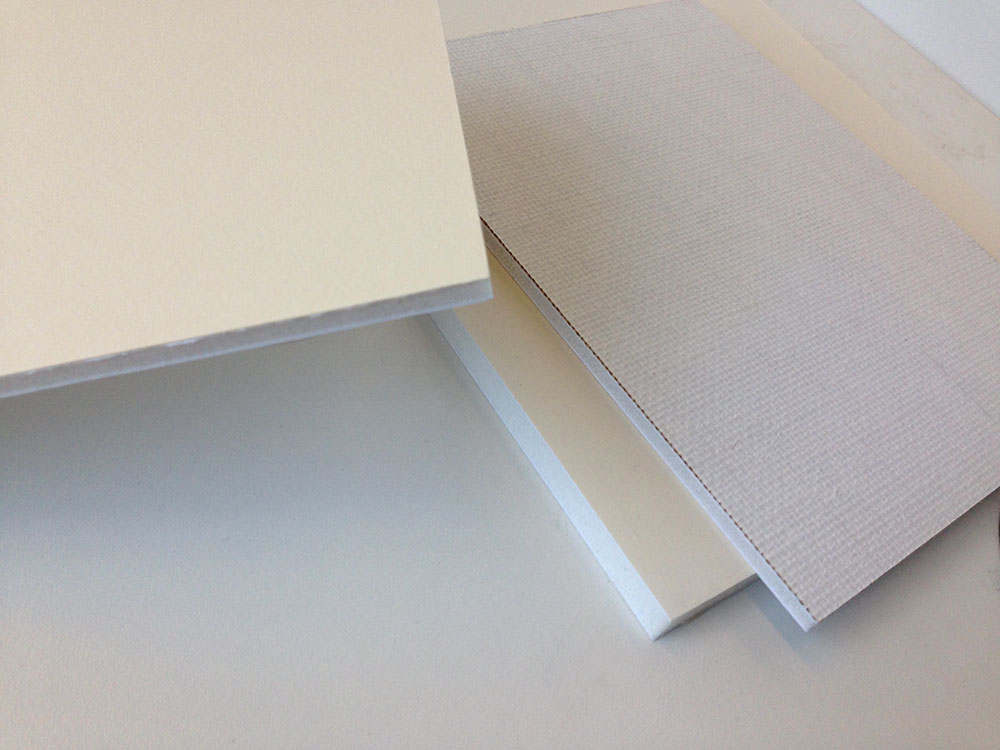 ---
---
Careful with the Corners
Gatorfoam Board has one weakness: it is vulnerable to dropping on the corners. I tested this and a short drop directly on the corner on a table caused no harm. But when I dropped it directly onto the corner from a greater height onto a concrete floor the corner crushed. As I increased the height from which I dropped the board the crush injury was increased until dropping from 2m caused the corner to crush in by 5mm.
The edges are not particularly fragile, except that the exposed foam doesn't like solvents and must be primed, see above in the oil painting section.
If you are using it as a board to stretch watercolour paper, it is durable for years for most people, it isn't damaged from normal dropping, only if you drop it directly on its corner onto a hard surface.
If you are using it as an artwork support – the artwork is meant to be framed when you are finished and that will protect the corners.
---
---
Click on the underlined link to go to the Gatorfoam Board section on the Jackson's Art Supplies website.
Postage on orders shipped standard to mainland UK addresses is free for orders of £39.