Canvas panels are the perfect solution if you like the weave of a canvas but not the 'bounce' that you get when canvas is stretched on a stretcher bar frame. You can enjoy painting on a rigid surface that has the texture of your favourite primed or unprimed canvas by fixing it onto a wooden panel. In this post I take you through the steps of creating a canvas panel for painting.
There are other reasons you might want to paint on a canvas panel. A thin panel will fit in a pochade box for plein air painting, where a stretched canvas will not. In addition to the bounce during painting, a stretched canvas can be more difficult to store safely. Essentially you are dealing with a relatively inflexible paint layer adhering to a flexible material, which can be easily dented or squashed, which can lead to the paint cracking or flaking off. A rigid surface is required for some mediums such as encaustic painting where the flex of a stretched canvas would crack the surface. Also, it is considered more conservationally sound to use a rigid surface for oil painting, to prevent cracking over time, though with large paintings stretched canvas may sometimes be a better choice as you also have to balance the considerations of weight and transportability.
You can purchase ready made canvas panels but if you make your own you can get exactly the size, depth and canvas you want. It's a straightforward process to make your own custom canvas panels and you can make a stack in an afternoon.
---
Mounting Canvas to a Painting Panel
---
Choose a rigid surface
The Jackson's Smooth Plywood Panels are great if you want an edge of wood around the back side so you can hang the panel on a screw or attach a wire for hanging; it can be a standard depth or a deep-edged panel. You can also use many other rigid surfaces like wood, MDF or Gatorfoam board. For panels that fit into plein air painting pochade box slots you will need a thin, un-cradled panel like MDF, mountboard, or either size of the Multimedia Artboard panels – the 3.2mm ready-to-mount boards that comes with glue already applied or the ultra-thin 0.8mm boards.
---
Cut your canvas piece
A great way to minimise waste is to save any off cuts of canvas that you might have after stretching canvas to make your own small canvas panels, or you can purchase canvas by the metre. When cutting your piece of canvas be aware that the glue will wet your canvas and it may shrink a few mm as it dries, so cut it a few mm larger than your panel. I trace around the panels (on the wrong side of the canvas if it's primed) with a pencil and then cut a little outside the line. Lining up the panel with the weave before you trace around it looks tidy and reduces the distraction of a slightly diagonal grid pattern.
---
Apply the adhesive
The most commonly used glues are soft acrylic gel, PVA for a permanent bond, or re-moistenable PVA to allow the painting to be removed from the panel in the future by wetting with water. It's important to use a glue that is Ph neutral, and beneficial to use a PVA that won't dry hard, because the glue will not deteriorate over time, and it will be flexible enough to withstand changes in humidity in the environment too. Brush your chosen adhesive evenly onto your wooden panel. Do not be skimpy as most glues shrink a lot as the water evaporates and you can end up with too thin a layer.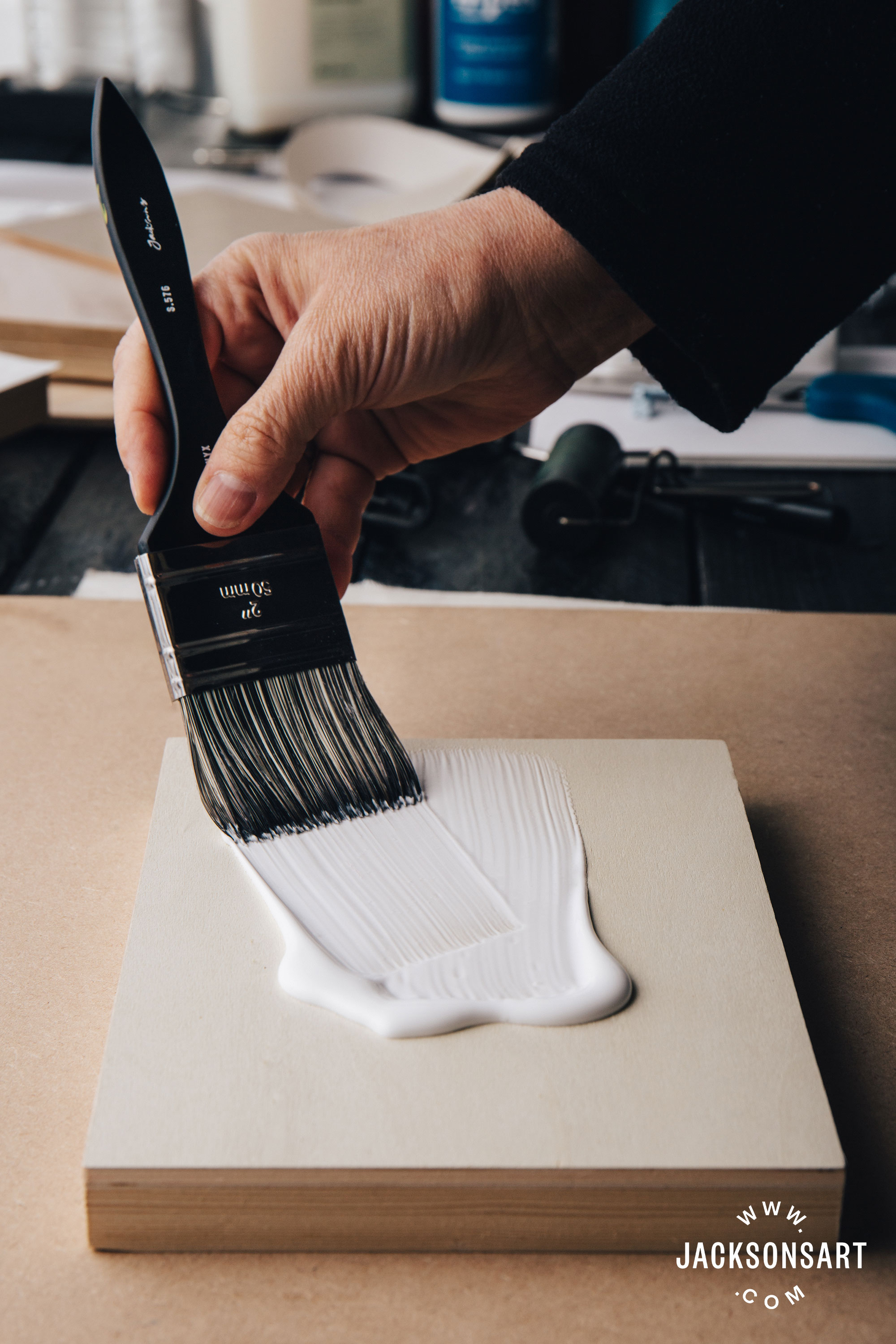 ---
Apply the canvas
I lay the canvas on the table and lower the glued panel down onto it because I can see the edges better to line things up, but you can also lay the canvas on from above. Then smooth it with a brayer/roller or a palette knife and work out all air pockets as you go, paying particular attention to getting the edges pushed down.
---
Dry it under pressure
Glue needs to be firmly in contact with both side of what it is gluing. If it does not have pressure pushing the canvas against the glue and board, then the glue will shrink away from the fabric, create a dried skin between itself and the board or canvas and you may only have a few spots glued well. (This is true for all PVA type gluing, including when you are gluing a wooden batten to the back of an aluminium panel.)
Lay your board with the canvas side down and place heavy weights on the back so it dries under pressure. You can make a few boards and as each one is finished add it to the stack under the weights. When stacking be sure to line up them up pretty evenly or add a larger board in between, so there is pressure all the way to each corner. If you are using cradled panels like these face them in pairs towards one another and stack, this helps create even pressure. Another good way to create pressure is to put a plain board against the front and use four strong clamps all around to press the canvas flat and let it dry for a day. I use clamps if I am doing one or two boards and weights if I am doing more, because I don't have enough clamps.
---
Trim the canvas even
When it's dry put the panel face down and trim the canvas flush with the edge of the board using a utility knife. It is so much easier with a new sharp blade, so be sure to snap off your knife.
---
Priming
If you have used primed canvas you may not need to do any priming, however you may wish to add another layer of primer to any ready-primed canvas to make the surface smoother. You can choose chalky and absorbent gesso primer which is great for encaustic or non-absorbent for oil paint or many other characteristics. Apply one to three coats of primer, smoothing it as you like with a brush, palette knife or squeegee. With acrylic primer any brushmarks will become less visible as it dries and shrinks.
If you are using a panel with sides and you will be priming the surface you will need to decide if you want to prime the sides white or leave them bare wood. If you wish to leave them bare wood, the use of masking tape is a great way to keep the sides clean, as I have done with the green tape shown below.
---
Treating the sides
If you are affixing the canvas to a cradled panel and have left the sides bare wood you can still treat them to keep them from picking up stains and finger prints by either sealing them with a varnish, wood sealer or clear wax.
Liberon paste wax in clear or neutral gives a nice finish to the bare wood on the sides of a cradled panel. The Clear is truly clear and the Neutral gives a warm yellow finish. Apply to the sides of the panel with a clean cloth or wire wool and buff after 20 minutes when it is dry. If you are concerned about getting wax on the canvas on the front you may wish to mask off the front with some tape.
---
Read some of our other articles about canvas and panels
---
Canvas at Jackson's Art
Postage on orders shipped standard to mainland UK addresses is free for orders of £39.