There are options to choose from when selecting a pencil case that depend on what else you will want it to do besides store and protect your pencils.
Wooden Pencils have a thin core of colour, graphite or charcoal inside a wood casing and this core can be broken inside the wood if you drop the pencil. You will know this has happened if, when you are trying to sharpen the pencil the bit at the end keeps falling out and you have to start again. To prevent breaking the lead inside and to keep the lovely point you have sharpened, a protective pencil case is important.
There are options to choose from when selecting a pencil case that depend on what else you will want it to do besides store and protect your pencils. Pencil storage includes cases with zip or hook-tape (like Velcro) closures, rolls/wraps, cases with room for lots of pencils in layers, easel cases, pocket cases and cases that have a space to hold additional things. You just need to find the right one that will be best for you for holding your collection of coloured pencils, watercolour pencils, pastel pencils, graphite pencils, charcoal pencils, leadholders or sketching pens.
---
Things to consider:
Safety: protect your pencils from breakage
Size of case and capacity: you may want a large case because you have a lot of pencils to store or a small pocket case might be perfect for just a few pencils you use while drawing on the train during your commute
Shape/style: folding book-style, briefcase, bag, roll/wrap, a case with a loop for each pencil or just a pouch, easel where pencils are propped up for ease of viewing and selecting
Extras: also holds accessories like erasers, sharpeners and stumps in larger loops or a pocket, one that straps onto your wrist
---
Pencil Cases at Jackson's Art
Jackson's stock 40 different pencil cases, with new products being added all the time.
I have sorted them into groups of three sizes, rolls and pouches.
Pencil Cases by Size:
Small – pocket size
---
Derwent Pocket Pencil Wrap
Holds up to 12 pencils. Takes up almost no space. No fussy loops. Pencils are secure and cannot fall out.

---
Medium – holds up to 48 pencils
---
Global Folding Pencil Cases in 48 or 24 pencil capacity
We have 14 sizes and colours of Global folding pencil cases in leather or canvas. These are very smart and well-made. They fold out flat like a book.

---
Jackson's Black Sketching Case
A rigid nylon folding case with a zip-around closure. Will hold 28 pencils, two pencils per loop.

---
The Jackson's Marker Pen Case is made of nylon and comes with a removable strap that's adjustable in length for easy carrying. When closed, its stiff, plastic-lined sides come together to form a stable cuboid shape that protects the internally stored markers on all sides (as shown in the above image). This form can be easily deconstructed by opening the hook and loop fastenings across the side and front of the case; the case unfolds to lay completely flat allowing easy access to the stored markers. Up to 84 pens can be kept securely and neatly thanks to the thick elastic loops sewn into the 2 sturdy leaves, meaning artists can store their markers in organised sections. When empty, the case can also be folded flat for easy storage.
In a cuboid shape:
Height 17cm
Depth 12cm
Width (across the front of the case) 31cm
Strap: Up to 100cm long (adjustable)
---
Jackson's Brush Easel Case
This case works very well for 24 pens and pencils and best of all with one fold and tightening of a string your pencils and pens sit proud so you can easily see them and access them. Rigid and slimline. A best seller.

---
Large – holds more than 48 pencils
---
Jackson's 120 Pencil Case
Our most popular pencil case. Holds 60 with one pencil in each loop and 120 with two in each loop. You can open it out flat and see all your pencils in front of you.

---
Global Folding Pencil Cases in 120, 96 and 72 pencil capacity
These come made of leather in two colours or black canvas. The elastic loops are meant to hold three pencils each, but I found that to be a tight squeeze, I prefer two pencils per loop which reduces the listed capacity. These are very smart looking cases with fine attention to detail such as the zip pull having a popper to snap it into place.

---
---
Derwent Carry-All Pencil Storage Bag
A carry bag with detachable shoulder strap that is not too large yet will hold up to 132 pencils. The leaves are held in place by snap rings like a binder file. Each elastic loop will hold two pencils. There is also a mesh zip pouch inside for rubbers, water brushes and other tools and a pocket outside that will hold an A5 pad.

---
Pencil Rolls
For extra security a pencil roll should probably have a flap along one edge to make sure pens and pencils are secure or tips are protected. But the elasticated loops are tight so this may be enough to hold everything depending on how much you throw your pencil roll around.
---
Jackson's Black Pencil Roll
Our second most popular pencil case (after the Jackson's 120). Holds 27 pens or pencils and has loops for bigger items like rubbers. Has a non-slip rubberised exterior, a flap along the edge and click-lock closure like a rucksack. Our larger pencil roll holds 48 pencils.

---
Jackson's Pencil Roll with Clear Window
Holds 24 pencils in loops as well a detachable small pencil pouch. Click-lock closure.

---
Jackson's Large Pencil Roll
The largest roll – will hold 48 pencils. No flap for the tips. Click-lock closure.

---
Derwent Pencil Wrap
Will hold up to 30 pencils with elastic loops for some larger accessories and a flap along the edge for protection. Long strap with popper wraps around.

---
Jakar Brush & Pencil Holder Canvas Roll
Made of canvas, the loops are leatherette, not elastic, there is no safety flap. The closure is a strap with a popper.

---
---
Pencil Pouches – no elastic loops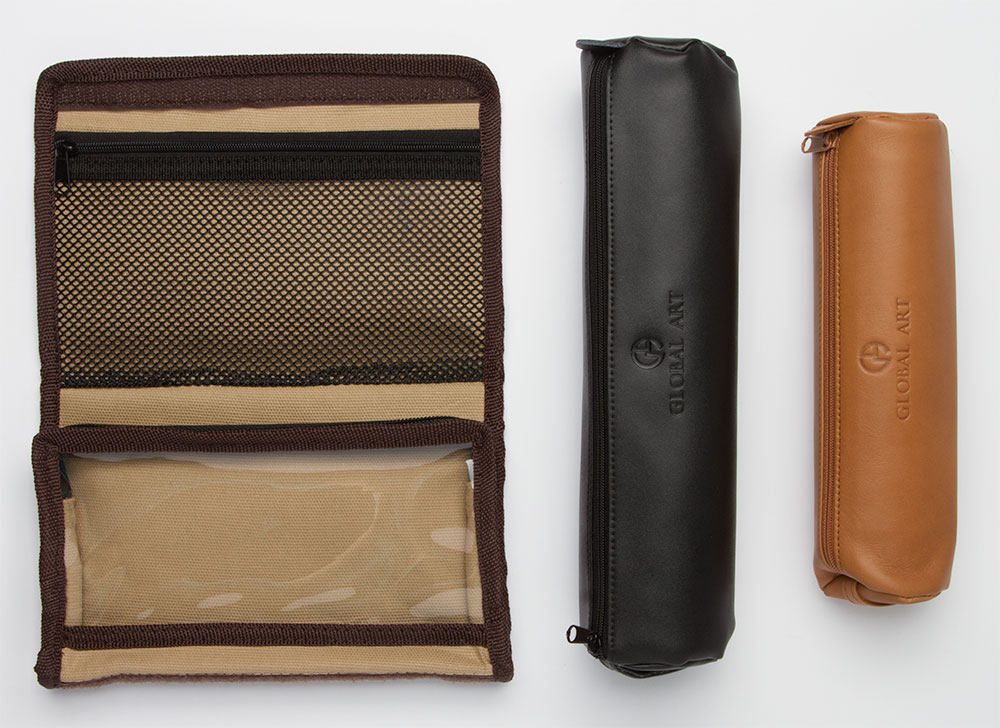 ---
Derwent Artpack Pencil Case
Small, just under A5 when folded closed, opens out flat, with two zip pouches, one mesh and one clear. Velcro closure.

---
Global Pencil Pouches
Zippered pouches in two colours of leather, in three lengths.

---
My Favourites
---
Of cases for carrying sketching pens and pencils I found these three to be my favourites because they are simple, practical and a pleasure to use:
---
Click on the underlined link to go to the Pencil Cases and Rolls page on the Jackson's Art Supplies website.