Linocut is used to stunning effect by artists, illustrators and designers who choose it because of its strong graphic qualities, accessibility and versatility. Whether you are printing by hand at your kitchen table or on a press in a printmaking studio, Nick Morley's 165-page book from Crowood Press will get you started and then take you on to explore the myriad creative applications of linocut printing. Illustrator H Locke enjoys using linocut and has written a review of 'Linocut for Artists and Designers', taking us through the book section by section.
---
'Linocut for Artists and Designers' by Nick Morley
Book review by H Locke
The first thing I noticed about the book is that it is a lovely object in and of itself. The cover photography is beautiful, and both cover and inner page paper stock are high quality, making this the kind of book that would be a perfect gift for someone interested in the subject.
I attended one of Nick's workshops earlier this year and have been working with lino since then in an attempt to improve my technique. I admit to being a little obsessed, yet a lot frustrated by my inability to achieve the results I want every time. So I actually had been waiting with some excitement for his book to come out in the hope that I could recap some of his teachings and also solve a couple of problems in my current practice.
On to the contents (via a good sniff of the paper. For the book sniffers out there, this one's rather delicious).
The book begins with a very short introduction to linocut, but no more than a couple of paragraphs before launching right into materials. For me this is great, as that's what I want to get into – tools and techniques. It also tells me this is a practical book, rather than bedtime reading.
Chapter 1
The first chapter outlines the standard range of linocut tools, with tips on sharpening techniques, inks, papers, rollers, etc. Explanations are supported by beautiful (and helpful) photography with text clearly chunked, making pages easy to scan. I expect this will be particularly useful for me when I come back to double check something mid-print.
The end of the first chapter shows work from a ceramics & linocut artist with an interesting interview about his own tools and methods of working, which starts to show the reader how versatile linocut can be.
Chapter 2 is entitled "getting started" and this is where we dive into the doing.
The first thing we see is a full page photo of Nicks amazing studio called Hello Print in Margate and yes, it is as cool as it looks.
In this section, Nick sets out some general guidance and things to think about when setting up a workspace – whether it's a large studio or a kitchen table at home. But I warn you, this book will make you want a studio! Also included are tips on the actual carving methods, how to and how not to (thus avoiding things like stabbing yourself with tools) as well as how to ink and print your block if printing by hand. This is the area I have the most trouble with, so it's great for me to see lots of photos of each stage of the process.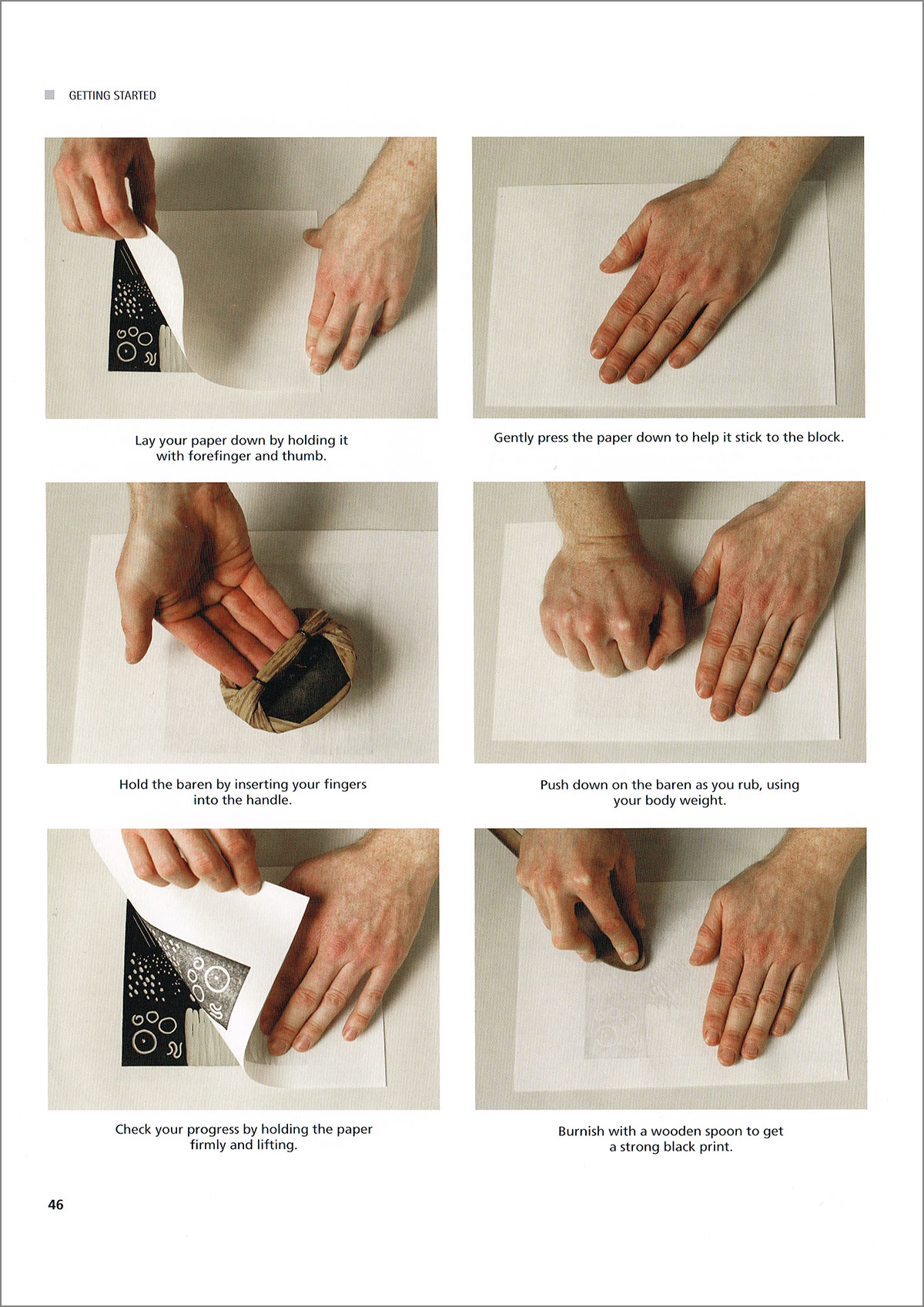 Finally there are helpful hints on cleaning up and storing finished prints. And again the chapter ends with some inspirational examples of another artists work. Something important to say here is that everything included in this section is exactly how Nick explained things to us in his workshop, which is helpful for me personally as its like having him on hand to remind me which things to do and not do!
Chapter 3
The next chapter focuses on printing presses for linocut. Again, more beautiful shots of Hello Print, as they have some great printing presses there, but also diagrams of how the different presses work. If you've got access to these machines, then this section will be helpful as Nick also demonstrates how to use them for best results as well as that all important health and safety stuff covered off too.
Showing the breadth and variety of effects that can be achieved with what is essentially a fairly simple set of tools and materials







Chapter 4 looks at black and white printmaking, which is a really nice way of going in-depth into printmaking techniques and effects, discussing things like printing pressure and amount of ink – a balance I struggle with, so it's great to see a double page spread of different results or what I'd call "things that can go wrong and often do".
There are also some beautiful examples of black and white work in this section including Nick's 'Ghandi', which is one of my absolute favourites.
Chapter 5 then naturally brings us to colour printing with discussion of types of ink you can use and how to use them to best effect. There are some great tips here on designing a multi-coloured print, with step by step photos showing the drawing and inking process. The book gets slightly more complex here, with more advanced inking techniques explained clearly – so there's plenty of material even for accomplished artists. I imagine as someone new to linocut that as I become more experienced, I'll be coming back to this book over and over to try out some of these methods. There are also some really beautiful prints shown in this section which will inspire you into try all sorts of things!
Chapter 6 discusses linocut in the context of fine art with some recommendations on making print editions, pricing them, etc. For a new artist this will be invaluable whereas for established artists, much of this will be familiar ground, but there are definitely sections specific to printmaking which will only enhance your practice.
The last two chapters explore the wider applications of linocut – fabric printing, artist books and some more advanced techniques for the brave including, rather marvellously, Nick driving a steamroller at East London Printmakers. Fantastic.
In conclusion….
What I love about this book is how practical and useful it is. It's really obvious how much knowledge and practical experience Nick has, as well as being an incredible artist (and patient teacher!). But although his knowledge is central to the book, he didn't fill it with examples of only his own work – which he could have as it's all amazing – but he included examples of many, many other artists work, showing the breadth and variety of effects that can be achieved with what is essentially a fairly simple set of tools and materials. So yes, this is definitely not like one of those celebrity chef cook books – it's about linocut first and foremost and is as excellent and as humble as the man himself.
For all the reasons above this is the one book I have to have on hand at all times – to the extent that I actually have two copies, one in each of my studios.
---
Click on the underlined link to go to the current offer on the book Linocut for Artists and Designers on the Jackson's Art Supplies website.
Postage on orders shipped standard to mainland UK addresses is free for orders of £39.
---
Image at the top:
Gandhi book cover illustration that Nick Morley did for The Folio Society in 2010.