What makes Williamsburg Porcelain White special? We decided to look at four of Williamsburg's Handmade White Oil Paints to explore the differences in working characteristics between them and see why they introduced Safflower Porcelain White to their range.
Contents:
Advantages of Porcelain White Oil Paint
Comparing Four Williamsburg White Oil Paints
Texture and Brush Feel
Temperature
Tinting Strength
Opacity
Drying Time
Why You Might Avoid Zinc White?
View Williamsburg Oil Paint Range
---
Advantages of Porcelain White
Williamsburg Porcelain White is based on a new pigment (for Williamsburg), PW 5, it is a complex co-precipitate of barium sulfate and zinc sulfide more commonly known as Lithopone.
First created in the 1870s it was for some time a rival to lead and zinc white oil paints. During this time it captured 60% of the market for white pigments in 1928. By 1945 this demand had decreased to 15% due to the dominance of titanium dioxide (the main pigment included in titanium white). As Zinc White has become less popular due to its brittleness when it is used extensively (you can read more about that later), there is a renewed interest in Porcelain White as they have some similar characteristics. It has also been known historically as Enamel, Orr's, or Charleston White but the name Porcelain White has been chosen by Williamsburg as the most descriptive.
It is a neutral, very slightly cool, dull white that is semi-opaque and is known to yellow very little if it has a safflower binder. It also has a moderate tinting strength which is useful if you want to use a small amount of colour and desire gentler lightening in mixes.
Pigment: PW5 Complex co-precipitate of barium sulfate and zinc sulfide
Lightfastness: Excellent
Transparency: Semi-Opaque
Pigment size: Very Fine
---
Comparing Four Williamsburg White Oil Paints
Titanium White is the most opaque white. It reflects back 97% of the light that falls on it making it far brighter than lead white and also has the highest tinting strength of a white. It has a matt velvety opaque finish that appeals to some artists.
It is desirable for those who want strong highlights but it also requires a large amount of colour to tint it in mixes due to its high tinting strength—some painters find this a frustrating quality.
It holds marks easily from the tube while being easy to move about. This one has a linseed binder so could be quite prone to yellowing. Williamsburg also has a Titanium White with a safflower binder, extending its drying time but providing a less warm, and less likely to yellow, white.
Pigment: PW6 Titanium Dioxide Rutile
Lightfastness: Excellent
Transparency: Opaque
Pigment size: Very Fine
---
A mix of Titanium and Zinc White. It combines the hiding power of Titanium and the clean tinting properties of Zinc, however, I found when testing it that it seemed surprisingly warm but maybe this is due to the linseed binder (again Williamsburg provide a safflower version). As well as having a cleaner more neutral colour for mixing the other advantage of Titanium-Zinc whites, in general, is the slightly reduced tinting strength which makes it easier to use subtly in mixes, without overpowering them and making them "chalky". The opacity is still high and its covering power is also high making it a good all-purpose white.
It is creamy and flexible and because Williamsburg, since February 2018 reduced the Zinc percentage to 2% the paint films flexibility is un-compromised.
Pigment: PW6, PW4 Titanium Dioxide Rutile, Zinc Oxidee
Lightfastness: Excellent
Transparency: Opaque
Pigment size: Very Fine
---
Williamsburg Zinc White (Discontinued)
Zinc White is cooler, sometimes seen as more neutral than the typical titanium based whites. It has long been used because of its a fairly transparent white making it useful for scrumbling and being used in glazes. It has a low tinting strength meaning its great for clear clean pastel mixing.
The main downfall of Zinc White is it is known to form brittle films when used thickly. This can with time mean cracks will develop on a painting. Flexibility is a quality prized in a white oil paint as in the typical painting 50-90% of the paint on the surface contains white within the mix. This being said, many of the techniques that Zinc White is suited to rely on thin layers of paint that are less likely to crack.
Pigment:PW4 Zinc Oxide
Lightfastness: Excellent
Transparency: Semi-Opaque
Pigment size: Very Fine
---
Texture and Brush Feel
The Porcelain White felt quite stiff when used straight out of the tube, it needed some handling to start moving smoothly and held marks to a reasonable extent. It became quite translucent when mixed with a solvent.
Williamsburg's Titanium White was much creamier, with that lovely soft butter feel so often talked about, it also had a slight sheen, seeming almost pearly when first squeezed out.
The Titanium Zinc White was softer than the Porcelain but stiffer than the Titanium white.
It had a slight gritty texture which when it was worked with easily broke up. Brush strokes were held a lot more softly as well compared to Titanium White which is strange considering it felt thicker as a paint.
The Zinc White had a very gritty texture when first squeezed out, with what looked like chunks of pigment in it. As soon as I started working with it it felt incredibly smooth and could be handled with ease and subtle movement. The grittiness was harder to break down with the brush than with the Titanium-Zinc White.
---
Temperature
This test would've been fairer if all the whites had a safflower (or linseed) binder as the temperature of a white oil paint is often changed by the binder used. Those with linseed bonders have a warmer more yellow tint while those using a clear safflower will have a more neutral or cooler white.
The Titanium Zinc White seemed the warmest with a slight yellow tinge, similarly, the Titanium White was quite warm which is what you'd expect. The Zinc White was true to its bright, neutral temperature reputation. And the Porcelain White while fairly neutral in temperature, seemed to me a bit colder and also a touch duller than I expected.
---
Tinting Strength
The tinting strengths of all four whites were quite distinctive. I mixed for each white the same amount of paint with a touch of our Jackson's Artist Colour Alizarin Crimson. This was in order to show how strong the tinting and hiding strength of the white was.
The Titanium White had by far the strongest tinting strength, followed shortly behind by the Titanium Zinc White and then the Porcelain White. The Zinc White had the lowest tinting strength.
It is easy to see here how Williamsburg Porcelain White and Williamsburg Zinc White share some properties and can be used comparatively: you'd need a similar amount of white to tone mixes meaning Porcelain White would be a good mixing white if you'd rather use a minimal amount of colour to tint mixes.
---
Opacity
As was entirely predictable, Titanium White was the most opaque followed by Titanium Zinc White which was only slightly less opaque. The Porcelain White was more opaque than its semi-opaque labelling suggested. The Zinc White was semi-opaque.
---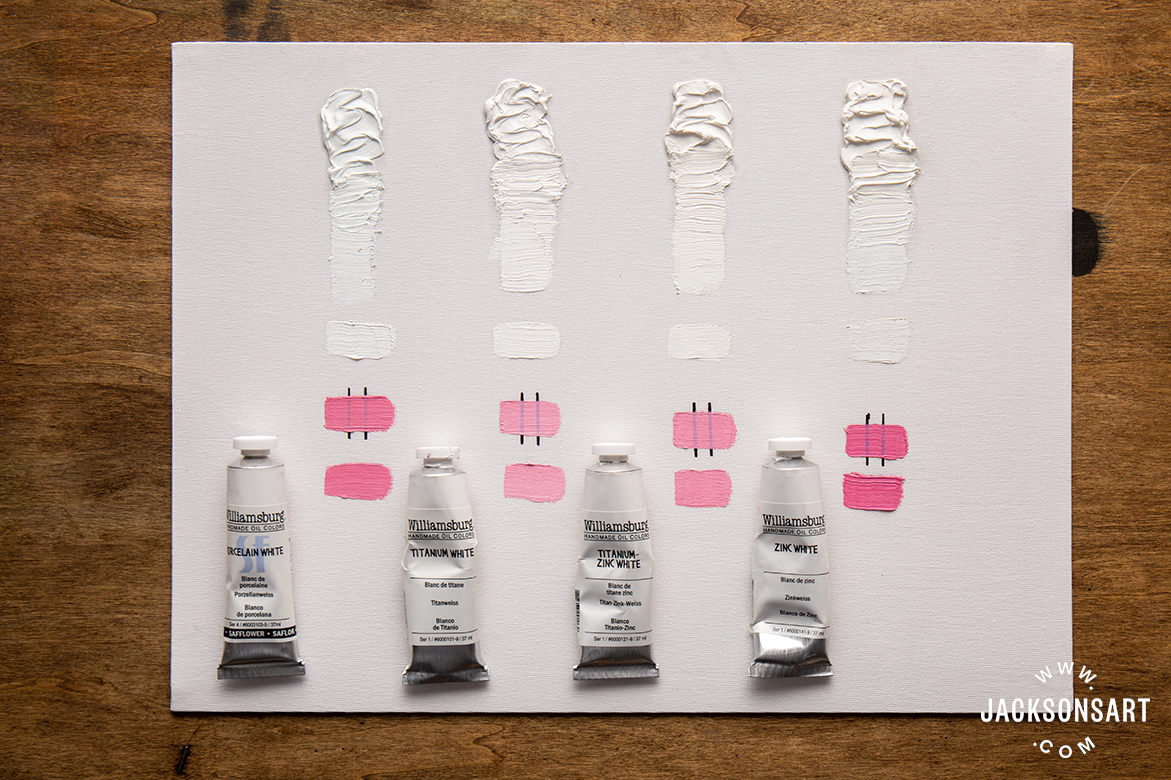 Drying Time
After three days, none of the whites were dry to the touch, either at a layer depth of one piece of painter's tape or a layer depth of three pieces of painter's tape.
After 6 days all the one of painter's tape layer depth paint swatches were tacky to touch.
We will update the drying times and the yellowing of the swatches as the test progresses.
---
Why You Might Avoid Zinc White?
Recent tests have conclusively found that Zinc White in oil paint can produce a brittle surface prone to cracking over time. This has been generally known for a while and means it's recommended that oil painters only use Zinc White on a rigid surface such as a wood or canvas board and not on a flexible surface such as stretched canvas.
Lots of artists have moved away from using Zinc White all together and many ranges have started to remove it from other colours and their range. Many have reduced the amount of it included in oil paints to less than 20% as such a small amount is thought to avoid the undesirable cracking effect.
This has caused a problem for artists looking for a colder white with transparent qualities, Williamsburg Porcelain White could be used as a replacement for artists seeking these working qualities from a paint.
Just Paint has a helpful FAQ all about the use of Zinc White, you can read here.
---
View Williamsburg Oil Paint Range here.
Read our article on Gamblin's 10 white oil paints and what makes each of them different, here.