An oil painting medium is designed to alter the viscosity, surface finish or drying time of oil paint. Knowing when and how to use a medium will help you to control your paint, add variety to your mark-making, and broaden your technique by giving you more paint possibilities. Mediums are a mixture of just a few ingredients. It can be a combination of some or all of these: a drying oil, a solvent, a resin, and a siccative. Understanding the basics of how each ingredient behaves will help you to choose the right medium and to produce structurally sound artworks that are going to last. Vincent Gordon takes us through how oil painting mediums work to modify: 1. Viscosity, 2. Surface finish, and 3. Drying time. He then gives a good overview of the main components of oil mediums.
---
Oil Painting Mediums
by Vincent Gordon
1. Painting Mediums to Alter the Viscosity of Oil Paint
Modifying your paint with a medium can vastly change the handling properties of the paint. If we consider oil paint to have a buttery consistency lying somewhere in the middle between liquid and stiff, then by adding the right painting medium you can take your paint either way, towards very fluid or very thick.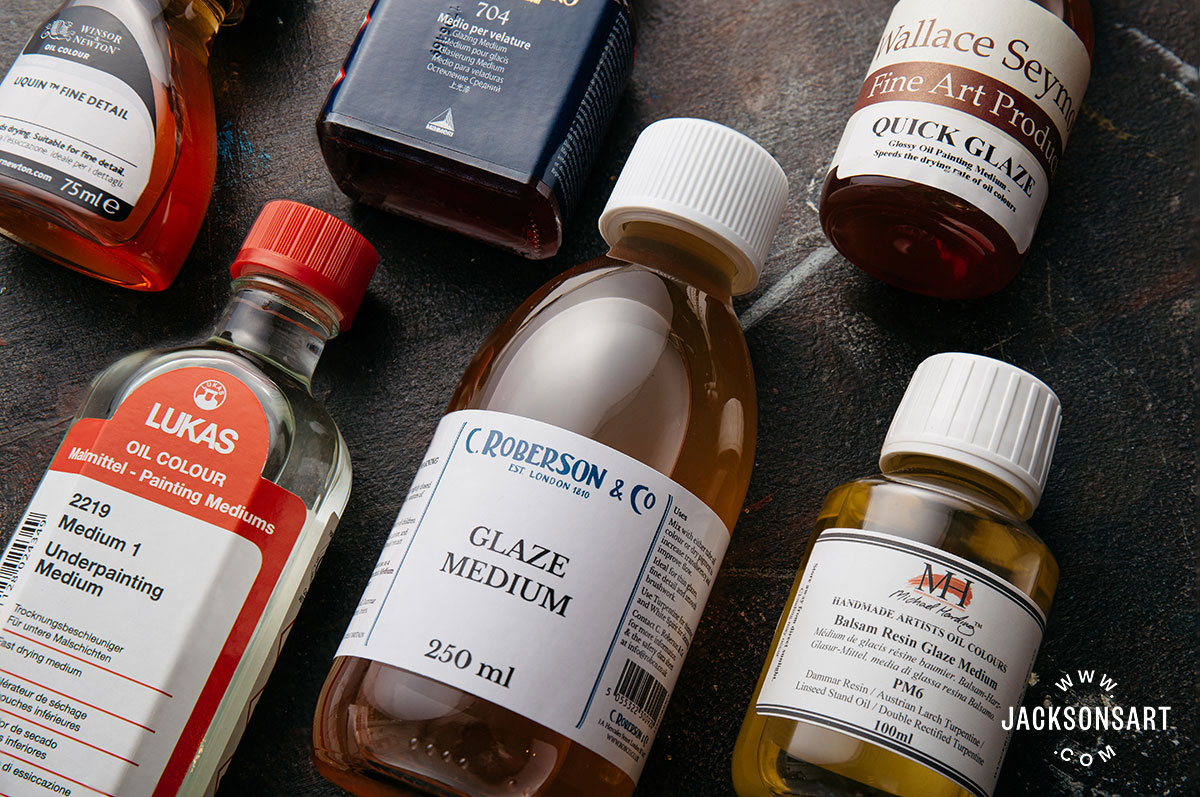 If more control is needed over your paint, for fine detail perhaps, then a medium that reduces the viscosity of oil paint, creating a controllable amount of flow, will facilitate this. This also makes it possible to produce flat, brushless areas because the paint will level out. Glaze mediums, alkyd mediums or oils will all do this, whilst introducing their own unique characteristics such as transparency in the case of the glaze medium, a hard enamel-like surface in the case of the alkyd medium and depth of colour in the case of an oil.
You can purchase a variety of mediums to increase flow or make your own.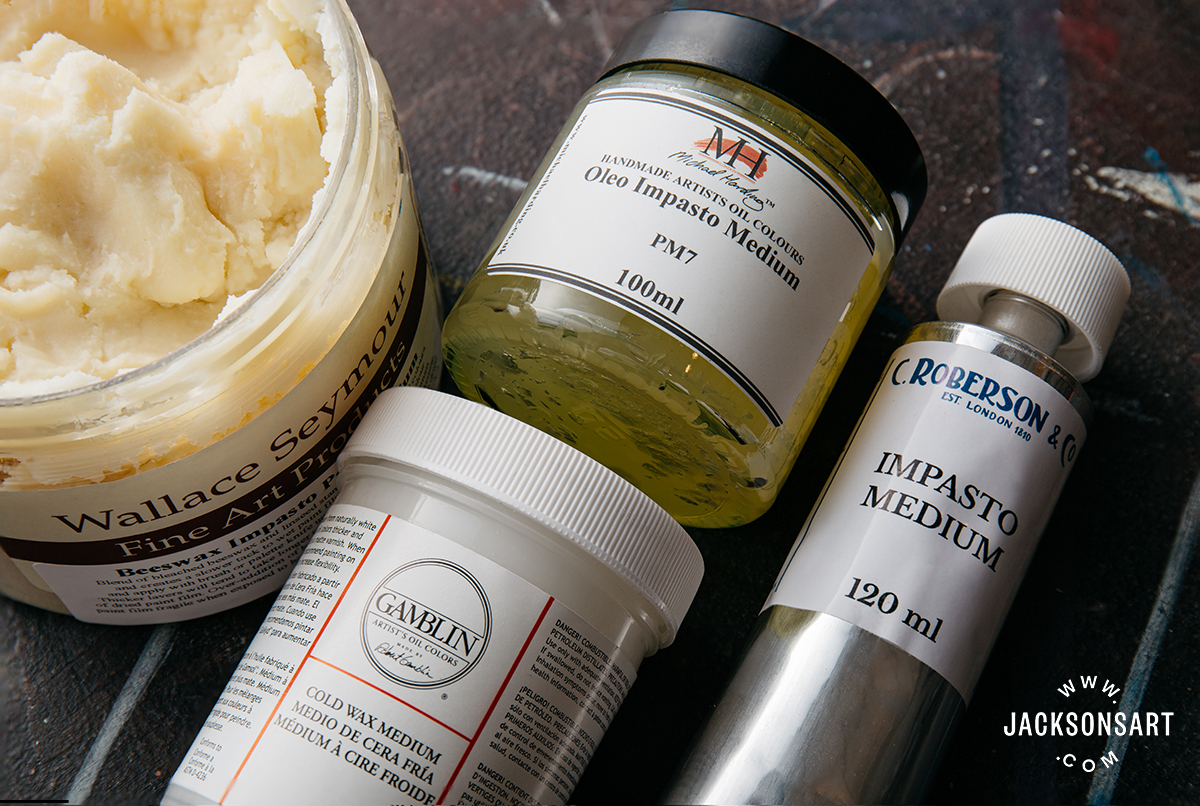 In contrast, if you want to retain brush marks in the paint or a painting knife is being used and a loose, impasto approach is desired, then you will want to thicken the paint. This is usually done by mixing it with a wax or gel medium. Gel and impasto mediums are produced in a variety of densities depending on the manufacturer. Heavy gels and stiff impasto mediums will produce dramatic, sharply defined painting knife ridges, whereas softer mediums will be easier to manipulate and the edges of your marks will be rounder and a little more subtle.
You can purchase a variety of impasto mediums or make your own.
---
2. Painting Mediums to Alter the Surface Finish of Oil Paint
All painting mediums irrespective of their purpose will alter the surface finish of your painting to some degree. Oil paint contains pigment, oil, sometimes driers and more often than not a filler called blanc fixe, so anything further that we add to this combination of materials, will inevitably change the appearance of the paint once it has dried.
So if you want to alter the consistency of paint realise that you will also be changing the surface sheen of the paint at least somewhat, and if you are trying to alter the surface sheen with a medium you will also be changing the viscosity, at least somewhat. These two characteristics cannot be fully separated and go hand in hand. The most you can do is choose which you will prioritise, depending on the modification you want to achieve.
Paint can be altered to have anywhere from a matt surface finish, through a range of satin sheens, to a high gloss finish. Painting mediums containing wax will invariably produce a satin or matt finish, as wax is a matting agent. High amounts of natural resin in a medium will almost always create a high gloss finish. Synthetic resins such as an alkyd can vary from a low satin sheen to a gloss sheen.
It's worth noting at this point that if, for example, a medium were used to modify the consistency of the paint but the resulting surface finish is undesirable, then a varnish can be used at a later stage to change this, either by adding more or less gloss to the finished painting.
Vincent Gordon on how to make Dammar Varnish
This earlier post shows you how to make damar varnish that can be used as a painting medium or thinned to be used as a final varnish.
Varnishes to control the final surface sheen.
---
3. Painting Mediums to Alter the Drying Time of Oil Paint
The drying times of oil paint vary by manufacturer, based on the formulation that they use. In artist-grade paints, each colour also dries at its own rate, as the amount of oil and pigment differs for each pigment. The drying time of an oil paint can be adjusted considerably – shortening the drying time to just a few hours or lengthening it to several months.
Fat Mediums are Slow-Drying
High oil content in a medium will mean a longer drying time, allowing for a longer open period with more time to manipulate the paint. These types of mediums are considered 'fat', so if you are painting in layers then these are best used in the middle and the final stages to add depth to colour. Over-painting fat mediums with leaner, quicker drying paint mixtures should be avoided as the fat medium will slowly expand as it cures, pulling apart the leaner layer above that has already formed a hard film, causing cracking.
You can purchase a variety of slow-drying oil mediums or make your own.

Lean Mediums are Fast-Drying
If a longer open period is not desired and a quick-drying medium is needed, driers will often be used, along with high amounts of solvents and resin and low amounts of oils. Depending on the exact ratio, the ingredients used and the application, this type of medium could be touch dry overnight.
Siccative medium is added to oil paint, drop by drop with a pipette, to increase the rate of drying.
You can purchase a variety of fast-drying oil mediums or make your own.

Making a Fast-drying Medium
As a rule of thumb, if the solvent is roughly double the amount of the resin and oil combined, then the resulting medium should be quick-drying because the solvents evaporate relatively quickly. If you are adding siccative do so sparingly as too much will cause the dried paint film to be brittle. Adding a few drops is often enough and be sure to add no more than 10% of the overall volume of the medium. The type of metal driers available to the manufacturer, such as Cobalt Driers, cannot be bought on the open market in concentrated form, but instead, come diluted and ready to use as a siccative. For this reason, it isn't possible to make your own stand-alone siccative, but you can make a fast-drying medium by combining solvent, resin, oil and siccative in the right quantities.
An example of the quantities of materials for a fast-drying medium:
600ml of Turpentine (twice the amount of the resin (dammar) and oil (stand oil) combined)
200ml of Dammar Varnish
100ml of Stand Oil
90ml of Cobalt Siccative – 10% of the overall volume of the other ingredients. (The combined volume of all the ingredients that you wish to add to is 900ml.)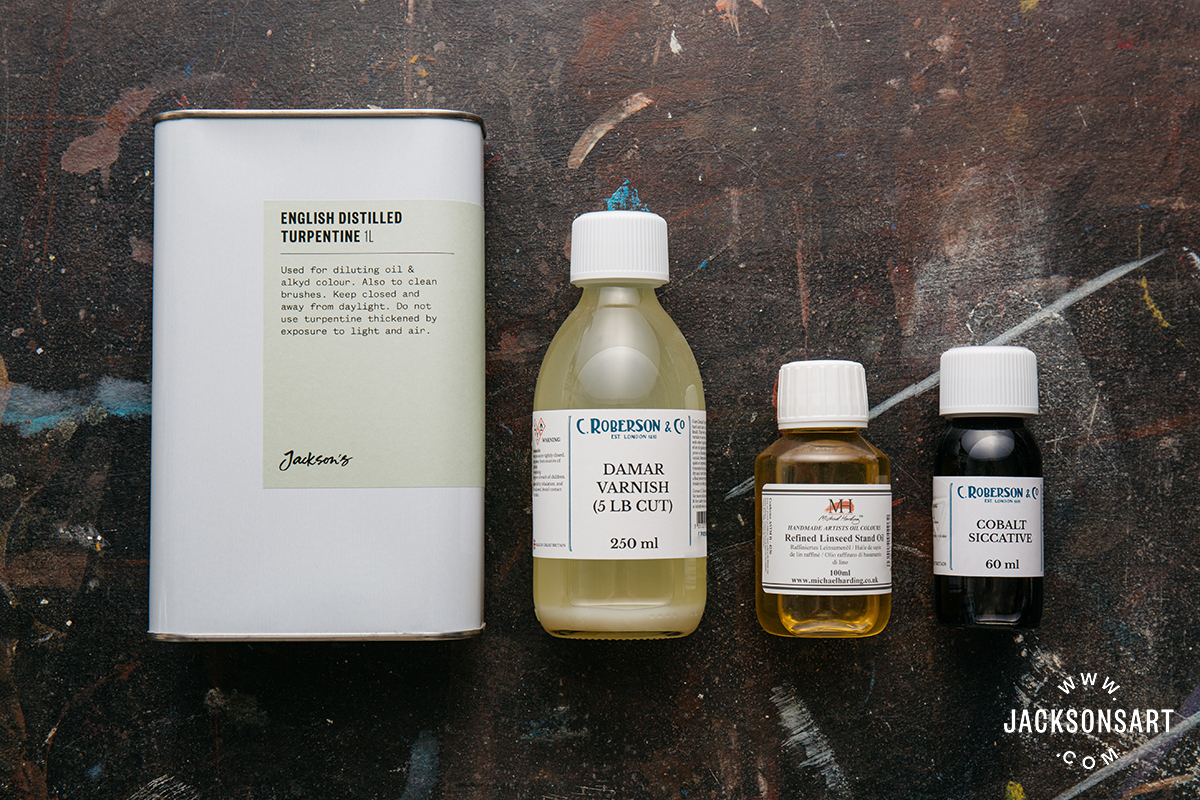 ---
The Components of Painting Mediums
Oil painting mediums generally contain one or all of the following ingredients added to a solvent such as low-odour white spirits or turpentine.
Oil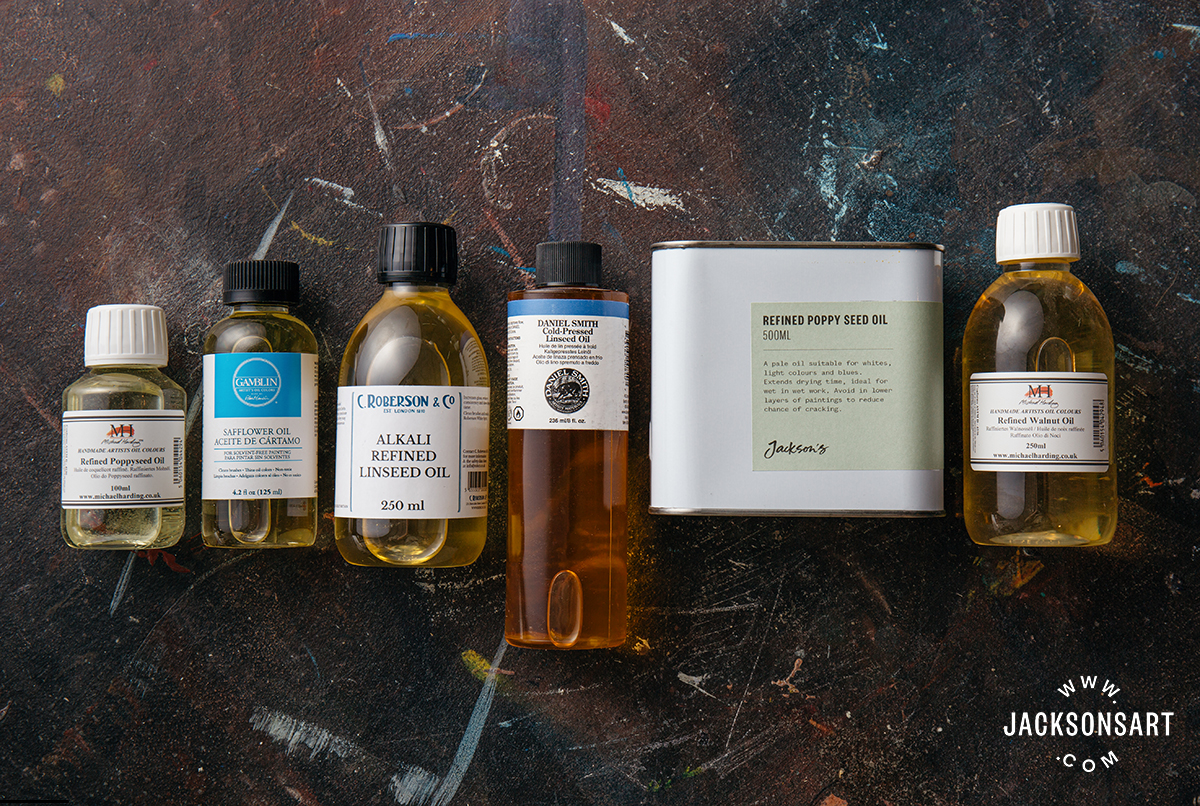 The simplest oil paint is just pigment bound in a drying oil by grinding the powder into the oil. Drying oils are oils that naturally form a hard film when they absorb oxygen. The most commonly used oil in both oil painting mediums and oil paint is linseed oil. Viscous oils such as linseed stand oil will add body to a medium, but need a certain amount of thinning with a solvent or with a more free-flowing oil such as cold-pressed linseed oil, to reduce drag when brushing out. Refined oils, such as alkali refined linseed oil, have high wetting characteristics and extend paint easily. Other less-commonly used drying oils are safflower oil, poppy oil and walnut oil, which have some similar characteristics but vary in drying rates, wetting abilities and yellowing effects.
Oils have three main characteristics when mixed with paint. One of the most useful characteristics is the ability of an oil to reduce the consistency of paint, without significantly compromising colour strength. This can be important for achieving thin, fluid brushwork while avoiding washed-out colours. The second characteristic is the fluidity of oil, or the ease in which the liquid moves across a surface. Paint can be made more fluid with oil yet remain controllable because it will not bleed or run like it would if you used a solvent. The paint will glide onto the canvas, covering large areas effortlessly. The third important characteristic is that oils extend the drying time of oil paint, so are great for blending techniques and it allows reworking of wet areas for a longer period of time.
We stock a selection of drying oils.


Resin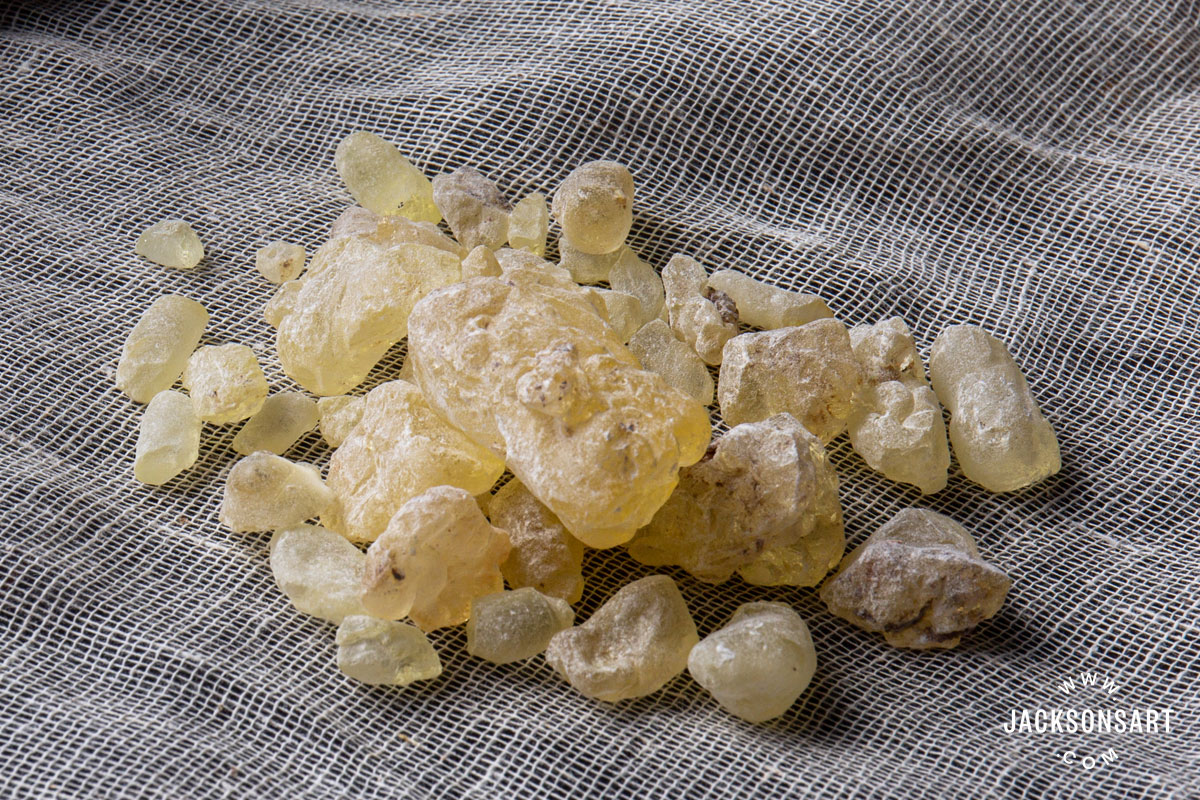 Resin can come from nature like damar resin, larch Venice turpentine resin or balsam resin or it can be synthetic like ketone resin or alkyd resin. When dissolved, a resin binds all the other ingredients in the medium together, allowing the mixture to harden as one cohesive film upon drying. Resin is also the main determining factor in the surface sheen of a medium. The tried and tested resins mentioned above are known to be flexible enough to be safely applied to a canvas support that contracts and expands with temperature changes.
We stock a selection of oil painting resins.

Driers
Driers are either light or dark in colour, dark driers such as cobalt and manganese are the most powerful and so will have a noticable effect on the drying rate of your paint, but they can cause discolouration when used with lighter shades of paint. Calcium and zirconium (white driers) are gentler, increasing the drying rate of paint less significantly than dark driers. White driers are colourless so will not affect lighter shades of paint, such as white and pale blues. Cobalt is by far the most widely used drier in oil painting because of its highly efficient drying capabilities. A drier can be mixed with paint directly but use it sparingly, adding just a few drops to your paint.
Wet oil paintings can cause havoc when exhibition deadlines are looming. A useful but rather involved approach, to avoid having that one colour that stubbornly remains wet, is to create a palette of colours that have a balanced drying rate. If for example, your whites take six days to reach touch dry and your blues three days, adding a couple of drops of siccative to your whites on the palette, each time you use them, will help to bring the drying rate of the white paint a little closer to the blue. Creating colour swatches and noting drying times of your most-used colours, can help you create a very effective drying system.
We stock a selection of sizes of Cobalt Siccative.

---
Conclusion
Navigating the vast array of oil painting mediums that are available and choosing the right one for your intended purpose can seem like a daunting task, so that many artists often stick with what they know works. This, of course, is fine and something we all do as artists as it helps to define a style of painting, but it can also be restricting and prevent experimentation.
I find a good way to think about what materials to use prior to beginning painting, is to consider both the final surface appearance and how you want to apply the paint. Do you want the paint to look glossy, matt or somewhere in between? To be smooth or textured? Transparent or opaque? Do you want some brush drag or do you want it to flow slickly? Having some knowledge of the materials can facilitate your ideas and will help you nudge the painting one way or another as it progresses.
Exploring painting mediums is not only an inspiring and enlightening experience for the painter, it links us deeply with the tools of our trade, involving us in every aspect of the creative process, allowing us to achieve our personal visions in a much more purposeful way.
---
Oil Painting Mediums and Equipment at Jackson's
---
More Oil Painting Articles on the Blog
Postage on orders of art materials shipped standard to mainland UK addresses is free for orders of £45 or more.