Phthalo pigments are a family of blue and green synthetic organic pigments based on variants of copper phthalocyanine, a deep blue compound produced by the reaction of phthalic anhydride, urea, copper and ammonia. It was first sold as a pigment in 1935 under the trade name Monastral Blue (some paint manufacturers still use this name). When it was discovered, it was thought to be the most significant advance in artist pigments since the discovery of synthetic Ultramarine Blue in 1826.
Phthalo pigments are transparent, highly staining, and reliably lightfast. They are commonly used in industrial and printing applications, as well as in artist paints. Phthalocyanine dye is even used as a toothpaste colourant.
The spectrum of Phthalo pigments ranges from deep, warm blues to cool spring greens. There are red and green shades of Phthalo Blue available in many artist paint ranges, as well as two different Phthalo green pigments. In this article, I explore the differences between them, and the unique qualities they bring to an artist palette.

Phthalo Blue, Green Shade (PB15, PB15:3)
With its distinctive green undertones and cool temperature, Phthalo Blue Green Shade is considered the 'default' Phthalo Blue. Some paint ranges have only one Phthalo Blue, and if a red or a green shade is not specified the paint is most likely to be a green shade of Phthalo Blue. When using a split primary palette, a green shade of Phthalo Blue is a good choice for a cool blue.

With an opaque and highly tinting red like Cadmium Red Light, it makes a strong, semi-transparent near-black. Mixed with lemon yellow (another cool pigment), it produces sharp and vibrant greens. In tints with white, Phthalo Blue Green Shade makes a sky-blue colour similar to Cerulean Blue. This could be useful for watercolourists who prefer non-granulating pigments, but who like the softness of Cerulean. It is also capable of mixing some natural greens when mixed with an earth colour or a warm yellow, as seen above with Burnt Umber and Indian Yellow.


Phthalo Blue, Red Shade (PB15, PB15:1)
Phthalo Blue Red Shade is a warmer variant of Phthalo Blue Green Shade. It is similar in masstone (its appearance neat from the tube) to Prussian Blue but has the clean brightness of Ultramarine Blue when thinned. It is a useful colour for artists who want to achieve dark, warm values in their paintings. The following is a comparison between Phthalo Blue Red Shade and Phthalo Blue Green Shade when mixed with the same colours:

The colour mixtures are quite similar, but the difference in colour temperature could make all of the difference in a palette. Natural greens are easier to reach with the redder shade of Phthalo Blue, while Phthalo Blue Green Shade created more acidic, synthetic looking greens (those these could be neutralised with the addition of a red pigment). When choosing between a green shade or a red shade of Phthalo Blue, it is recommended to consider the overall temperature of the painting. The Phthalo Blue Green Shade will contribute to a general cool mood of a painting, while the red shade can impart more warmth.
Phthalo Green (PG7)

Phthalo Green pigment absorbs more blue light than Phthalo Blue, and this is achieved by chlorinating copper phthalocyanine pigment. It is a velvety colour with very deep, blue undertones.

Its depth of colour, as well as its luminous transparency, means that Phthalo Green lends itself well to seascapes. When mixed with white, it makes a range of turquoises. While many landscape artists choose to mix their own greens rather than using it from the tube, Phthalo Green can still make a useful addition to a landscape palette. By adjusting it with Burnt Sienna or another earth colour, its blue undertones are neutralised and it produced some deep browns. Mixing Phthalo Green with Alizarin Crimson makes a chromatic shadowy black.


Phthalo Green, Yellow Shade (PG36)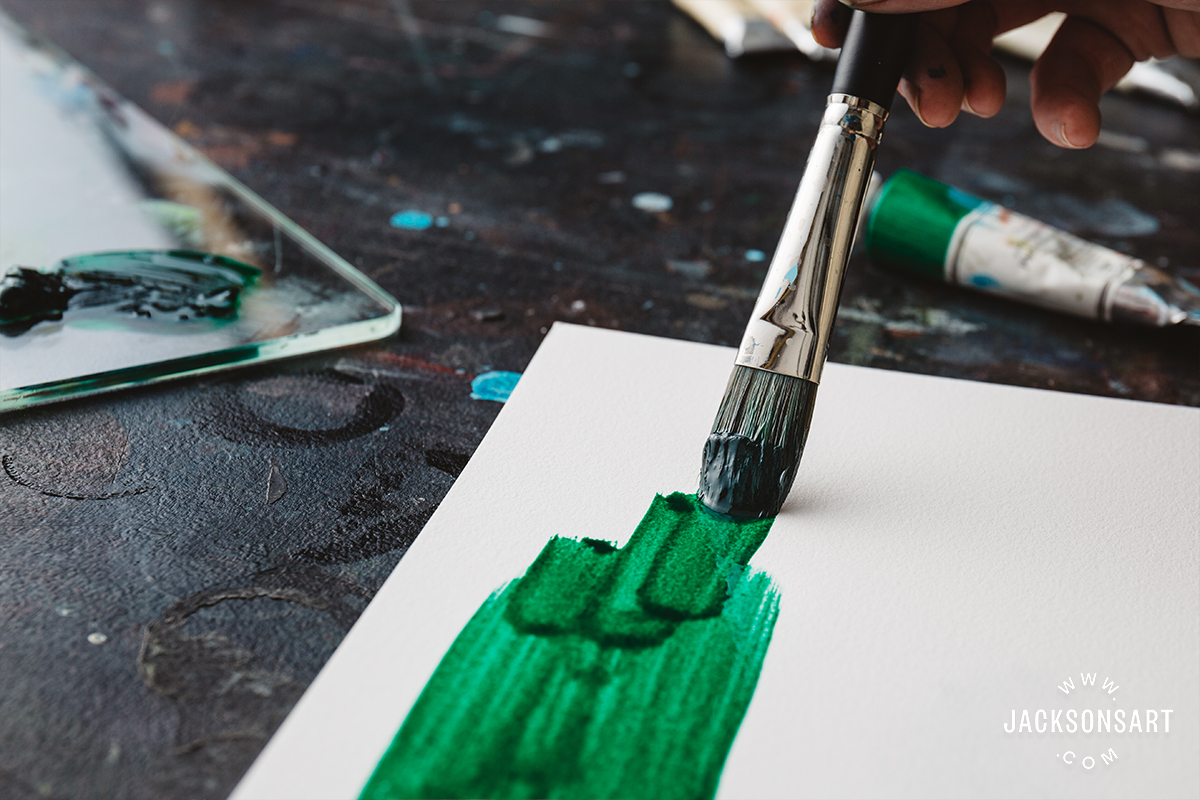 Usually a little more expensive than the other Phthalo pigments, Phthalo Green Yellow Shade is made by treating copper phthalocyanine with bromine. It is a very clean, emerald green with more yellow undertones. Like Phthalo Green, it makes an interesting addition to a landscape palette when mixed with an earth colour and makes some deep blacks when mixed with red. One of its most exciting mixing compliments is lemon yellow, which makes almost fluorescent greens (seen below).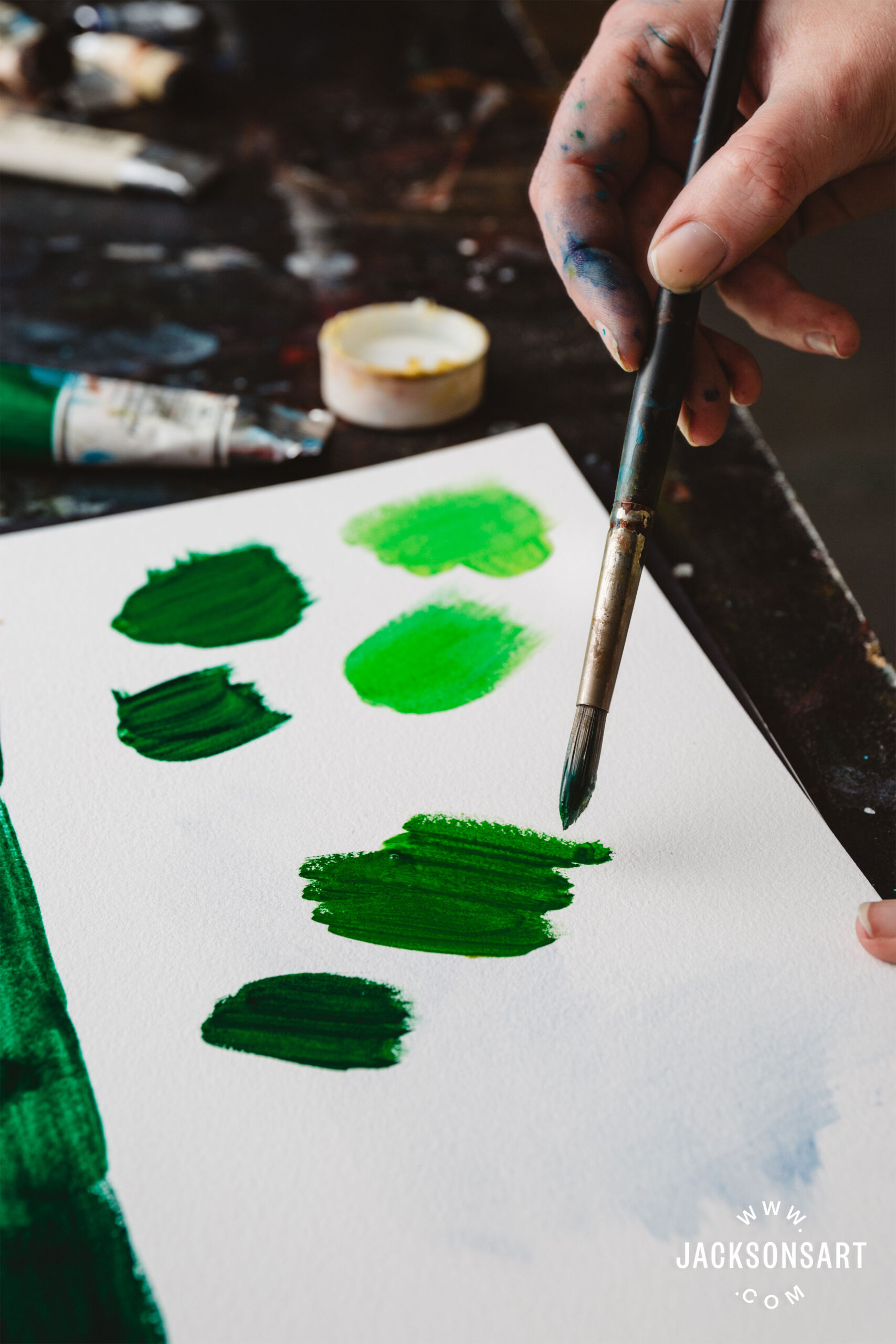 We would love to know how you use Phthalo pigments. Some artists find their extraordinarily high tinting strength unhelpful (one artist I spoke to called them 'inconsiderate' pigments because they overwhelm other colours), while others love that they are capable of both incredible depths of colour and delicate transparent glazes when thinned. Let us know by leaving a comment below.

---
Product ranges referenced in this article:
---
More articles about pigments and colour mixing: