The Callia range of mixed media brushes by Willow Wolfe are designed with adaptability in mind: to be used for watercolour, acrylic, and oil paints. Instead of having a different brush range for each medium, Willow Wolfe handily combines them all into one. This makes them very versatile and adds to their value, particularly for mixed media artists or those who enjoy switching from one medium to another. They are also ideal for artists who are just beginning their creative journey, and are experimenting with a variety of styles and mediums. I am primarily a watercolorist, but I also dabble in acrylics and water-mixable oils when the mood takes me. So, I was looking forward to putting these brushes to the test.
---
What Makes Willow Wolfe Callia Brushes Special?
Made by a Canadian company called Willow Wolfe, the Callia Brushes are fully synthetic. One of the company's main objectives was to create high quality, affordable brush lines containing no animal hair or products. Their innovative synthetic blends with modified filaments are designed to hold and distribute pigment with an even and consistent flow, as well as enhancing performance and durability. They are also designed to be more affordable than traditional animal hair watercolour brushes. This makes the Callia range very relevant in today's art market, where there is considerable interest and a growing demand for affordable vegan art materials.
A lot of attention to detail has gone into the design of these brushes. Using solid brass ferrules which are securely crimped to glossy black handles, Willow Wolfe produces durable-looking and stylish brushes which come in an intriguing range of shapes and sizes. According to their website, they also apply a six-step process to their creations, which involves various coats of filler, primer and paint to protect the brush handles from cracking, usually caused by the wood core swelling when it comes into contact with water. I'm sure we've all had a favourite brush that has served us well for years before suddenly the handle begins to crack, and the finish flakes away… and all at once, the brush becomes almost unusable! So, reading about the careful manufacturing process that these brushes go through is a huge plus point.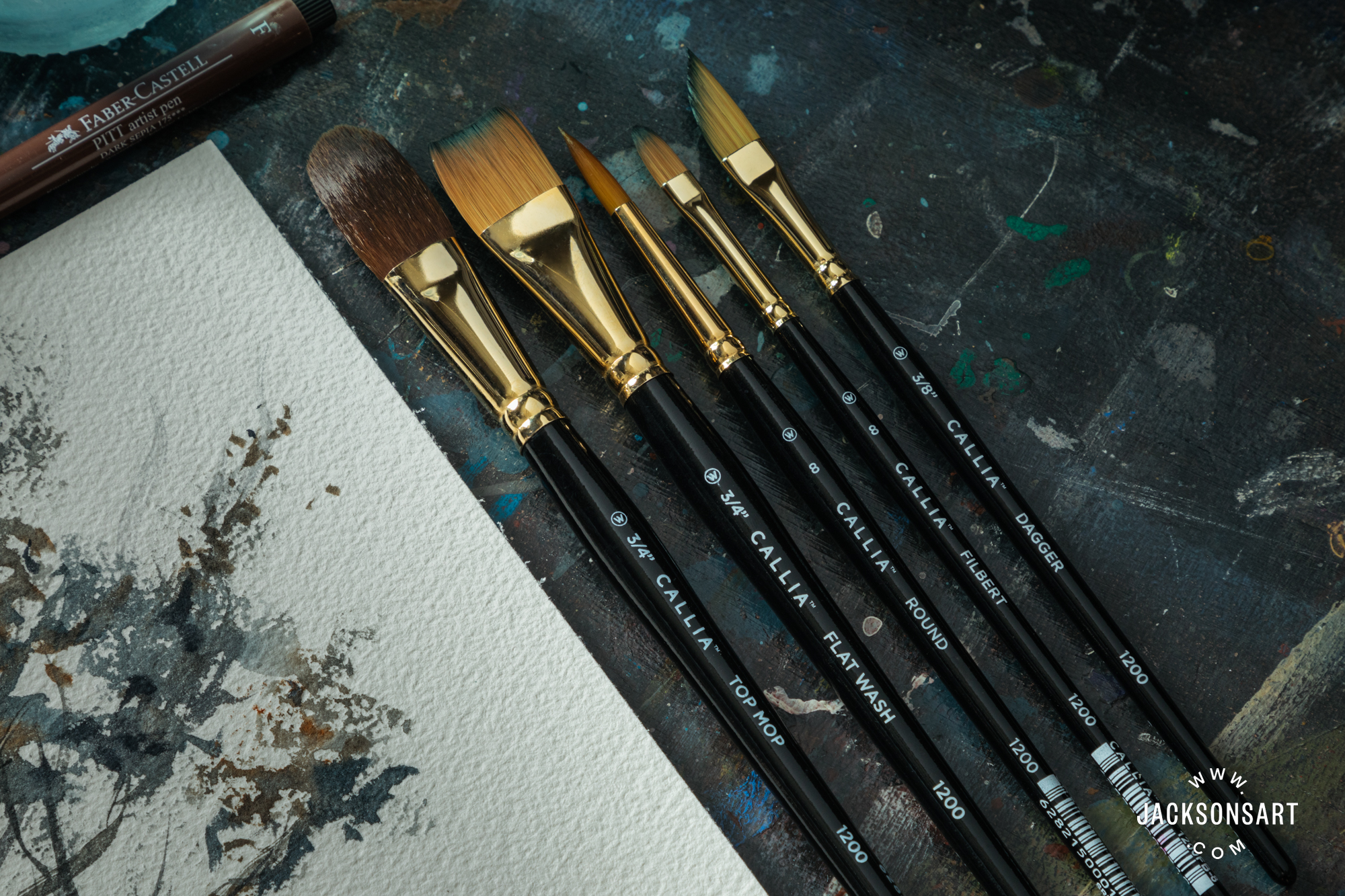 Specifications of Willow Wolfe Callia Brushes
I decided to try out the Willow Wolfe versions of a few familiar brushes:
As well some that were less familiar to me personally:
There are three different types of synthetic filaments used to make these brushes. Firstly, the Filbert, Flat Wash, Flat shader, Round and Dagger brushes are made using a blend of multi-diameter cultured synthetic. The filaments are etched to create microscopic pockets for colour to absorb into, creating a controlled release of pigment and good shape retention.
Next, the Dodo Drybrush and Dome Drybrush are both made from a blend of multi-diameter flagged tip bristle. The firm filaments are split at the tip, creating the ability to hold heavy-bodied paint, or to dry brush by removing excess paint before making the stroke.
Lastly, the Top Mop, Dodo Mop and Moa Mop are made with a blend of crimped synthetic. Each strand is crimped and shaped like a wave, producing air pockets between each filament, giving these mops very soft effects.
Using the Willow Wolfe Callia Brushes with Water-Mixable Oil Paint
I began by testing a few brushes with water-mixable oil paints, using a Jackson's Oil Colour Block 10 x 12 inch. I tried the 3/4 inch Flat Wash, the 1/2 inch Dodo Drybrush, the #5 Dome Drybrush, the 1/4 inch Dodo Mop and the #2 Moa Mop.
I thoroughly enjoyed my mark making experiments with these brushes, and I liked the way they performed on the linen texture of the colour block. The 3/4 inch Flat Wash brush was excellent at delivering the paint where and how I wanted, from thick and blocked in sweeps of colour, to softly textured dry brush; and the 1/4 inch Dodo mop and #2 Moa Mop made light work of my quick trials of blending and stippling. The Dome Drybrush was very versatile with it's Filbert-like profile and stiff bristles, ideal for blending or applying paint to awkward spaces. The Flat Wash was flexible and responsive, with plenty of mark making potential in terms of shape and blending ability, with enough spring to hold its own shape when applying the oil paint. Out of these five brushes, I liked the #2 Moa Mop best. It was such a great little blending brush, and I had to stop myself from blending everything on the page as it was so much fun to use!
I was also pleased to find that the rounded brush handle ends were great to drag or etch through the paint, to add even more texture to my experiments. Due to time constraints and the natural drying time of oil paints, I was only able to try one layer: however, given more time for drying, I have no doubt that the brushes would be up to the jobs of layering and glazing as well.
Using the Willow Wolfe Callia Brushes with Acrylic Paint
Next, I selected the 3/4 inch Top Mop, the #10 Flat Shader and the #2 Moa Mop to try with acrylics on a Jackson's Acrylic Paper Block 10 x 12 inch, and used my usual method of painting with them wet in wet, in a similar style to that of a watercolour. This is my personal method of painting but these brushes can also be used for any style of acrylic painting as well.
For my first experiment I put in a rough sky wash with the Top Mop. It held and delivered plenty of paint, giving me a beautifully diffused sky wash, and the Flat Shader was great for roughing in some land, and adding texture and grasses to the foreground. The Top Mop made quick work of painting in a distant tree line, and as a bonus, the rounded end of the brush was good for etching out a few impressions of trunks and branches, and adding even more layers of texture to the foreground. If I was taking the painting further, once dry I would easily be able to use these three brushes to continue layering up and adding dimension and complexity to the painting. However, I got distracted by some interesting marks that I was able to make with the Top Mop and lots of rich paint, so I quickly laid down a new wet in wet wash and played with the abstract shapes and marks that the brush gave me, using thick acrylic paint in various blends of colour onto the wet background wash.
For me, one of the signs of a good brush is if I forget that I am testing it and just get into the painting zone, and the Top Mop did that for me. I think it has huge potential in all media, and will certainly be adding one to my personal collection.
Using the Willow Wolfe Callia Brushes with Watercolour Paint
I chose the 3/4 inch Top Mop, the 3/4 inch Flat Wash, #8 Round, and 3/8 inch Dagger brushes to test with watercolour paints and a piece of Arches Aquarelle Rough Paper. The brushes all performed well: the round, flat and filbert held a good amount of paint, and released it evenly. The Top Mop turned out to be an excellent large wash brush, very light and enjoyable to use. The dagger and flat handled well, the flat holding plenty of paint and releasing it in a well controlled way from the chisel tip. The dagger too held enough paint for plenty of strokes, combining a sharp point with a smooth, curved edge that gives a delightful versatility.
Despite being designed as mixed media brushes, the ones I tested all performed the way I would expect a good watercolour brush to work, and were both comfortable and enjoyable to paint with. They have a decent water and paint holding capacity, which is naturally important for watercolour painting; as well as having a good amount of spring. There is also enough variety in the collection to make a range of different marks, and would likely work well for many different painting styles.
Final Thoughts
I loved the versatility of these brushes, and the ease with which I was able to use them to transfer my own style and techniques between mediums. I found the Willow Wolfe Callia Brushes to be equally at home painting in oils, acrylics, and watercolour alike: I felt like there was no leaning towards one media in particular, which makes them ideal for mixed media artists. I am definitely tempted to add a couple of the Callia range to my own personal collection. I particularly enjoyed using the #2 Moa Mop and the #5 Dome Drybrush, as testing these brushes has inspired me to continue down my path of experimentation with oil painting. Well made and durable, affordable and stylish, the Willow Wolfe Callia Brushes certainly seems to tick all the boxes.
---
Further Reading
Understanding Brush Shape Names, Hair and Applications
Understanding Brush Sizing Systems
The Development of Synthetic Brushes
A Family Matter: Handcrafting Brushes
Shop Willow Wolfe Callia Brushes on jacksonsart.com