Sometimes the vast amount of terminology we encounter as artists can be baffling. The same words can have different meanings when referencing different materials and mediums. In this instalment of the 'Art Terms Explained' series, we share the definitions of some commonly-used words and phrases in the context of pastel painting.
---
Abrasive
You may come across this term in pastel painting in the context of pastel papers and card. Pastel Papers and cards vary significantly in their texture. Highly abrasive surfaces are known to have a heavy tooth which is desirable for many pastellists because it holds colour in place which allows for the layering of multiple colours.
Acetone
Acetone is a solvent, which means it can break down or dissolve substances like paint and varnish. In pastel painting it is used to aid the blending of soft pastels.
Best Quality Soft Pastels
The best quality pastels will have the purest and brightest looking colours, and they will have more sticks made with single pigments. They have the optimum proportion of pigment to binder in their formulation, and are also assembled with a light touch to guarantee a texture that allows the colour to come off onto the paper smoothly and easily.
Binder
Binder is an ingredient that is mixed with pigments to make pastels. For oil pastels a wax binder is used (along with a non-drying oil) and for soft and hard pastels, differing amounts of a gum and/or clay is used.
Blending
Unlike paints that are mixed on a palette, different colours and shades of pastels are mixed directly on the surface of the paper or card. Blending is the technique of mixing two or more colours together by layering them lightly on top of each other and then smudging them into one another using your hand or a tool. Blending liquids can also be used to aid blending. Blending techniques differ depending on the type of pastel used.
Blending Liquid
A variety of liquids can be applied to soft pastel to aid blending, including water, rubbing alcohol, acetone, and oil painting solvents. Tip: always check that the surface you are working on is resistant to your chosen liquid.
Chalk
Chalk is a soft and porous material that is a form of limestone composed of the mineral calcite. It is sometimes used as a filler in soft pastels (often those of mid-range quality), though it is also a drawing material in its own right.
Chamois Leather
Chamois leather is a type of porous leather. Traditionally it was the skin of the chamois, a type of mountain goat, but today it is almost always made from sheepskin. It is a useful blending tool for pastel painting, and can also be used to lift colour by applying pressure.
Coated Papers
A type of pastel paper that is coated with a texture which could be soft microfibres, known as velour, fine cork particles, or grit. Coated papers hold more layers of pastel than uncoated papers, and different types of coating have an impact on the appearance of pastel marks. If you wish to use water (or water-based paint) or alcohol on a paper with a glued-on coating then you need to be sure your solvent won't reverse the glue, so look for waterproof or alcohol-proof papers.
Colour Shaper
A colour shaper is a type of tool used in pastel painting that looks like a paintbrush, however instead of hairs at the end you will find a silicone nib. These come in various shapes and sizes which allow you to draw, paint and blend with pastels that have already been applied to your surface.
Conté
A type of hard pastel with a square cross-section, invented by French artist and polymath Nicolas-Jacques Conté (1755-1805), and manufactured by Conté à Paris. These are now made from white kaolin clay and a binder (cellulose ether).
Cross Hatching
A technique used to create tonal or shading effects by drawing closely-spaced parallel lines.
Dry Fixing
Dry fixing is a method of securing your pastel marks to your surface so that they can no longer be rubbed off or blended any further. It involves pressing down on the surface of your work with a piece of glassine. This is also known as pressure fixing.
Dust
Soft pastel is a dusty medium, loose dusty material gathers on the surface of the paper and also the table and floor. Any dusty matter is not good to breathe, so some care should be taken when using soft pastels. Do not blow the excess pastel off the paper, instead tap and wipe it away. A few easels come with the ability to tilt the top slightly forward of the bottom so that dust falls away, off of the painting. You can tape wide masking tape sticking out from the lower ledge, face up, to catch dust. Those with asthma or other breathing problems should probably wear a dust mask. Pastel dust is the reason some pastel artists switch from soft pastel to oil pastel.
Excellent Quality Soft Pastels
Soft pastels that are considered 'excellent' quality may contain more binder, making them less crumbly but also less highly-pigmented than the 'Best Quality' soft pastels. Soft pastels that are considered 'excellent' quality may also seem more uniform in shape than some of the highest quality soft pastels that have been hand-rolled. However, some professional painters actually prefer the qualities of the lesser pastels – a firmer pastel will be easier to control, and so they are useful for drawing fine lines and intricate details.
Fixative
A fixative is a solution that is applied to pastel paintings to protect the work as without it the colour remains smudgeable. It is a clear liquid that is usually made of resin similar to varnish usually sprayed onto a dry media artwork to stabilise the pigment on the surface and to preserve finished artwork from smudging. You can apply fixative to protect layers while you are working as well as to completed work. Most fixative comes as an aerosol and should be sprayed where you have good ventilation. Degas Spectrafix is a water-based, pump action, casein fixative that is very popular.
Frottage
The use of a pastel, pencil, charcoal or graphite bar to take a rubbing from a textured surface. For example, by applying pastel onto paper that is laid over a leaf to pick up the patterns and textures.
Glassine
Glassine paper is a super-smooth, heavily compressed, thin, translucent paper made with very refined pulp that can be used to protect the surface of dry media artworks from smudging during storage, shipping, in pads or in books. Resistant to grease, air and water, it is acid-free to ensure archival protection. It is not the same thing as waxed paper or greaseproof paper. It is smoother than tissue paper.
Ground
In pastel painting, 'ground' refers to an acrylic primer with fine grit added that can be applied to pretty much any surface. Once dry, it is an ideal texture on which to apply soft pastel. Most pastel grounds dry with a light sandpaper-like texture, and some come in a wide range of colours and a selection of textures.
Gum Arabic
A gum formula made from the gum of the Acacia tree, it is sometimes used as an ingredient in the binder of pastels and pencils. The larger the quantity of gum arabic, the harder the drawing material (and therefore the lighter the mark that it will make).
Gum Tragacanth
A water-soluble gum often used in the binder of soft pastels, similarly to Gum Arabic.
Hard Pastels
Hard pastels are a type of pastel stick that makes more crisp marks than soft pastels. This makes them better for creating fine lines and details as they do not crumble or smudge as easily. However, their firmness means they do not blend easily and it is more challenging to layer colours over one another. They can be used alongside soft pastels and other drawing and painting media.
Impasto
The technique of building up thick layers of colour. Oil pastel is the medium best suited to impasto techniques within the technique of pastel painting.
Ingres Pastel Paper
Named after the Neoclassical French painter Jean-Auguste-Dominique Ingres, Ingres paper is a textured paper made for pastel drawing. Ingres paper is the oldest, most traditional pastel paper available. It is great for detailed work and is also suitable for use with coloured pencil, graphite and charcoal. However, It is not heavy enough to withstand wet media applications without buckling; paper weights between brands vary from 100gsm-160gsm. It tends to be grained only on one side and the paper usually has very subtle colour flecks on its surface. It is sometimes also known as 'Laid Paper' (See below)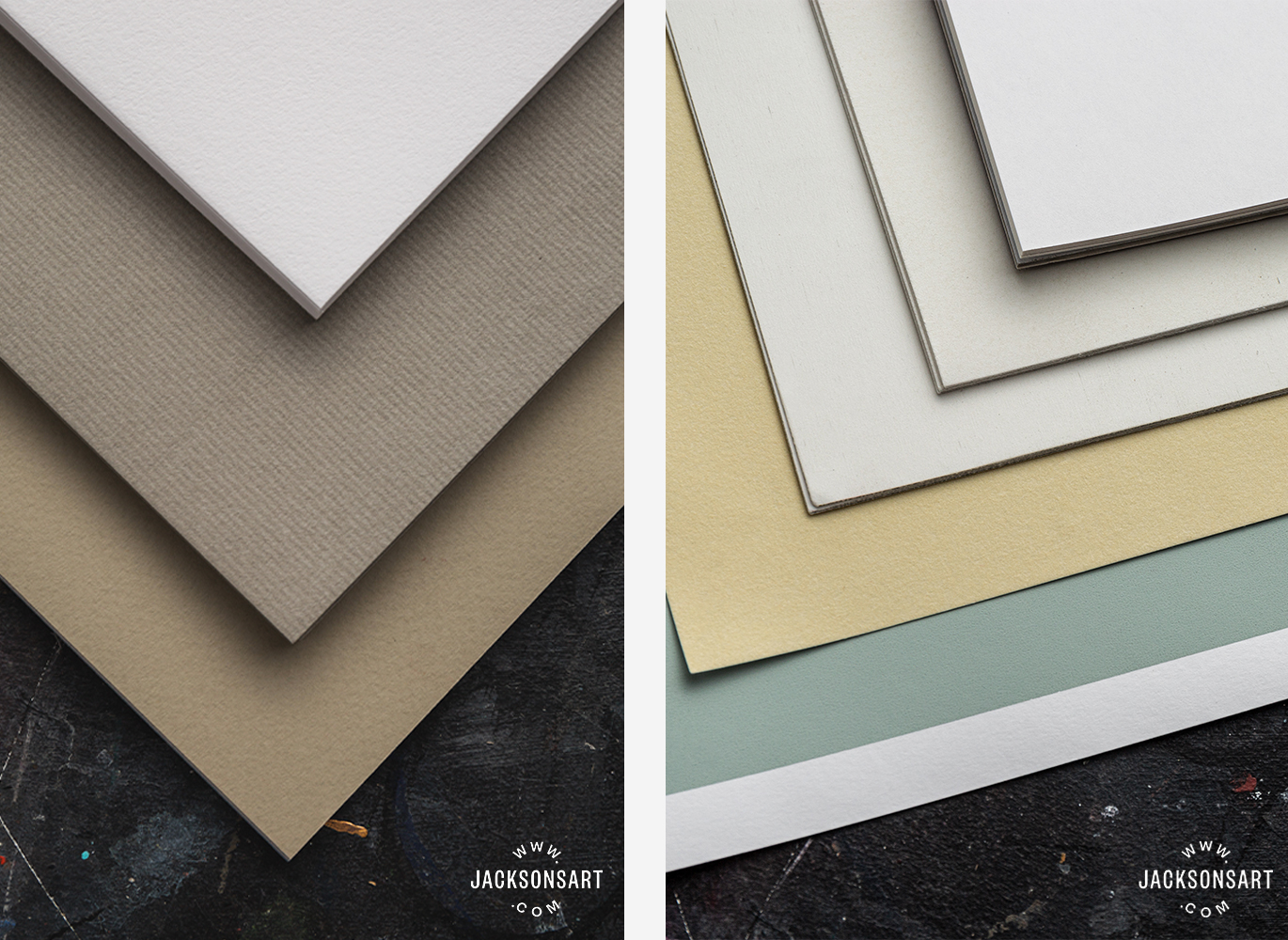 Laid Paper
Laid papers have a smooth, finely ribbed surface, as a result of the manufacturing processes. Ingres paper is a name used widely for laid paper.
Lightfastness
This refers to the degree to which a colour will fade or discolour as a result of exposure to natural sunlight.
Liquefier
A special formula which dissolves soft pastel colour to help achieve wash effects and for blending/colour mixing techniques. It often includes alcohol.
Mid-range Soft Pastels
Mid-range soft pastels are good quality soft pastel brands that are ideal for exploring the medium without compromising too much on quality. The pigment saturation of these sticks will be weaker and the consistency of the sticks themselves are firmer. However this means that the pastels will last for a considerably longer amount of time than the excellent and best quality pastels. The firmness of mid-range soft pastels is attributed to the greater amount of binder used in their production. Some also use chalk in their binder which affects the way that the colours appear and the handling of the sticks.
Non-drying Oil
Unlike oil paint, which uses a drying oil that will harden by absorbing oxygen, oil pastels are made with mineral oil, a non-drying oil, which never hardens. This means that the colour will remain smudgeable, so the work is often framed behind glass.
Oil Pastel
Oil pastels are a type of pastel stick made of pigments bound in a non-drying oil and wax binder. Compared to soft pastels, oil pastels are creamier in their consistency,and they vary in texture from hard wax to soft and creamy like a lipstick.. They are favoured over soft pastels by some artists because they are much less dusty. They are also extremely versatile and can be used with other mediums such as acrylic and oil paints, blended using solvents, and they can even be melted for use with encaustic painting techniques.
PanPastels
PanPastels are professional soft pastel colours packed in a practical and compact pan, allowing them to be mixed and applied like paint, using sponge tools. Their design means they are easily portable.
Paper Stumps
A stump is a cylindrical tool made of soft paper pulp used for blending on the surface of the drawing or painting, instead of using your finger. See also tortillion. It allows you to move pastel around once applied, push it further into its surface, and allow you to blend colours together.
Pastel Brush
Pastel brushes are used to blend soft pastels, PanPastels and graphite powders. They have short hair and a 'stubby' shape to the brush head. They are different to PanPastel applicators, which are made from foam.
Pastel Paper
Paper made especially for pastel painting will have some texture or tooth for the pastel particles to get caught in. Most drawing paper is too smooth and the pastel will just wipe off. The three general texture groups are: laid paper, vellum-finish paper and coated paper. In addition to the texture, there are other characteristics of pastel paper to consider such as colour, fibre content, the weight of the paper and if it can take the application of liquids such as water, alcohol or white spirits. Pastel paper is often coloured because bits of the paper may show through the pastel marks, so the paper's colour will greatly affect the look of the painting. The paper can also come mounted on card or board for a sturdy painting surface. Pastel is the medium that is most affected by the surface it is painted on. The paper you choose to work on will greatly affect the marks you are able to make and the final look of your painting
Pastel Pencils
Pastel pencils are soft pastel colours encased in wood. They offer a cleaner alternative means of working with soft pastel colour – as you do not have to hold the material directly with your hand. They can also be sharpened like an ordinary pencil, meaning they are a great way to add detail to paintings.
Pigment
A pigment is finely ground colour made either in a laboratory or from naturally coloured rocks. Pigment is one of the main ingredients of pastels, along with various binders.
Putty Eraser
A type of soft eraser made from a squishy putty material that can be used to lift away colour. It is easily kneadable and can be shaped into more precise points for detailed work.
Rubbing Alcohol
Rubbing alcohol is either an isopropyl alcohol or an ethanol-based liquid. In pastel painting, it is used as a blending liquid.
Sanded Paper
A type of coated paper, this paper has fine grit glued to the surface. Since the grit is heavy, the surface that it is glued to is usually card. Some brands have a range of grit coarseness. Having more tooth on the surface allows more pastel colour to be built up in the crevices. This also means that you will go through pastel much faster as the grit eats away at the pastel quickly. Many advanced pastel artists only use sanded paper.
Scraping Out
This is a technique which involves using a hard tool or implement – such as a palette knife, blade or brush handle – to scratch away soft pastel colour to reveal the surface underneath.
Sfumato
Sfumato refers to allowing tones and colours to shade gradually into one another, producing softened outlines or hazy forms.
Sheen
This refers to the shininess of a surface. Oil pastels create a waxy sheen, whereas soft pastels are generally matte.
Sofft Tools (Micro-pore Sponges)
Specially-designed tools for applying PanPastel colour. They consist of a handle that has a shaped sponge nib on the end. These tools can also be used to apply a variety of water based media including watercolour, acrylic, and ink.
Soft Pastels
A soft pastel is a stick of dry colour that is held in the hand and applied to a paper that has enough texture to hold the powdery marks. Because pastel colours cannot be mixed like paint, the artist usually requires a large range of colours to work with, so that they have the colour they need. Colours can be layered and blended on the surface of the painting with fingers or various tools, but some artists leave the marks unblended because they are more dynamic. Because there is no brush between the hand and the colour, they are popular with artists for their immediacy.
Sticks
This refers to pastels that come in a stick-shaped format, like a crayon, as opposed to pencils or in pans.
Tooth
Tooth is how we describe the textured quality of pastel paper as different brands and types of papers have different degrees of tooth. The tooth of the surface will hold the colour in place.
Tortillions
Tortillions are very similar to Paper Stumps, except that they are made from tightly rolled paper that is harder, and stiffer. They come in a variety of sizes and are usually much smaller than a stump. They are used for bending on the surface of the paper instead of a finger. They are more pointed than a stump and good for small areas.
Vellum-Finish Paper
As distinguished from vellum paper which is an historic translucent paper made of calfskin or its modern vegetable vellum replacement, a vellum finish is a texture on the surface of paper to give it a moderate tooth and a subtle, even surface of peaks and valleys. The embossed texture can range from the fine texture of an eggshell to a more dimpled surface like rough watercolour paper. Often one side is smoother than the other so you have a choice of which texture to use. It is one of the three groups of textures available in pastel paper, the others being coated paper and laid paper.
Velour Paper
A type of coated paper that is very soft and feels like velvet fabric. It is made with long fibres glued to the surface. Pastels will glide over the surface effortlessly, allowing for big sweeping gestures. The softness of the surface holds onto a lot of colour and marks. It is recommended mostly for the use of soft pastels.
Water Soluble
If something is water soluble, then it is capable of dissolving in water. Pastels vary in their solubility in water.
---
Further Reading
Art Terms Explained: Watercolour Painting
Art Terms Explained: Oil Painting
Everything You Need to Know About Pastel Paper
Using Soft Pastels for Observational Drawing
Shop Pastel Painting on jacksonsart.com