There is a growing number of artist paints available, that shimmer and sparkle, and many have names that vary. So what is the difference between luminescent, pearlescent and iridescent paint, and what causes them to sparkle and shimmer?
---
What Causes Paint To Shimmer?
The shimmering and sparkling effects of certain colours is thanks to the reflection and refraction of light as it interacts with transparent pigment particles used. The pigment particles tend to have a highly reflective surface, and in some paints this is manipulated with the presence of either titanium dioxide or iron oxide to alter the colour and manipulate how light is refracted (and at times how the light can be interfered with destructively), as well as transmitted by the paint.
When light refracts it changes its appearance; as can be seen when a light is shone through a prism. Many paints that shimmer or sparkle contain mica flakes, which are effectively very thin flakes of silicate mineral that can both reflect and refract light. Mica flakes have already reached their maximum level of oxidation which means they are non tarnishing and weather proof, unlike the metals they are used to replicate, such as coppers, bronzes and aluminiums.
Where Do The Different Descriptions Come From?
When researching for this article it came to light that while the majority of terms are scientific, there are occasions where paint manufacturers use words to fit with their branding that may cause confusion. For example, while the word luminescent means to glow, none of Daniel Smith's Luminescent range could be said to really glow; rather, the colours in the Luminescent reflect light rather than emit it. Iridescence is something of a blanket term to describe a number of different paints that reflect light, and is often used in product names that could be more specific, perhaps using more descriptive words such as metallic, pearlescent or interference. However with all shimmering colours, the effects can be altered and manipulated by mixing with other paints, and the extent to which you wish to control the shimmer of your colour can be explored further. Some tips can be found at the end of this article.
Luminescent Paint
Luminescent is a term that describes the emitting of light without causing heat (incandescent in contrast is the term to describe heat induced light). The word derives from latin (lumen meaning light) and was first used by the German physicist Eilhard Wiedermann in 1888 to describe 'all those phenomena of light which are not solely conditioned by the rise in temperature'. Technically, luminous or luminescent paint is any paint that appears to glow, such as fluorescent (glows in the dark when in the presence of black light, also known as ultraviolet light) or phosphorescent (absorbs light in dark and emits light in the dark) paint. However the words luminescent and luminous are sometimes used by paint manufacturers to describe paint that shimmers or sparkles, including metallic paints, interference and iridescent paint.
Iridescent and Interference Paint
Iridescent paint is characterised by changes in the appearance of its colour depending on what angle you view the paint at and the colour of the surface that the paint is applied to. Iridescence is caused by light reflecting and refracting multiple ways through the pigment particles in the paint. The word derives partly from the Greek word iridos meaning rainbow, and is suffixed with the latin derived '-escence', which means 'tending towards'.
In artist paints, not all iridescent paint will show rainbow-like iridescence. While some might appear to get close, such as Iluile Iridescent watercolours, metallic paints will only appear to shimmer in light and not show as wide a spectrum of colour in varying angles of light, but these are still iridescent paints.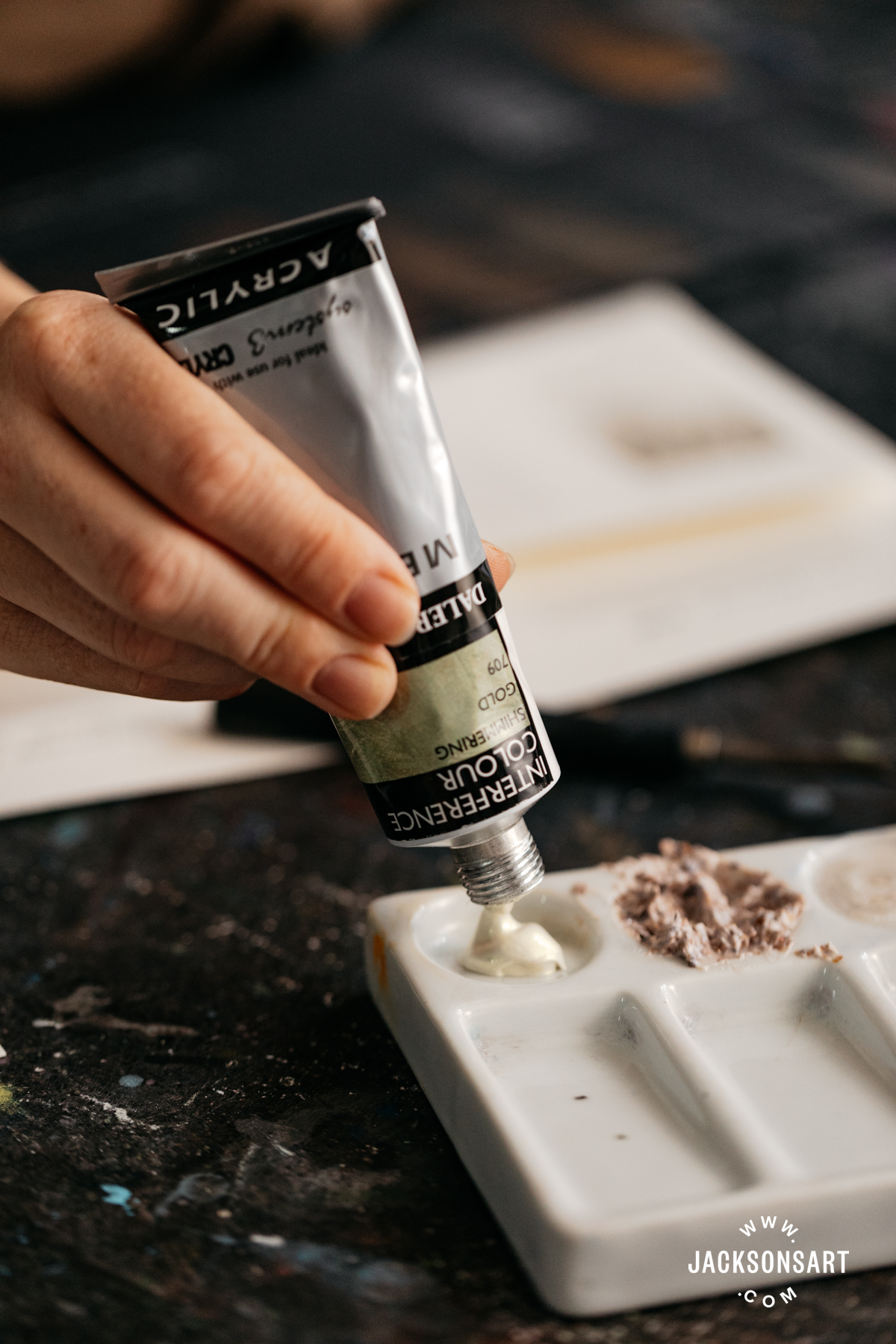 Interference colours are a particular kind of iridescent colour, and are also referred to as two-tone and Duo-Chrome depending on the manufacturer of the paint. They are made with very fine mica flakes that are coated with a thin layer of titanium dioxide. The thickness of the titanium dioxide coating determines the colour of the paint, e.g. Interference Green has a thicker coating of titanium dioxide, while Iridescent Pearl has a much thinner titanium dioxide coating. The titanium dioxide increases the optical density of the layer of paint, causing light to slow down as it travels through the pigment particles, and refract. The refracted light transmits as the complementary colour to the colour of the light that is reflected. Interference colours are especially formulated to only allow a narrow band of wavelengths of light to be reflected. This explains why a green tint can be seen in certain angles of Interference Red paint , blue can be seen in certain angles of Interference Orange paint, yellow can be seen in certain angles of Interference Violet paint, and so on.
Iridescent paints are made with incredibly highly reflective plate-like pigment particles, that are much thinner than non-iridescent pigments, but have a much wider diameter (according to GOLDEN paints, an average flake of Iridescent Pearl is the same diameter as 50,000 Carbon Black pigment particles placed side by side). Because high colour saturation relies upon light bouncing between a large number of pigment particles within a layer of paint, iridescent paints that do not make use of iron oxides in their formula have very weak colour strength.
Metallic Paint
Iridescent colours with a greater colour strength are also known as metallic paints. Metallic paints are composed of the same mica platelets but they are coated with iron oxide, either instead of or as well as titanium dioxide. Because iron oxide is highly opaque, lightfast and available in a range of hues, it brings a stronger colour to the appearance of the paint. Metallic paints can either have a sparkly, glittery appearance, or a softer, shimmering finish, depending on how reflective and the size the particles of the pigments used in the paint are.
Iridescent paint that is not made from mica flakes, is made with highly reflective, non tarnishing metallic pigments such as stainless steel and micaceous iron oxide (sometimes also known as specular hematite). Such paints tend to have a more gritty sheen.
Pearlescent Paint
Pearlescent paint is a particular kind of iridescent paint that allows you to see its colour and white reflected from the pigment particles simultaneously. It reflects all visible wavelengths of light, which causes the bright white reflection. Unlike interference colours or other iridescent colours, it mainly reflects white with only subtle transmission of other colours. Pearlescent paint is often used in the automotive industry. The effect is similar to the surface of a pearl, hence the name.
Lightfastness and Toxicity of Iridescent Paints
The leading professional grade iridescent colours have excellent lightfastness ratings and have comparable toxicity ratings, so require the same caution in handling as other paints.
Useful Considerations When Working With Iridescent Paint
1. Most are translucent and rely on the reflective qualities of their pigments, therefore their appearance is greatly affected by the colour they are applied to. Metallic colours can look significantly stronger and more opaque on a dark background and interference/two tone iridescent colours can take on a completely different hue when applied to black paper (as opposed to white paper).
2. Avoid mixing iridescent colours with opaque colours if you wish to maintain maximum iridescence. The effects are better maintained if mixed only with transparent colours.
3. Interference colours tend to have low colour strength. Adding a tiny amount of black (1:100) will strengthen the reflected colour
4. Add matt mediums to reduce sparkle, and increase appearance of sparkle by mixing with gloss mediums.
5. Thicker applications of interference colour can reduce the interference effect, as pigment particles may not lay flat to show their broad side square on to the viewer. For the most pronounced interference effect, apply multiple thin layers of colour as a wash or a glaze, as this will achieve the highest concentration of pigment particles all laying with the broad side flat against the paper. The layer of paint when dry will have a high shimmer with its complementary colour highly visible when the colour is held at an angle.
6. Iridescent colours can be mixed with regular colours to add a shimmering effect and lighten the tone of the colour. You will need a greater ratio of iridescent colour for the effect to show on more opaque and lighter pigments than colours that are darker or more transparent. Pearlescent paint tends to have the biggest influence in colour mixes apart from when it is mixed with white or pale grey paint, which tends to block the iridescent qualities of pearlescent paint.
7. If you mix an interference colour with a similar hued regular colour, for example Interference Red with Cadmium Red, the iridescence can make the colour appear more red. With lighter hued colours such as lime greens, pale pinks and acidic lemon colours, it's possible to use interference colours to make them appear almost fluorescent, while still possessing good lightfastness (unlike real fluorescent colour which tends to be fugitive).
8. If you mix an interference colour with its complementary colour, e.g. Interference Green with a red, or Interference Red with a green, the paint surface can take on a shimmer that reflects both the colour of the paint and its complementary hue.
9. By tinting a regular transparent colour with an iridescent colour, you can create shimmering glazes that change appearance depending on the colour they are applied to. Add mediums to increase transparency, fluidity or texture to see how these variations influence the effects of iridescence. Contrast with more opaque iridescent colours such as metallic hues and iridescent colours that have been mixed with regular opaque pigments.
Iridescent paints reflect and refract light, causing changes in the appearance of the paint at different angles, while pearlescent paints reflect white light. While you might expect luminescent artist paint to glow, many tend to only reflect light and sparkle. Shimmering paints have plenty of potential and familiarity with how they behave can easily lead to successful experimentation of effects when mixed with other colours and mediums. It's also worth seeing what happens when you apply them to different colour backgrounds. How they behave can be unexpected, and contribute to a beguiling and intriguing paint surface.
---
Further Reading
Preparing a Watercolour Gouache Palette for Painting on Location
How to Create the Best Digital Photographs of Your Artwork
Iuile Colourshift Watercolours
Jackson's Metallic Drawing Inks on Black Khadi Watercolour Paper
Shop Watercolour on jacksonsart.com