Woodcut printmaking is a wonderfully versatile medium with a rich history and you need relatively few tools and materials to get started. In this article we describe how to get started making woodcut prints, explaining the various materials and tools you need to create your first print at home.
Contents
What does woodcut printmaking involve?
What's the difference between Japanese and European woodcut printmaking?
Essential tools for woodcut printmaking
Colour in Woodcut Printmaking:
Inking up a single block with multiple colours
Printing with one block (reduction method)
---
What does woodcut printmaking involve?
Woodcut printmaking involves carving an image from the surface of a block of wood, rolling ink onto it and taking an impression or print. It is the oldest form of 'relief printmaking' – printing from the surface of a block. There are two distinguishable approaches to woodcut printmaking, one that is thought of as being in the western tradition, and the other as being in the eastern tradition. Eastern woodcut printmaking techniques date back to 9th Century China, while Western Woodcut printing was developed with the invention of the printing press in 14th Century Germany.
What's the difference between Japanese and European Woodcut Printmaking?
The key difference between Japanese and European woodcut printmaking is the printing method. In western printmaking, oil or water based relief ink is rolled onto the block, and printed onto heavyweight cotton paper, traditionally with a press. In Mokuhanga or Japanese woodblock printing, water based paint, ink or pigments are brushed onto the woodblock with sosaku or inking brushes, then printed with hand pressure, using a disc made of string and bamboo leaf called a 'baren', onto very thin and strong paper. A press is never used, and colour is built up by printing by layer upon layer. See our article on Japanese woodcut printmaking for more information on the technique. Some of the most famous woodcut artists include Katsushika Hokusai and Katsushika Hokusai in the east and Albrecht Durer and Kathe Kollwitz in the west.
---
Essential Tools for Woodcut Printmaking
Soft Pencil and Tracing paper or Carbon Paper
Drawing your design on to the wood block as a guide before cutting can make the process of cutting the wood easier. Remember your image will print back to front, so for text or other designs where the orientation is important, the image can be traced onto tracing paper from a sketch then flipped and copied onto the block using tracing paper with carbon paper or a soft pencil rubbing. By rubbing the soft pencil over the lines you wish to transfer, then flipping the tracing paper, the pencil line can be transferred. You can find this technique explained further here.
The Woodblock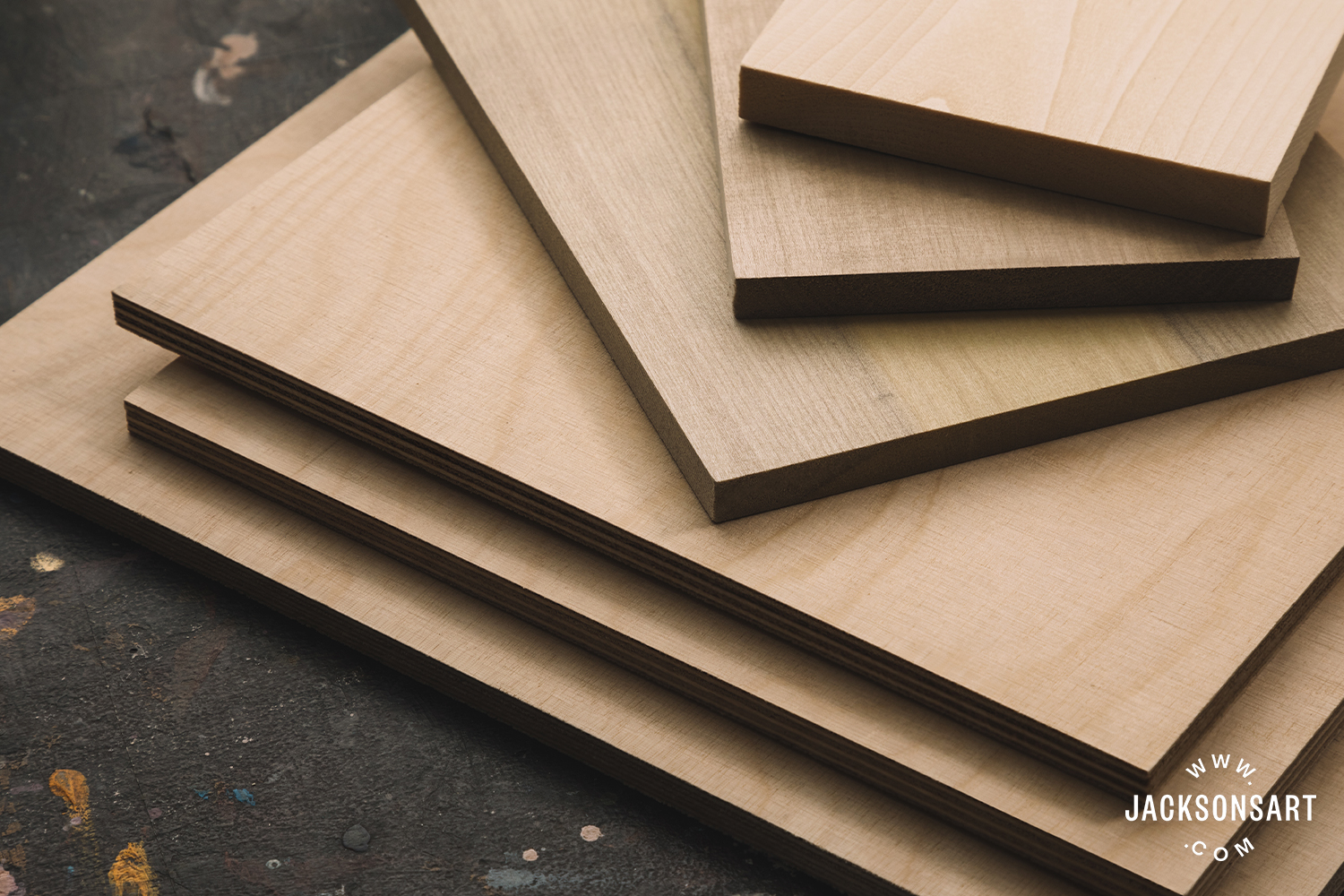 There are a variety of woods to choose from, and blocks are specially prepared for woodcut printmaking to ensure even and consistent printing. The wood used in Jackson's Baltic Birch plywood is dense and fine grained, which allows it to be cut into cleanly and evenly providing you're using sharp tools. It is 9 mm thick so will not split or weaken as it is carved providing you cut into it at a standard depth of around 2-3 mm, and is available in five sizes, ranging from 106 x 145 mm to 605 x 915 mm.
The Jackson's Japanese Magnolia block is 10 mm thick and can be carved on both sides, which is great when you are still experimenting. Magnolia is softer and smoother than plywood, which makes it better for printing large areas of colour. It's available in two sizes.
The Japanese Katsura block is 13 mm thick, and can be carved on both sides. It is excellent quality and is great for finer detailed carving. Although designed for Mokuhanga they can also be used with water and oil based ink.
Carving Tools
Good, sharp tools will minimise the risk of them slipping across the surface. A simple, inexpensive set of woodcutting tools is a good way to start. The basic Jacksons woodcut set contains five knives in different sizes, with sturdy wooden handles which are easy to grip. The different blade types create different marks in the wood – from the V shaped tool for detailed lines to the large U shaped tool for clear areas around your design. There are also sets of 8, 10 and 12 that will provide more choice of tool sizes. Those sizes are described using the blade type and width in mm – e.g. V-Straight Parting Chisel 6 mm.Investing in more expensive carving tools can be cost effective in the long run, as good quality tools can last a lifetime if properly cared for. Pfeil make a range of tools suitable for both linocut and woodcut in various sizes, individually and in sets. Their mushroom shaped handles are designed to fit into the palm of your hand. The tools each have a number – e.g. 1/8 which refers to the curvature and the width of the blade in mm. Flexcut are another excellent quality option and are available in a range of sets, from micro for fine detail to wide for clearing areas and larger work.
Sharpening Tools
It is essential that woodcut tools are kept sharp, otherwise they will slip and slide over the surface of the wood. Colin Blanchard wrote an article on sharpening tools, which is a comprehensive guide. For retaining sharpness, the Flexcut slipstrop is excellent for maintaining your tools.
Roller or Brayer

In woodcut printmaking, a roller or brayer is used to roll a thin layer of ink over the surface of the wood. They are made from durathene or tough rubber and have a sturdy handle. The shore value on some rollers refers to their softness – hard is over 50 shore and soft under 50 shore. For woodcut, a softer roller is recommended to obtain better coverage on uneven blocks. The Esdee soft lino rollers and Japanese soft rubber rollers come in a variety of widths. The recommendation is to choose a roller that will cover the whole width of the wood block, but when starting out a middle sized roller (7-10cm) is a good idea. If looked after well, it will last for years, so it is important to clean your roller thoroughly after use.
Ink
Inks for woodcut printmaking are known as relief printing inks, and they are designed to roll out evenly and print without the ink sticking to the block which would result in an uneven print. There are three main categories based on the binder that is used with the pigment.
Water-based Ink
Water based inks use natural binders such as gum Arabic, and are water soluble. They are very easy to clean up, and tend to dry quickly, so are a good choice for younger printers or those printing at home. Schminke aqua linoprint is artist quality ink which comes in three sizes and a wide variety of colours.
Water Soluble Oil-based Ink
These oil based inks are just as colour rich and buttery as any other, but will clean up with soap and water, without any need for solvents such as white spirit or turpentine. This makes them easier to use if you print at home or wish to avoid harsh solvents. Cranfield Caligo Safe Wash Relief Inks are one such range of water washable oil based inks that are good for printing at home or at the studio.
Oil-based Ink
Oil based inks have an enduring popularity within the printmaking community, and their rich, smooth colour still make them the choice of many printmakers. You can clean up without harsh solvents, by using vegetable oil and newspaper or a rag, then a plant-based solvent like Zest-it or gamsol. Follow this with a glass washer or multi-purpose spray if the surface is still greasy. Cranfield Traditional Relief Inks come in a range of sizes and 62 colours.
Inking Slab
To ensure an even distribution of ink on your roller, the ink is first rolled into a thin layer on a smooth, non-absorbent and even surface before inking the woodblock. This can be an inking slab, glass chopping board or acrylic sheet.
Printing Press or a Baren
To print a woodblock, pressure is required to transfer the image from the wood to the paper. This can be done by hand with a baren – a flat round disc with a handle. It is used to rub the back of the paper which is placed face down on the inked up woodblock, to print the image. A Japanese baren is a coil of string backed onto a round piece of card or board, and then wrapped in a bamboo leaf, the ends of which are twisted and tied together on the reverse to make a handle. The very finest barens cost hundreds of pounds, but the cheapest cost as little as £5-10. The back of a spoon can be used, but a baren is flatter so will cover a larger area. A spoon only has a small point of contact because it is curved, but it can be useful if you want to apply more pressure on a specific area within your print. The Speedball baren is a sturdy alternative, made from plastic and padded with foam. Japanese hard plastic barens have little raised bumps on the surface which are another alternative.
It is possible to produce prints more consistently and quickly with a printing press, especially if it is a large edition. The Pooki Press is a great little relief printing press which is sturdy but very portable. It will print up to A3 and is also suitable for lino and vinyl. The Fome Manual Lino/Wood Press is another great starter press that is easy to move around. Some etching presses can also be used in woodcut printmaking, so long as the cylinder can be raised to accommodate the thickness of the block you are printing. If unsure, you can check with the manufacturer.
Paper
Paper can make a noticeable difference to how a print turns out. For relief printing, the paper must be tough enough to withstand the printing process and smooth enough to ensure the ink is picked up evenly. For test prints and experiments, newsprint or a basic cartridge or printer paper is sufficient – anything that doesn't have too much tooth.
European and American papers for relief printing are smooth and heavyweight and tend to be made from cotton or wood cellulose, whereas Japanese papers are thin and light but incredibly strong. They are often made from other plant fibers. Read our article on printmaking papers for further more information.
---
Colour In Woodcut Printmaking
There are three main ways to introduce colours to your prints:
Inking up a single block with multiple colours:
This can be achieved by applying different colours onto different areas of the block using a roller for each colour. The downside of this method is that fine detail is difficult to achieve with a roller. It is easier to do with Mokuhanga, where brushes are used to apply ink.
Printing with multiple blocks:
Using this method, a separate block is required for each colour. For example, if the design requires 4 colours, four blocks will be carved with the shapes for that colour. The blocks will be printed on top of each other to form the complete image. The white (or other colour) of the paper will form an extra colour. Care must be taken when printing to place each woodblock in exactly the right place on the paper. This is known as 'registration' and ensures the whole image fits together at the end of the printing process. Ternes Burton registration pins are a favourite of many printmakers as a reliable system. See our article on creating multi-block prints for further information.
Printing with one block (reduction method):
This method uses one block which is carved then printed in the first colour, carved again then printed in the second colour, carved and printed in the third colour and so on until the edition is printed. Care must be taken over registration of the block for each colour. This method is also known s the 'suicide print' as a mistake in cutting can spoil a whole edition of prints, while a mistake in printing the final layers can reduce the number of prints you can produce!
---
There is something deeply satisfying about the process of woodcut printmaking – working with an organic sustainable material, the carving process, the rolling of ink, the surprise when your image is turned into a print – all make it a unique experience. With just a few simple tools you can experiment, play and print your own editions.
---
Further Reading:
Hilary Daltry Re: Woodcut Prints without a Press
Everything You Need to Know About Printmaking Paper
Mokuhanha: Japanese Woodblock Printmaking

The Best Way To Transfer Images To Lino