Transferring a prepared image to lino is a great way of ensuring you minimise the risk of making a mistake in the cutting stage of a linocut print. When making a multi-block print – one image with multiple colours, with a separate block being cut for each colour – the accuracy of where you place the image on the block is essential in achieving good registration between the colours.
There are a number of ways to transfer an image to lino, including using tracing paper and carbon paper, using heat, and using PVA glue. In this article I compare these three methods in order to determine which is the best.
Method 1: Toner print-out and baking paper
This method requires a photocopy or print out of your design using a toner based or laserjet printer (inkjet won't work). It involves placing the image face down on your lino, fixing it in place with masking tape, then placing baking paper on top before giving the image a gentle iron.
This method required more heat and patience than I expected, but the results were reasonably successful. The image was largely visible, although some of the lines transferred more effectively than others. However the majority of the lines did transfer so all in all it was a quick way to transfer a drawing. If some of your lines do not transfer you may need to fill them in with a pigment pen afterwards.
Things to be aware of:
Do not let your lino get too hot. You may want to place a tea towel as well as baking paper over the print out to avoid this happening. If lino gets too hot the surface of it can start to form bubbles and the lino can dry out making it prone to cracking during the cutting stage.
There's no need to invert the image before you transfer it – as it will transfer back to front, meaning that it will then print the right way around once you have carved it.
Pros:
From the three methods presented here, it is the fastest.
It is fairly accurate, so long as your design doesn't slip and move position.
Cons:
It doesn't always work consistently across a whole design, which can lead to inaccuracies.
It is easy to overheat lino.
---
Method 2: Tracing Paper and Carbon Paper
This method involves making a tracing of your design, and using carbon paper to transfer the image by hand to the lino.
Pros:
It's easy to get the whole image successfully transferred to the lino.
You feel in control of the process.
Cons:
This method relies on the accuracy of your hand and eye when tracing the image and going over the lines, and there is room for inaccuracy or errors.
It is the most time consuming method, as you have to go over the image line by line.
Carbon can smudge a little once transferred to lino so you need to try and minimise handling of the surface of the lino once the image has been transferred.
This is probably the best way to transfer images if making a multi block print, as you can choose which lines to transfer on your tracing. You can use the same tracing for each of your blocks, which will help to achieve accurate registration.
---
Method 3: PVA Glue transfer
There are a few variations of this method mentioned online – some say inkjet prints work, others say only use laserjet print outs. I tried both and for me, neither worked! However that's not to say the method won't work for you, as the process does work with certain printer inks.
In any case, the process involves brushing on a layer of acrylic medium or PVA glue to your lino, and another layer on the image-side of your print out. Then placing the image on to your lino and smoothing it out to remove air bubbles. I found a roller and a palette knife very useful for this.
Because of the natural curve that most lino has (caused by the huge rolls they are stored in prior to being cut into smaller sizes), you may find that if you flatten and smooth the paper down while the lino is on a flat surface, you inevitably flatten the lino as well, and wrinkles may form in your paper. To avoid this happening its a good idea to follow the curve of the lino where you can as you glue the paper in place.
After 15-20 minutes, when the acrylic medium or glue has started to harden, you can start to rub the paper away, using a damp finger or a barely wet cloth.
Admittedly I used too much water when removing the paper, and consequently ended up removing the image as well. However where some of the image did appear to stick on the surface of the lino, it was very easily wiped away with very little rubbing.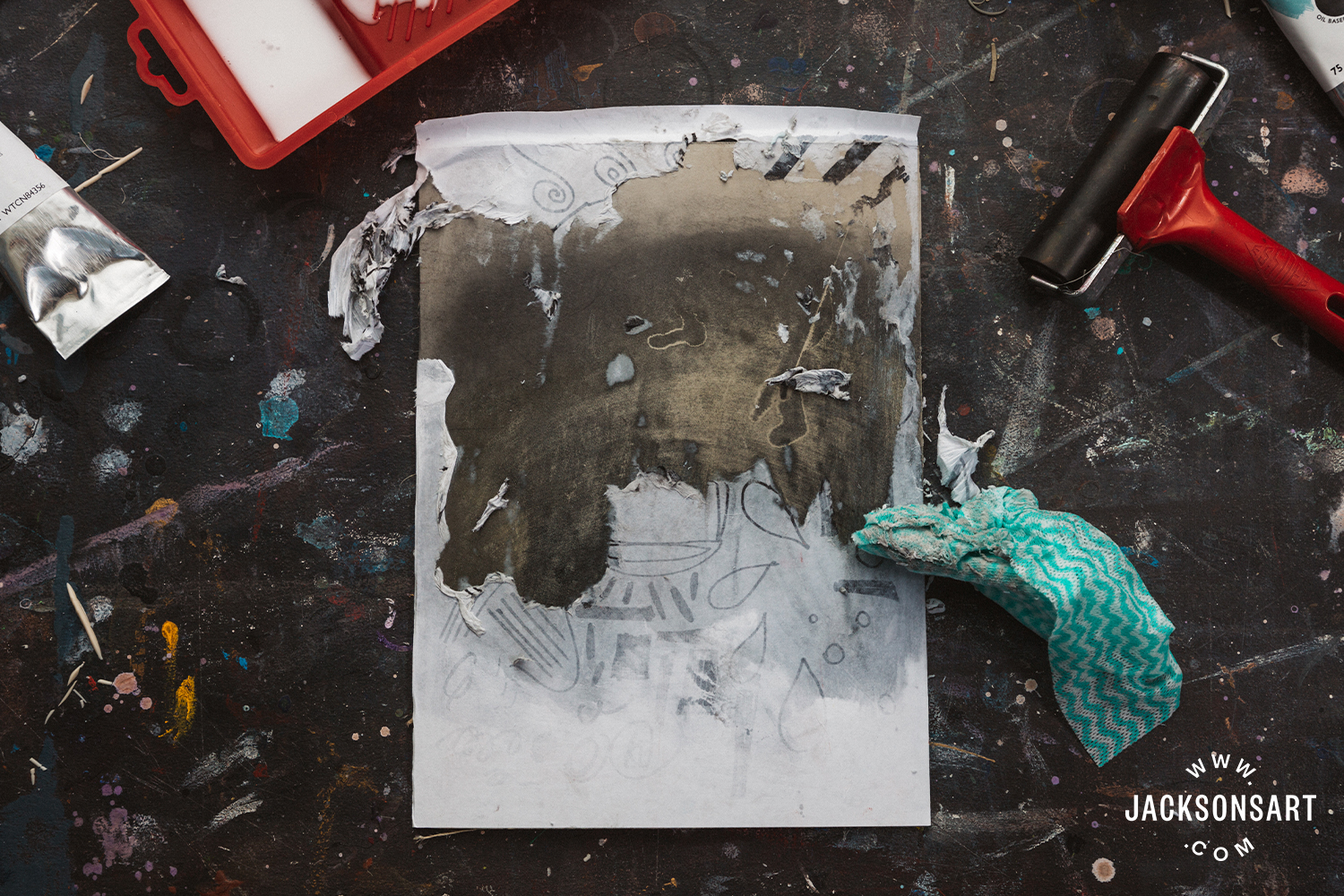 I would be interested to hear from anyone who has consistent success with this method to hear what tips you may have learned over time to guarantee results. I found it to be a temperamental method, and even if the image had successfully transferred, it would be done so within a layer of glue on the surface of the linoleum, which would be susceptible to cracking or flaking off as you get to the cutting stage.
Summary
While carbon and tracing paper image transfer can be time consuming, it is fairly failsafe, and you feel in full control. Using acrylic medium or ironing can have inconsistent and slightly unreliable results, but when they work, they can save a lot of time – also, the lines are transferred exactly as they appear on your print out – you do not have to reply on the accuracy of your hand and eye when tracing the design to tracing paper. These two methods are more reliable than the PVA glue method.
Relief and Lino Printing at Jacksonsart.com
Further Reading on Printmaking on the Jackson's Art Blog