There is something beautifully simple about the linocut process although the prints it produces can be extremely intricate and complex. A print is created by carving a design into a block of lino, rolling ink onto the surface and laying paper or fabric on top then applying pressure to produce a print. Like woodcut and wood engraving, it is a relief printing process. Lino was first used by artists at the end of the Nineteenth century, and really took off in the 1920s and 30s, when linoleum was developed for use as affordable flooring. Today, linocut is still very popular, and is often a way to get started in printmaking as there is no need for harsh chemicals or expensive equipment. It is also great fun and is suitable for all ages and artistic abilities.
---
Contents:
The Basics of Linocut Printing
Materials to Get Started With Linocut Printing
The Basics of Linocut Printing
Linocut printing involves cutting away from a block of linoleum, and inking and printing the uncut areas. When you place your carved, inked up block face down on a sheet of paper, the printed image will appear as a mirror image to how you have carved your block. Areas you have cut away will remain the white of the paper you print on.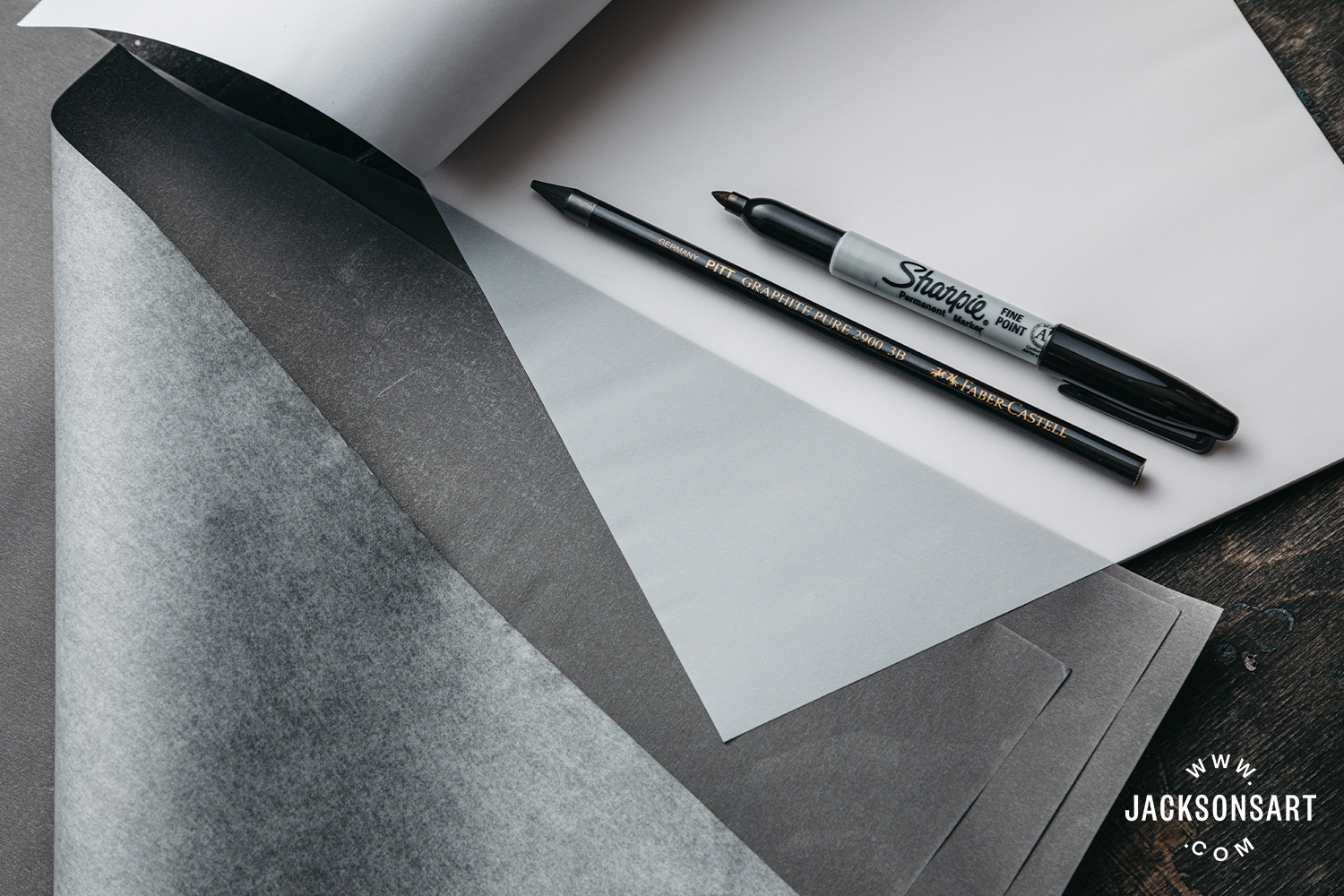 Materials to Get Started in Linocut Printing
Pencil
It is a good idea to draw your design onto the lino block first, so a pencil is essential, although if you are feeling brave, you can cut into your lino without a guide. A slightly soft pencil works best as it creates a darker, more visible line.
Marker Pen
It is useful to go over your design with a permanent marker pen (e.g a Sharpie or waterproof pigment pen) so it doesn't rub off easily. It will also help to make the lines clearer, which is useful while you are carving.
Carbon Paper
You can use carbon paper to transfer your design from a drawing or photo onto the lino.
Tracing Paper
Use tracing paper to draw around your original design drawing and flip it so it is back to front and prints correctly when carved. Use with carbon paper or a soft pencil rubbing to transfer the image onto lino.
Lino
Originally, artists would have carved the linoleum used for flooring, but this is no longer the case. The most common lino nowadays is grey lino, which is softer than the material used for flooring. It's made with natural materials – linseed oil and cork – and is backed by hessian fabric. It's biodegradable and comes in a variety of standard sizes from 7.5 cm x 7.5 cm to 40 x 60 cm. You can also buy it pre-mounted onto wood to make it extra sturdy (the majority of mounted lino is type high so you can use it alongside letterpress). It comes in single sheets, packs of 10 or in a large 900 x 1830 mm roll which means the block can be cut to your requirements. Grey lino can be a little stiff and hard, but heating it slightly – with a hairdryer, on a radiator or by sitting on it – so it is warm (not hot) ensures the carving process is much smoother. It is good to use a couple of blocks to explore mark making first, so a pack of ten in a smaller size is a good investment.
Other blocks commonly available are Softcut, Speedy Carve and Japanese vinyl. There are pros and cons with all of these materials. Softcut and Speedy Carve are softer and easier to carve, so they are better for smaller designs with less detail, like stamps for example. Japanese vinyl carves and prints more like lino, is PVC based and can be carved on both sides. With all of these surfaces, there's nothing like a bit of trial and error to find out which is best suited to your way of working. You can read a detailed comparison of the materials here.
Carving Tools
Carving tools come in two basic shapes – U shaped gouges and V shaped cutters. The V shaped tools create thin, consistent lines, and the U shaped ones make bigger marks or clear areas around the design. Both tools come in various sizes from very small for detailed work to large for bolder marks and to quickly clear large areas.
Carving tools are available for all budgets, but it isn't necessary to spend a lot of money on them. There are some budget options for beginners:
– A plastic handle with interchangeable blades at different sizes
– A beginners set of woodcarving tools (they are suitable for all the blocks discussed here) – Jackson's set of five tools are a great, inexpensive starter set.
I find the woodcut tools are easier to use than the interchangeable blades because they are more solid and easier to grip, but many artists do start with the handle sets.
Investing in more expensive carving tools will give you tools that can last a lifetime, if they are cared for and sharpened regularly. Pfeil make high quality Swiss made lino and block cutting tools that can be purchased individually or in sets containing a mix of U gouges and V cutters in various sizes. They have shaped wooden handles that fit the palm of your hand, so are comfortable to hold. Each tool is categorised by a number – e.g. 11/0.5 which refers to the curvature and the width of the blade in mm.
The C set has a good variety of wide and narrow tools, so is a good place to start if you are buying a set. Colin Blanchard's article on Pfeil tools has more advice on how to choose.
Flexcut also make a great quality range of palm shaped tools. The lino and relief printing set contains a selection of carving tools and a slipstrop for keeping your blades nice and sharp (the slipstrop can also be bought separately). Sets contain mini tools for fine detail, micro tools for general carving and wide tools for clearing areas and larger work.
Sharpening tools
It is a good idea to keep your tools sharp – blunt tools do not carve efficiently and can increase the risk of accidents as they slip across the lino. Pfeil make a set of sharpening stones for cutting tools. Colin Blanchard's article on sharpening tools is an excellent guide.
Ink
Relief printing ink is designed to roll onto the block smoothly and print evenly. Water-based and water-soluble relief inks are easy to use and clean up with soap and water. You only need one ink colour to get started with linocut printing, but there's nothing to stop you from exploring with multiple colours from the start.
There are a variety of different types and brands of relief ink, and they fall into the following three main categories.
Water-based ink
Water based inks are easy to clean up and dry relatively quickly. They come in varying qualities from student grade, with less pigment, to artist quality with high lightfastness. For a beginner, they are a great choice. If you are looking for small tubes with a range of colours to experiment with, Schmincke's Aqua linoprint ink has five 20 ml tubes. The colours are rich and they dry in 20 minutes. They are a good choice if you would like to try printing in different colours without buying lots of big tubes.
Water soluble oil based ink
Water soluble oil based ink can be cleaned up with soap and water, unlike traditional oil based inks. This means they have the richness of colour associated with traditional printmaking inks, without the need to use solvents such as turpentine or white spirit. Cranfield Caligo Safe Wash Relief Ink are a good quality range of printmaking inks that are good for beginners and seasoned printmakers alike.
Oil based ink
Traditional oil based ink contains a high level of pigment, mixed with an oil such as linseed oil. Their rich colours make them particularly good for large areas of colour or for printing onto dark paper (metallic colours work very well on black). Cranfield Traditional Relief Inks come in a wide range of colours, including gold and silver. Harsh solvents can be avoided when cleaning up by using vegetable oil and newspaper or a rag, then wiping with a plant-based solvent like Zest-it.
Can I use other inks for relief printing?
There are different inks for different printmaking techniques which broadly fall into three categories – relief, intaglio and screenprinting. The crucial difference between them is the consistency. Screenprinting ink is very loose and runny, relief ink is thicker and more viscous so it can be rolled out, and intaglio (often called etching) ink is stiff and tacky so it clings to the plate while it is pushed around. For best results with linocut, stick to a relief printing ink.
Inking Slab
In order to apply an even distribution of ink on your roller, the ink is first rolled into a thin layer on a surface before inking the lino. This can be an inking slab, glass chopping board or acrylic sheet.
Roller/Brayer
A relief printing roller or brayer is made of natural or tough synthetic rubber and has a handle. It is used to apply a thin layer of ink to the linocut block.
It is possible to buy a good starter roller for under £10. They come in a variety of sizes, weights and qualities. Using a roller that is wider than the block will make it easier to apply an even layer across your whole block. If your roller is narrower than your block, you might get some lines from the imprint of the edge of your roller, but with some extra rolling these can be inked away.
The Esdee soft lino roller is a good starter roller, as it is made of soft synthetic rubber and gives an even coverage. Cleaning them thoroughly after use and storing them with the rubber facing up will prolong their lifespan and help the roller keep its shape for longer.
The shore value on some rollers refers to their softness – hard is over 50 shore and soft under 50 shore. For relief printing, a soft rubber roller is recommended, as they are better at covering the carved detail on the lino block. The Japanese soft rubber roller is a good quality roller that comes in a variety of sizes.
Printing Press/Baren
To make a print you must apply pressure to transfer the image from the inked block to the paper. For this, you can use a printing press, but that is not always necessary, particularly for prints on thin paper. A baren is a smooth, round, flat disc with a handle on the back, which is rubbed onto the back of the paper to transfer the image from the lino. An inexpensive Japanese bamboo baren is a lovely tool for starting out, but the back of a spoon can also be used for hand burnishing.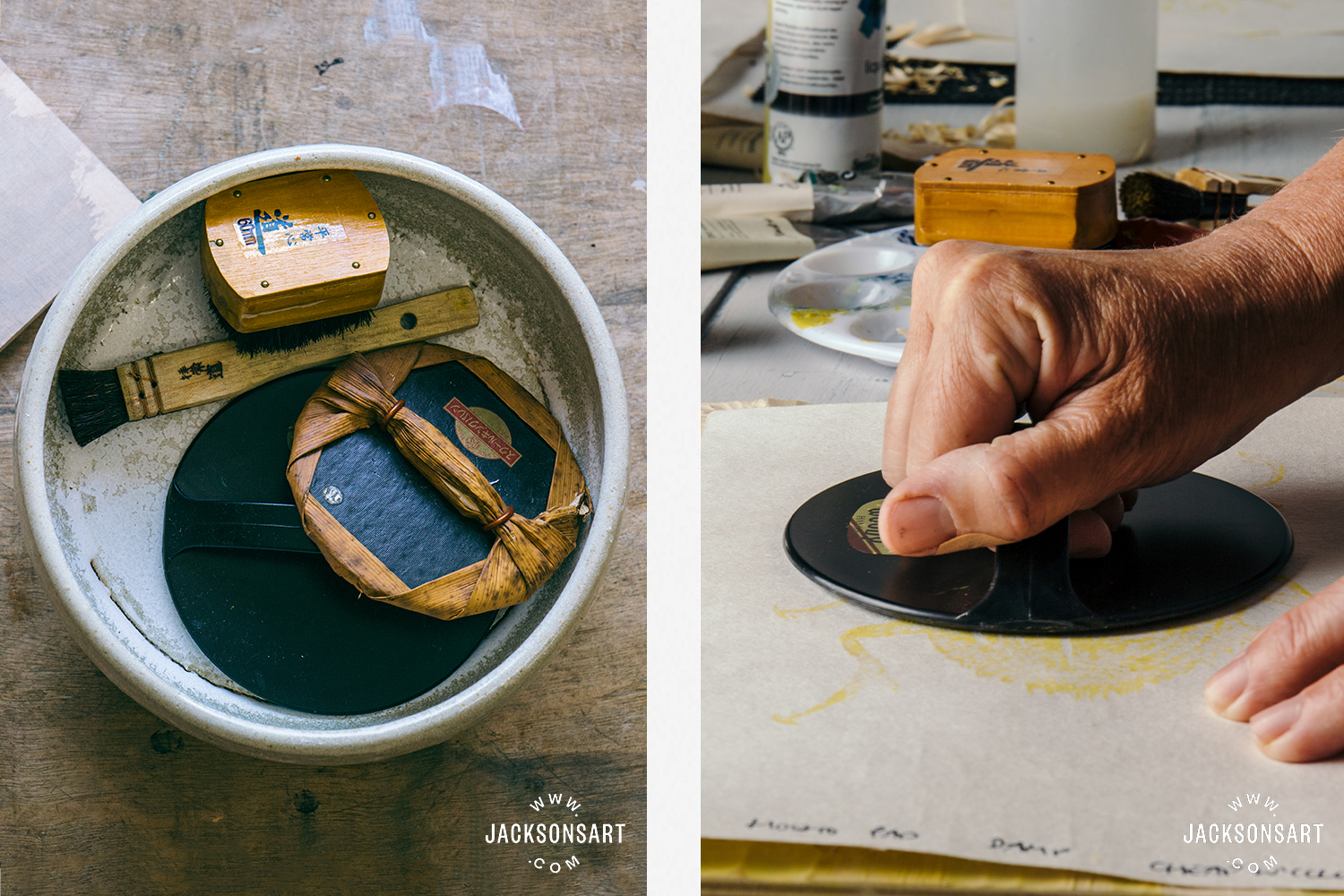 Paper
There is a wide variety of printmaking papers available. Specially made printmaking papers are less absorbent than drawing and watercolour papers and tend to be smooth. Japanese Washi papers, although strong, are very thin, and are very well suited to hand burnishing techniques because they are easy to manipulate in the hand for positioning, and don't require much pressure when taking a print. Thicker western printmaking papers such as Zerkall, Stonehenge or Fabriano Rosaspina are thicker, and well suited to printing with a press.
You might have some cartridge paper or everyday printer paper spare, which can be used for practice prints, as it is smooth and thin, and will not require much pressure to get a good print. Textured papers such as rough or cold-pressed watercolour paper should be avoided, unless you are specifically seeking a textured effect, as they do not pick up the ink evenly. For more information, see our article on Everything You Need to Know About Printmaking Paper.
The wonderful thing about linocut is that you need very little in terms of tools and accessories – so it is a great way to get creative at home. There is something magical about the whole process and seeing your image turned into a print is really exciting. Once you get the hang of creating simple prints, there are so many possibilities. Linocut can also be combined with other techniques such as monoprint, watercolour or collage. All you need is the corner of a table, some basic supplies and you're all set.
---
Further reading
Books
Linocut for artists and designers
Jackson's blog
Make Your Own Linocut Christmas Cards
Paul Wilkins Reviews Pfeil Linocut Tools
Printmaking with Rubber Stamps
Sharpening Linocut Tools by Colin Blanchard
Casting a Spell: Image Making With Screenprint, Linocut and Gold Leaf by Colin Blanchard
Hand Printing With Schmincke Linol Inks
Everything You Need to Know About Printmaking Paper