Schmincke's Super Granulation watercolours contain a combination of naturally granulating pigments which separate and settle into the paper surface for textural effects. After the popularity of the Galaxy, Glacier, and Deep Sea colours, Forest and Tundra colours have been added to the Super Granulation range. Artist Anna Zadorozhnaya was one of the first to try the new colours, and she shares her findings with us.
---
An overview of Schmincke's new super granulation colours
by Anna Zadorozhnaya
In July, Schmincke launched a new range of super granulating watercolour paints from their professional Horadam range. It consists of three colour groups (Galaxy, Glacier, and Deep Sea), with five colours in each group. The principle of combining at least two pigments with a natural tendency to granulate was used as the basis for the limited edition. Read more about the colours included in the range in this article.
Now the Schmincke super-granulation watercolour range has been extended and 10 new colours within two new ranges have been produced- Forest and Tundra.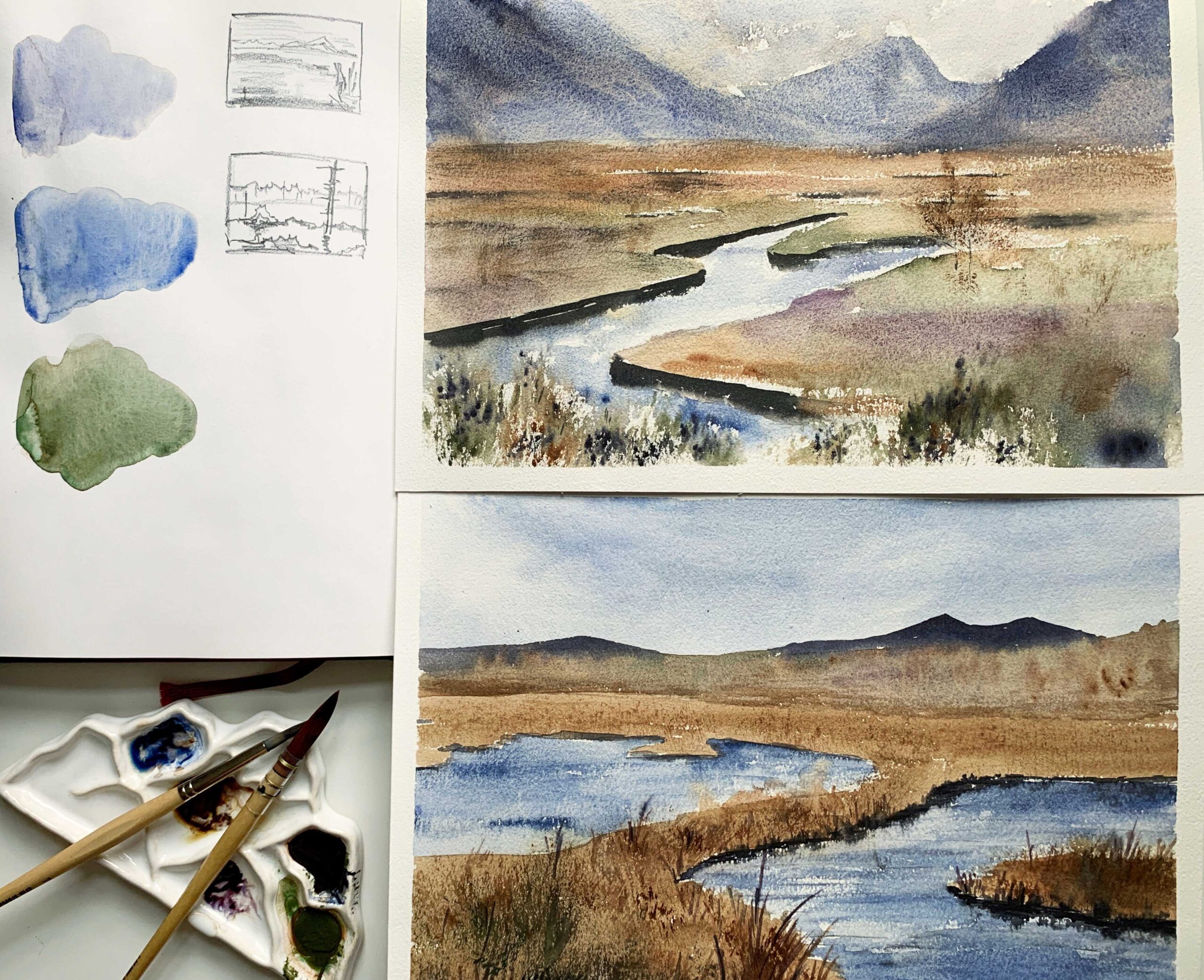 Forest series
No wonder the series is named 'Forest': all of the colours have a green main tone or component.

Forest Olive

Pigments: PY43, PG18, PBr7
A warm, transparent colour with an olive yellow main tone, with greenish-brown highlights, perfect for rendering light.

Forest Green

Pigments: PG19, PBr33
A dense, saturated and the only fully opaque colour in the Forest range. In granulation, it splits into shades of green and brown, but the base colour is a neutral cool green close to the classic cobalt green.

Forest Blue

Pigments: PB36, PBk11
A very beautiful pure blue-green colour, unambiguously cool. The strong granulation characteristics of all colours in this range is shown here in the form of streaks like the texture of green marble.

Forest Brown

Pigments: PY43, PG26, PBr7
A neutral brown-green, which splits into brown and green pigments. The shade of green in this colour is warmer than in the Forest Green, and the green shows up more in the granulation than the brown.

Forest Grey

Pigments: PG50, PBr7, PBk11
A warm grey-brown colour consisting of three pigments, of which the green one is the least and the brown one the most visible.

Tundra series
The name Tundra reflects the subjects best suited for painting in this range, which are dusty and hard landscapes, as well as very natural paintings with subtle and complex multi-component shades.

Tundra Orange

Pigments: PY43, PR233, PBr7
Oranges belong to the colours that are the hardest to make to granulate, and this orange is a stunning shade similar to burnt bricks, but not as bright. Tundra Orange is a dusty red-orange, very beautiful and warm in pure form. In addition, an important feature is that it mixes very well with the blue shades into a very complex, unusual and rich grey colour.

Tundra Pink

Pigments:PB29, PR233
This is the second pink in the super-granulating range – and it is much cooler than the same colour from the Galaxy range. By the use of different pigments (PV16 PBr33 in Galaxy vs PB29 PR233 in Tundra), they differ not only in colour temperature, but also in opacity: Tundra Pink is totally transparent, while Galaxy Pink is semi-transparent.

Tundra Violet

Pigments: PB29, PBr6
Tundra Violet breaks up into stunning shades of blue-brown. Up close, you can see that this colour is made up of blue and brown pigments, but looking a little further away, the illusion of purple is created. Magic!

Tundra Blue

Pigments: PB29, PBr7
There are blue colours in all five super granulation series, and they are all different. In Tundra, the blue is darker and cooler, and goes more into a shade of purple. Like the whole Tundra
series, it is the most dusty and dim colour, and it has the calm, stark beauty of a dusky sky.

Tundra Green

Pigments: PG19, PBr6
A hue that splits into green and brown, and the brown is slightly more visible than the green one. At the same time, the colour itself is warm.

---
Schmincke Horadam Watercolours on jacksonsart.com:
Schmincke Horadam watercolours are available here, Forest, Tundra, Deep Sea, Glacier, and Galaxy Super Granulation colours can be found at the bottom of the colour chart.
There are also sets of Deep Sea, Glacier, and Galaxy Super Granulation watercolours available.
---
About Anna
Anna Zadorozhnaya is a Russian watercolour artist, currently based in Hannover, Germany. Anna has an MA in Art from Oxford Brookes University, is a da Vinci and Schmincke ambassador and works as tutor both offline and online. The main subject of her paintings are snowy mountains in pure watercolour technique. She shares her watercolour paintings on her popular Instagram page @draw_better.
More articles by Anna Zadorozhnaya:
More articles about watercolour painting: