Prussian Blue (pigment index number PB27) is deep and inky colour. Its influence can be seen across art history– it is the characteristic pigment of Picasso's Blue Period, it was a favourite among the painters of the Baroque and Rococo periods, and it is the colour that is produced in the cyanotype process (thus giving us the term 'blueprint'). This article looks at the intriguing history of the colour, its use in Japanese printmaking, and why acrylic painters are hard-pressed to find a genuine Prussian Blue paint.
---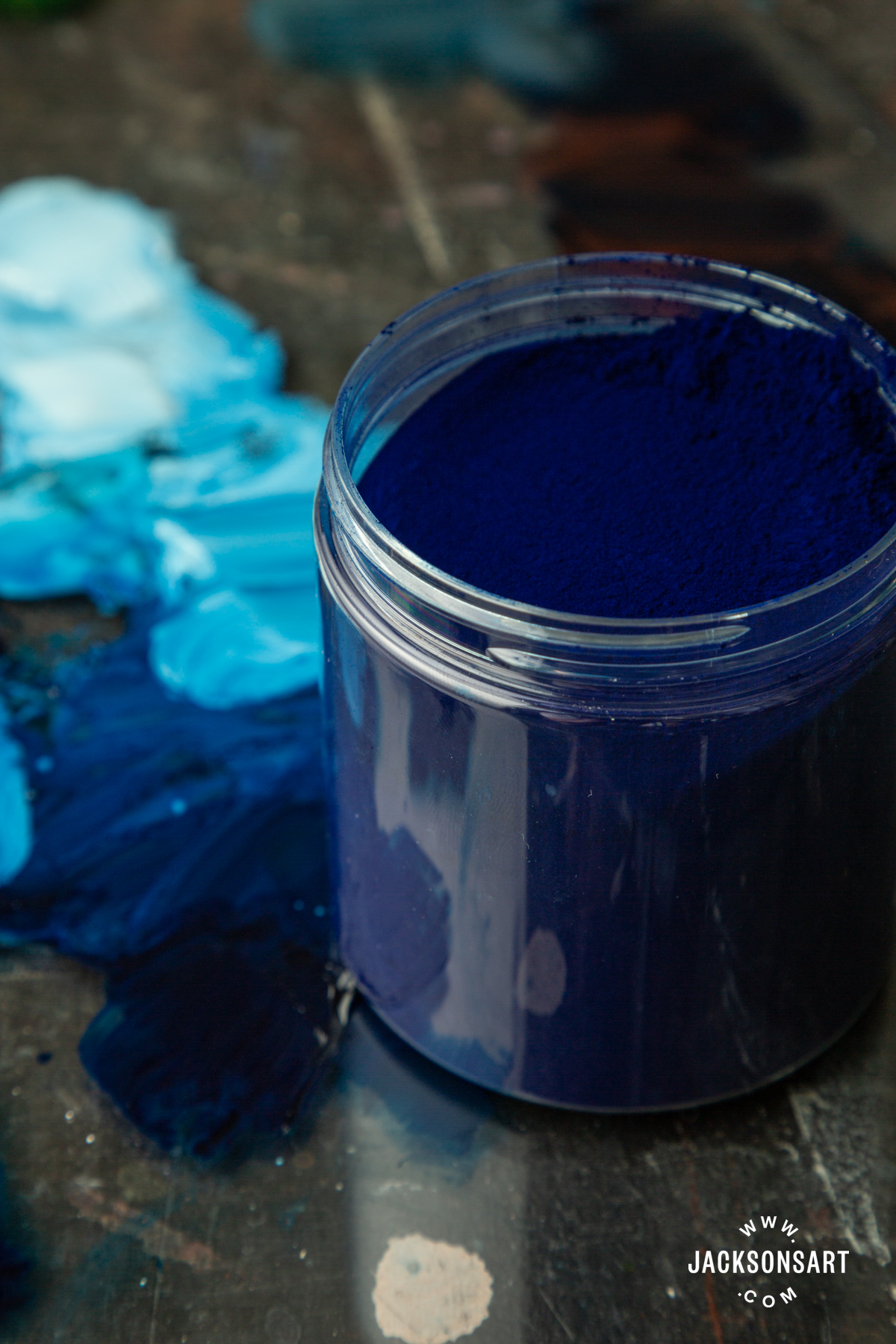 The History of Prussian Blue
Prussian Blue was created by accident in 1704. There are varying accounts as to the exact story behind the colour, but the most interesting is from German physician Georg Ernst Stahl (1659–1734). He says that a pigment maker in Berlin named Diesbach was making a batch of a Red Lake pigment using potash, crushed cochineal insects, and iron sulfate. Having run out of potash, he went to local pharmacist Johann Konrad Dippel to purchase some more. Dippel, possibly looking to fleece Diesbach, sold him potash that was contaminated with dried cattle blood. When Diesbach tried to make his red pigment, it made a deep blue pigment instead. Dippel knew that it was his adulterated potash that had caused this reaction and saw a business opportunity, so he conducted further experiments and commercialised the colour under the name Berlin Blue. Dippel kept the composition of the pigment a close secret, thus amassing a considerable fortune. Unfortunately for Dippel, an English chemist reverse-engineered it in 1724 and published the formulation. With his source of income all but gone, Dippel left Berlin, but his enterprising didn't stop there. He claimed he had discovered an elixir of life and tried to buy a castle in exchange for it (an offer that was rejected). Rumours spread accusing him of grave-robbing, experimenting with cadavers, and being in league with the devil. Some even theorise that he inspired Mary Shelley's Frankenstein.
Putting aside its rather intriguing origin story, Prussian Blue was an extremely important pigment development. It was the first synthetic blue pigment to be invented since the ancient Egyptians invented Egyptian Blue. The next big developments– Cobalt Blue and synthetic Ultramarine Blue– came more than a century later.
Prussian Blue in Japanese Printmaking
While Prussian Blue was enthusiastically adopted by European easel painters, it was Japanese artists who arguably made best use of its tonal capabilities. It took centre-stage in 19th century Japan through the aizuri-e style of woodblock printing, in which the image is printed predominantly in blue. Aizuri-e had traditionally used indigo ink, but Prussian Blue was found to be more lightfast and more rich in colour. Its particular suitability for this mono-pigment technique hinges on its capability of a range of tonal values, and we can find this in the work of many Japanese artists of the Edo period. The most famous in Europe is undoubtedly Katsushika Hokusai (1760-1849) His series 36 Views of Fuji are made almost entirely with Prussian Blue ink.
As exemplified in the above print, it could be applied in thin, transparent layers to the block for graduating washes of light blue that give an impression of looking into the hazy distance, but it was equally adept for dark passages of colour that are near black, like we see on the tip of Mount Fuji and the figures in the foreground. Even just using one colour, it gives an overall impression of depth and a full tonal range.
Why Does Pigment PB27 not Appear in Most Acrylic Ranges?
Prussian Blue is included in many ranges of relief printmaking inks, a nod to its iconic history in woodblock printing. It can also be found in most oil and watercolour ranges. However, the genuine pigment is found only rarely in acrylic ranges. This is because of Prussian Blue's sensitivity to alkaline substances. It needs a binder that reads at pH7 or less. Linseed oil and gum arabic (the binders for oil and watercolour paints) are both slightly acidic. Acrylic polymer emulsion, on the other hand, is an alkaline medium. If you are looking for a Prussian Blue acrylic, there are many ranges that recreate the colour with a mixture of pigments. For example:
There is one exception– Matisse Derivan's Acrylic range carries a genuine Prussian Blue with the pigment number PB27. It seems that they've put a lot of work into testing different formulations of the colour, and the question remains as to why other acrylic ranges haven't done the same. The answer could lie in the rather controversial subject of Prussian Blue's permanance.
How Permanent is PB27 in Other Mediums?
Even though it is suitable for oil and watercolour binders, Prussian Blue has a rather bad reputation. It became clear soon after its invention that it was unstable and prone to fading when exposed to light or mixed with certain alkaline pigments. Across the following centuries many different manufacturers were making the pigment, and not always to the best standards, so when Phthalocyanine pigments were introduced in the middle of the 20th century many artists were relieved to leave behind the potentially troublesome Prussian Blue in favour for the reliably lightfast Phthalo Blue. Phthalo Blue is a very similar colour- it has the same large tonal range, green undertone, and strong tinting strength (however, Phthalo Blue is more vibrant compared to the moody Prussian Blue).
The production of pigment PB27 has been refined over the last 100 years. There are many ways to improve the permanence of the pigment– for example, the larger pigment particle size, the better it performs in lightfastness tests. However, the permanence of Prussian Blue is inconsistent. Paint manufacturers usually list it as 'excellent' or 'very good', but these industry-standard lightfastness tests aren't necessarily reflective of actual use– most artists work with glazes, washes, and tints of colour, all of which can have an effect on how the pigment performs. Several independent tests carried out by artists show that there is considerable variation in lightfastness. Bruce MacEvoy of Handprint tested a range of Prussian Blue watercolours and found that some faded slightly, some substantially, and some hardly changed at all. What is certainly clear is that Prussian Blue is more prone to fading when mixed with a white pigment. According to a study by the National Gallery, London, this is because the addition of white increases the reflection of light within the paint layer. Interestingly, Prussian Blue paint that has faded recovers its colour after being stored temporarily in a dark space with good airflow. There have been many studies that show this is the case, and some museums rotate their displayed collections to ensure that works containing Prussian Blue have some time to recuperate.
Colour Mixing with Prussian Blue
Prussian Blue really is an extraordinary mixing colour. When first mixing with a blue, it feels natural to first reach for yellows to see what kind of greens it produces. The greens it makes with Lemon Yellow are almost neon– the kinds that are rarely found in nature and which evoke fluorescent artificial light. Nickel Azo Yellow, on the other hand, make a spectrum of golden, autumnal greens that are at home in a landscape palette. Prussian Blue's distinctly green undertone makes it an interesting blue to mix with any red. With Indian Red (an equally high tinting and deep-bellied colour) it makes a chromatic black, which is perfect for artists who prefer not to use a true black in their palette.
These three mixtures reveal Prussian Blue to be an extremely versatile mixing colour. Let us know how you use it, by leaving a comment below.
---
Further Reading
Venetian Red: the Red Earth Pigment That Evokes the Italian Renaissance
Pigment Colour Index: Blue Pigments
Colour Mixing: the Atmospheric Quality of Cool Colour Palettes
Recreating Rembrandt's Colour Palette With Modern Pigments
Shop Prussian Blue on jacksonsart.com