Are you curious about painting in oils and want to know what you need to get started? Here we list the essentials, such as the right paints, brushes and canvas, and suggest some useful additional extras to help you get started on an exciting journey as an oil painter.

Oil Paint
Ready made oil paint contains two main ingredients – pigment and drying oil. Oil paint is usually encased in a metal tube. A standard size is 37 ml or 40 ml, although some brands produce 60 ml tubes as well, and larger tubes are usually around 200ml. Quantities above 200 ml are usually packaged within a cartridge which will require a cartridge gun dispenser to squeeze the paint out.

For starters, a set of oil paints is a great investment as it's a quick and easy way to acquire a selection of colours across the spectrum to explore. As you can see in our Colour Mixing Series, a limited palette of 4 or 5 colours actually has the potential to offer an extensive range of colours if you practice mixing varying quantities with one another. This can yield better results than working with hundreds of different tubes of colour, which will easily lead to muddy colour mixes.
Sets of oil paint are available in Professional, Artist and Student grades.  It should be noted that the classification of these grades is not clear cut – it is a means of describing the quality of the paint you can expect from each brand, although some ranges fall between what would be considered Professional and Artist, or Artist and Student. The difference between these is that higher quality paints have a greater concentration of pigment. The greater the concentration of pigment the more vibrant the colour. Additionally, other pigment characteristics such as texture, body and transparency will inform the character of the paint itself. For example some pigments are more absorbent than others and will be able to absorb more drying oil. If this is the case the resulting paint will be more fluid and is likely to be more transparent. If a pigment is less absorbent there will be less capacity for soaking up oil and so the resulting paint might be more paste-like. In short this means the characteristics of each colour can vary a lot more in Professional grade paints than they do with Student grades, which tend to be more uniform in consistency and colour vibrancy from colour to colour, and most have driers added so that each colour dries at the same speed. This is a factor to take into consideration when choosing which brand to buy. I would always suggest buying the best you can afford for a more exciting painting experience, but if you cannot afford the very best do not be disheartened, as student and artist grade paints are also capable of great paintings in the right hands! All grades of oil paint are intermixable with one another, so you can always add colours to your set with a more or less expensive range of colours.
Some sets of oil paint are available in tube sizes smaller than 40 ml – such as 18 ml or 21 ml. These are a great option if you want a greater range of colours but have a budget to stick to. Of course it depends entirely on how thickly you like to apply the paint (as well as how many colours you might paint with!), but with a one layer painting completed in a single session (known as 'alla prima'), you could paint around 4 – 6, 30 cm x 40 cm canvases, using a set of 12 x 21 ml tubes of paint, using the paint unmodified, straight from the tube. This would be just enough painting experience to start to get an idea of your preference for certain colours.

Other kinds of colour:
Oil Sticks
Oil sticks are cylindrical sticks of pure oil paint encased in wax. They enable you to draw with oil paint. Unmodified marks applied with an oil stick on canvas or on a panel look like wax crayon marks, the difference being they dry fully just like regular oil paint. Oil stick marks can be thinned out or blended with turpentine or linseed oil and mixed with regular oil paint from a tube. More can be read about oil sticks here: Oil Stick vs. Oil Pastel
Water-mixable Oil Paints
Water-mixable oil paints are modified oil paints that allow you to wash your brushes and thin your paint with water, as well as oil – although regular non drying oils such as linseed or safflower oil will undermine the water solubility of the paint. Special water-mixable mediums and linseed oil will, on the other hand, maintain the paint's water-miscibility. Aside from that these paints behave very similarly to regular oil paint and are particularly useful if you want to avoid using solvents.
Alkyd Oil Paints
Alkyd paints are a fast drying variety of oil colour, formulated with alkyd resin (which speeds drying) as well as oil. Aside from their faster drying rate they behave similarly to regular oil paint and are also fully intermixable with regular oil colours.
A note about toxicity, and how to avoid solvents altogether to make oil painting a non-toxic process
It is a common misconception that oil paints are highly toxic. In fact, oil paints do not emit heady fumes, and the majority are considered to have low toxicity. Some heavy metal pigments such as Cobalts, Cadmiums or Lead paints have higher toxicity and care should be exercised by handling with gloves if possible. Any strong fumes associated with oil painting come from solvents such as turpentine or white spirit, often used to thin oil paints or rinse brushes. However, solvents are not essential to the oil painting process either, and can be avoided.  If you wish to clean your brushes without solvent it's possible to loosen excess paint from your brush with a little vegetable oil, blotting as much as you can with a rag, and then rinsing as normal with brush soap.
Solvents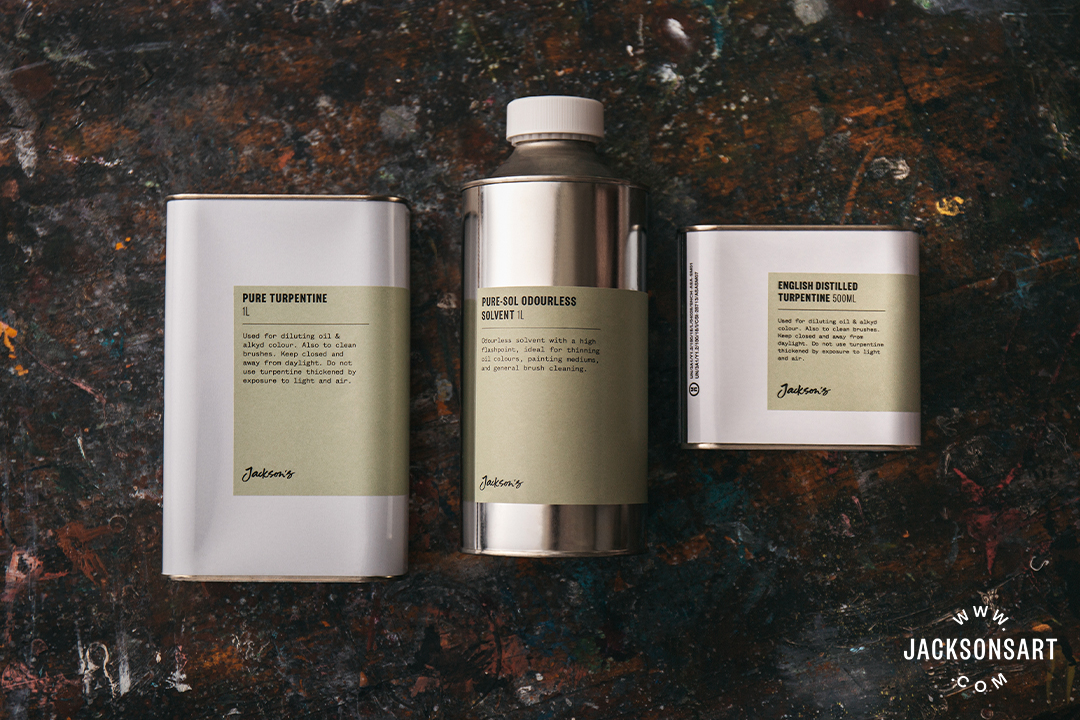 Arguably, the quickest way to remove excess paint from oil brushes at the end of a painting session is by rinsing them in solvent. Following this treatment, they would ideally be washed with a brush soap and warm water to complete the clean-up operation. Solvent can also be used to thin paint to a more watery consistency. The more you use the more it will break down the oil content of your paint, so it's worth being aware that very watery applications of dilute oil paint may not have sufficient binding properties, meaning the pigment could 'wear off' the painting surface in time, unless protected with a layer of varnish. Additionally, always ensure successive layers of paint have a greater oil content, so that the outer layers are always more flexible and slower drying than the paint in the layers beneath. The traditional artist's solvent is turpentine, a distillation of the resin extracted from Pine sap. Cheap household turpentine is made from forest waste gathered from woodland ground and will contain impurities, which give an unpleasant smell, and make it less suitable for painting with; its exact contents is unknown, and likely to degrade a painted surface over time. Higher grades of turpentine are made from purer natural resin distillations, and will smell more pleasant as a result, although all turpentines should be used in a well ventilated space and may cause headaches with prolonged usage. Artist white spirit is a petroleum distillation, and is suited to thinning alkyd mediums and paint. The heady fumes of turpentine or white spirit can be off-putting for some who are otherwise intrigued by oil painting, but these days you can work with a number of solvents that have little or no fragrance, and less likely to give you a headache.
Pure-sol is one such example, a low odour solvent that is effective in cleaning brushes and thinning oil paint. Other examples include Gamsol, Sennelier Green Thinner and Zest-It.
Brushes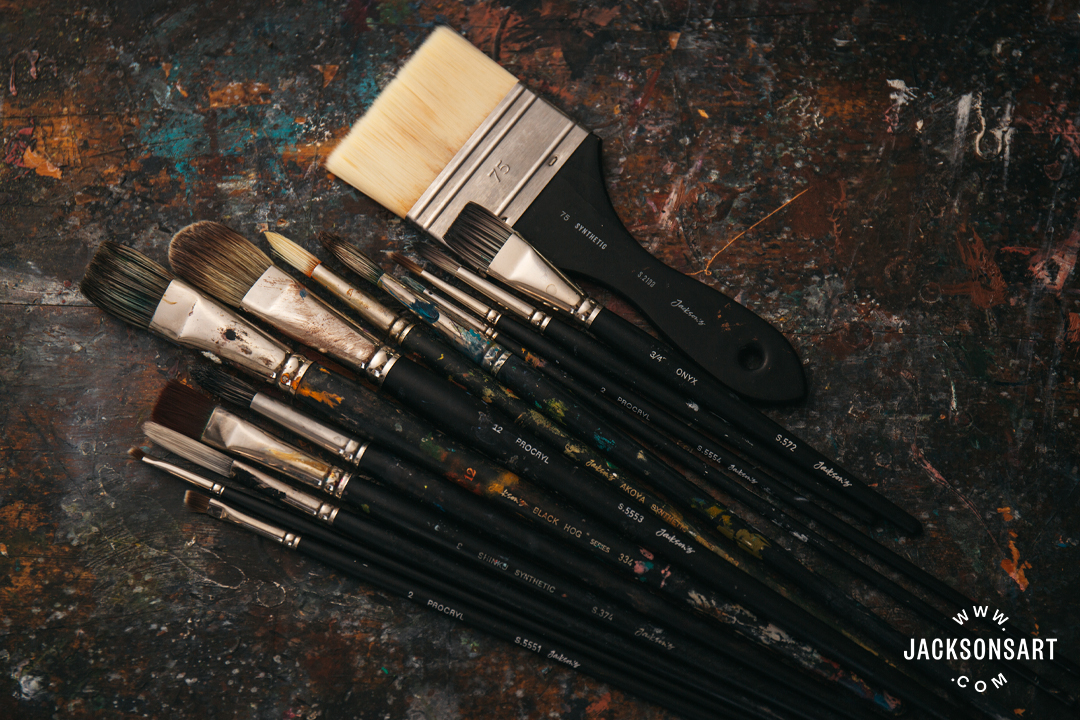 Oil paints can be applied with any brush, natural or synthetic, long handled or short. Stiffer hair brushes are recommended for brush marks that you wish to remain visible on the canvas, while softer hair brushes are more suited to blended passages of paint. The long handled brush usually associated with oil painting will allow you to paint from a greater distance, facilitating the ability to see the whole of your painting as it emerges. Short handle brushes on the other hand are easier to use when applying fine details. Oil painting brushes are usually round, flat or filbert shaped. I suggest investing in some of each shape, perhaps a large and small version of each, so that you can explore what marks you can make and which marks you enjoy working with. Using a selection of brushes on a single painting can help to keep your colour mixes pure and unmuddied from one another, as well as provide a variety of different brushmarks. Note that there is no standard sizing system for brushes, you will need to check the actual dimensions in millimetres of hair length or width of a brush head to get an idea of the size of brush you are looking at online.
These brush sets for oil painting are a great way to start a collection.
Palettes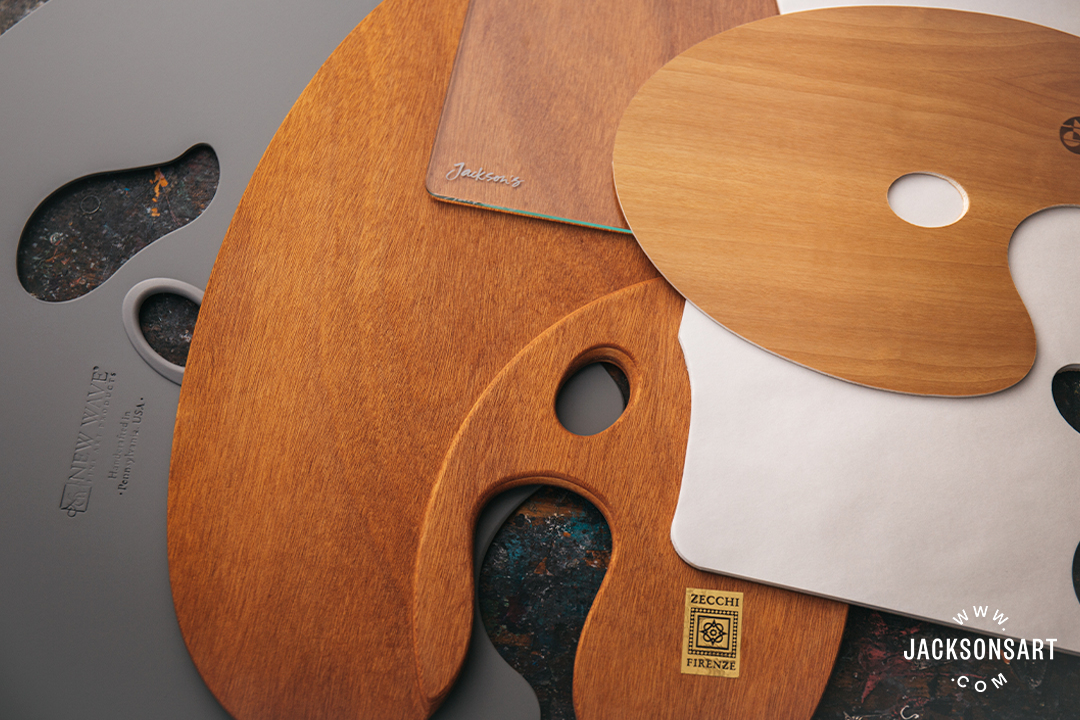 An oil painting palette is usually made of glass, wood or plastic (although not all plastic palettes are suitable for oil painting). It is a non absorbent, smooth surface that provides an area for mixing colours. A white palette can help to see how the paint will appear on a light coloured surface, which is why placing a white piece of paper underneath a glass slab can improve the visibility of your true colour mixes. Untreated wooden palettes tend to be very absorbent and will easily stain when used for the first few times. In order to minimise this happening you could varnish your wooden palette, or rub linseed oil into it, allowing it to dry fully before you use it, more advice can be sought in the article How to care for a wooden oil painting palette. The absorbency of a palette reduces with use as it comes into contact with more and more drying oil. Oil paints dry slowly in comparison to acrylics or watercolour, so in a lot of instances you can leave colour mixes on your palette to use the next day,
however they will start to dry after two or three days and once dry can be very hard to remove. To avoid this happening you can cover your paint in an airtight vessel, or add a drop of oil to the surface of a pool of colour in order to keep it workable for longer.
Something to paint on – Paper, board, canvas, panels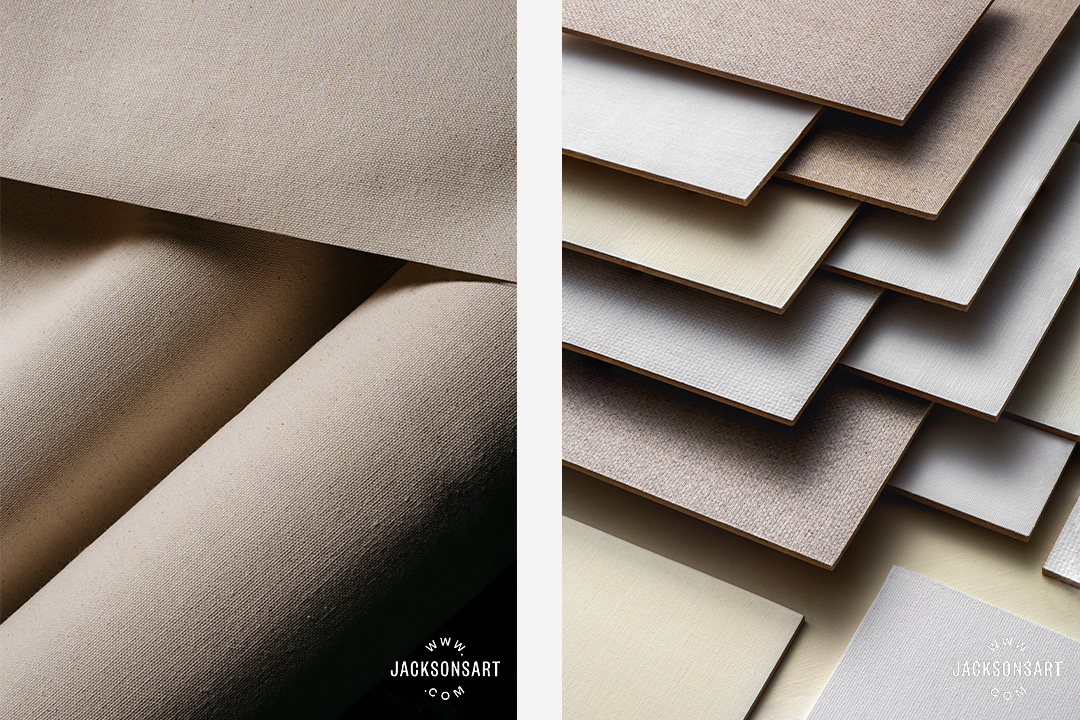 Oil paints can be applied to canvas, paper, board or panels. Unlike any other artist paint, there is a risk of oils causing the natural fibres of a surface to rot if they are not properly sealed or sized before oil paints are applied to them. Additionally if the oil from a deposit of paint does seep into natural fibres, it will leave the pigment sat on the surface with no binder holding it in place, which can, over time, cause the colour to flake off, or create a yellow halo of oil around isolated brush marks. To avoid any of this happening it's best to only apply oil paints to surfaces that have been sufficiently sized to protect them. Acrylic or universally primed surfaces sometimes feel less smooth and more absorbent than oil primed surfaces. Some clear primed canvas panels may require another layer of clear primer added to ensure the surface is properly sealed – this will be stated in the product description online, but are perfect if you want to create the illusion of painting on raw canvas. Oil painting papers are either made using a special additive which is blended into the pulp during manufacture to make the paper resistant to rotting (such as the paper made by Arches) and as a result are indistinguishable from other artist papers, or they are specially coated after sheet formation. Boards and panels are either smooth, lightly textured or have primed canvas (cotton or linen) glued to their surface. They are easy to store and transport and are well suited to outdoor painting. Stretched canvas can be lighter than board (when looking at sizes around 40 cm square and larger) and consist of a canvas made usually from linen or cotton duck that has been stretched tightly and evenly across a wooden frame. Stretched canvas is a responsive surface on which to paint; it is likely to bounce slightly as you apply pressure to it, which can contribute to the dynamism of a painting session.
Which surface you choose to paint on is entirely down to your preference, so ask yourself whether it's important that your surface is lightweight, rigid, has texture or not, and so on. If you're undecided I would recommend trying one each and seeing how each feels – the surface you paint on has a significant impact on the overall painting experience, and how your finished painting will look. What you choose to paint may dictate the kind of surface you decide to paint on.
Optional Extras:
Easels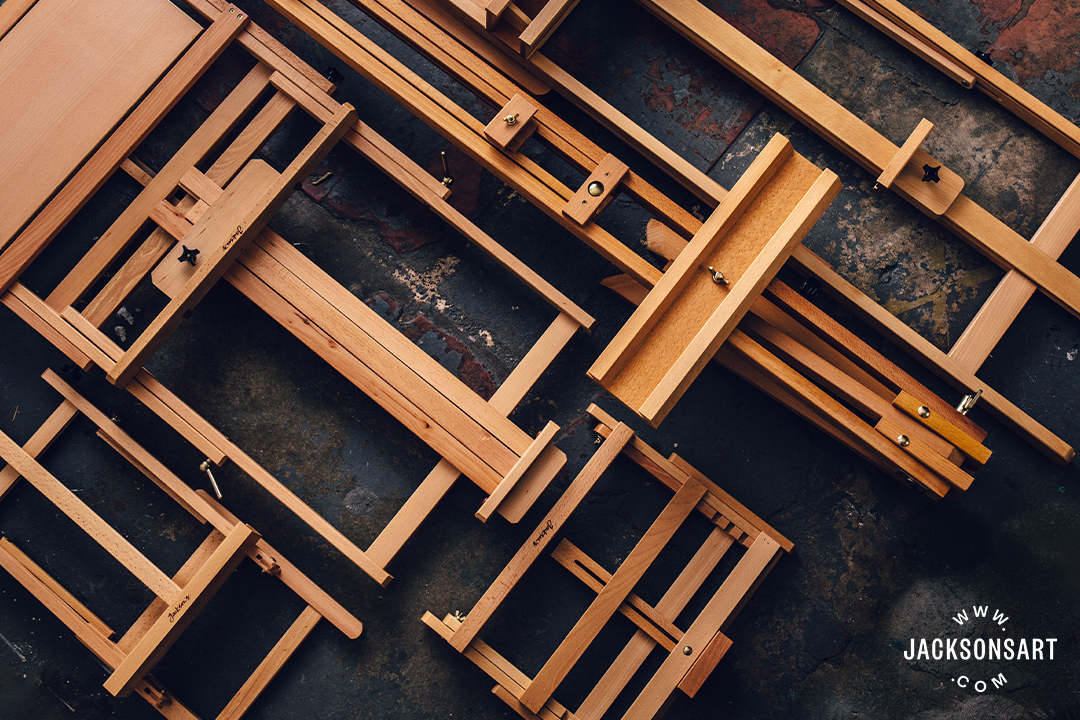 An easel is by no means essential. If you work standing up you could tape paper to a wall or hang your canvas or cradled panel from panel pins or screws. Alternatively you could work on the floor or prop your canvas up on a table. However, the right easel could allow you to move your work easily to better lighting conditions, or help you to work with a healthy posture, avoiding unnecessary aches and pains during a long painting session. When choosing an easel you have to ask yourself a set of questions.
Will you be painting at a table? If you will be, then a table easel is a compact device that will hold your paper upright. Many have a drawer in which you can store your paints and brushes. They are easy to store.
Will you need to have a portable easel? (perhaps for painting out of doors) If you will be then a sketching easel is what you'll need. Sketching easels are usually made from aluminium or wood. An easy to carry sketching easel will be lightweight with telescopic legs allowing it to fold into a compact portable size. However if you are likely to paint in bracing wind conditions it may be at risk from falling over. Some string and tent pegs can be a great way to get around this.
Do you need an easel that will tilt to horizontal? (will you be painting with lots of dilute paint which might run?) Some studio and sketching easels will tilt fully to a horizontal working position, which can be really useful if you need to ensure your dilute paint applications do not run.
Do you need an easel that will hold very large work? The largest studio easels are H-frame and solidly stable for paintings up to 235 cm, but they will take up space and be heavy to move around. Crank handle easels make it easier to adjust the height of your painting.
Brush Washer Pots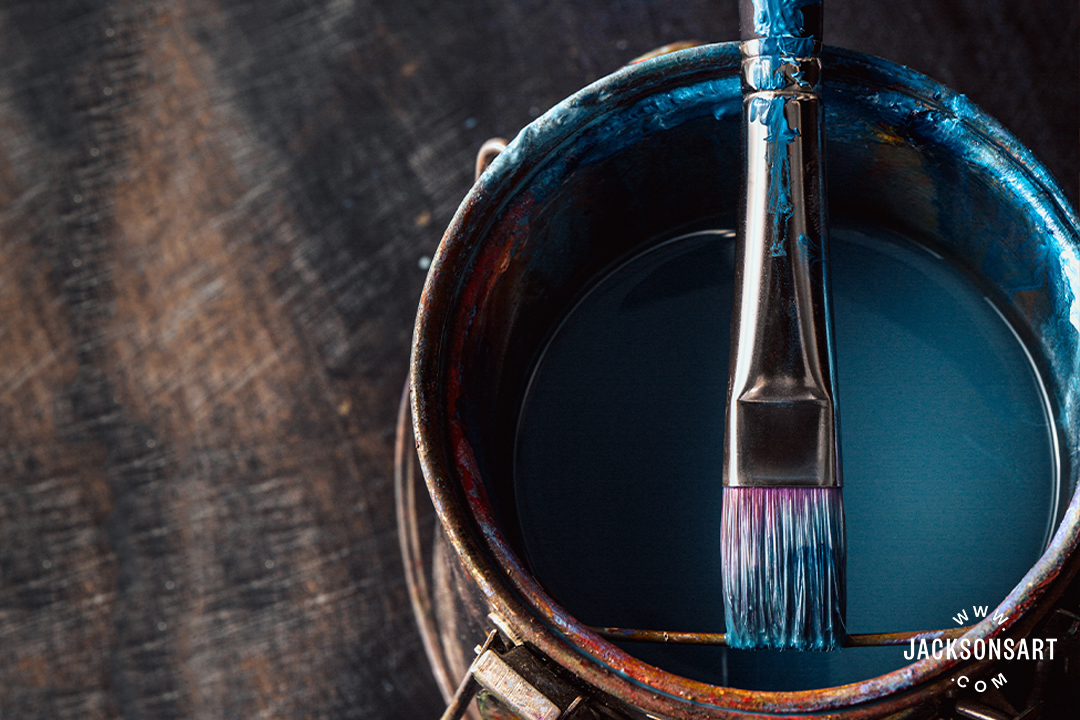 A brush washer pot is designed to allow oil paint sediment accumulated from rinsing brushes to sink away to a different compartment, allowing you to get maximum usage from your solvent. Two Jackson's brush washers have a spring holding system inbuilt, which holds your brushes so that they are suspended in the pot, rather than sitting on the bottom of it, which will bend the hairs of your brush and may damage them. A brush washer is not an essential, but it will help to prolong the lifespan of your brushes, help to keep your colours clean and bright and also help to get the most use from your solvent.
Mediums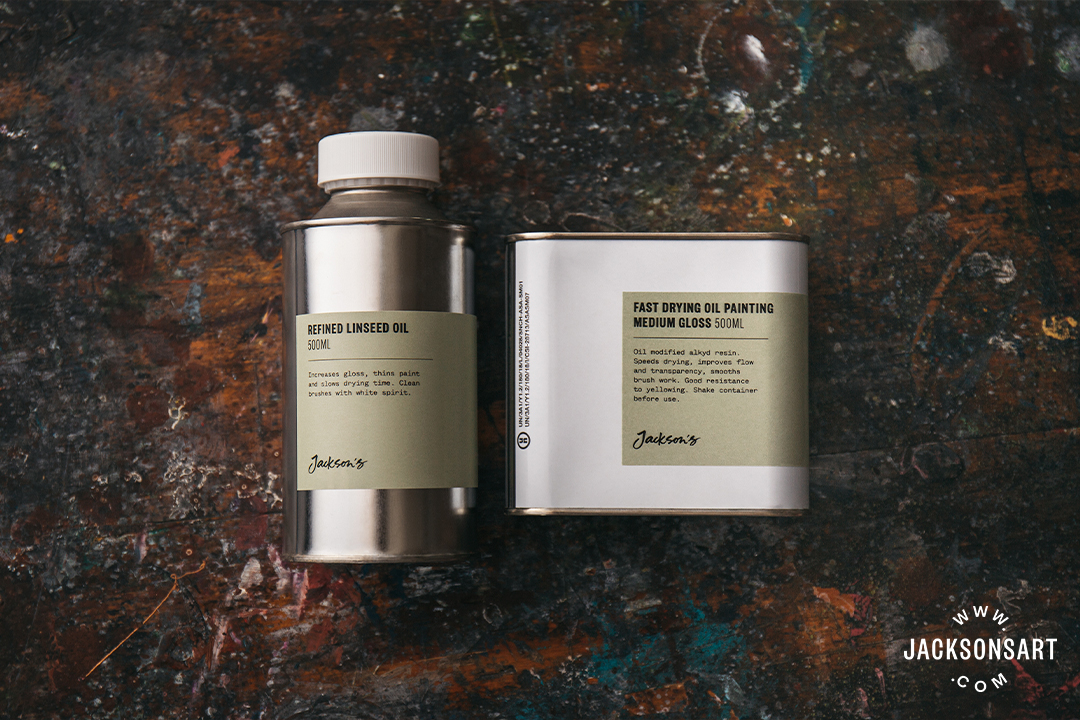 Oil paint can be used on its own, but transparency can be increased, sheen altered, and paint can be thickened and made more fluid by adding different mediums. The majority of mediums are a blend of solvent with oil or alkyd resin, with some other ingredients such as beeswax or varnish added. Glaze mediums will allow you to create thin, transparent, gloss layers of paint, while beeswax mediums help to add bulk to paint for impasto techniques. Alkyd mediums will speed drying, so too will a drop of siccative added to your paint – this is a highly toxic cobalt based liquid that should be used very sparingly and with care. Many of the ingredients found in ready-mixed oil painting mediums are available on their own, so you can create your own oil painting mediums to perfectly suit your approach to painting.
Palette Knives
Palette knives are incredibly useful for oil painting. They can be used as an alternative to brushes, facilitating thick impasto applications of colour that can either be completely smooth or highly textured. They are also great for scraping wet paint away from your painting or palette, and mixing colours on your palette. In comparison to brushes they are much easier to remove paint from, one wipe on a rag and your knife will be clean for the next colour mix. They are available in a range of shapes and sizes, one or two in your armoury will significantly help keep your colour mixing organised.
Brush soaps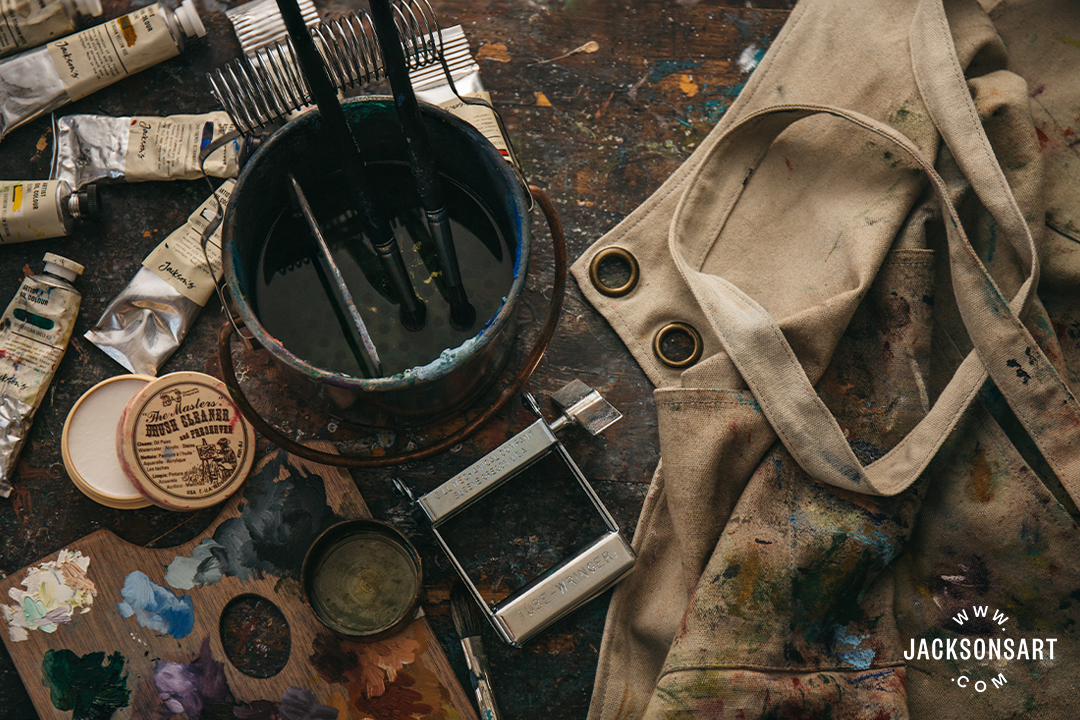 You could use washing up liquid, but brush soap is especially formulated with natural oils to moisturise and cleanse brush hairs, so that your brushes keep their shape and hairs for longer. Without brush soap treatment, your brushes will prematurely begin to splay out, and may become caked with dried paint at the ferrule. Washing your brushes with brush soap and warm water after rinsing in solvent is an excellent habit to fall into, as you'll be regularly moisturising the hairs which will prolong their lifespan as well as rinse away any residue solvent which would dry hairs out further.
Apron
Once you accidentally get a spot of highly staining Phthalo Blue on your clothes, it can be almost impossible to remove. An apron can protect your clothes and provide the peace of mind you need to focus on the more important aspects of the painting process. Deep pockets can help to ensure you have a pencil, eraser or measuring tape always within easy reach!
Oil painting is a hugely appealing and beguiling medium that has the potential to produce awe inspiring masterpieces as well as inspire them. Following in the footsteps of great Masters of oil painting can feel intimidating, but it needn't be. Start with a few essentials – some paint, solvent, brushes and a canvas, and explore the possibilities with what you have. As your journey develops you may be tempted to try new colours, mediums, or surfaces, all of which will feed into your understanding of your personal oil painting preferences.
Oil Painting supplies available at Jackson's
Further reading on the Jackson's Art Blog
A Guide to Oil Painting Mediums
How to Care for a Wooden Painting Palette
Plein Air Oil Painting Set Ups
Jonathan Chan: Oil Painting with Viridian, Burnt Sienna and Titanium White